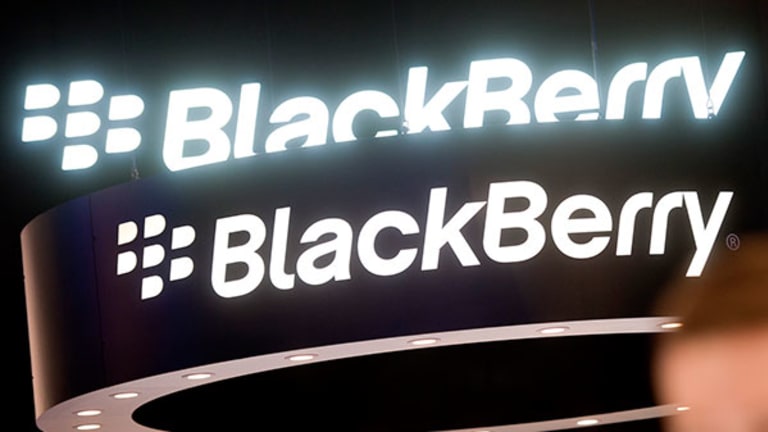 BlackBerry Soars on Leaving Smartphone Manufacturing, Amazon Rises on Analyst Note -- Tech Roundup
BlackBerry sharply rose after announcing it was getting out of the business of developing and manufacturing smartphones. Amazon trended higher after a favorable research note from Nomura.
BlackBerryundefined and Amazon.com (AMZN) gained more ground Wednesday, with one announcing it was exiting the smartphone manufacturing business and the other due to Nomura Securities re-initiating coverage of the e-commerce giant with a buy rating. Twitter (TWTR) , meanwhile, did not fare as well as its shares slipped following an analyst report on prospective buyers for the micro-blogging site.
BlackBerry jumped sharply after the embattled smartphone company announced it planned to exit the business of developing and manufacturing its own smartphones and other hardware. Instead, the iconic smartphone maker that spawned a generation of of email and text-addicted "crackberries" will focus on its software and services business, which posted an 89% revenue jump in the second quarter over the same period last year.
"We are reaching an inflection point with our strategy," John Chen, BlackBerry CEO, said in a statement. "Our foundation is strong, and our pivot to software is taking hold."
BlackBerry, which plans to outsource the development and manufacturing of its hardware to other vendors, closed up 5.7% to end the day at $8.33.
Amazon edged higher after Nomura Securities re-initiated coverage on the e-commerce giant with a buy rating. The investment bank also gave Amazon a $950 price target.
"Amazon Web Services is the fastest growing business with high margins. Secondly, Prime users spend two and half times what non-Prime users spend. The third point is Prime Instant Video because Amazon has this broad model where they can advertise e-commerce revenues against their content spend," Anthony DiClemente, Nomura managing director, said on "Fast Money Halftime Report" on CNBC, in citing three reasons why his firm launched coverage on the company again.
Nomura isn't the only investment bank feeling bullish on Amazon. Nearly two weeks ago, RBC Capital markets put a lofty price target on Amazon of $1,000, up from its previous target of $840. RBC attributed the price target bump to Amazon's voice-activated devices, such as its "Echo," which has the potential of getting consumers to spend more with the e-tailer behemoth.
Amazon close at $828.72, up 1.6% from the previous day.
Twitter shares took a tumble, despite the broader markets rising during the day.
The micro-blogging site took a hit after Axiom issued a report that panned the notion that Microsoft (MSFT) or Verizon Communications (VZ) would step in as potential Twitter acquirers. Nonetheless, however, Axiom believes that the Walt Disney Co. (DIS) , as well as Salesforce.com (CRM) , may be likely bidders.
Axiom pointed to a potential benefit that Twitter may bring to Disney's ESPN sports network, which has been suffering from a loss of subscribers and a ratings dip over the last few years. Twitter's performance in streaming Thursday Night Football demonstrated the embattled social media company can distribute live video content successfully. 
As for Salesforce.com, Twitter could provide the enterprise cloud company with a real-time content network.
Twitter fell 3.2% to end the day at $22.96.
This article is commentary by an independent contributor. At the time of publication, the author held no positions in the stocks mentioned.