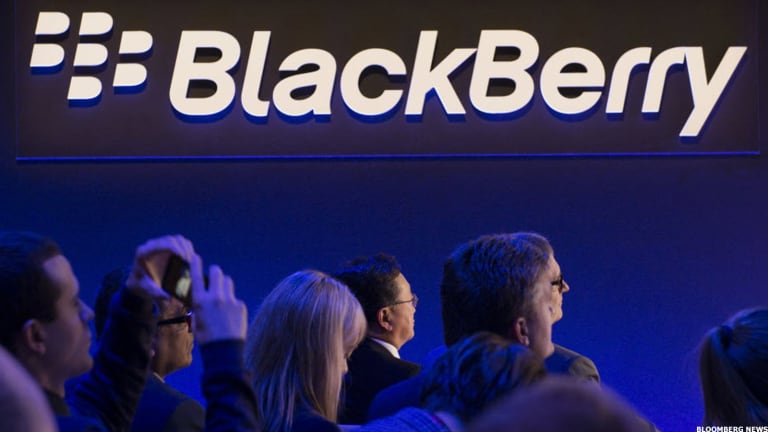 Why BlackBerry's Earnings Weren't as Rough as They Looked
A sales miss fueled a big selloff on Friday. But much of the shortfall was due to one-time issues.
With all the mistakes, disappointments and false starts under its belt, BlackBerry Ltd. (BBRY) isn't a company that investors are prone to giving the benefit of the doubt when bad news arrives. So it's hardly surprising that shares are down sharply after the company missed sales estimates and reported disappointing numbers for its closely-watched Enterprise Software & Services business. Especially since the stock had risen 46% on the year going into earnings, albeit from depressed levels.
But BlackBerry's top-line numbers, while underwhelming, aren't as awful as they look at first glance. This might be better appreciated once the current spell of profit-taking has run its course.
BlackBerry reported May quarter (fiscal first quarter) adjusted revenue of $244 million (down 42% annually) and EPS of $0.02 (up from breakeven EPS a year ago). EPS beat estimates by $0.02, but revenue missed by $21 million. The company also announced a 31 million-share stock buyback that's good for repurchasing close to 6% of shares, and which would cost $306 million at current levels.
The company is maintaining fiscal 2018 (ends in February 2018) guidance for positive EPS and free cash flow (the pre-earnings fiscal 2018 EPS consensus was at $0.02). It also claims to be maintaining guidance for software and services revenue to grow "at or above" a market growth rate of 10% to 15% in fiscal 2018. But with BlackBerry having guided three months ago for 13% to 15% growth, the outlook has arguably been tweaked a little.
Shares fell 12% to $9.71 on Friday, giving back a chunk of their 2017 gains. They had jumped in March after BlackBerry soundly beat estimates, and rallied further in the following months amid enthusiasm for the long-term potential of its widely-used QNX automotive operating system as cars become intelligent and connected.
Some of BlackBerry's sales pressures stemmed from the rapid withering of its once-huge hardware and service access fee (SAF) businesses: Hardware sales fell to $37 million from $152 million a year ago, and are expected to be "minimal" in the July quarter since BlackBerry is well into the process of ending direct hardware sales in favor of licensing deals with OEMs. SAF revenue fell to $38 million from $106 million, and is expected to drop another 25% sequentially in the July quarter.

Newer BlackBerry-branded phones such as the KeyOne are being made by hardware partners.
But it also didn't help that BlackBerry's Enterprise Software & Services business, which along with QNX is at the heart of the company's turnaround strategy, saw revenue fall by $5 million to $101 million. That's overshadowing a $1 million increase in revenue for BlackBerry Technology Solutions (BTS) -- it covers QNX, as well as BlackBerry's IoT, cryptography and RF antenna tuning offerings -- to $36, and a $7 million increase in Licensing, IP and Other revenue to $32 million.
Editors' pick: Originally published June 23.
However, when one backs out deferred revenue related to past acquisitions -- it totaled $9 million in the May quarter, down from $24 million in the year-ago quarter -- Enterprise Software & Services revenue grew 12% to $92 million. And on the call, CEO John Chen indicated the segment's billings (driven by software licenses) saw "solid" growth thanks to strong demand for the company's Unified Endpoint Management (UEM) platform, which combines many of BlackBerry's enterprise mobility management (EMM) software offerings.
He also noted that BlackBerry recorded $27 million in professional services revenue related to customer app deployments in the February quarter, and that this revenue, as expected, largely disappeared in the May quarter. Chen suggested that miscommunication on the non-recurring nature of this revenue led analyst estimates for the May quarter to be too high. "Steve obviously didn't do a very good job on that," Chen said before chuckling
Management should certainly have let analysts know in advance that their sales estimates are too aggressive. All the same, it's important to note that BlackBerry's enterprise software business remains in reasonably good shape. The company's performance here is still a little disappointing -- even if professional services revenue remained at $27 million, BlackBerry's total software and services growth would have slowed to about 16% from the February quarter's 25% -- but it's nowhere as bad as the quarterly sales miss would suggest. Especially with the company predicting enterprise and BTS growth will improve in the second half of fiscal 2018.
And as the quarter's EPS beat shows, BlackBerry is still doing a good job of controlling costs and growing its margins. Gross margins rose to 63.8% from 38.5% a year ago thanks in part to a much smaller hardware contribution. R&D spend fell by $28 million to $61 million, and sales, marketing and admin spend fell by $21 million to $132 million. And BlackBerry's net cash balance rose by about $600 million to $1.7 billion due to the windfall related to the company's royalty settlement with Qualcomm Inc. (QCOM) - Get Report .
BlackBerry's turnaround effort did just hit a speed bump, but it hasn't exactly run into a brick wall, either. And with BlackBerry's stock still trading for a moderate 3.7 times its fiscal 2018 revenue consensus excluding net cash, it doesn't exactly have to return to its glory days to make investors happy.
Don't miss these top stories from TheStreet:
Disney's Stock Is Toxic, This Chart Shows
Visit here for the latest business headlines.