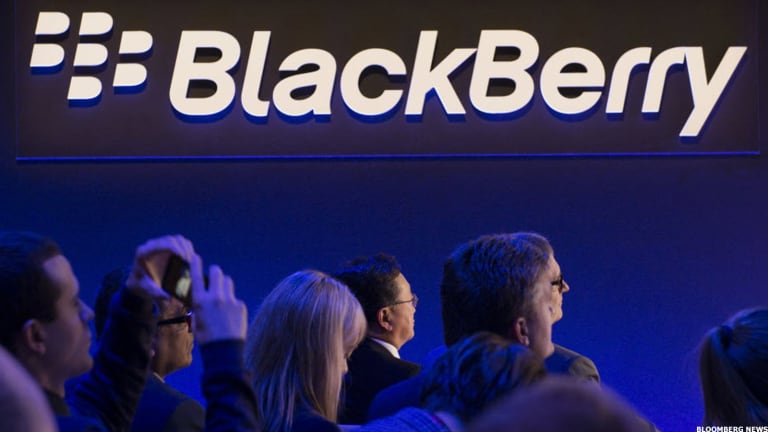 Publish date:
BlackBerry Is Actually Looking Like a Reasonably Successful Software Company
The company's earnings beat and solid guidance show that its attempts to transform itself into an enterprise and automotive software firm are going well.
The company's earnings beat and solid guidance show that its attempts to transform itself into an enterprise and automotive software firm are going well.
Much like eBay (EBAY) - Get Report, BlackBerry's history and reputation continue to cast a long shadow over any discussion of the company. Years of poor execution, blown opportunities and flat-out denial about industry trends have made it easy in recent years to dismiss the company as a lost cause on its way to bankruptcy or at least a fire sale.
Also like eBay, BlackBerry has seen a revamped leadership team do a solid job of accepting industry realities, cutting costs and directing investments towards fields where the company has a chance of standing out in the face of intense competition. The company's latest earnings report and its guidance show that management's efforts are letting the company carve out a second life as a mid-sized provider of enterprise mobility and automotive software.
BlackBerry reported adjusted fiscal fourth quarter (ended in February) revenue of $297 million (down 39% annually) and EPS of $0.04 (improved from a $0.03 loss a year ago), topping consensus analyst estimates of $287.7 million and $0.00. Perhaps more importantly, the company guided on its earnings call for its software & services operations, which accounted for 65% of Q4 revenue, to grow by a healthy 13% to 15% in fiscal 2018 (ends in February 2018).
The company asserts that growth rate is at the high end of the 10% to 15% industry growth it expects for the various end-markets addressed by software & services. BlackBerry also forecast it would be profitable on an adjusted (non-GAAP) basis and achieve positive free cash flow (FCF) in fiscal 2018. The pre-earnings consensus was for breakeven EPS and $9.2 million in FCF.
Shares were up 11.4% to $7.74 on Friday afternoon, leaving them near the high end of the fairly narrow range they've been in over the last 12 months. After backing out $1.1 billion in net cash, BlackBerry only trades for about three times fiscal 2018 sales consensus of $992 million.
As was the case in the preceding quarters, massive cost cuts helped BlackBerry's bottom line improve in spite of a major revenue decline. Adjusted operating expenses fell 9% sequentially and 30% annually to $181 million, with major drops in both R&D and sales, marketing & admin spend. On the call, BlackBerry suggested its quarterly operating expenses will be around $190 million going forward, as it invests in growth initiatives, and is counting on revenue growth and gross margin expansion to lift its profits.
Thanks to a revenue mix shift towards software & services, which has a gross margin of about 80%, BlackBerry's adjusted gross margin rose to 65.3% from 48.7% a year ago. And the company is targeting a 70% GM for fiscal 2018, up from fiscal 2017's 62%.
With BlackBerry in the midst of exiting the phone market in favor of licensing deals with Asian manufacturers, hardware revenue fell about 70% annually to a mere $55 million. And service access fee (SAF) revenue, which is tied to a withering BlackBerry phone base, fell by about 65% to $49 million. BlackBerry expects SAF revenue to drop by another 25% sequentially in the May quarter. Notably, the company says all three of its operating segments, rather than just software & services, were profitable last quarter.
Software & services revenue grew 12% sequentially and 25% annually last quarter to $193 million. A 16% sequential increase in enterprise mobility orders helped, as did the ongoing strength of BlackBerry's QNX operating system within the automotive market, where it's deployed on a large chunk of the world's infotainment systems. The company also got a boost from $27 million in services revenue related to helping customers build and deploy apps.
The investments a streamlined BlackBerry has made to provide a more comprehensive set of enterprise mobility management (EMM) software/services offerings are clearly paying off. With the help of its 2015 acquisitions of EMM rival Good Technology and enterprise file sharing/syncing software firm WatchDox, the company can deliver an end-to-end platform that covers mobile device management, app management, messaging, file-sharing, authentication and mobile e-mail and document security, among other things.
Given its pedigree, it's not surprising that BlackBerry often touts security as a selling point as it deals with stiff EMM competition from VMware (VMW) - Get Report, Microsoft (MSFT) - Get Report, Citrix Systems (CTXS) - Get Report and several other big names. In December, the company unveiled BlackBerry Secure, a platform that combines a number of its enterprise mobility offerings and which the company proclaims will allow it to better penetrate verticals where security needs are high.
BlackBerry is also hoping its security chops will help its newly-launched BBM Enterprise SDK, which lets third-party developers integrate voice, video, messaging and file-sharing features into their apps and cloud services, gain traction. In the February press release announcing the offering, BlackBerry uses the words "secure" or "security" 36 times. Twilio (TWLO) - Get Report has long been the leader in this space.
On the automotive side, QNX seems to be humming along. BlackBerry expanded its alliance with Ford (F) - Get Reportlast October, and unveiled a version of QNX for autonomous cars at CES in January. While this business does face competition from embedded versions of Linux (embraced by Tesla and others), it's worth noting that QNX doesn't directly compete with Apple's CarPlay or Google's Android Auto, both of which run on top of automotive operating systems.
Though the company's odds of having a profitable future as a mid-sized software firm are a lot better than many feared not too long ago, BlackBerry's forward sales multiples are still moderately below those of many peers with similar software growth profiles. This particularly holds when one accounts for the value of the company's
. If the company keeps executing the way it has in recent months, that discount might not last for long.