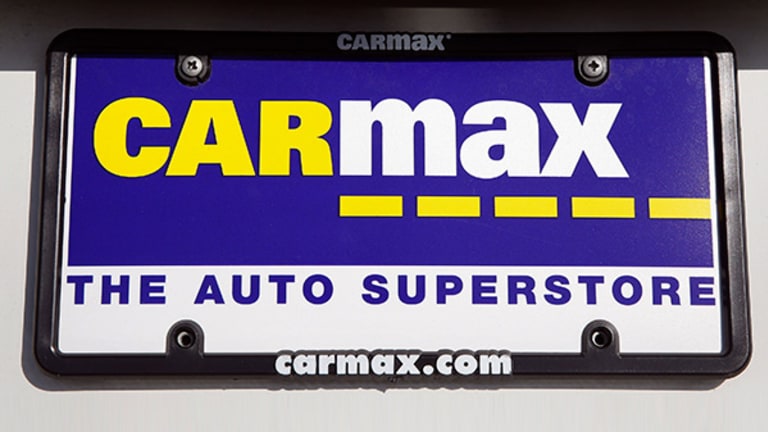 BlackBerry Drops, Carmax and Carnival Pop After Earnings Reports
Here is a look at Tuesday's major market movers and whether investors should buy these stocks.
As the major indices continue to climb and the Dow Jones Industrial Average creeps toward the 20,000 mark, earnings releases from a few companies are pushing their stocks in different directions.
The Dow industrials sit just 50 points away from the 20,000 barrier, and while most market participants think that the historic level will be reached before Christmas, this could also be an indication that a pull-back is closer than ever.
One major catalyst that some analysts have noted is President-elect Donald Trump's proposed tax plan, which could lower capital gains taxes next year.
This thinking has likely caused some investors to hold off on selling this month and portfolio readjustments until after the new year in the hopes that waiting a few days will allow them to reap the reward of a lower tax rate next year.
If this is true, a January sell-off could occur, and investors will want to be protected when that happens.
Here are three stocks that were big movers on Tuesday.
1. BlackBerryundefined
The possibility of lower taxes next year didn't stop investors from dumping shares of BlackBerry Tuesday, with the stock off by more than 1% after reporting third-quarter earnings. The once-dominant smartphone maker posted revenue of $289 million, below analysts' estimates of $331.9 million and $548 million a year earlier.
The quarterly loss of $117 million was wider than the $89 million recorded a year earlier. The per-share generally accepted accounting principle loss was 22 cents, wider than the 7-cent-a-share loss expected, though on an adjusted basis, the company posted earnings of a penny a share, which was better than the 2-cent-a share loss analysts forecast.
BlackBerry upgraded its guidance for the full year and looks like it will get involved in autonomous vehicles as a way to continue moving forward.
The company no longer makes its own phones and focuses more on the software side, which can be more profitable.
But, taking on the car industry doesn't seem like the most logical long-term strategy, considering the competition and the fact that such an industry is so far outside BlackBerry's past area of focus. The BlackBerry story should be interesting to watch but certainly not invest in.
2. Carmax (KMX)
Heading in the opposite direction were shares of Carmax, which was up 6.37% on Tuesday.
Carmax reported fiscal third-quarter earnings of 72 cents a share, which was up from 63 cents a share a year earlier and beat analysts' estimates by a penny.
The company posted sales of $3.7 billion, slightly lower than the $3.79 billion expected but still higher than a year earlier. Wholesale revenue declined by 4.9% but used-vehicle revenue rose 6.2% due to higher unit sales of 9.1% during the quarter.
Carmax opened four new locations during the quarter and plans to open 13 to 16 new locations in its next fiscal year.
Although Carmax posted strong results, investors need to consider how higher interest rates will affect the car industry. Rising rates could reduce the number of cars being bought, and that could put a damper on Carmax's growth over the next few years.
3. Carnival (CCL)
Shares of Carnival rose 2.57% on Tuesday.
The cruise company reported fiscal fourth-quarter adjusted earnings of 67 cents a share, surpassing both analysts' and the company's estimates. Revenue increased more than 6% from a year earlier to $3.94 billion and beat analysts' estimates of $3.92 billion.
The company experienced higher costs of 1.2% when including fuel, while ticket revenue rose 6.1%, On-board revenue increased 5.4%, and tour and other revenue rose 24.2%.
The minimal cost increase is great to see, but it is unlikely to hold firm. With oil prices rising due to promised production cuts from major oil-producing countries, Carnival will eventually be hit with higher costs.
But if the company can continue increasing revenue, the higher costs could be offset. The problem is, that isn't an easy feat, and if oil prices go too high, the company could slip back into a period of contraction.
Carnival isn't a stock for long-term buy and hold investors because of the risks related to oil prices.
---
With that warning in mind, here is a list of seven companies that you will profit from regardless of what the markets do and no matter how high or low oil goes. With many calling for a coming market pull-back, now is the perfect time to make sure you and your portfolio are protected. Each one of these powerful, yet overlooked companies barely notices when the market tumbles. And they'll skyrocket when it rebounds. You can pick all seven up for pennies on the dollar right now. But that'll change the instant average investors catch wind of just how bad things really are. Get their names here before it's too late.
The author is an independent contributor who at the time of publication didn't own any stocks mentioned.