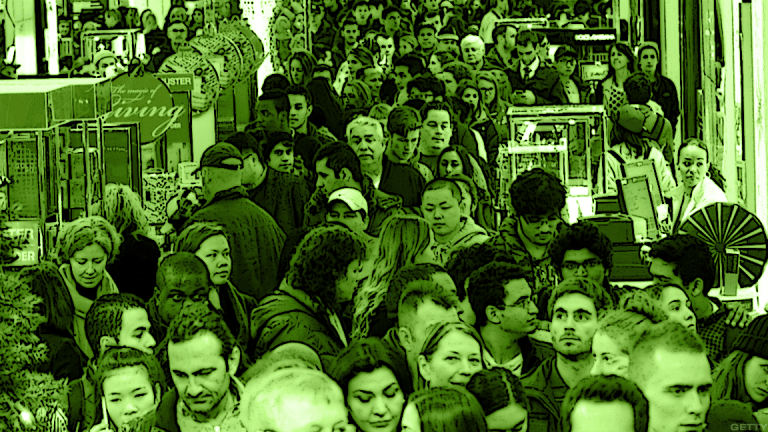 Black Friday Stories From Hell
You think crowds are bad? Try dealing with rabid customers.
You think crowds are bad? Try dealing with rabid customers.
Shopping on Black Friday isn't exactly the smoothest sail.
There's pushing and shoving and lots of waiting in line. There's the bummer of finding out an item you really wanted is sold out. But nothing compares to Black Friday from the retail worker's perspective.
Last year, Reddit user catofthe-canals started a viral thread that asked retail workers of the online forum to share their Black Friday horror stories. The thread accrued more than 7,000 comments, and the stories range from the comical to the all-out gross. Unsanitary practices were involved. A fire extinguisher was sprayed. Best Buy Inc. (BBY) - Get Report  got it especially bad, it seems. And in some cases, justice was served. Below are seven of our favorites, and here is the full thread. 
1. Someone was caught stealing a Bluetooth speaker from Best Buy. The cops ended up finding, along with the stolen product, a loaded gun and a bag of black tar heroin.
2. A confused customer started a line for a cash register that was actually just a computer. It took 15 minutes for the line to "snake all around the department." Naturally, pandemonium ensued when the waiting customers learned the truth about the 'line.'
...When the doofus who started this whole fiasco went to find the right line he found the end of the line he had started. Then the guy behind him heard that there wasn't a register so he followed the first guy. Then the next customer followed the 2nd and so on. They walked around in a circle for an hour before somebody noticed them. We almost had a riot when a manager had to tell 100 people that they weren't in line and had just waited an hour for nothing.
3. A Walmart Stores Inc. (WMT) - Get Report employee in the bakery department was tricked into working a Black Friday shift after a full day on Thanksgiving. To get back at the sneaky manager, the employee avoided the electronics department all day. Thankfully for store associates this year, Walmart won't open on Thanksgiving Day till 6 p.m. The electronics department, however, will inevitably be a mess once again come Black Friday:
...I came in at 6 am that day, and worked a 14-hour shift, because most of my team had been given the holiday off, my manager's excuse being, 'You're young! They have families they need to be with and kids to celebrate with!' so I was pretty angry.

I found out that the Black Friday sale [featured] a 65" LCD TV in electronics and [Play Station 3], so needless to say it was going to be a bloodbath. I stayed in my department...[until] the manager found out [and] came my way to rain down fire, brimstone, and bullshit on me.

Thankfully, I could use their own bullshit policies against them. There needs to be at least one member of the bakery crew on hand to write on cakes, and since I was the only one there, they were shit outta luck.
4. A Victoria's Secret (owned by L Brands, Inc. (L) - Get Report ) customer pulled a gun on the security guard. Yup, it's exactly what it sounds like:

I work at the largest lingerie retailer in the country. We had a security guard last night for the beginning of black Friday. A southern belle mother decided she didn't want to wait in a 50-person deep line and she would cut.

Our security guard asked her multiple times to step to the back of the line or leave. She proceeded to ream him with every curse word in the book, and ended by threatening him with a gun she had in her bag.

This will be my last holiday in retail.
5. A customer...er, defecated in a fitting room and used a Polo Ralph Lauren shirt — of Ralph Lauren Corp. (RL) - Get Report — to clean up. 

6. The policeman called to break up a fight in either Walmart or Target Corp. (TGT) - Get Report was bitten by one of the fighting customers, and it was not pretty:

My dad was a police officer when the toy of the year was the Tickle-Me-Elmo. He responded to a call ... of two women beating each other up over one. When he went to break up the fight, one of the women bit his arm. She bit him so hard that she actually spit some of his skin and blood out onto the floor. He had to get his blood tested every six months for two years after the incident to make sure he didn't get any diseases from her...
7. At a restaurant outside a mall, two men started a fight over Best Buy vouchers for a TV. One of the men took off his pants to fight, and at one point, someone in the crowd grabbed a fire extinguisher and sprayed it in the room in an attempt to break up the fight.

I was BS-ing with one of the managers when I heard a hostess scream through the walkie, 'HELP HELP!' So I immediately rush to the entrance to see two grown men on the ground fighting, one in nothing but his underwear... This is where it gets weird. Everyone is gathered around this small area watching or trying to help when someone grabbed a fire extinguisher and started spraying us with it. So we have a bunch of people trying to break up a fight between a man in his underwear and some other dude and someone spraying us with a fire extinguisher while we have christmas carols playing in the background.

Turns out... Guy 1 got the last [TV voucher] from Best Buy and Guy 2 was very angry about that. So he followed him over to the restaurant to try and buy the TV from him. Guy 1 told Guy 2 to fuck off so Guy 2 took off his pants and started to fight Guy 1.

TheStreet's "Black Friday and Holiday Shopping Survival Guide" series aims to help you, the consumer and the investor, navigate the holiday season, Black Friday, Cyber Monday and everything in between. Through a number stories, videos, graphics and other multimedia elements TheStreet takes a look at the biggest challenges of the season, the winners and losers from the shifting retail environment and much more.Read More about navigating the holiday season.
Editors' pick: Originally published Nov. 22.