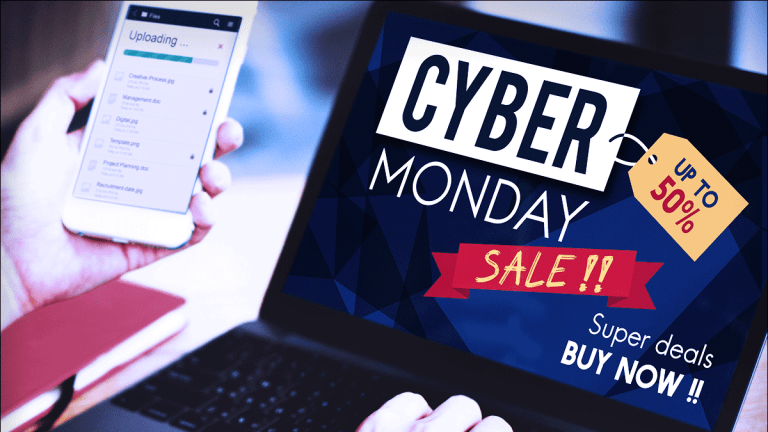 Shoppers Spend $11 Billion Online in Two Days, Set to Smash Records
But as more people buy by phone and laptop, fraud emerges as obstacle to quick sales.
Online sales numbers broke records over the weekend as shoppers spent $11 billion in two days from their phones and computers -- and were on track to buy billions of dollars more by midnight Sunday.
And now retailers are looking to cash in on even bigger online sales as Cyber Monday looms ahead and consumers begin their mad rush to wrap up present shopping for the year.
Breaking the numbers down, the relatively young shopping day dubbed "Small Business Saturday" scored a new record of $3.6 billion in online sales, according to data by Adobe Analytics released Sunday morning. That's 18% year-over-year growth. Black Friday proved a bonanza online, too, pulling in $7.4 billion in online sales, the second largest online sales day so far in history, according to Adobe (ADBE) - Get Adobe Inc. Report . By 9 a.m. ET Sunday, online sales for that day had already reached $220 million.
"Despite earlier and deeper discounts, Black Friday remained a day when shoppers came online looking for and finding even better offers," wrote Adobe in a statement, which noted that shoppers picked up more big ticket items online than usual, with the "average order value" clocking in at $168, up 5.9% year-over-year.
Big selling items over the weekend included MGA Entertainment's L.O.L Surprise Dolls and toys related to Disney's (DIS) - Get The Walt Disney Company Report new animation flick "Frozen 2," as well as electronics, such as devices by Apple (AAPL) - Get Apple Inc. Report , according to Adobe.
So far, online shopping is speeding along with 14.9% year-over-year growth at $68.2 billion spent online from Nov. 1 to Saturday, according to Adobe, which found sales by smartphone continued to rise over previous years.
But as online sales take up a larger and larger piece of retailers' business, more merchants are dealing with the darker side of peddling goods and services: fraud.
Retailers estimate an average of 27% of their annual online sales for 2019 are fraudulent transactions -- up from 18% in 2018 -- according to a recent survey by American Express (AXP) - Get American Express Company Report . Those merchants surveyed also said that the fastest growing transactions -- those by phone and over the web -- were also the most vulnerable to phony buys.
"As a result, many merchants are investing more in payment data security, with survey respondents reporting that they spent an average of 33% of their IT budget this year on payment data security, up from 27% last year," said American Express in a statement about the survey from late November.
But the lure of online cash is big: If online sales continue as projected, the total spent from Thanksgiving through Cyber Monday could top $29 billion, according to Adobe. That number would make it a fifth of the total holiday season revenue. Cyber Monday alone is projected by Adobe to pull in $9.4 billion in sales, an 18.9% increase year-over-year. 
As for total shopping -- online and off -- sales are forecast to come in at between $727.9 and $730.7 billion between Nov. 1 and Dec. 31, according to the National Retail Federation. The group also expects shoppers to spend an average $1,047.83 over the holidays.
This story has been updated.