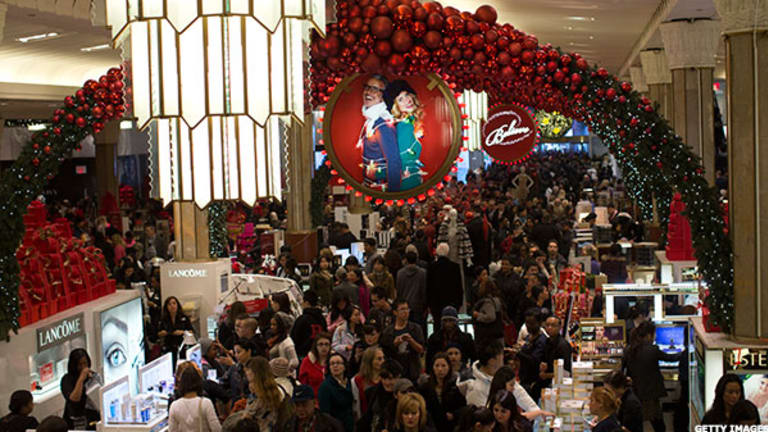 [video] Black Friday: Shoppers Snap Up Deals and Apple iPads
Consumers came out in droves to shop for deals on Thanksgiving and on Black Friday.
NEW YORK (TheStreet) - Consumers came out in droves to shop for deals on Thanksgiving night and on Black Friday.
Macy's (M) - Get Macy's Inc Report opened for the first time on Thanksgiving. CEO Terry Lundgren in an interview with TheStreet said that 15,000 shoppers were waiting to enter its flagship store in Manhattan just before opening at 8pm.
"That's compared to 11,000 at midnight the year before so obviously customers were demanding that we open early," Lundgren said.
Sales were continuing into Friday.
"Black Friday will be the single largest day of the retail year -- certainly in the case of Macy's," he said. "We'll do more business on this day than on any other day of the year."
This year, more than ever, the six fewer shopping days between Thanksgiving and Christmas are forcing customers into stores earlier. "Customers are figuring that out ... that's why I think it's going to be another record-breaking day for us," Lundgren says.
Elsewhere, not surprisingly, Apple (AAPL) - Get Apple Inc. (AAPL) Reportproducts were flying off the shelves and online. A quick look on several retailers' Web sites, including Best Buy (BBY) - Get Best Buy Co., Inc. Report, Wal-Mart Stores (WMT) - Get Walmart Inc. Report and Target (TGT) - Get Target Corporation Report, showed the Apple iPad Air, as well the iPhone 5C and 5S, were mostly sold out by Friday morning.
Wal-Mart said early Friday that Thanksgiving top sellers, in stores and online, included big screen TVs, iPad minis, laptops, XBOX One and PlayStation 4.
Wal-Mart said 22 million customers shopped on Thanksgiving last year. The discount retailer opened its doors even earlier this year at 6pm. The company said more than 1 million customers took advantage of Wal-Mart's One-Hour Guarantee events; Wal-Mart processed more than 10 million store register transactions from 6pm to 10pm; Walmart.com processed nearly 400 million page views on Thanksgiving Day.
Target noted that customer numbers were "unprecedented" on Thursday evening, the company said, leading to a "very successful start to its Black Friday shopping weekend."
"Our guests told us they want top gifts at a great value, and our team delivered," Chairman and CEO Gregg Steinhafel said in a statement. "Whether online, on their mobile devices, or in our stores, guests shopped Target in unprecedented numbers. And, as always, our team provided the exceptional experience our guests have come to expect from Target."
Target opened at 8 pm on Thursday with traffic remaining "strong for several hours after opening at many stores."
Many guests took advantage of a special coupon offer that Target began offering after midnight on Friday. Guests who spend $75 or more in Target stores receive a coupon valid for 20% off most items if they shop at a store during the first week of December. The offer is also valid at Target.com and will be available until stores close on Friday night, Nov. 29.
On Target.com, "traffic and sales were among the highest Target has seen in a single day," the company said.
Products including the new iPads, large screen TVs, Nintendo 3DS XL and Zoomer the Robot ProdDog were sold out by mid-morning on Thursday.
Much media noise will likely be made about the success of Thanksgiving store openings, but Scott Tuhy, senior credit officer at Moody's Investor Service, is skeptical of whether it will really impact retailers' bottom lines.
"For better or worse these early evening Thanksgiving opens are probably here to stay. It's one of those things if everybody else is doing it [stores] have no choice but to respond," Tuhy says. However, "I'm not sure though that the sales were made last night were necessarily incremental sales. Consumers would have gone out eventually and shopped."
"If you don't do it, you lose the sales. If you do [open on Thanksgiving] you get the sale, but incremental costs" as well, he says.
That said, Moody's expects holiday sales to rise 4.5% this year compared to 3.8% in 2012. "We do think the consumer will spend for holiday. We don't have the overhang of Sandy, which put a damper on last year," Tuhy says.
Written by Laurie Kulikowski in New York.
Disclosure: TheStreet's editorial policy prohibits staff editors, reporters and analysts from holding positions in any individual stocks.