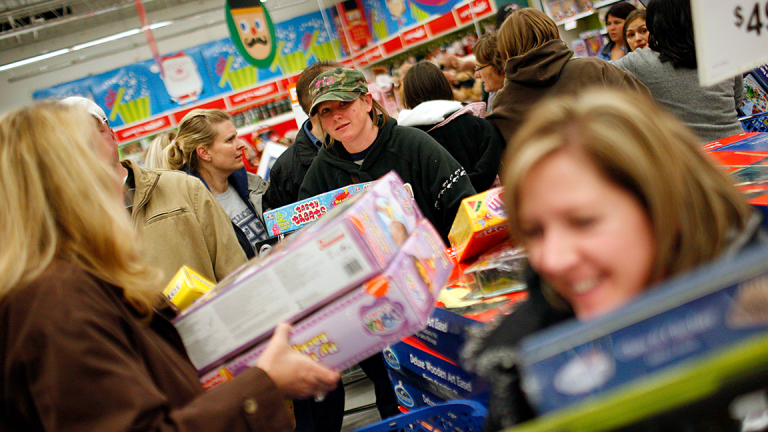 Black Friday's Start Gets Wall Street Excited About Struggling Retail Stocks
The market likes Black Friday sales data. Online shopping in particular has started strong.
By the opening bell Friday, Nov. 24, Black Friday was already indicating a strong start for the holiday shopping season. 
Initial statistics illustrated a positive retail environment for traditional big box players, albeit with continued market share grab at the hands of e-commerce contenders.
As the holiday season readied for takeoff, consumer spending had increased 16.8% year-over-year by the evening of Thanksgiving, according to Adobe Analytics, which tracked 80% of online transactions at the top 100 U.S. retailers. Thanksgiving Day saw $360 million in online sales as of 10 a.m. ET, up 17.6% from the prior year. The average order value was slightly higher for this year's pre-Thanksgiving Day at $137.
Analysts and investors were betting on a strong retail season for both bricks-and-mortar and online commerce as consumer sentiment and employment suggested a higher level of discretionary income for U.S. shoppers. At the same time, the stock market has reached numerous new highs and the economy is growing at a steady pace.
The 31-day shopping season between Black Friday and Christmas is longer than usual, one day short of a record. That offers retailers an extended chance to capitalize on the busiest time of the year.
With that, retail stocks were gaining early Friday, as the S&P Retail ETF (XRT) - Get Free Report  rose 0.73%. Here's a look at some of the biggest players this Black Friday.
More of What's Trending on TheStreet: