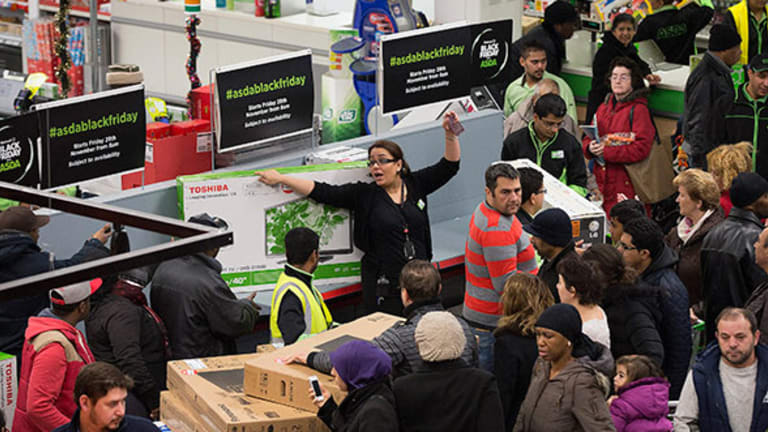 Black Friday Deals Happening Right Now
Christmas starts early with many retailers not waiting until the day after Thanksgiving to offer great deals.
Christmas starts early with many retailers not waiting until the day after Thanksgiving to offer great deals.
Updated to include new deals from Amazon and Best Buy
The holiday shopping season is primed for a strong start with many retailers not waiting until the day after Thanksgiving to offer great deals. Amazon and Walmart have already started offering discounts on thousands of items online, including electronics, toys, clothing, jewelry and kitchen items.
These stores may have taken their cue from a recent Nielsen holiday sales survey of more than 25,000 U.S. households, which found that nearly a quarter of consumers have already started their holiday shopping in September. The same survey reported that 75% of consumers who are holiday shopping this year plan on shopping online.
Amazon launched its Black Friday Deals store on Nov. 1, with new deals announced every day until December 22. Amazon Prime members get the first crack at heavily discounted items through Lightning Deals that get offered to them 30 minutes before they become available to non-Prime members.
Here are some of the great deals to look out for on Amazon's Black Friday Deals store:

GeekPro 12MP 2.0 inch WIFI Full HD 1080P Sports Camera $52.99 (was $250)
Olympus 16 MP Mirrorless Digital Camera $499 (was $699)
Nikon 24.2 MP CMOS Digital SLR $446.95 (was $649.95)
Philips Norelco Electric Shaver 8900 $139.99 (was $309.99)
Summer Infant High Definition Video Baby Monitor $169.98 (was $289.99)

Click through to see other retailers offering Black Friday deals early.


BestBuy.comis giving shoppers useful tips on how to make their shopping on Black Friday a success. The store, however, isn't waiting until Nov. 27 to start offering huge discounts on electronics. Huge deals are available now on BestBuy.com and wh began offering deals on top tech gifts. Some examples include:
Up to $125 off iPad Air 2

$250 Best Buy gift card with any Samsung Galaxy S6, S6 edge or S6 edge+ smartphonewith installment billing purchase or lease and activation
Toshiba 55-inch LED TV for $349.99 (was $549.99)
Insignia 40-inch LED TV for $159.99 (was $279.99)
Insignia 2.1 soundbar for $99.99 (was $199.99)
Save $150 on the new27-inch iMac with Retina 5Kdisplay
Save $150 on the new12-inch MacBookwith 256GB flash storage in Gold, Silver or Space Gray
Save $100 onNetgear Arlo wire-free HD security cameras, set of four (Best Buy exclusive)
To find the best deals on Walmart.com, look out for the "Hot Holiday Rollbacks" banner on the homepage. So far, we've found the following attractive deals:
Apple iPad Mini 2 16GB $199.00 (was $269)
Apple iPad Touch 32GB $189.99 (was $247)

Straight Talk Samsung Galaxy S3 S968C Prepaid Smartphone $99.00 (was $349)
VIZIO M50-C1 50" 4K Ultra HD 2160p Class LED Smart HDTV $698.00 (was $898)
Lenovo Black 11.6" N21 Chromebook PC $178.22 (was $249)
From Nov. 1 to Dec. 25, Target will bring back free shipping and returns, making it easy for guests to shop online. Curbside pickup service has also been expanded from 21 to 121 Target stores. The service is now offered in all Philadelphia and San Francisco Bay area stores, and in select stores in the New York-New Jersey and Chicago areas.
Cartwheel will have more than 350 deals at 25% off or more. The app will also offer 50% off a different toy every day from Nov. 1 through Dec. 24. Buy Two Get One Free promotion on all video games for all platforms will take place from Nov. 8 to Nov. 14.
Target will hold the "10 Days of Deals" promotion from Nov. 22 to Dec. 1, with deep daily discounts on electronics, kitchenware, toys and more. Shoppers will have access to a Black Friday presale on Wednesday, Nov. 25.
On Nov. 14, Sam's Club will have its one-day only Lowest Prices of the Season event featuring savings on popular tech gifts, including game consoles.
Here are some of the great deals to look out for:
Vizio 65" Ultra High Definition 4K Smart TV ($998, savings of $300, in-club and online)
DJI Phantom Drone 3 ($549, in-club and online)
Apple iPad Air 2 64GB ($150 off, in-club and online)
$200 Sam's Club gift card with any Verizon, AT&T or Sprint activation on installment plans
Online-only specials begin at 12:01 a.m. CST on Nov. 14. at SamsClub.com/holidaysavings and include:  
Hitachi 39" Class LED HDTV ($199.88)
Dell 15.6" Touch i7 Notebook ($499, $200 savings)