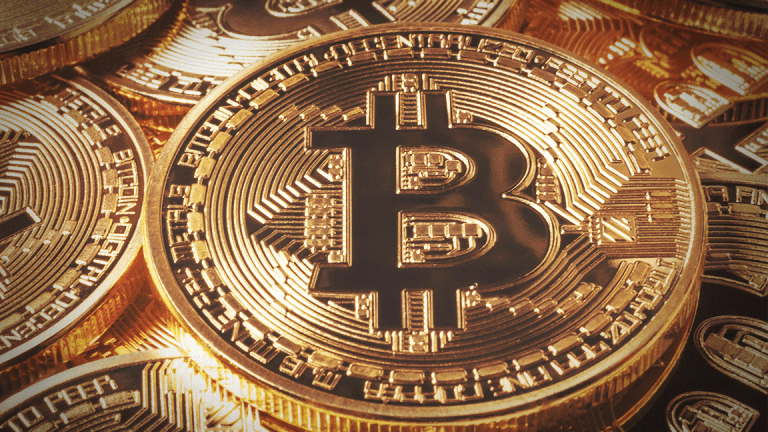 Bitcoin Price Surge Sends Riot Blockchain's Stock Through the Roof
Riot Blockchain stock is up more than 700% over the past three months. Do investors know what it actually does?
Riot Blockchain stock is up more than 700% over the past three months. Do investors know what it actually does?
Riot Blockchain (RIOT) - Get Report stock is up a casual 30% Tuesday. While a 30% surge may not be casual for most stocks, that's the case for Riot, which is up more than 100% this month.
The stock has surged more than 700% over the past 90 days thanks in part to the hysteria surrounding bitcoin. The cryptocurrency is going mainstream, sucking in all sorts of adventurous investors. That too has caused other cryptocurrencies to rally. For instance, litecoin prices have been ascending lately, as have ethereum prices.
It's also what's driven Riot Blockchain higher, as well. Interestingly enough, Riot is (perhaps was?) a biotech company that manufactures in-vitro substances. The company now sports a near-$200 million market cap, but that's because of the $3 million investment it made in Coinsquare in exchange for 12% of the company.
So what is Coinsquare and what does it have to do with biotechnology? Well, nothing really. The company is a de facto brokerage house based in Canada, allowing investors to buy and sell bitcoin, ethereum and other cryptocurrencies.
While the Coinsquare announcement occurred in early October -- thus igniting shares higher -- Riot Blockchain, formerly known as Bioptix, hasn't made it clear about its plans with its medical business. It was supposed to sell its medical intellectual property for an upfront fee and a royalty, although that sale has yet to take place.
So what are we getting into? It's unclear whether investors really know what they're buying or if they're just chasing a hot trend. My guess is the latter, as Riot Blockchain's stock run is built on very flimsy fundamentals. Even putting it that way seems nice. As our own tech guru Eric Jhonsa pointed out Tuesday, Riot has very few assets, which include cash, patents and its stake in Coinsquare.
Given the assets above, there seems to be a disconnect in assigning a near-$200 million valuation to this company. Further, it's not profitable and it's unclear how exactly that's going to change significantly with a 12% stake in Coinsquare, which Jhonsa noted ranks No. 72 for cryptocurrency exchanges.
I don't know. I wasn't a buyer of bitcoin, so maybe I'm not the dumb one. But I'm not seeing where Riot Blockchain is carrying any real value. However, that doesn't mean it can't follow cryptocurrencies higher.
More of What's Trending on TheStreet:
This article is commentary by an independent contributor. At the time of publication, the author had no positions in the stocks mentioned.