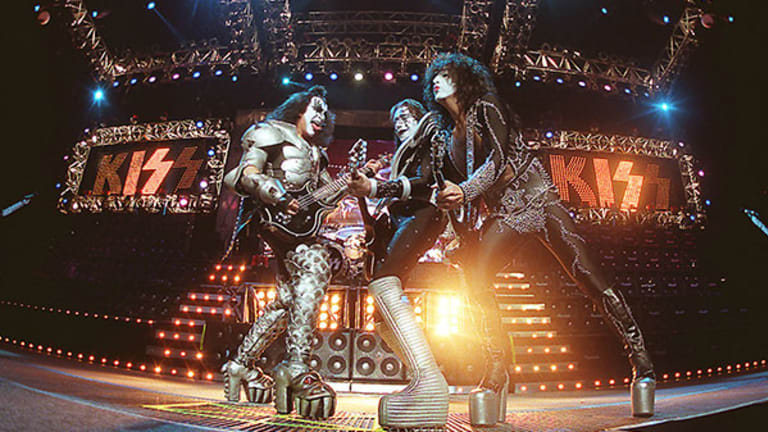 Kiss Rocker Gene Simmons Gives Perfect Advice on How to Handle Bitcoin's Crash
TheStreet sits down for an exclusive with legendary rocker Gene Simmons, and of course the topic of Bitcoin came up.
Kiss legendary front-man Gene Simmons would totally rock some Bitcoin in his portfolio.
"I am interested in Bitcoin, but only as a piece of the [investment] puzzle," Simmons told TheStreet in an interview, adding that he prefers to be diversified with his investments.
Asked on whether he would be attaching his name to Bitcoin like fellow celebs Paris Hilton and Floyd Mayweather, Simmons left the door open.
"Kiss coins? Sure, you can talk me into it."
Simmons' reminder to be diversified comes at a great time. 
Bitcoin prices continued to tumble Thursday after one of China's biggest exchanges said it would stop trading the cryptocurrency later this month amid an impending crackdown directed by the country's central bank.
Bitcoin prices have fallen nearly 30%, or more than $1,400 from the all-time peak the virtual currency reached on Sept. 1.
BTCChina, one of the country's major bitcoin exchanges, said Thursday it will "stop all trades on the digital trading platform starting Sept. 30" and indicated it would no longer accept new users as of today.
The decision followed moves from authorities in China to ban so-called initial coin offerings, or ICOS, last week after more than 2.6 billion yuan ($400 million) in new cash was raised over the first six months of the year. Shortly after, reports indicated that the People's Bank of China was looking to ban cryptocurrency trading across all platforms, although it would allow investors to continue to swap their digital currencies in over-the-counter transactions.
Bitcoin below the $4,000 mark for the first time in a month on Wednesday despite accusations of fraud from one of Wall Street's most influential leaders, JPMorgan Chase & Co. (JPM) - Get JP Morgan Chase & Co. Report CEO Jamie Dimon, who called the virtual currency concept a "fraud." Dimon added that he would fire any of his traders for dealing in it.
"The currency isn't going to work," Dimon told an audience at the Delivering Alpha investor conference in New York. "You can't have a business where people can invent a currency out of thin air and think that people who are buying it are really smart."
"My daughter bought a bitcoin and it immediately went up, now she thinks she's a genius," Dimon said. "It's just not a real thing," Dimon said. "Eventually, it will be: 'the emperor has no clothes'."
More of What's Trending on TheStreet:
John McAfee and Global Bitcoin Fans Challenge Jamie Dimon's 'Fraud' Comments