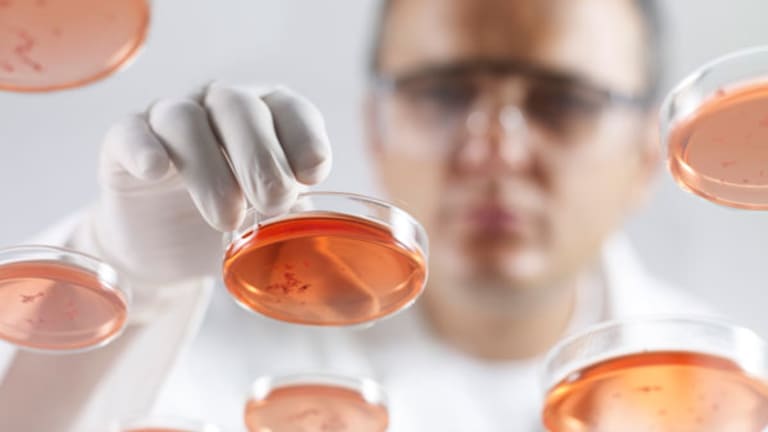 Biotechs' Compound Conundrum
A new class of diabetes compounds shows promise, but no success for several big names.
Updated from 10:52 a.m. EDT
Many investors, drug company executives and corporate scientists have been wrestling with the same medical mystery: How can a new class of diabetes compounds that look so promising in early clinical testing fail to make it to the market?
If anyone can solve the mystery, please contact
Bristol-Myers Squibb
(BMY) - Get Bristol-Myers Squibb Company Report
and
AstraZeneca
(AZN) - Get AstraZeneca PLC Report
, which spent hundreds of millions of dollars
each
to develop these drugs, only to meet disappointment.
Others, including
Merck
(MRK) - Get Merck & Company Inc. Report
, spent less money -- but they achieved the same unpleasant results.
The failure of these experimental drugs -- dual alpha/gamma peroxisome proliferator-activated receptor agonists, or simply dual PPARs -- represents a time-honored warning to investors: Most experimental compounds never reach patients, regardless of how well they performed in the lab or in early clinical trials.
But dual PPARs present a broader dilemma because compounds from different companies failed for different reasons, ranging from cancer in test animals to increased cardiovascular risks in humans.
Other product-killing side effects have included fluid buildup, kidney toxicity and elevated liver-enzyme levels.
Dual PPARs are attractive because they offer a two-in-one diabetes treatment -- controlling blood sugar and lowering blood fats called triglycerides -- that now requires two separate drugs.
In theory, a dual PPAR would be more convenient for patients and could reduce the risk of side effects caused when patients take many drugs, says Dr. Peter Chang, an analyst for BioMedTracker, a service of Sagient Research Systems which evaluates biotechnology research.
But as one drug company official told Chang, "the mechanism for side effects of PPARs is not well understood, so it is difficult to design a drug specifically to avoid side effects."
Some side effects show up in early testing, but some don't appear until late in the development process.
High Costs of Development
The most notable failure was Bristol-Myers Squibb's Pargluva, which made it all the way to the Food and Drug Administration.
The FDA granted conditional approval in October last year, but Bristol-Myers Squibb
abandoned Pargluva in May.
The company said it wasn't worth trying to meet the FDA condition of more clinical testing for cardiovascular risks. The tests would have taken about five years.
The FDA ruling prompted Merck to cancel a Pargluva marketing deal with Bristol-Myers Squibb.
Merck knows its competitor's pain, however: it
pulled the plug on a dual PPAR in late 2003 after tests revealed unexplained tumors in mice.
"The withdrawal of the Merck product led the FDA to request more safety data before considering applications for dual PPARs, making the work of everybody else even more difficult," says Nick Karachalias, senior analyst for cardiovascular disease and diabetes at London-based research firm Datamonitor.
"Despite the fact that both AstraZeneca and Bristol-Myers Squibb seemed determined to carry on with the development of their products ... issues with cardiovascular safety led to their abandonment," he adds.
Two weeks before Bristol-Myers Squibb cancelled Pargluva, AstraZeneca
stopped work on Galida.
It acted after reviewing data from four phase III clinical trials -- the last set of tests before seeking regulatory approval -- and one phase II trial. AstraZeneca said Galida's "overall risk/benefit ratio" wasn't better than current drugs.
These medications join the graveyard of other dual PPARs.
According to Datamonitor, an international who's who of drugmakers has cancelled work on PPARs since 2002.
They include Japan's
Eisai
and
Takeda Pharmaceutical
,
Eli Lilly
(LLY) - Get Eli Lilly and Company Report
, Denmark's
Novo Nordisk
(NVO) - Get Novo Nordisk A/S Report
and Germany's
Merck KGaA
.
Several others, including France's
Sanofi-Aventis
(SNY) - Get Sanofi Report
, continue to work on dual PPARs, but research is still in early- to mid-stage clinical trials.
"We are not expecting any of these to go very far since the cost of phase III trials and the difficulty of getting
regulatory approval is a very strong deterrent," Karachalias says.
The Promise of Efficiency
Companies began pursuing dual PPARs because diabetics often take more than one medication. For some patients, a drug may lose its effectiveness, or it may cause too many side effects.
As the number of diabetics has grown, so have the number of approaches for keeping blood sugar under control. Some drugs stimulate the pancreas to produce more insulin, the natural hormone that converts sugar into energy. Some drugs tell the liver to stop producing more sugar. Others enable muscles and fat cells to better process insulin.
The creators of dual PPARs didn't simply combine two existing medications to create a new drug. Instead, they developed novel compounds to provide the same therapy now found in two drug classes called PPAR-alpha agonists and PPAR-gamma agonists. Each has strengths and side effects.
The PPAR-gamma drugs include Actos, from Eli Lilly and Takeda Pharmaceutical, and Avandia from
GlaxoSmithKline
(GSK) - Get GSK plc American Depositary Shares (Each representing two) Report
. They make muscle cells and fat cells more receptive to insulin and also reduce sugar production in the liver. Actos contributed $493 million to Lilly last year; Avandia added $2.1 billion in sales for GlaxoSmithKline. Side effects include fluid buildup, cardiovascular problems and liver problems. The drugs aren't recommended for people with heart failure or liver disease.
PPAR-alpha drugs, also called fibrates, reduce triglycerides and raise so-called good cholesterol. They include the now-generic gemfibrozil, also sold under the brand name Lopid by
Pfizer
(PFE) - Get Pfizer Inc. Report
, and Tricor, from
Abbott
(ABT) - Get Abbott Laboratories Report
. Tricor generated $927 million in sales last year.
Fibrates don't react well with statins, a class of drugs that lowers bad cholesterol; the combination can cause dangerous muscle toxicity. Fibrates shouldn't be given to patients with liver problems, severe kidney disease or gall bladder disease. Fibrates exacerbate the activity of blood thinners, requiring patients to be monitored.
These various side effects motivated companies to look for a safer, single pill. But even if scientists solve the mystery of dual PPARs, Datamonitor warns of another problem -- generic competition for the alpha and gamma drugs. "It will be very hard to convince anyone to prescribe a dual PPAR at a premium price" when they could pay much less for two separate generic drugs, says Karachalias.