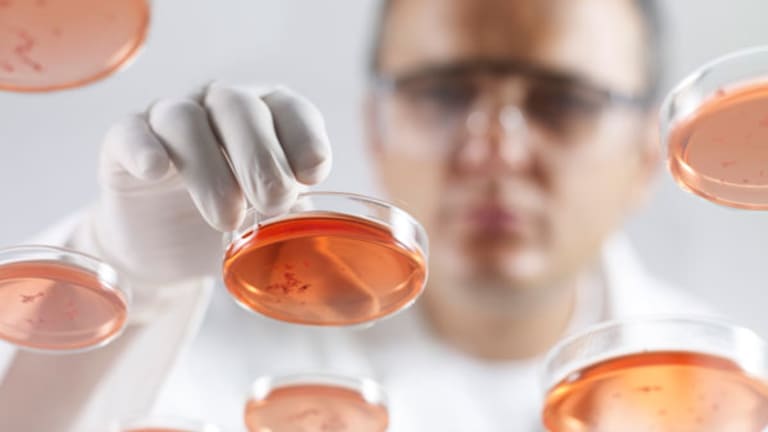 Biotech Update: Exelixis, Oculus, Medarex, Flamel
Harangues come to fruition as the biotech confab finally ends its selective-disclosure policy.
I hope no one minds me taking a short victory lap over my story this week about the American Society of Clinical Oncology's
decision (finally!) to post online its annual meeting research abstracts, making them accessible to everyone.
No more selective disclosure. No more ASCO data leaks.
I started writing about the inequities of ASCO's abstract disclosure policy six years ago. My media credentials for the 2001 ASCO annual meeting were yanked because of those first stories, but I kept at it. (You can read some vintage Feuerstein
here and
here.)
I've been a pit bull on this story ever since, so it was more than a bit gratifying to see ASCO change course. A lot of credit goes to ASCO leadership for finally getting it right, but if you don't mind, I'll pat myself on the back, too. Just a bit.
Here's an update on
Exelixis
(EXEL) - Get Exelixis, Inc. Report
, but first a reminder on my company thesis: It has lots of cancer drugs in the pipeline, all going after "sexy" anticancer molecular targets. It also has a partnership with
GlaxoSmithKline
(GSK) - Get GlaxoSmithKline plc Sponsored ADR Report
. I'd expect some clinical failures and setbacks, which can be seen as potential buying opportunities. Exelixis needs only one or two pipeline drugs to hit for the stock to work.
Now, the update: Phase II data on Exelixis' XL880 in papillary renal cell cancer patients was OK, not spectacular. Of 19 evaluable patients, there was one with a partial response, 14 others with stable disease, although some of those tumor-growth stoppages were quite long.
My sense is that the Street wanted more than a 5% response rate. It's worth noting that Nexavar (made by
Onyx Pharmaceuticals
(ONXX)
) was approved for renal cell cancer with a low-single-digit response rate. The efficacy came from a high percentage of patients with stable disease, which, in turn, boosted progression-free survival. Could XL880 fit this mold?
Exelixis sold off a bit after the data were released Oct. 24, and it's traded basically flat since then. Glaxo has an option to take control of XL880, with a decision expected in mid-December.
The American Association for the Study of Liver Disease is holding its annual meeting in Boston this weekend and into next week. I'll be there, reporting all the latest data and buzz on hepatitis C drugs. The media embargo for the meeting lifts Friday morning, so expect to see a bunch of press releases at that time, including one from
Vertex Pharmaceuticals
(VRTX) - Get Vertex Pharmaceuticals Incorporated Report
on the SVR, or cure, rate for telaprevir in the phase II study known as Prove 1.
Here are some other questions I hope to address over the weekend:
How competitive is Schering-Plough's (SGP) protease inhibitor boceprevir? Is InterMune (ITMN) and its protease inhibitor ITMN-191 still relevant? What other companies are out there working to develop a protease inhibitor? Johnson & Johnson (JNJ) - Get Johnson & Johnson (JNJ) Report? Boehringer Ingelheim? Can any of the polymerase inhibitors for hepatitis C, including those from Roche and Pharmasset (VRUS) , compete on efficacy? Is the Viropharma (VPHM) polymerase inhibitor, recently knocked down for toxicity, dead or can it mount a comeback? What does Gilead Sciences (GILD) - Get Gilead Sciences, Inc. (GILD) Report have cooking for hepatitis C?
An update on
Elan
(ELN)
:
Let's focus on bapineuzumab, the Alzheimer's disease drug candidate that Elan is co-developing with
Wyeth
(WYE)
. A phase III program for "Bap" is on track for a year-end start, and it's a biggie: 4,000 mild-to-moderate Alzheimer's patients will be enrolled across four international placebo-controlled studies. Patients in the trials will be treated for 18 months, so data are a long way off.
In the meantime, the highly anticipated presentation of Bap data from a phase II study will take place in mid-2008. The fact that regulators in the U.S. and Europe have seen some of this data already before allowing the phase III program to start assumes that it's not half bad.
But as we've seen with other Alzheimer's programs (i.e.
Myriad Genetics
(MYGN) - Get Myriad Genetics, Inc. Report
,
Neurochem
(NRMX)
), shaky phase II data isn't something that stops companies from running phase III trials.
We'll see what the phase II Bap data looks like soon enough. Meanwhile, I expect the start of the phase III trials will be enough to keep investors excited.
The Notebook will not be a forum to respond to reader email (for that, we have the weekend Biotech Mailbag), but I did want to pass along a couple of links to the folks who think I unfairly slammed
Oculus Innovative Sciences
(OCLS)
last week when I likened its "wound-healing" product Microcyn to a common Clorox household disinfectant.
Check out the "ingredient list" of Oculus' Microcyn wound cleaner
.
And for those who think Microcyn is some kind of "super bug" killer, you should know that the Environmental Protection Agency
otherwise.
Here's the edited Center for Disease Control
testimony on climate change
.
Cafepharma: A good
Web site
catering to drug and biotech sales reps. The message boards are the best part.
I'm curious: Where is that ipilimumab data from the phase III melanoma study that
Medarex
(MEDX)
promised us? One happy group has been short-sellers, who've made money without needing to see bad data. The stock has been a laggard, dropping to around $12 this week. In August, it traded at $18.
I had given up
Flamel Technologies
undefined
for dead because of GlaxoSmithKline's lousy launch of the heart disease drug Coreg CR. But behold: Coreg CR sales of $62 in the third quarter (up from $20 million in second-quarter sales) were a pleasant surprise.
That report, plus some early data on a hepatitis C drug in Flamel's pipeline, has helped pop Flamel shares from $8 to above $11. Flamel lives! A strong fourth quarter for Coreg CR will really come in handy.
Calendar:
Biomarin
(BMRN) - Get BioMarin Pharmaceutical Inc. Report
is expecting an FDA approval decision for Kuvan on Nov. 24.
Neurocrine BioSciences'
(NBIX) - Get Neurocrine Biosciences, Inc. Report
FDA decision date for indiplon is Dec. 12.
In terms of phase III trial data expected before the end of the year, there is
Genitope
(GTOP)
and its cancer vaccine MyVax;
Advanced Life Sciences
(ADLS)
and its antibiotic Cethromycin and
United Therapeutics
(UTHR) - Get United Therapeutics Corporation Report
with an inhaled version of its pulmonary disease drug Remodulin. I mentioned Medarex and its melanoma drug above.
Who needs the gym? Plastic surgeons can now
six-pack abs using a knife and a vacuum cleaner.
CytRx
(CYTR)
is the latest biotech company to jump on the RNA interference (RNAi) bandwagon. The company is spinning out an RNAi subsidiary to its shareholders. The new company,
RXi Pharmaceuticals
, will soon go public on its own and trade on the
Nasdaq
under the ticker RXIP.
Normally, I'd be skeptical about such gimmicky maneuvers, but RXi does have an ace in the hole -- the company's research platform is based on work done by Dr. Craig Mello. He won the Nobel Prize for Medicine last year for his work on RNAi, which involves gene manipulation Mello is on RXi's scientific advisory board and an investor in the company.
Adam Feuerstein writes regularly for TheStreet.com. In keeping with TSC's editorial policy, he doesn't own or short individual stocks, although he owns stock in TheStreet.com. He also doesn't invest in hedge funds or other private investment partnerships. Feuerstein appreciates your feedback;
to send him an email.