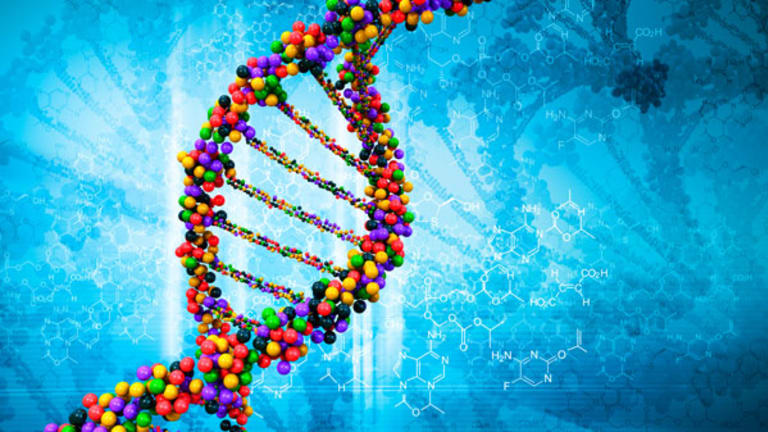 Biotech Twitter Mailbag: Gilead, Chelsea, Keryx, Onyx, BioSante, Dendreon
Biotech columnist Adam Feuerstein responds to biotech stock questions posed by his Twitter followers.
BOSTON (
) --A special midweek, all-Twitter version of the Biotech Stock Mailbag:
Please also read
part 2 of the Twitter Biotech Mailbag
.
@leemambertweets:
"More GILD '7977 data due next week @ CROI. Will it be as bad as last data release?"
Gilead Sciences
(GILD) - Get Gilead Sciences, Inc. Report
was expected to make a big splash with its hepatitis C drug GS-7977 at next week's Conference on Retroviruses and Opportunistic Infections (CROI). That's no longer true, however, given the
"null responders" already disclosed.
On Feb. 17, Gilead announced results from a cohort in the phase II "Electron" study. Ten hepatitis C genotype 1 patients with a prior "null response" to interferon and ribavirin were retreated with GS-7977 and ribavirin for 12 weeks. Within four weeks of completing treatment, six of eight patients relapsed, meaning the hepatitis C virus, which had been suppressed, came roaring back. Two patients had not relapsed, however they had only reached the two-week post-treatment time point, Gilead said at the time.
Gilead shares are down 16% since Feb. 17 on investors concerns that '7977 may not be as potent a hepatitis C drug as previously expected.
At CROI, Gilead is expected to present an update on these "null" patients treated with '7977 and ribavirin. We have yet to see results for two of the 10 patients and need an update on the two patients who were still relapse free at two weeks post treatment.
If you do the simple math, the best four-week cure rate (SVR4) Gilead can muster from this cohort of patients is 40% i.e. the four remaining patients are all virus free. Likewise, if all the remaining four patients relapse, the four-week cure rate will be 0%.
Obviously, investor expectations are low at this point, but I'd still say Gilead needs to show an SVR4 in at least one or two patients to salvage something positive at CROI and prevent a further slide in its stock price.
CROI's importance is diminished, so the next big hepatitis C data catalyst for Gilead comes later this quarter or early in the second quarter. That's when we'll see results from the '7977+ribavirin combo therapy in two groups of "naïve" hepatitis C patients (those patients new to treatment.)
@Delta4_98:
"What would be your target price for $CHTP on a CRL?"
Chelsea Therapeutics'
(CHTP)
stock price will fall if FDA rejects Northera on March 28; how much depends on what demands the agency places on the company in order to resubmit the drug for approval again.
Best case: If Chelsea only needs to negotiate final labeling for Northera and/or make minor fixes to manufacturing, the stock shouldn't drop too much. I hate making guesses on stock prices but let's say a 20% drop.
This assumes a relatively fast resubmission and a three-month response from FDA.
Worst case: FDA asks for additional clinical data on Northera, Chelsea shares are more likely to fall 50% or more. Chelsea's market value may not fall as much if the company can use Study 306b results expected in third quarter. If an entirely new clinical trial of Northera is needed, the sell off will be more severe.
@BlacknGoldFool:
"Can you please remind everyone your take on $KERX? Just want to make sure you get your last bit of hate mail in!"
I'm no fan of
Keryx Pharmaceuticals
(KERX) - Get Keryx Biopharmaceuticals, Inc. Report
, mainly because I see failure ahead for the phase III study of perifosone in advanced colon cancer.
On Monday, Keryx said that the 360th patient death needed to start the final analysis of the perifosine trial is likely to occur in March. If we assume Keryx is using electronic data capture in the trial, top-line results should be available in April, or May at the latest.
I won't rehash here the myriad reasons for why I
, but please revisit my previous columns on how Keryx runs afoul of the so-called
governing cancer drug development.
@matthewherper, my friend and Forbes drug scribe, asks,
"How does Max smell?"
To which, @kevinccc interjected, "With his nose. How do you do it?"
These days, Max (badly in need of a trip to the groomer) smells a lot like those wet towels you left crumpled in the corner of your room for a few days. That and a lingering essence of skunk, the result of an unfortunate encounter a few weeks ago. He's still the best dog in the world.
@HemPaddy:
"2012 PDUFA or Adcomm event you strongly believe will be +ve or -ve, that most of the street disagrees with? (not VVUS, CHTP)"
I'm having trouble coming up with a contrarian opinion on an FDA drug approval. I was surprised that nearly all of my picks in
TheStreet's
line up with the consensus view.
If I have to choose one upcoming FDA decision that I believe has a chance to go against Street expectations, I'll say
Onyx Pharmaceuticals
(ONXX)
and the multiple myeloma drug carfilzomib. I believe the drug has a shot at approval; contrary to the pessimistic view shared by a majority of Wall Street. The FDA's ruling is expected on July 27. No word yet if FDA plans to bring carfilzomib in front of an advisory committee.
@stock_pandit:
"Adam does not know anything about biotech. He writes article to make money not based on company value. $BPAX is a winner."
BioSante
(BPAX)
issued a press release Monday hyping phase I data on its pancreatic cancer vaccine that was presented in January. That's how desperate BioSante's executives have become; they're now releasing "news" that's six weeks old. Pathetic.
Ever since Libigel blew up in December,
BioSante has become an overvalued stock
and a favorite chew toy of momentum traders and message-board/Twitter pump artistes. Real investors have sold and moved on: Great Point Partners dumped 3 million shares, now owns zero; Jennison Associates sold 1.8 million shares, now owns zero; Manatuck Hill Partners sold 1.5 million shares, now owns zero; Balyasny Asset Management dumped 1.5 million share, now owns zero; while Gardner Lewis Asset Management sold 879,000 shares and now owns zero.
If there were any value in BioSante's cancer vaccine program, would all of these investors jettisoned their entire positions? I think not.
@Sport234a2b:
"Weak Jan. sales that can't be blamed on supply constraint or the weather… that means demand is weakening. simple $DNDN"
Or,
Dendreon's
(DNDN)
most recent Provenge problem explained this way: What the fourth quarter giveth, the first quarter taketh away.
Provenge sales may recover or rebound yet again -- volatility seems to be Dendreon's normal operating state -- but long term, I fail to see how the prostate cancer immunotherapy has a viable future with competition looming from drugs like
Johnson & Johnson's
(JNJ) - Get Johnson & Johnson Report
Zytiga or
Medivation's
(MDVN)
MDV3100. If one or both of those pills are approved in the pre-chemo setting with a survival benefit that exceeds five months, why use Provenge?
@longsweetcrude:
"Any thoughts on $ttnp?"
Titan Pharmaceuticals
(TTNP) - Get Titan Pharmaceuticals, Inc. Report
really, really, really needs to get off the bulletin boards and onto a legitimate trading exchange. Until that happens, hard to take the stock seriously even if Probuphine has potential.
You want more? Okay, check out
part 2 of the Biotech Twitter Mailbag
, with answers to questions about Orexigen, Affymax, YM Biosciences, Asstrom Biosciences, Spectrum Pharma and Arena Pharma.
--Written by Adam Feuerstein in Boston.
>To contact the writer of this article, click here:
Adam Feuerstein
.
>To follow the writer on Twitter, go to
http://twitter.com/adamfeuerstein
.
>To submit a news tip, send an email to:
.
Follow
TheStreet
on
and become a fan on
Adam Feuerstein writes regularly for TheStreet. In keeping with company editorial policy, he doesn't own or short individual stocks, although he owns stock in TheStreet. He also doesn't invest in hedge funds or other private investment partnerships. Feuerstein appreciates your feedback;
to send him an email.