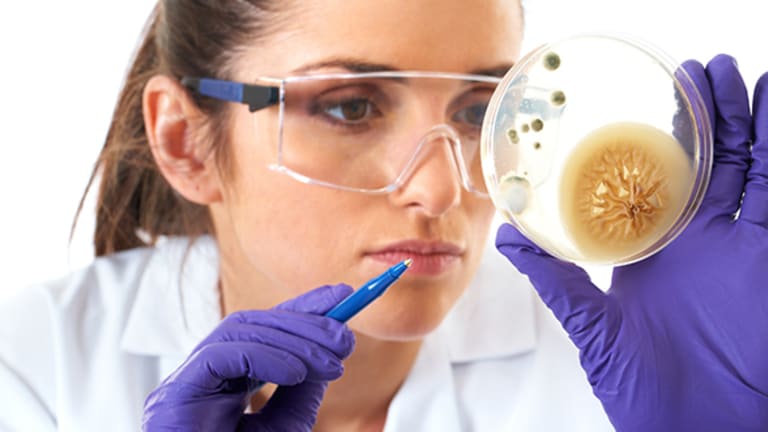 Biotech Stocks Surge Monday Amid Flurry of Deal Activity
Deals, though, weren't the only mover of share prices.
The biotech sector saw huge moves Monday morning as the J.P. Morgan Healthcare Conference kicked off and a myriad of deals were announced. 
The biggest mover in the NASDAQ Biotech Index was Ariad (ARIA) , a pharmaceutical maker that was acquired by Takeda Pharmaceuticals for $5.2 billion. The company's shares moved 73% Monday, hitting $23.78 apiece on the news. 
Merrimack Pharmaceuticals Inc. (MACK) - Get Merrimack Pharmaceuticals, Inc. Report made similarly large moves Monday after announcing that it will sell rights to its Onivyde cancer drug to Ipsen (IPSEY) Sunday evening. The deal could be worth up to $1.025 billion. 
On that news, Merrimack saw shares jump 17%, hitting $4.22 apiece Monday morning. Ipsen, meanwhile, barely moved on the news. 
Also making a big leap Monday was Incyte Corp. (INCY) - Get Incyte Corporation (INCY) Report , which announced a partnership with Merck (MRK) - Get Merck & Co., Inc. (MRK) Report to test whether a combination of epacadostat, Incyte's investigational oral selective IDO1 inhibitor, with KEYTRUDA (pembrolizumab), Merck's anti-PD-1 therapy would be effective in treating cancer. 
Incyte saw a boost of 6.08% in shares Monday, hitting $114.71 per share. Meanwhile, Merck was steady at $60.23 per share Monday morning. 
Newlink Genetics (NLNK) - Get Newlink Genetics Corporation Report was also making large moves, trading up 9.5% from market's open. The Ebola vaccine maker did not announce any news Monday. 
Finally, veterinary hospital firm VCA Inc. (WOOF) - Get Petco Health & Wellness Co. Report was up 28% on news that it would be acquired by Mars Inc., the M&Ms maker, for $9.1 billion. VCA hit $90.78 per share Monday morning.