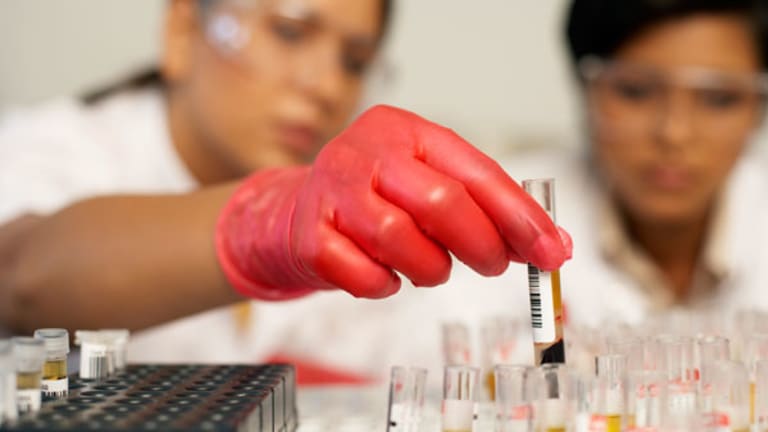 Biotech Stocks Regain Some Lost Ground
Stocks in the sector are trading higher Friday, following a mysterious final-hour bludgeoning Thursday that left many in the red.
Health stocks got burned in the final hour of trading Thursday, sparking rumors and speculation as the biotech indices regained their footing Friday morning.
Street watchers are opining that Thursday's final-hour decline could have been prompted by a variety of factors, including a large program trade, the liquidation of a hedge fund, perhaps a firm exiting health care after suffering losses last week with
Wyeth
( WYE) and
Elan
(ELN)
, or profit-taking as biotech some stocks, like
Celgene
(CELG)
and
Gilead
(GILD)
, were trading near their 52-week highs.
The effect: After registering gains earlier in the day, the Amex biotechnology index fell from roughly 857 to 834, the Nasdaq biotech index dropped from around 915 to 883 by Thursday's close. The Amex pharmaceutical index also gave up roughly 4 points, between 3 p.m. and 4 p.m. EDT.
Among those hit,
Biogen Idec
(BIIB)
fell more than a dollar,
Cephalon
( CEPH) sank roughly $1.40, Gilead around $1.50,
Genzyme
( GENZ) around $1.70, Celgene roughly $1.75, and
Amgen
(AMGN)
about $1.83. Nearly every component of the biotech and pharmaceutical indices lost ground. Each of these stocks is trading higher Friday morning.
The broader markets did slump a bit in the last hour, as well. The
Dow Jones Industrial Average
gave up 61 points, and the
gave up just more than 5 points between 3 p.m. and 4 p.m.
Notably,
Genentech
( DNA) and
ImClone
(IMCL)
appeared more immune to the afternoon biotech bashing. Not coincidentally, both biotech companies are in the middle of potential takeouts from Big Pharma players --
Roche
and
Bristol-Myers Squibb
(BMY)
, respectively -- and investors have speculated each might garner a higher bid.
In recent trading Friday morning, the Nasdaq and Amex biotechnology indices were up 1.4% and 1.6% respectively.