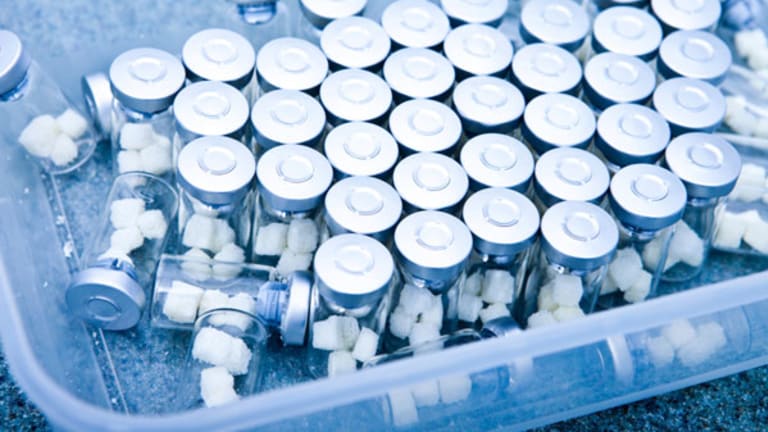 Biotech Stock Mailbag: Ziopharm, Oncolytics, Sarepta
Biotech columnist Adam Feuerstein answers readers' questions about health-care companies.
BOSTON (
) -- This week's Biotech Stock Mailbag covers questions about
Ziopharm Oncology
(ZIOP) - Get ZIOPHARM Oncology, Inc. Report
,
Oncolytics Biotech
(ONCY) - Get Oncolytics Biotech Inc. Report
and the competition between
GlaxoSmithKline
(GSK) - Get GlaxoSmithKline Plc Report
and
Sarepta Therapeutics
(SRPT) - Get Sarepta Therapeutics, Inc. Report
to develop new Duchenne Muscular Dystrophy drugs.
Before I get to the reader email and Tweets, I want to invite everyone to hang out with me on Monday, March 4, when I live-blog the
Depomed
(DEPO)
FDA advisory panel reviewing Sefelsa as a new treatment for post-menopausal hot flashes. Joining me on the live blog to provide color, analysis and perhaps some fiery arguments will be Zacks analyst Jason Napodano (a Depomed bull) and Aafia Chaudhry, well-known Twitter biotech investor, a contributor to
TheStreet
and a Depomed bear. You can sign up for an email reminder below.
Christian F. writes,
"Adam, your insight/predictions have helped me over the years. Your summary for how the Feuerstein-Ratain Rule applies to Ziopharm's phase III study was very well written. Please make a prediction on the study results."
I believe Ziopharm wins with the palifosfamide sarcoma study, meaning a statistically significant improvement in progression-free survival -- the study's primary endpoint. I'll predict a positive trend towards longer survival favoring palifosfamide but not statistically significant. This will be the most closely watched and perhaps controversial secondary endpoint of the study, but I think win on the primary endpoint plus a survival trend in the right direction will be sufficient for palifosfamide to gain FDA approval.
I am more positive on Ziopharm than the
>odds indicate using the Feuerstein-Ratain Rule
.
My contributors have covered Ziopharm, too. Aafia Chaudhry has
>concerns about palifosfamide hitting statistical significance
on the study's primary endpoint but she sees FDA approving the drug, regardless. Trader Tony Pelz offered an options trade idea heading into the release of the palifosfamide results at the end of the month.
I almost forget until I checked my archive, but I wrote a fairly detailed explanation supporting Ziopharm last October. The best proxy for the palifosfamide data are results from the study of ifosfamide/doxorubicin vs. Doxorubicin presented last year.
Forgive me for repeating myself, but here's
:
The addition of ifosfamide to doxorubicin (ifo/dox) in front-line sarcoma resulted in a 68% reduction in the risk of disease progression compared to doxorubicin alone. (The hazard ratio was 0.74 and statistically significant.) Median PFS was 7.4 months for ifo/dox versus 4.6 months for dox alone.
Overall survival was not improved, however. Ifo/dox reduced the risk of death by 17% compared to dox alone (hazard ratio of 0.83) but the survival trend was not statistically significant. At the median, overall survival was 14.3 months for ifo/dox versus 12.8 months for dox alone. Ifo is not easily tolerated so a high percentage of dropouts likely contributed to blunting the observed survival benefit trend.
Based on these confounding results, the use of ifosfamide in the treatment of sarcoma patients was deemed unjustified.
Ziopharm's PICASSO 3 sarcoma study compares the combination of palifosfamide and doxorubicin against doxorubicin. PFS is the primary endpoint, with results expected before the end of the year. If positive, Ziopharm intends to seek accelerated approval for palifosfamide, supported (hopefully) by survival data that will be mature next year.
Note: Survival data will mature later this year.
Is PFS an approvable endpoint in sarcoma for Ziopharm? Bears say PICASSO 3 is being conducted without a special protocol assessment from FDA, and the ifo/dox data discussed above suggest that a PFS benefit isn't enough for FDA approval. Ziopharm, therefore, won't win FDA accelerated approval based on PFS or will be forced to delay an approval filing until it has survival data in hand.
I disagree.
In April, FDA approved GlaxoSmithKline's
Votrient in sarcoma
based on a statistically significant PFS benefit of three months over placebo. Granted, Votrient was approved in second-line sarcoma where Ziopharm is developing palifosfamide as a first-line treatment, but still, the idea that FDA won't approve a sarcoma drug without a survival benefit is just wrong.
Votrient did demonstrate a trend toward longer survival -- 12.6 months versus 10.7 months at the median -- but it wasn't statistically significant.
In planning the PICASSO 3 trial, Ziopharm assumed doxorubicin PFS of 4.3 months, so the 4.6-month PFS observed in the dox arm of the ifo/dox study is re-assuring. Ziopharm's target is a 40% reduction (hazard ratio 0.60) in the risk of tumor progression for palifosfamide/doxorubicin over doxorubicin alone. I see that as quite achievable and approvable.
@Juliux asks,
"$ONCY reported great data on phase 1 colorectal, phase 2 squamous cell lung, and phase 3 head/neck. Thoughts?"
My first thought is, "Where are the great data?"
In my view, Oncolytics Biotech has gone to great lengths to delay and obfuscate the Reolysin clinical trials. The data reported so far have been confusing for everyone and to me, clinically meaningless, to the point that the results appear to be designed only to divert attention from Reolysin's ineffectiveness.
Let's focus first on the Reolysin "phase III" head and neck cancer trial, which isn't a true phase III trial any longer since Oncolytics can't use the data for FDA filing purposes. The original design was fairly straight forward. Oncolytics recruited 80 patients with platinum-refractory head and neck cancer (both loco-regional and metastatic disease) and randomized them to receive either 1) Reolysin plus carboplatin and paclitaxel or 2) placebo plus carboplatin and paclitaxel.
The trial used an "adaptive" design, meaning an interim analysis of progression-free survival (PFS) was to be conducted on patients six weeks after enrollment. If the PFS data demonstrated a "meaningful benefit" (definition never truly defined) favoring Reolysin, the study would be expanded with additional patients enrolled and the primary endpoint switched to overall survival.
Here's where the story gets squirrely, in my view. Enrollment in the Reolysin head-and-neck trial was slower than expected. The first PFS scan on the 80 patients took place late in the first quarter 2012, which should have allowed Oncolytics to announce results in April or May of last year.
Instead, we got nothing from the company. The first-scan analysis (at six weeks post enrollment) was never released. (Was it done at all?) Instead, Oncolytics told investors that an interim analysis was being conducted after a second scan for PFS -- 12 weeks post enrollment for all patients. This analysis was expected in July or August of last year.
But once again, Oncolytics missed its own deadline for reporting results from the trial.
Finally, in September, investors got news, but it was far from what anyone expected. Oncolytics blew up the head-and-neck cancer trial by radically changing its design and purpose.
The company claimed that while keeping the overall trial blinded, it discovered a significant difference in response and PFS between two groups of head-and-neck cancer patients within the study -- those with loco-regional disease (tumors primarily restricted to the head and neck) and those with metastatic disease (where cancer had spread to distant parts of the body.) Reolysin appeared to be working much better in patients with metastatic disease compared to patients with loco-regional disease, therefore the study needed to be modified to analyze PFS results for these two "distinct" groups of patients separately, Oncolytics claimed. Oh, and the company also said the separate PFS analyses couldn't be done until additional patients were enrolled to increase the statistical power, meaning actual results from the study would be delayed again.
At this point, if you're a sentient biotech investor, you should be seeing red flags flying all over the place.
We've all witnessed instances of dubious post-hoc data-mining i.e. when companies sift through the detritus of a failed clinical trial to find a subgroup of patients where their drug appears to work. Oncolytics is engaged in a twist on this questionable strategy. I call it "prospective data mining."
Instead of announcing what are probably negative results overall from the Reolysin head-and-neck cancer study and then claiming a benefit in the sub-group of metastatic patients, Oncolytics is keeping the overall results hidden but "prospectively" changing the rules of the study to focus only on the metastatic patients.
With all the delays to this point, Oncolytics has lots of PFS data to report, but it refuses to do so. That's just not a credible way of conducting business. There's no way this head-and-neck cancer trial can be used to approval purposes anyway, so the company should just show us the data and make whatever case it wants for Reolysin working better in metastatic patients, then move on to designing and conducting another study.
Frankly, I'll be surprised if Reolysin demonstrates a benefit in any head-and-neck cancer patient but we won't know that for sure until Oncolytics stops playing games.
Unfortunately, there's seems to be no end to the shenanigans. This week, during a Q&A session at the RBC Capital Markets HealthCare Conference, Oncolytics COO Matt Coffey moved the goalposts on the head-and-neck cancer trial once again. Now, we're not going to get PFS data in the first quarter or the second quarter, as previously promised. Instead, the company is waiting for overall survival data before disclosing results.
When will we see overall survival data? Coffey demurs, but of course hints that the longer the trial remains blinded, the better it looks for Reolysin (because patients must be living longer. Nudge, nudge, wink, wink.)
Quickly, one more reason to distrust Oncolytics management. Last year, they told investors and analysts to expect the announcement of interim results from an open-label study of carboplatin plus paclitaxel with and without Reolysin in first-line metastatic pancreatic cancer. Again, this study is open label, so doctors and patients know if they're receiving Reolysin or not.
Oncolytics was supposed to have interim results before the end of 2012, but like with the head and neck trial, that timeline came and went without any news. Then, the timeline was pushed to the first half of 2013. Then the company issued a useless update from a different study in lung cancer in February and quickly raised money. This week, Coffey, speaking at RBC, said pancreatic cancer data might be ready for release in the second half of the year.
Totally unacceptable.
My story Wednesday on the
Duchenne muscular dystophy patients hospitalized
following treatment with Glaxo's drisapersen generated a lot of Twitter chatter.
@redacre asks,
"Do you read the GSK AE adverse event news as positive for AA accelerated approval chances?"
He's referring to Sarepta Therapeutics and its DMD drug eteplirsen. Does Sarepta have a better chance of convincing FDA to accept an accelerated approval filing for eteplirsen given what appears to be more significant toxicity associated with Glaxo's drisapersen?
I don't think so, mainly because FDA will make its decision on accelerated approval based on the strength of the eteplirsen clinical data and the unmet medical need in DMD,
not
on drisapersen's side effect profile. Those are separate issues.
Sarepta benefits if eteplirsen's safety profile is cleaner than Glaxo's drisapersen. Given a choice between the drugs (and assuming similar efficacy), doctors and DMD patients are more likely to choose eteplirsen over drisapersen.
@robpichardo asks,
"Is there are time frame for the full $GSK data to be released? Is this game over for them?"
I'll take the latter question first. No, these patient hospitalizations do not mean the end of drisapersen, and my story Wednesday in no way suggested that Glaxo was giving up on the drug, nor should it. Remember, a drug's toxicity must always be weighed against efficacy and the severity of the disease. Patients at risk for hospitalization due to severe thrombocytopenia would be unacceptable for a drug treating stomach ulcers, but not so for DMD where the outcome is death.
But then, even in a disease as fatal as DMD, patients will prefer safer drugs over those that cause severe side effects. The disclosure of patient hospitalizations in drisapersen patients is important because Glaxo and its partner Prosensa had been telling investors that the drug's side effects were mild and transient. Well, clearly that's not true if some patients, even a relatively small number, are forced into the hospital.
Investors won't be able to fully assess the toxicity profile of drisapersen until more data is released. Glaxo has committed to announcing results from a randomized phase II study in the third quarter, followed by data from the larger phase III study in the fourth quarter.
Hopefully, before we see these drisapersen data, Sarepta will have an answer from FDA on the eteplirsen accelerated approval filing.
If you have the time or inclination, read Appeering's curation of an
over the newsworthiness of my Glaxo-drisapersen story.
-- Reported by Adam Feuerstein in Boston.
Adam Feuerstein writes regularly for TheStreet. In keeping with company editorial policy, he doesn't own or short individual stocks, although he owns stock in TheStreet. He also doesn't invest in hedge funds or other private investment partnerships. Feuerstein appreciates your feedback;
to send him an email.