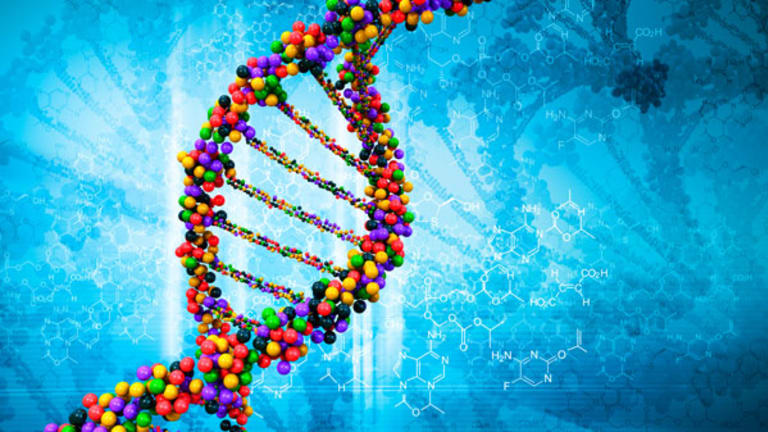 Biotech Stock Mailbag: YM Bio, Infinity, Delcath and Galena
Biotech columnist Adam Feuerstein answers readers' questions about health-care companies
BOSTON (
) -- @atrini opens this week's Biotech Stock Mailbag by asking: "Are you expecting any news on CYT387 at ASH in December?"
YM BioSciences
( YMI) will release final nine-month results from the 166-patient phase II study of CYT387 in myelofibrosis, plus additional data from the extension study. The oral presentation at the American Society of Hematology (ASH) annual meeting is scheduled for Sunday at 5:15 pm.
What we already know about the new CYT387 data comes from the study abstract released in November. For the first 60 patients with the longest followup (median 21.5 months), the anemia and spleen response rates were 59% and 48%, respectively.
Among 33 patients who were dependent on red blood cell transfusions, 70% achieved transfusion independence for at least 12 weeks. Some of these patients were transfusion-independent for more than two years.
These are fantastic data and suggest CYT387 could be a superior myelofibrosis drug stacked next to
Incyte's
(INCY) - Get Incyte Corporation Report
Jakafi. Unfortunately, relatively few investors believe CYT387's anemia benefit is real. YM Bio's share price has barely budged since interim results from the CYT387 phase II study were presented at the ASH meeting last December.
YM Bio has done nothing to bolster the credibility of CYT387 by dragging its feet on moving the drug into phase III studies. Investor hopes that a Big Pharma partner would come aboard and bless CYT387's potential haven't materialized.
Final phase II data on Sunday that continues to show CYT387 demonstrating robust anemia response and transfusion independence will be welcome news. But unless YM Bio pairs the data with a boffo partner deal, I suspect investors will leave the ASH meeting disappointed.
Sticking with this weekend's ASH meeting, there are two additional drugs that will garner much attention from health-care investors.
Pharmacyclics
(PCYC)
and partner
Johnson & Johnson
(JNJ) - Get Johnson & Johnson Report
will be presenting updates from ongoing, mid-stage trials of their Bruton's tyrosine kinase (BTK) inhibitor ibrutinib. Investors will be paying particularly close attention to data from trials in relapsed/refractory chronic lymphocytic leukemia (CLL) and elderly treatment-naive CLL. Results from a separate study in mantle cell lymphoma (MCL) will also be presented.
Investors will get the first detailed look at
Infinity Pharmaceuticals'
(INFI) - Get Infinity Pharmaceuticals, Inc. Report
PI13K inhibitor IPI-145 from a phase I study enrolling patients with various blood cancers, including CLL and MCL. A first peek at IPI-145 data from the abstract released in November caused Infinity's stock price to rise from $18 to $26 per share.
Ibrutinib and IPI-145 are considered competing drugs because they're being developed in many of the same blood-cancer indications. Their respective cancer-killing mechanisms -- BTK and PI13K inhibition -- are also closely related.
Investors are keen to compare ibrutinib and IPI-145 because the former has been the spark for an astonishing increase in Pharmacyclics' market value, which now stands at $3.7 billion. (And that's with Pharmacyclics sharing economic rights to ibrutinib with J&J.)
Infinity's market cap today is just under $1 billion, and the company owns 100% rights to IPI-145 (although there is some controversy over whether Takeda has opt-in rights.) IPI-145 is still in early-stage clinical trials but if the data at ASH live up to the hype, investors may see Infinity as the next big blood cancer drug stock, similar to what's happened already to Pharmacyclics.
Tom P. writes, "Recent communications between the FDA and
Delcath Systems
(DCTH)
have persuaded me that the FDA is likely to approve ChemoSat in June. The stock plunged when Delcath did not get priority review, but Delcath said in a largely ignored press release that the FDA had told them that in the long run, the standard review period would be better for them. ... Today, the FDA told Delcath that it would be best for them if they limited their New Drug Application to liver cancer stemming from ocular melanoma, as there is no other effective treatment available and it constitutes an unmet need. Unmet need equals 100% advisory panel vote which equals FDA approval."
Tom, I appreciate you trying to make lemonade from a lemon (Delcath), but your drink is still too sour.
I agree ChemoSat does stand a decent chance of receiving FDA approval next June, although it's not 100% guaranteed.
The more important issue you overlook is that the ChemoSat label, if granted, will be marginalized into near irrelevance from a commercial perspective. On Wednesday, Delcath disclosed an amendment to the ChemoSat NDA narrowing the proposed indication to treatment of patients with liver metastases stemming from ocular melanoma only. Dropped from consideration were patients with liver metastases from cutaneous melanoma.
This is bad news for Delcath because it sharply decreases the pool of patients eligible for ChemoSat treatment.
There are about 1,300 cases of ocular melanoma diagnosed each year in the U.S., according to the National Cancer Institute. A
French study published in 2005
found 10% of ocular melanoma patients develop liver metastases. (Hat tip: @JFMoriarity.)
This implies about 130 eligible patients for Delcath's ChemoSat each year. If Delcath were to treat all these patients, projected ChemoSat revenue would be $2 million to $5 million, depending on the pricing assumption used ($20,000 to $40,000 per patient).
As I said, tiny sales. Irrelevant sales relative to Delcath's $100 million-plus market value.
Even if the 75% of ocular melanoma patients were diagnosed with liver mets, Delcath is still only looking at a $20 million to $40 million revenue opportunity with ChemoSat. Not enough.
Delcath may grow ChemoSat sales eventually by receiving expanded indications from FDA but that will require the company to run clinical trials costing money and time. No guarantees.
Sales of ChemoSat in Europe are minimal because Delcath hasn't been able to nail down reimbursement. On Wednesday, Delcath essentially admitted to investors not to expect significant revenue contribution from Europe when it announced a new $35 million equity financing agreement. This sits on top of a $21.5 million at-the-market equity sales facility already in place. Delcath needs to raise money.
It's entirely possible to see Delcath shares trade higher next year as we approach an expected FDA advisory panel in May or the June 15 FDA approval decision date. We see plenty of bio-pharma stocks "run up" into regulatory events.
But I believe the debate about the market opportunity for ChemoSat has been settled. Critics of the company, including myself, who have
long argued ChemoSat sales would be small
-- were proven right this week.
Will writes, "What do you think of
Teva's
(TEVA) - Get Teva Pharmaceutical Industries Ltd. Report
recent investment in
Galena Biopharma's
(GALE)
NeuVax? I am a Teva long, and all that I know about Galena is from your articles, so it sounds like it's not very promising. But what do you think Teva's business-development people see in NeuVax and what are the detailed terms of this deal? Is it really a bona fide investment/partnership on Teva's part? Or is it basically like a lottery ticket for them tied only to a small region (Israel) where Galena would get tiny royalties if it ever worked out? Based on how much risk is taken on, sometimes these deals reflect a very limited interest in the molecule by the partner, and sometimes a very strong interest. I don't know how to judge them."
Judge the conviction and interest of a partner by the skin they place in the game. A partner that invests $100 million upfront to license a cancer drug, for example, is signaling strong interest and a substantial commitment. An upfront fee of $2 million for the same cancer drug, however, says something far different.
Teva is paying nothing (or nearly nothing) for rights to Galena's breast cancer immunotherapy NeuVax. This is a marketing deal that gives Teva rights to sell NeuVax in Israel only, if the immunotherapy is approved. Teva is a global firm, so if it were seriously interested in NeuVax, a deal with expanded geographical rights involving a significant upfront cash payment could have been struck easily.
Notice, too, no Teva executive was mentioned or quoted in Galena's press release. That's a red flag. Also, Galena played up the Teva name in its press release but in the ensuing
, the company admits the NeuVax partnership was actually struck with ABIC Marketing, a subsidiary of Teva.
Perhaps that's a semantics quibble, but Galena is clearly trying to hype itself to retail investors using Teva's imprimatur. ABIC Marketing doesn't have quite the same cache, even if it's more truthful.
Judging the merits of a partner deal by the amount of cash invested is a good starting point, but it's not a perfect measure. Be wary of companies that hype deals using "bio-bucks" dollars. For example, a partner may acquire marketing rights to a drug for $5 million in upfront cash -- real cash -- but then offer $500 million in future milestone payments tied to drug approvals or meeting certain sales goals.
You'll often see the value of a partner deal like this described as being $550 million, but that's mostly bio-bucks that may never materialize if the drug fails clinical trials or isn't approved.
Even large upfront payments don't guarantee success. Big Pharma has plunked down serious cash to license drugs that end up in the trash. Think
Pfizer
(PFE) - Get Pfizer Inc. Report
paying $225 million in cash upfront to
Medivation
(MDVN)
for rights to the Alzheimer's drug Dimebon. Colossal fail.
-- Reported by Adam Feuerstein in Boston.
Adam Feuerstein writes regularly for TheStreet. In keeping with company editorial policy, he doesn't own or short individual stocks, although he owns stock in TheStreet. He also doesn't invest in hedge funds or other private investment partnerships. Feuerstein appreciates your feedback;
to send him an email.