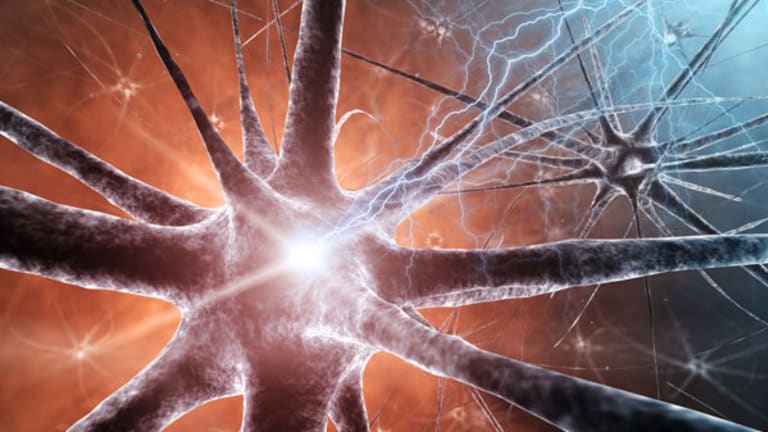 Biotech Stock Mailbag: YM Bio, Exact, Peregrine
Biotech columnist Adam Feuerstein answers readers' questions about health-care companies.
BOSTON (TheStreet) -- @Eli75NY tweets, "Adam, are you still big on $YMI? In the past you named it top 10 Bio under $300 million cap? Thanks."
YM Biosciences
( YMI) faces a big test Monday night when new data on its myelofibrosis drug CYT387 is presented at the American Society of Hematology (ASH) annual meeting.
These new CYT387 results will encompass data from 166 myelofibrosis patients enrolled at six centers, giving YM Bio an opportunity to counter the skepticism raised by non-believers when
initial study results culled from about 60 patients
at the Mayo Clinic were presented last spring.
Or, the new CYT387 data will prove the YM Bio bears correct.
The key watch points for Monday's 6 p.m. New York time presentation:
1. Will the anemia response hold up?
CYT387's ticket to stardom is its potential to reverse the anemia associated with myelofibrosis. This is important because myelofibrosis patients who are anemic or require red blood cell transfusions have more aggressive disease and shorter life spans. If CYT387 can demonstrate a positive and clinically meaningful impact on anemia in myelofibrosis patients, it could claim superiority over
Incyte's
(INCY) - Get Incyte Corporation Report
recently approved drug Jakafi, which has no effect on anemia.
From the last data presentation in June (42 evaluable CYT387 patients), 50% achieved an anemia response. All anemia responses persisted for a minimum of 12 weeks. Of the 33 patients transfusion dependent at baseline, 19, or 58%, became transfusion independent, with a median duration of transfusion independence of 7.5 months.
These data came from patients all treated at the Mayo Clinic, which led to questions about selectivity bias. The data to be presented Monday will come from multiple centers and will incorporate many more patients.
An equal or better anemia response rate Monday will be very positive. More likely the anemia response decreases. How much lower is acceptable to investors is hard to gauge. Monness Crespi Hardt analyst Avik Roy says he's keying on the patient's hemoglobin curves, which should go up over time on CYT387 treatment if the drug's anemia response is real.
"Those same curves go down for Jakafi," he says. "Even if the anemia response is lower this time around, it still puts CYT387 far ahead of Incyte's drug."
Whatever the anemia data show, expect Incyte bulls to stubbornly question the impact. Front and center will likely be Bank of America analyst Rachel McMinn, a big Incyte bull and a vocal YM Bio bear.
"We have low conviction
CYT387 anemia data will different from prior results, which showed no clinically relevant anemia benefit," McMinn said in a preview of the data this week.
2. Is CYT387 safe?
For reasons still unclear and confusing (at least to me), a 28% rate of grade 1 (mild) peripheral neuropathy emerged as a worrisome issue for investors when the CYT387 data were last presented. More significantly, thrombocytopenia (low platelet counts) was reported by 42% of patients, including 22% grade 3 and 5% grade 4. It should be noted that YM Bio allowed patients with platelet counts as low as 50,000 to be enrolled in the CYT387 study, while Incyte excluded patients with platelet counts below 100,000.
3. Can CYT397 shrink spleens?
Last spring's data demonstrated a 46% spleen response in 52 evaluable patients with a median response duration of 7.7 months. Sixty-two percent of patients achieved more than a 50% maximal decrease in spleen size from baseline; 92% achieved more than a 25% decrease in maximal spleen size.
Significant spleen shrinkage plus improvement in constitutional symptoms is what Incyte used to get Jakafi approved.
@oncobull tweets,
"@adamfeuerstein, hey adam, what's up with YMI? acting like a dog ... but its mkt cap is soooo low. ... what's your bet for Monday ASH?"
The only bet I'd make with confidence is that Monday night's data presentation will be controversial. Any flaw in the data will be magnified; positive data will be marginalized. I realize that's a pessimistic view for a drug and a stock for which I have some hope and optimism, but it's a prudent mindset given the way YM Bio traded after last spring's ASCO presentation. I do believe that forced hedge fund selling remains the most logical explanation for the more recent weakness in the stock, but we're not exactly seeing many buyers step in either.
YM Bio has a dodgy reputation, mostly deserved, for developing bad drugs in the past so I'm not surprised that investors, generally speaking, mistrust the CYT387 data to date. I'm hoping this time around is different.
Dapo A. writes,
"Adam, what does the Exact Sciences (EXAS) - Get Exact Sciences Corporation Report announcement of Dec. 5, selling more shares, mean?"
Exact sold 3.125 million shares at $8, netting around $24 million. This is cushion money -- the company didn't really need it -- but it should give them enough cash to get through 2013 when, if all works well, the Cologuard colon-cancer screening test should be approved.
Cologuard is designed to detect altered genetic material in cells that are shed from the lining of the colon into stool from pre-cancerous and cancerous lesions. The Exact Sciences test can also detect blood in stool, which is another possible signal of colon cancer.
The more important and positive recent development was the release of new Cologuard validation data last month. Exact tweaked the biomarkers used in Cologuard resulting in higher sensitivities, particularly with pre-cancerous lesions and early-stage colon cancer. This is great news and bodes well for the ongoing pivotal validation study and the test's commercial potential.
The new validation data demonstrated 98% sensitivity for cancer and 59% sensitivity for advanced adenomas (pre-cancers) greater than or equal to 1 cm, at a specificity cut-off of 91%.
Sensitivity is the ability of a test to correctly identify a positive sample, i.e. if a person has a disease, how often does the test come back positive? Highly sensitive tests are good because they result in few false positives.
Exact wants Cologuard to be highly specific because that will cut down on the number of patients referred unnecessarily to colonoscopy. In other words, if Cologuard says a patient doesn't have colon cancer, it's very highly likely that colon cancer is not present. Fewer false positive results means fewer colonoscopies performed, which saves insurance companies money. In turn, insurers will actively encourage use of Cologuard and Exact can charge more for it.
Validation data presented in 2010 showed Cologuard to have 85% sensitivity for colon cancer and 64% sensitivity for pre-cancers. The latter number is higher than the new 59% sensitivity rate because lesions of 1 cm weren't included. When Exact applied the new, more rigorous pre-cancer standard to its 2010 samples, the sensitivity rate was 54%, so net, the newly tweaked Cologuard gained 5% improvement in sensitivity for pre-cancers.
A couple words of caution about the new Cologuard results: The data were obtained from 355 samples, so a smaller number than the 1,178 samples used to analyze the test in 2010. Also, the new samples come from patients referred after they underwent colonoscopies, which means the sensitivities could be artificially high. "Real world" samples would come from a pre-colonoscopy patient.
Exact shares are up 37% this year -- respectable, especially given the long timelines. The pivotal validation study of Cologuard won't be completed until late 2012, with FDA submission to follow quickly thereafter.
@tiltorama tweets,
"@adamfeuerstein, Any thoughts on PPHM news this morning?"
On Tuesday,
Peregrine Pharmaceuticals
(PPHM)
released preliminary results from a phase II study of bavituximab ("bavi" for short) in front-line non-small cell lung cancer patients. Eighty-six lung cancer patients treated with bavi plus carboplatin and paclitaxel (chemo) demonstrated an overall response rate of 39% compared to an overall response rate of 26% for patients treated with carboplatin and paclitaxel alone.
Let's dissect:
Kudos to Peregrine for running a randomized phase II study.
The response rate in the bavi arm is numerically higher than the control arm but obviously not statistically significant. How do I know? Because Peregrine would have been shouting from the rooftop if the result was statistically significant.
In the headline of its press release, Peregrine characterizes the difference between the 39% and 26% response rates as a "50% improvement." That's suspect, especially since the result is not statistically significant. The relative difference between the two response rates is irrelevant.
The 26% response rate in the control arm -- those patients who received chemo only -- might be unusually high. In its benchmark phase III "E4599" study of
Genentech's
Avastin in non-small cell lung cancer, researchers reported a 15% response rate in patients treated with carboplatin and paclitaxel.
The response rate for Avastin plus chemo was 35%. Both Peregrine and Genentech enrolled the same type of lung cancer patients in their respective studies so making cross-study comparisons isn't totally out of bounds, at least for our purposes.
Other lung cancer studies employing carboplatin and paclitaxel found in the medical literature report response rates in the 20% range, or more in line with what Peregrine reported from its bavi study on Tuesday.
In response to my questions, Peregrine says the 26% control-arm response rate is "not unexpected" for a phase II study which enrolled 86 patients. Each patient, Peregrine notes, accounts for 2.5% of the total.
OK, but one implication is that I (and investors) shouldn't necessarily fully trust the data because the study is small. If the control arm response rate is susceptible to relatively large swings due to the outcome of just one or two patients, the response rate observed in the bavi arm is similarly volatile.
Having just 86 patients enrolled makes the bavi study more difficult to interpret. A smaller study is also more susceptible to differences in baseline characteristics of patients, so it will be important to see whether there are any significant differences in the patients enrolled in each arm of the study.
The bavi study is open label, meaning doctors and patients know if they're receiving bavi plus chemo or chemo alone. Open-label studies are more prone to biased results unless data is independently verified.
Peregrine's phase II study is enrolling lung cancer patients at 17 hospitals in the U.S., nine sites in India and 14 sites in Eastern Europe and Russia, according to a
on ClinicalTrials.gov. Avastin plus chemo is the standard-of-care treatment for front-line lung cancer in the U.S., so how is Peregrine managing to enroll U.S. patients in a study that excludes Avastin?
Says Peregrine: "Avastin is not indicated for all front-line NSCLC
non-small cell lung cancer patients, per independent research a minority of patients are treated with Avastin."
Genentech tells me that 40% of eligible lung cancer patients are treated with Avastin. Technically, that's a minority of patients, but certainly a large minority. Perhaps Peregrine is seeking "Avastin intolerant" patients for its bavi study. The company wouldn't tell me, specifically.
Peregrine did say that patients enrolled in the bavi study are "well-represented from the U.S., Europe and Asia." Peregrine wouldn't provide me a geographic breakdown of enrolled patients. I'd certainly be interested in seeing the data from the study parsed by geography. For instance, higher response rates among Indian patients have been documented in previously published studies.
Peregrine will be reporting additional data from this phase II study of bavi in 2012, including progression-free survival and overall survival. That's good because response rate is not a meaningful endpoint in lung cancer studies from a regulatory standpoint. A search through previous published lung cancer studies finds that improvements in tumor response rate don't always correlate to a survival benefit.Ultimately, Peregrine needs to demonstrate a survival benefit with bavi if it wants to see the drug approved.
As an investor, it's smart to be skeptical when presented with a press release purporting to describe the results of a clinical study, particularly a small phase II study. But as I said above, Peregrine gets credit for running a controlled study of bavi, which definitely lends credibility to the data announced Tuesday. It will be interesting to see how the data hold up as the study matures and additional results are reported.
Peregrine is an interesting challenge to the
, which states that an oncology drug company's market value is inversely correlated to the risk of phase III clinical failure. Granted, bavi is still in phase II studies, but Peregrine's market value of under $100 million suggests bavi has little chance of success. That the drug's been around a long time and has never generated interest from partners also weighs against it.
"The only thing that gives me pause is that the study was not blinded. Other than that, I see no holes," said Dr. Mark Ratain, a professor and oncologist at the University of Chicago and the co-inventor of the "Feuerstein-Ratain Rule."
Adds Ratain: "This is truly a test of our rule since the publicly disclosed data look pretty solid!"
Patrick A emails,
"Please blast Spectrum Pharmaceuticals' (SPPI) - Get Spectrum Pharmaceuticals, Inc. Report CEO, Raj Shrotriya. Please. I am a shareholder but I am absolutely sickened by the amount of compensation this guy receives. Yes, the stock has had a nice run, but assuming Shrotriya gets his 520,000-share award this month, the total amount of shares awarded to Shrotriya in 2011 will be 2.87 million shares. Yes, 2.87 million shares in either awards or options in a single calendar year! This in addition to a $1.9 million cash bonus!Am I wrong in considering this absolutely ridiculous? I am pissed off as a shareholder. The dude pays himself like he's running a multibillion-dollar largepharma with thousands of employees bringing in billions of revenue. Spectrum is a $800 million market value company with 150 employees. His compensation is ridiculous."
Well said. Shrotriya's compensation is obscene. He had a good year, no doubt. I even nominated him for the Best Biotech CEO of 2011 award. But Patrick is right, Spectrum's board pays Shrotriya as if he's running a highly profitable, large-cap biotech company. He's not.
John Paul writes,
"I really don't know who the worst biotech CEO should be, but I pronounce you the winner in the homer sic Simpson lookalike contest."
Doh!
--Written by Adam Feuerstein in Boston.
>To contact the writer of this article, click here:
Adam Feuerstein
.
>To follow the writer on Twitter, go to
http://twitter.com/adamfeuerstein
.
>To submit a news tip, send an email to:
.
Follow
TheStreet
on
and become a fan on
Adam Feuerstein writes regularly for TheStreet. In keeping with company editorial policy, he doesn't own or short individual stocks, although he owns stock in TheStreet. He also doesn't invest in hedge funds or other private investment partnerships. Feuerstein appreciates your feedback;
to send him an email.