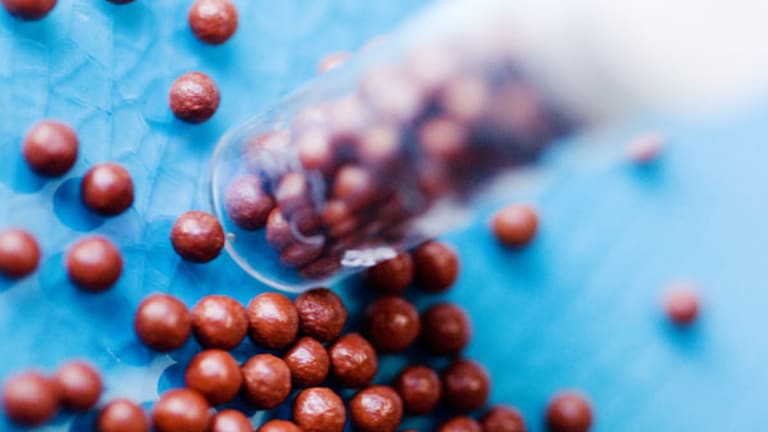 Biotech Stock Mailbag: Xoma
Biotech columnist Adam Feuerstein answers readers' questions and concerns about health care and drug-related stocks.
BOSTON (TheStreet) --Xoma (XOMA) - Get Report CEO Steven Engle -- serial destroyer of shareholder value -- finally resigned this week. For those keeping score, Engle has now blown up at two biotech companies -- he was a disaster at La Jolla Pharmaceuticals before running Xoma into the ditch. I called Engle one of the worst biotech CEOs of 2010 and have longed urged Xoma's directors and shareholders to kick the guy to the curb, so his exit this week is welcome news.
Unfortunately, it's probably too little to late to salvage anything of value from the Xoma wreckage that Engle leaves behind.
Xoma shares were up just 3 cents, or 1.5%, to $1.99 on Thursday morning, the first trading day after Engle's departure. That just shows you how beaten down and irrelevant Xoma has become to biotech investors. Adjusted for the 1-for-15 reverse stock split last year, Xoma trades for 13 cents -- that's
down
54% since the reverse split took effect.
Paul L. asks,
"What's next for Xoma now that Engle is gone?"
The best option for Xoma now would be to sell whatever assets it can, then shut down and return whatever cash remains to shareholders. Finding buyers for what Xoma has to sell won't be easy. Perhaps the French firm
Servier
would be willing to buy out Xoma's interest in XOMA 052. It's hard to imagine anyone else stepping in to acquire that troubled asset given the failure in diabetes and hopelessly risky and expensive path forward as a potential cardiovascular treatment.
Drug candidate XOMA 3AB to treat botulism: Who cares?
Xoma's antibody-manufacturing expertise could be worth something to a larger company seeking to get into that field. It's a shame that in more than two decades of trying, however, Xoma was never able to put its antibody expertise to use developing a real drug of its own.
Engle is responsible only for the last four years of Xoma's astonishing futility, but his failure should be the last. If Xoma's directors had any common sense, they'd take immediate steps to wind the company down immediately. It's long overdue.
@BioRunUp asks,
"What's your take on the NuPathe (PATH) rejection and how management handled it?"
The
FDA rejection of NuPathe's migraine patch Zelrix
on Tuesday pretty much puts the company out of business, at least from an investor standpoint. NuPathe's management handled the announcement of Zelrix's rejection poorly, which seems to be a recurring theme with these guys. No conference call to explain FDA's decision? A stock halt that started on Monday afternoon and only lifted with the release of NuPathe's press release on Tuesday morning? Really?
NuPathe has $36 million in the bank, burning about $2 million a month, and management suggested Tuesday in its canned announcement that it will seek to resubmit Zelrix to the FDA once it figures out why the migraine patch was rejected in the first place. Zelrix was going to be a super-niche product even if it had been approved, so the rejection and long wait for anything new to happen makes investing in NuPathe today a waste of time and energy.
Assume at least one year before any FDA resubmission, followed by another six-month review period. Meantime, migraine patients aren't going to miss wearing a drug patch the size of a dollar bill that offers slow pain relief even if it may cause less nausea than faster migraine remedies.
If daytraders want to kick the stock back and forth between each other, then I wish them the best of luck. Investors, on the other hand, should just move on to something else.
HKF056 writes,
"I was disappointed that you didn't even comment sarcastically when FDA cracked down on Cel-Sci (CVM) - Get Report. What happened?"
Vacation happened. Sorry.
FDA watchdogs sent Cel-Sci a warning letter last month accusing the company of making misleading statements on its Web site about its experimental cancer drug Multikine.
"The Web pages contain claims that promote Multikine, an investigational new drug, as safe and effective for the purposes for which it is being investigated," FDA's letter states.
These claims violate FDA law and are misleading statements "concerning from a public health perspective because it suggests Multikine is safe and effective when the product has not been approved by the FDA and the promotional claims made have not been demonstrated by substantial evidence or substantial clinical experience," FDA added.
Apparently, Cel-Sci forgot that you have to actually run a successful clinical trial and receive FDA approval before you can claim a drug to be safe and effective.
Details. Details.
Here's how Cel-Sci used to misleadingly promote Multikine, before the FDA slap:
"Phase II clinical trials of Multikine demonstrated the product was safe and well-tolerated and eliminated tumors in 12% of the subjects less than a month into treatment. The Multikine treatment regimen was also shown to kill, on average, about half of the cancer cells in the subjects' tumors before the start of standard therapy. Follow-up studies of subjects enrolled in the "proof of concept" Phase II trial showed a 33% improvement in the survival rate of those treated with Multikine at a median of three and a half years following surgery."
And here's how Cel-Sci is characterizing Multikine today:
"In Phase II clinical studies, subjects with locally advanced disease who received the investigational therapy Multikine (Leukocyte Interleukin, Injection) as first-line investigational treatment were observed to have demonstrated a 33% increase in overall survival rate as compared to the overall survival rate that was determined from a review of 55 trials of the same cancer population, which were reported (in the scientific literature) between 1987 and 2007. However, no definitive conclusions can be drawn from these data about the potential efficacy profile of this investigational therapy. Moreover, further research is required, and these results must be confirmed in a well-controlled Phase III clinical trial of this investigational therapy that is currently in progress."
@JamesTrade22 tweets,
"@adamfeuerstein what do you think about IGXT? They have an FDA date Nov. 13."
IntelGenx Technologies
(IGXT)
has an FDA approval decision date of Nov. 13 for CPI-300, a "novel" high-dose formulation of bupropion, the active ingredient in a
Valeant Pharmaceuticals'
(VRX)
antidepressant Wellbutrin XL.
Apparently, IntelGenx has a drug delivery technology that can pack 450 mg of buproprion into a single pill. Right now, Wellbutrin and generic versions of bupropion are only commercially available in single-pill dosage strengths up to 300 mg. That means patients who require a 450 mg dose of bupropion take two pills (i.e. a 100 mg tablet and a 350 mg tablet) every day.
From what I can gather, the only advantage offered by IntelGenx's CPI-300 is this single-pill convenience. CPI-300 isn't more effective than regular bupropion; it isn't safer or better tolerated. All CPI-300 does is allow a patient who needs 450 mg of bupropion to swallow one pill every day instead of two pills every day.
Sorry, but there's nothing "novel" about CPI-300 especially when you consider that bupropion is generic. No insurance company is going to pay for CPI-300 over cheap, generic bupropion. Forget about it.
FDA rejected CPI-300 in 2010 citing problems with the drug's manufacturing and a food effect. IntelGenx claims to have resolved both issues. A new contract-manufacturing partner was brought on to make CPI-300, but how IntelGenx resolved the food effect issue is a bit unclear. A company spokesperson says CPI-300 was reformulated to show a food effect similar to what's seen with Wellbutrin XL but the data to support this reformulation wasn't provided.
Oh, I should also mention that after FDA rejected CPI-300 in 2010, IntelGenx's development partner
Cary Pharmaceuticals
walked away. IntelGenx says Cary gave up on CPI-300 due to lack of funds. Regardless, IntelGenx has no marketing partner for CPI-300, very little cash, no commercial or marketing infrastructure of its own and the stock trades on the bulletin boards.
Current market cap: $33 million.
Sales of Wellbutrin and generic buproprion totaled $746 million in 2010, according to IMS Health. IntelGenx claims that high dose (450 mg) accounts for about 20% of sales, or $150 million. I'm unable to verify this claim but it's hard to see how CPI-300 would manage to eek out high single-digit market share even if the drug were to be approved.
Will M. asks,
"What do you think about Ohr Pharmaceuticals (OHRP) and their eye drop for wet age-related macular degeneration? Have the results been promising and do you think it's a real threat to Roche's Lucentis and Regeneron Pharmaceuticals' (REGN) - Get Report Eyelea? Or, have they not shown anything significant yet that could indicate that?"
Ohr Pharma acquired squalamine, the wet age-related macular degeneration drug, for $200,000 in 2009 at what was, in essence, a biotech assets garage sale following the demise of
Genaera
.
Genaera, for those that don't remember, was a small drug company that failed in its effort to develop squalamine (then known as Evizon) partly because Genentech (now Roche) was rolling out Lucentis at the same time and squalamine didn't improve vision well enough to compete.
Lucentis works very well in AMD, so does its sister drug Avastin at a significantly cheaper price. As Will points out, Regeneron is seeking FDA approval of Eylea for AMD, with a decision expected in November.
Frankly, squalamine doesn't stand a chance. Genaera was developing an intravenous version of the drug, which Ohr has somehow reformulated into an eye drop. How and why the eye drop version will work better than the IV formulation isn't clear. Surely, treating AMD with an eye drop is more patient friendly than the eye injection required for drugs like Lucentis, Avastin or Eylea. But investors should be under no illusion that squalamine -- a tired, old and failed drug -- has any real shot at resurrection.
That's why Ohr was able to buy the drug for just $200,000 in the first place.
--Written by Adam Feuerstein in Boston
>To contact the writer of this article, click here:
Adam Feuerstein
.
>To follow the writer on Twitter, go to
http://twitter.com/adamfeuerstein
.
>To submit a news tip, send an email to:
.
Adam Feuerstein writes regularly for TheStreet. In keeping with company editorial policy, he doesn't own or short individual stocks, although he owns stock in TheStreet. He also doesn't invest in hedge funds or other private investment partnerships. Feuerstein appreciates your feedback;
to send him an email.