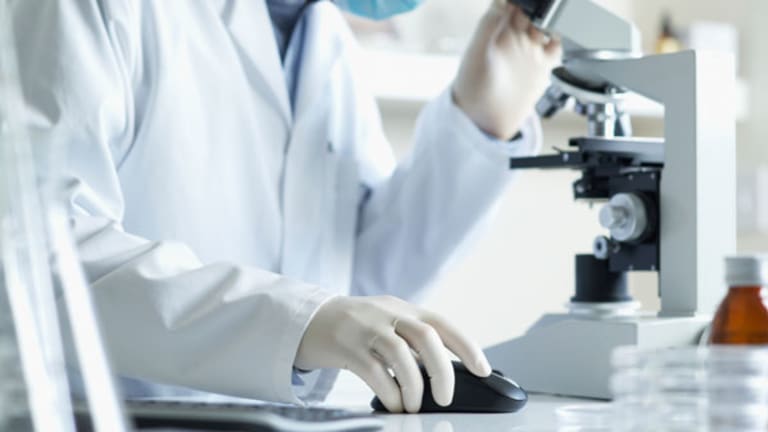 Publish date:
Biotech Stock Mailbag: Vivus, Chelsea, BioCryst
Biotech columnist Adam Feuerstein answers readers' questions about health-care companies.
Biotech columnist Adam Feuerstein answers readers' questions about health-care companies.
BOSTON (
) --@WilliamPShelley kicks off this week's Biotech Stock Mailbag, asking "What are you thinking about
Vivus'
(VVUS) - Get Report
panel?"
My predictions for next week's two very important FDA advisory panels:
Vivus: Positive vote! Panel will recommend Qnexa's approval.
Chelsea Therapeutics
(CHTP)
: Positive vote! Panel will recommend Northera's approval.
Who says I'm always Mr. Negativity?
For Vivus, I'm betting on the politics of obesity drugs outweighing the lingering safety concerns about Qnexa. The drug clearly helps fat people lose weight and FDA is under pressure to approve something for weight loss. Qnexa may be saddled with restrictions and safety warnings, but it's going to win this time around.
Chelsea took a hit Monday when it "pre-announced" the FDA's questions (too short clinical trials, patient deaths) related to Northera as a treatment for hypotension, or dangerously low blood pressure, in patients upon standing. It's now up to Chelsea and its advisors to defend the drug and convince the panel to vote yes against what might be strenuous FDA opposition.
This isn't an original observation, but others have likened Chelsea to
Acorda Therapeutics
(ACOR) - Get Report
, which also overcame a tough and highly critical FDA review to win the backing of an advisory panel and ultimately, a full drug approval.
I listened to Chelsea's CEO this week at the BIO CEO & Investor Conference, and I came away feeling like the company has a good argument to make favoring Northera's safety. The bigger question comes down to the endpoints and duration of the clinical trials used to assess the drug's clinical benefit.
Chelsea and FDA reached an agreement in advance on these trial designs. While it's the agency's prerogative to change its mind, I don't think that will sit well with the experts on the panel given the serious nature of this disease.
For that reason, I'm predicting a Chelsea win.
One more Vivus note: As you read this column today (Friday), the FDA will have likely already released its second review of Qnexa. You'll be able to find the FDA's Qnexa briefing documents on the agency's Web site.
Saul K. emails, "Please keep me updated on
Keryx Pharmaceuticals
(KERX) - Get Report
and
Aeterna Zentaris
(AEZS) - Get Report
, if that's possible."
I sat in on the Keryx presentation at the BIO CEO conference. Regarding the phase III study of perifosine in colon cancer (the most important near-term event), CEO Ron Bentsur once again said the 360th patient death -- which will trigger the final survival analysis -- had not yet occurred. He still expects Keryx to report top-line results from the perifosine study before the end of this quarter.
My sense from Bentsur's comments (and I tweeted this Monday) is that he was hinting about perifosine colon cancer study results being delayed or pushed back into the second quarter. The current quarter is half over and it can take eight to 10 weeks for data to be cleaned up enough to analyze and release, which leaves little time for Keryx to meet its first-quarter perifosine guidance.
If Keryx does announce a delay in the timing of the perifosine data, I can guarantee that many investors will interpret it as good news, i.e., these patients must be living longer than expected, which means perifosine works! I'd be very careful in making that assumption, but then I'm already on record as predicting perifosine's failure.
David P. asks, "Can you share an opinion on
BioCryst Pharmaceuticals
(BCRX) - Get Report
and its new hepatitis C drug?"
I'm not a medicinal chemist or an expert in the replicon activity assay so I'm not going to even try to decipher or weigh in on the preclinical data on BCX5191. You can peruse BioCryst's slide deck yourself.
Here's what I'm told from investor sources (guys with MDs and PhDs behind their name) have told me: The preclinical data on BCX5191 reads well. Maybe the drug is as potent as
Gilead Sciences'
(GILD) - Get Report
GS-7977, but then again, maybe it's not.
'5191 is a nucleoside while '7977 is a nucleotide -- with the current bias favoring the latter.
"Structure doesn't matter to me as long as it works in humans, so we'll wait for that," one hedge fund investor -- very active in hepatitis C drug stocks -- told me this morning.
BioCryst expects to begin human clinical trials of '5191 by the end of the year.
Perhaps BioCryst's biggest challenge is playing catch up. '5191 is late to the party and may not find many hepatitis C patients to treat if and when it gets approved years from now, behind all the other drugs way out in front.
Right now, there is scarcity value with respect to nucleot(s)ide polymerase inhibitors -- the so-called "nuke" class of antiviral hepatitis C drugs. That makes BioCryst's announcement noteworthy. But ahead of these guys in the nuke race are Gilead,
Inhibitex
( INHX) and
Idenix Pharmaceuticals
(IDIX)
. In a few months,
Vertex Pharmaceuticals
(VRTX) - Get Report
will be releasing the first human data on its nukes. I'm sure there are other nukes in drug labs getting ready to be unleashed on investors, too.
My guess is that this time next year, we'll be talking about the nuke class of hepatitis C drugs the same way we talk about protease inhibitors today -- lot of them, too many, a glut.
If BioCryst is going to make a go of it with '5191, the company needs to move really fast and have exquisitely good data.
Jeff D. sends one of the few emails regarding my
examining why
BioSante Pharma
(BPAX)
is overvalued that I can publish without censoring for naughty words.
"It's apparent you know very little about this company! And have your own agenda. Smart investors can see through this. You make general statements and circle around the truth. A remark that 'you think royalties are 6%' shows that youobviously were too lazy to obtain the correct information before writing thearticle. The statement you made that their cancer vaccines are worthless: Didyou mention the fact that JHU
Johns Hopkins University has been working on them for a decade? I guess these doctors know less than you, Adam. I am not going to give you an education on what the responsibility an author should have before writing an article. You are deliberate in your attempt to mislead investors for some reason. Does the word 'character' mean anything to you?"
"Character" in the context of my job as a biotech stock columnist means telling the truth even if it's uncomfortable or unpopular. My agenda is to help investors make informed decisions about biotech stocks. When it comes to BioSante, the numbers do not lie. Traders and momentum investors can distort the true value of a company's stock price for a time, but eventually, the numbers and the fundamentals do matter.
By the way,
Teva
(TEVA) - Get Report
and BioSante have not disclosed the exact royalty rate on Libigel sales except to say that it's mid-single digits.
Bob H.'s email is more indicative of the response I've received about BioSante this week:
"Wow, you are a
bleeping
bleep! Pretty clear you
bleeping some
bleep, you
bleeping
bleep. Go
bleep yourself -- nobody likes you."
I did post the uncensored and clearly NSFW version of Bob's email to my
for those who want a laugh.
@oncoslearning asks, "What's your take on
Exelixis
(EXEL) - Get Report
and the impact of their recent stock offering?"
The $65 million stock offering, priced at $5.50 per share, probably doesn't do much to enhance Exelixis' credibility with investors. Remember, the company raised money almost a year ago at $11 per share. Deal pricing is going in the wrong direction.
Stepping back from the stock offering, Exelixis' experimental prostate cancer drug cabozantinib -- "cabo" for short -- suffers from an identity crisis. Existing cabo data suggest the drug is effective at reducing bone pain in late-stage prostate cancer patients, yet FDA won't allow the drug to be approved based solely on a pain-lowering benefit. Exelixis must show that cabo can prolong survival but where is the evidence the drug can do that?
Further clouding cabo's future are competing drugs -- Zytiga, MDV3100, Alpharadin, OGX-011-- that have demonstrated or may demonstrate a survival benefit in prostate cancer patients well before the two phase III studies of cabo are completed.
For Exelixis, cabo might be too little, too late.
--Written by Adam Feuerstein in Boston.
>To contact the writer of this article, click here:
Adam Feuerstein
.
>To follow the writer on Twitter, go to
http://twitter.com/adamfeuerstein
.
>To submit a news tip, send an email to:
.
Follow
TheStreet
on
and become a fan on
Adam Feuerstein writes regularly for TheStreet. In keeping with company editorial policy, he doesn't own or short individual stocks, although he owns stock in TheStreet. He also doesn't invest in hedge funds or other private investment partnerships. Feuerstein appreciates your feedback;
to send him an email.