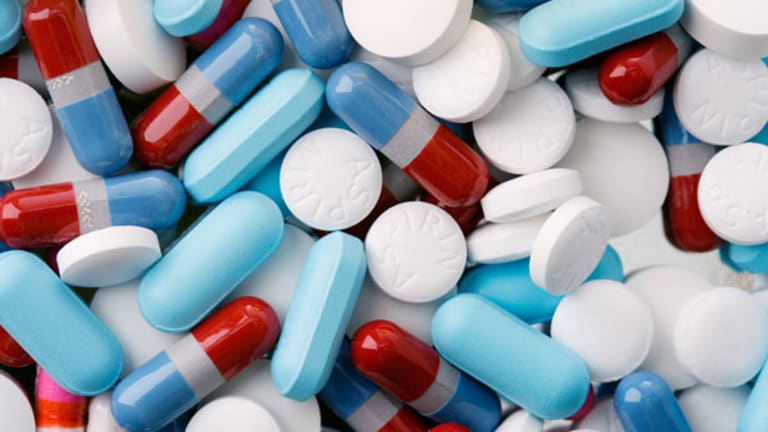 BOSTON (
) --Via Twitter, @trokalayjian tweets,
"@adamfeuerstein didn't you write that the FDA was going to ask for outcomes study $vvus - :)"
I did and I still believe that to be true.
Vivus
(VVUS) - Get VIVUS, Inc. Report
shares rose Thursday after the company announced plans for an "early resubmission" of its obesity drug Qnexa to the Food and Drug Adminstration. The new approval filing will limit Qnexa use to men and women of "non-child bearing potential."
The FDA rejected Qnexa last year citing concerns about the potential for birth defects related to the topirimate component of Qnexa. Vivus has been conducting a study to examine the birth defect issue with results expected in December.
Instead of waiting for those birth defect safety data, however, Vivus will resubmit Qnexa for approval in October, which sets up a second approval decision in April 2012. FDA will hold a second advisory panel to review Qnexa in the first quarter, Vivus said. The first Qnexa panel, held last year, voted against the weight-loss drug.
After witnessing the way FDA dealt harshly and skeptically with all three obesity drugs (
Arena Pharmaceuticals'
(ARNA) - Get Arena Pharmaceuticals, Inc. Report
lorcaserin and
Orexigen Therapeutics'
(OREX)
Contrave), I find it exceedingly difficult to have any confidence in a better outcome for Vivus' second shot at a Qnexa approval.
The FDA has made it clear that it's very concerned about the cardiovascular safety of all obesity drugs, and Qnexa, in its clinical trials, demonstrated a small but numerically higher incidence of heart attacks compared with placebo.
The drug also causes an elevated heart rate.
Just because the FDA hasn't yet asked Vivus for additional heart safety data or told the company to run a cardiovascular outcomes study does not mean regulators won't come back and ask for those data in the future. In fact, I expect the FDA is gearing up to raise the heart-safety bar on all current and future obesity drugs, Qnexa included.
As for the "early resubmission" of Qnexa, well, that's just PR spin. Vivus long ago said it planned to refile Qnexa in the fourth quarter. After starting the birth defect safety trial, the company walked back that guidance, saying it expected to have results from the birth defect trial in the fourth quarter, which would then be followed by a refilling.
Resubmitting Qnexa to the FDA in late October -- the new, new guidance -- really isn't that much of a change from the old guidance. And Vivus has always told investors to expect a second FDA advisory panel meeting.
Penile burning!
I knew that would get your attention. It certainly got mine. "Penile burning" is the most common side effect reported by men who used
Apricus Biosciences'
(APRI)
erectile dysfunction cream Vitaros in two phase III studies.
Apricus doesn't bring up "penile burning" much, if at all, when the company talks about the commercial prospects for Vitaros. No wonder. It's bad enough for a guy to have erectile dysfunction (ED) in the first place, but when the drug used to treat the embarrassing ailment also causes unwanted "heating" down there… well, let's just say Vitaros may not be the ED treatment option of choice.
Don G. comments,
"Every article you write involving Apricus Biosciences gives off the impression that you think Apricus is destined for failure."
True, and now you know why.
Vitaros is a cream containing the blood vessel-dilating drug alprostadil. Health Canada, that country's equivalent of the FDA, approved Vitaros as a treatment for erectile dysfunction in November 2010. Apricus, however, says it won't start selling Vitaros until the end of the year in part because the company is hoping to sign on a marketing partner.
Apricus has been promising a Vitaros partner for months. The commercial viability of a premium-priced ED cream was always suspect because of easy-to-take and effective pills like
Pfizer's
(PFE) - Get Pfizer Inc. Report
Viagra and
Eli Lilly's
(LLY) - Get Eli Lilly and Company (LLY) Report
Cialis. The looming entry of a cheap, generic version of Viagra is also a problem.
But let's not also understate the penile burning issue as a commercial hurdle that Apricus may find insurmountable -- and which may be keeping potential partners on the sideline.
Vitaros caused mild to moderate and transient penile burning in 25% and 23% of men, depending on the dose used, in two phase III studies, according to data included in the Vitaros label approved by Health Canada.
Penile burning is the most commonly reported side effect associated with Vitaros, along with penile erythema (redness) and penile itching. Vitaros was also reported to cause vaginal burning by the sex partners of men who used the cream in the clinical trials.
The Vitaros label is not available on the Health Canada web site but regulators made it available to me after I requested a copy.
Again, the Vitaros label describes the burning as mild to moderate and transient, but hard to view any level of burning as a good thing.
In past regulatory filings, Apricus has said it expected to sign a Canadian marketing partner for Vitaros in the first half of the year. When that deadline passed, Apricus pushed the timeline to the second half of the year. Most recently, Apricus pulled the language about the timing of a marketing partnership altogether from its regulatory filings.
@rocco74p tweets,
"$AMAG does merger happen? Or $AMAG bought out?"
It's tough to call the outcome of the proposed merger between
Amag Pharmaceuticals
(AMAG) - Get AMAG Pharmaceuticals, Inc. Report
and
Allos Therapeutics
( ALTH). A couple of new developments this week:
Fidelity disclosed that it's been buying more Amag, bringing the fund giant's ownership stake in the company up to 11% -- third largest behind Adage Capital and Palo Alto Investors.
Also, Amag and Allos set Oct. 21 as the date for the shareholder votes needed to approve the merger.
My sense, after talking to Amag investors and others, is that no one really loves this merger. Some absolutely hate it; others are willing to hold their noses and accept it in the absence of a better alternative; no one is jumping up and down calling the proposed deal an ideal solution.
The votes of Adage, Palo Alto and now Fidelity are very important since combined, they control about 9 million Amag shares, or more than 40% of the company. I've previously reported that
Adage and Palo Alto were considering voting against the merger
, especially if a better option or alternative plan was floated.
So far, no white knight has stepped up, and the stocks certainly don't trade as if a better offer is on the way.
This seems like a very opportune time for activist hedge fund manager Martin Shkreli to step up and convince skeptical investors that his interest in Amag is for real. Shkreli opposed the Allos merger and countered with an $18-a-share offer for Amag, but with few details.
The most important being, where is Shkreli getting the money to buy Amag?
Shkreli reportedly has commitments from at least two banks to help fund his Amag takeover and he's also reportedly trying to cement a slate of dissident directors so he can initiate a proxy fight, according to sources familiar with the situation.
At a biopharma industry conference in Boston last week, Shkreli spoke on a panel about shareholder activism and said he was still very much in the hunt for the Amag takeover.
But Shkreli does not show up on the Amag holders list, which is puzzling to investors waiting to see what happens. That's not to say that Shrkeli doesn't own Amag shares today, but he's going to face skepticism until he's public about being a 5% holder (call it 1 million shares) of the company.
Lots of discussion and debate about
Celsion
(CLSN) - Get Celsion Corporation Report
on Twitter these days spurred by those waiting for the company to provide an update on the
ongoing phase III study of Thermodox in primary liver cancer
.
Enrollment in the study is complete, and Celsion has said an interim analysis will be conducted when 190 progression-free survival events is reached. The twist is that Celsion will not disclose when the 190-event threshold happens. Instead, the company plans to announce results from the interim analysis only, which it expects in the fourth quarter.
Celsion's decision not to make a public announcement about PFS event 190 doesn't sit right with some traders who want more clarity so they can better time their trades. As a result, you're seeing a lot of volatility in Celsion shares these days.
I'm not as worked up about this mini-controversy because at the end of the day, the most likely outcome from this fourth-quarter interim analysis will be a recommendation from the study's minders to continue through to a final analysis. The two other possible outcomes -- Thermodox therapy is found to be futile therefore stop the study because patients aren't benefit or Thermodox is providing such a huge patient benefit so stop the study early for success -- both carry low odds.
On Twitter, I follow @magicsia, a big Celsion fan and someone who has devoted a ton of time and effort into researching the company. His
is a good resource. He agrees with me about the likely result of the fourth-quarter analysis, but adds,
"Isn't it fair to say that even a continuation to final data (380 events) would be a big win?"
Advancing the Thermodox study to a final analysis is a win, but I don't know how much more value it will create for the stock right now. Celsion is having a good year, up about 60% year to date. Before the market crashed in August, Celsion's share price had more than doubled.
Were the final analysis of the Thermodox study just around the corner, I'd feel otherwise, but Celsion management says not to expect final results from the study for another year. That's a long wait in biotech investment time, especially for short-term oriented traders.
@VexTrade is a
Mela Sciences
(MELA)
fan. I try not to hold that against him, made easier by one of the funniest tweets directed at me this week:
"Are you 'bullish' on any biotech companies? Also, does it hurt having that stick up your bleep every day?"
Yes and No.
@biotechbaumer (across two tweets) asks,
"@adamfeuerstein Do you think it's a concern that perifosine hasn't already been partnered with another Big Pharma for CRC colorectal cancer or MM multiple myeloma development? Unless KERX is avoiding deals until Ph III data comes out, maybe Pharma is unconvinced about perifosine."
Technically, perifosine is partnered.
Keryx Pharmaceuticals
(KERX) - Get Keryx Biopharmaceuticals, Inc. Report
licensed North American rights from
Aeterna Zentaris
(AEZS) - Get Aeterna Zentaris Inc. Report
, which retains European rights. If perifosine is approved, Keryx will owe a mid-single digit royalty on perifosine sales to Aeterna. Keryx management has already stated its desire to sell the company to a larger party if perifosine's phase III study is positive.
The
jury is still very much out on perifosine
so I'm not surprised that Keryx hasn't landed a deal yet. It's hard to see Keryx management turning offers away so I assume potential interested parties are waiting for the colon cancer data, just like investors.
If you missed my
yesterday, check out the transcript still available on our site for an informative discussion about new drug launches plus plenty of biotech stock talk --
Amarin
(AMRN) - Get Amarin Corporation Plc Sponsored ADR Report
, Vivus,
BioSante Pharmaceuticals
(BPAX)
,
Human Genome Sciences
( HGSI), and more.
By the way, I asked readers to predict how the FDA would rule on the Qnexa approval resubmission. Sixty-three percent said the FDA would reject Qnexa a second time; 37% predicted approval.
I also managed to insult Canada, more specifically Canadian biotechs. I said most Canadian biotech firms were "garbage." Probably not the most judicious phrasing on my part, but I was trying to make the point that Canadian biotechs have an unfortunate history of under-performance and disappointing investors.
My remark prompted Jean Martin L. to email:
"I'm Canadian, a medical researcher and an investor. I can't say I disagree much with your assessment of the lackluster Canadian biotech performance. I mean,there are some good players but a lot of the more promising ones quickly sell themselves or blow up. But you might unruffle some feathers by explainingthat Canada doesn't have the large talent pool that the US has (we're only one-tenth of your population, after all), and also not nearly the level of venture capital investment that goes on in the US. So the lack of Canadian biotech stars is not because Canadians are stupid."
Well said.
I do like Canada. I really do. Canadian biotech -- not so much.
--Written by Adam Feuerstein in Boston
>To contact the writer of this article, click here:
Adam Feuerstein
.
>To follow the writer on Twitter, go to
http://twitter.com/adamfeuerstein
.
>To submit a news tip, send an email to:
.
Adam Feuerstein writes regularly for TheStreet. In keeping with company editorial policy, he doesn't own or short individual stocks, although he owns stock in TheStreet. He also doesn't invest in hedge funds or other private investment partnerships. Feuerstein appreciates your feedback;
to send him an email.