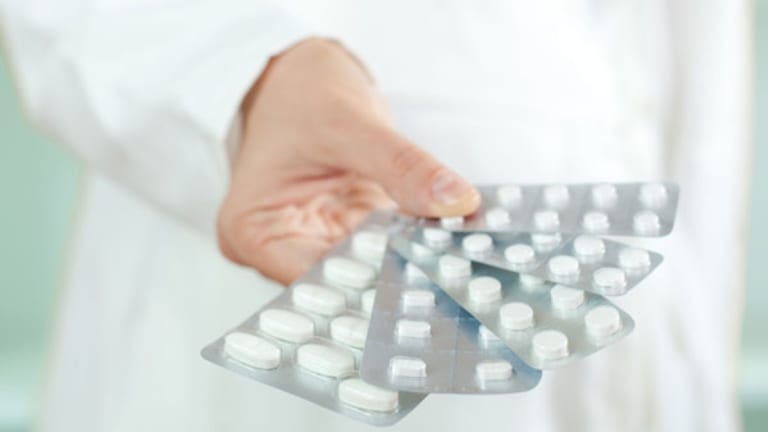 Biotech Stock Mailbag: Vivus
Biotech columnist Adam Feuerstein answers readers' questions about drug and health care-related firms.
BOSTON (
) -- Welcome back to the Biotech Stock Mailbag.
Andy S. writes, "In your opinion, if
Vivus
(VVUS) - Get VIVUS, Inc. Report
had this two-year Qnexa data available at the time of the FDA advisory meeting in July, do you believe it would have changed the outcome of the voting? And is it likely to have any bearing at this stage on the FDA's final response to the company next month? Seems to me, that while reassuring, it is too little too late now, accepting this data on the surface."
Great question! Absolutely, the two-year data would have mattered to the FDA's outside experts who reviewed Qnexa in July. Recall, the final vote was 10-6 against Qnexa's approval, with many of the panelists voting no because they wanted more long-term safety data.
The
two-year Qnexa data announced this week
would have assuaged some of the safety concerns. Would the data been enough to shift the vote to a positive recommendation for approval? I want to say yes, but the vote would still have been very close. An 8-8 tie? 9-7 in Qnexa's favor? It's hard to see it being any better than that, given the contentious nature of the discussion.
If I'm right, not having the two-year data for FDA review and consideration by the panel in July was a major Vivus blunder.
Looking ahead, I'm sure Vivus is rushing to prepare the new two-year Qnexa data for submission to FDA. I don't think this helps the company for the upcoming Oct. 28 approval decision date, however. Even if Vivus manages to submit the new data before Oct. 28, FDA will consider it to be a major amendment to the Qnexa review. I fully expect FDA to issue a complete response letter to Vivus on Oct. 28. No approval of Qnexa -- yet.
The best case for Vivus will be if FDA accepts the two-year Qnexa data, which will likely trigger another six-month review. If you assume, conservatively, that FDA receives the new Qnexa data in December/January, the next approval decision date will come June/July 2011.
Vivus also has to agree to other FDA demands, like pregnancy restrictions and a strict risk-management plan, but I can't see the company giving regulators a hard time about stuff like that.
John R. writes, "Have you seen the recent price action in
Cel-Sci
(CVM) - Get CEL-SCI Corporation Report
? There are claims of a buyout, rumors of a Teva Pharmaceuticals interest, LEAPS, new valuations up to $44 billion (LOL) and all the other old pump-and-dump claims this company has been through over the past decade. Please add some of your wisdom to this huge debacle being created on the wires and message boards. Thanks."
"Pump and dump." That sounds about right.
It should be very clear to anyone who spends an hour tops digging into Cel-Sci's fundamentals, including the
appallingly sparse data supporting the company's head-and-neck cancer drug Multikine
, that this company is a running joke. No one other than penny stock day traders is seriously interested in Cel-Sci. Have fun with Cel-Sci if trading penny stocks is your thing (and say hello to Timmy Sykes for me). Otherwise, stay away.
Via Twitter, @DLesh asks, "Is Pops going to hit big for me with Vivitrol? I am long and strong
Alkermes
(ALKS) - Get Alkermes Plc Report
."
I like Alkermes, although I like the stock a lot more when it was trading at $10 this past spring than I do now that shares are around $14.
The "Pops" @DLesh mentions is Alkermes CEO Richard Pops, who gets two backslaps from me. First, for being one of the only biotech/drug CEOs on Twitter (follow him @popsalks); and two, for the overwhelmingly positive vote last week from the FDA advisory panel which reviewed the company's Vivitrol opioid therapy for the treatment of opioid addiction.
Well done, Senor Pops!
I have reasons to be less bullish on Alkermes at $14: Can Alkermes turn Vivitrol opioid into a successful and profitable product? Vivitrol for alcohol addiction has not been a moneymaker for the company. The new opioid addiction indication should garner more acceptance from addiction treatment specialists, but is that enough to make the product a meaningful growth driver?
Alkermes still derives the bulk of its revenue and stock market value from the royalties on Risperdal Consta sales received from
Johnson & Johnson
(JNJ) - Get Johnson & Johnson Report
. However, Consta sales and growth are under pressure from other newer schizophrenia drugs, including J&J's once-monthly version of Risperdal.
Lastly, Alkermes' stock price could get another a short-term bump if FDA approves the diabetes drug Bydureon on Oct. 22. (Alkermes will receive royalties on Bydureon sales.) Bydureon's commercial prospects, however, are up in the air because competition in the so-called GLP-1 market is fierce.
Looking further ahead, watch Alkermes' internal drug pipeline. Pops has the company working on some interesting projects. Right now, investors aren't paying much attention or giving Alkermes credit for the work, which is mostly in early stages.
@5redheads tweets, "Hate to ruin your day but
Biocryst Pharmaceuticals
(BCRX) - Get BioCryst Pharmaceuticals, Inc. Report
reported positive results for gout trial. You probably missed it with your good news filter."
Snarky! @5redheads is my kinda guy. Biocryst also reported poor results from what was hoped to be a pivotal study of its lymphoma drug forodesine. The 11% response rate (all partials, no complete responders) in patients with advanced, refractory cutaneous T-cell lymphoma is nowhere close to being robust enough for FDA review, let alone approval.
Biocryst is also running into delays with U.S. registration trials for the flu drug peramivir. It now looks like the entire peramivir program is going to be delayed at least a year, if not more, because the company will have to go back to the southern hemisphere to enroll patients in the 2011 flu season, according to a downgrade report by Bank of America/Merrill Lynch Thursday. (Reported cases of flu are low right now and the current northern hemisphere flu season is expected to be light.)
I'm still not a fan of Biocryst. The gout drug might be interesting, but the gout drug "space" is crowded, Biocryst's drug BCX4208 is behind competitors and the drug still has unanswered concerns about T-cell lowering. If you want to invest in gout,
Ardea Biosciences'
( RDEA) drug looks better.
I've been covering biotech investing for so long now, I thought nothing -- no matter how egregious -- could shock me anymore. Then, I opened an email from BFB:
"I read your two Rodman & Renshaw pieces, and have something that might amuse you. One of the companies there was
Advaxis
(ADXS) - Get Advaxis, Inc. Report
. I have some shares (a lot fewer than before) but I didn't get around to reading the full SEC filings until it was too late. Anyway, a kerfuffle has erupted on the message boards for Advaxis because the filings revealed that the CEO has a history, not a pleasant one, with the SEC."
BFB's email contained some links, which is how I learned that Tom Moore, the former CEO of the failed, disgraced and now blown-up human blood substitute company Biopure, somehow managed to land another job in the biotech/drug sector as the chief executive of Advaxis. And Moore has been running Advaxis since 2006.
Wow. That is unfreakingbelievable.
Moore and I go way back to the early aughts. (Hey Tom, we meet again!) His primary job at Biopure was to (allegedly, per the SEC) make repeated false and misleading statements about Biopure's efforts to gain FDA approval for its human blood substitute Hemopure.
In 2003, FDA informed Biopure that it had rejected the Hemopure approval application. Moore didn't tell investors about the rejection. Instead, he told investors that Hemopure was still on track for approval! Biopure's stock went up and the company raised more money. Later the truth came out about Hemopure and Biopure's stock price plummeted. The SEC launched an investigation, leading to civil charges being filed against Moore. Eventually,
SEC reached a settlement with Moore
, which is why all the charges that Moore lied and misled investors are still just legal "allegations."
For some reason, the SEC didn't bar Moore from serving as an officer of a publicly traded company, even though what he did to investors was worse, in my opinion, than the crimes committed by Martha Stewart or Sam Waksal.
I take the Moore situation personally, I'll admit, because it was my reporting about
Hemopure that largely uncovered all the problems with Hemopure
and Moore's alleged role in Biopure's eventual demise.
So to my surprise and horror, Moore is still around running Advaxis, a tiny cancer vaccine company trading on the bulletin boards. I had no idea. I'm not familiar with Advaxis but are there really any reasons to dig further when you know that Advaxis' board thought it wise to hire a guy like Moore as CEO?
More Twitter. @Pelion2001 comments, "
Cell Therapeutics
(CTIC) - Get CTI BioPharma Corp. Report
got the votes -- another rabbit out of the dilution hat."
That's right. Cell Therapeutics won shareholder approval to raise the number of authorized shares to 1.2 billion from 800 million. Congratulations, this means Cell Therapeutics CEO Jim Bianco now has another 400 million shares to sell to hedge funds and stock flippers at less-than-market prices. The coming financings will keep the lights on at Cell Therapeutics for a little longer while existing shareholders get diluted.
What the new shares or cash will probably not do is change the company's lousy fundamentals.
Golferdahl41 has a beef: "I read with interest your comments on
Oculus Innovative Sciences
(OCLS)
. My experience with the product Microcyn is 1. It cured a leg infection on a friend of mine that was not responding to antibiotics. 2. It cured the leg and foot sores from diabetes on a lady who had amputation for the same problem on her other foot. 3. Cured the flesh-eating virus in the leg of another patient. I also checked with the company taking the veterinarian version to the public market and they say the reception and results are excellent. So, why do you continue to bash the company?"
I "bash" Oculus because because
Microcyn's active ingredients are sodium hypochlorite (0.0036%) and hypochlorous acid (0.0025%)
, otherwise known as common household bleach and the chlorine used to keep swimming pools clean. That's it. Microcyn is a common disinfectant, widely available for pennies. Oculus has no data to support medical claims, no FDA drug approvals. Microcyn "cures" nothing.
Just because Oculus can put a common disinfectant in a spiffy bottle and sell it like a wonder drug doesn't make it one.
Craig L. asks, "Thanks for doing the
Arena Pharmaceuticals
(ARNA) - Get Arena Pharmaceuticals, Inc. Report
. It was helpful and interesting. I am curious to hear more from you on
Orexigen Therapeutics
(OREX)
if you have time to address it. It seems baffling to me, but you are more knowledgeable than I about these drugs. I just don't understand the move."
Craig refers to the sharply higher move in Orexigen immediately following the FDA advisory panel's negative vote on Arena's obesity drug lorcaserin. Orexigen roughly went from $5 to $7 but has now given up about half that gain.
Baffling is a good way to describe the reaction. With Arena and Vivus knocked down by FDA advisory panels, I assume traders viewed Orexigen as the last obesity drug play standing. Couple that with a paucity of shares to short and the stock moved higher.
From a fundamental perspective, I see Orexigen having a rough go at its own FDA advisory panel scheduled for Dec. 7. Orexigen has only one year of Contrave weight-loss data to present to the panel and the data are riddled with questions about cardiovascular and other side effects. After Arena and Vivus, we know the regulatory bar for obesity drugs is set high. You can't rule out an Orexigen victory on Dec. 7, but I'd be surprised if that happened.
And yes, absolutely, I will be live-blogging the Orexigen FDA panel on Dec. 7. I've done two of these obesity drug death matches so far, so it's time for the trifecta.
On a related note, "AllStarPitcher" sent me this love note right after the Arena panel last week:
"Hey pal, did you just blow in from stupidville? It's rather ammusing
sic how your company is a
sic considered a penny stock and yet you critique companies that actually have growth opportunities. I'm assuming its
sic because you were taunted as a child, which probably explains why you responded to all the angry emails from everyone. Well anyways, just wanted to say grow up child."
I received a lot of negative pushback (mostly from Arena shareholders, I assume) for the
healthcare buyside investor poll I conducted about lorcaserin's chances at the FDA advisory panel meeting
. (75% of the survey's respondents predicted -- accurately, it turns out -- that the panel would reject lorcaserin.)
Reg M.'s email was typical of the criticism I received.
"I'm curious as to why you would poll hedge fund managers as opposed to medical physicians. Wouldn't that be more relevant information? Hedge fund managers most likely are biased as they could have a binary position in Arena while doctors would not. Also, it would be helpful to know why you thought it would be helpful to do this at this time."
My periodic buy-side polls are meant to provide readers (mainly retail investors) with a snapshot of what Wall Street pros are thinking about a particular stock or subject. The poll isn't scientifically conducted. I don't expect readers to take the poll's findings as absolute truth. It's just a way for me broadly and quickly canvas buyside investors (yes, mainly biotech hedge funds) that I speak with on a regular basis as part of my job. Understanding their sentiment on Arena was interesting to me and I hope to you as well.
Are my hedge fund sources biased? Depends on the definition. It's not helpful to me (or you) if my survey respondents have no opinion or position in the stock being surveyed. Hedge funds are in business to make money for their investors. If a hedge fund manager thinks Arena is going to get dinged and takes a short position in the stock as a result, that's bias, but it's bias that another investor also interested in Arena should want to know about.
A poll of doctors might be helpful but doctors, in my experience, tend to be lousy investors. (Sorry docs, but I've talked to too many of you who know a lot about medicine but really don't understand how stocks work.)
Biotech and biotech investing aren't necessarily the same.
--Written by Adam Feuerstein in Boston.
>To contact the writer of this article, click here:
Adam Feuerstein
.
>To follow the writer on Twitter, go to
http://twitter.com/adamfeuerstein
.
>To submit a news tip, send an email to:
.
Adam Feuerstein writes regularly for TheStreet.com. In keeping with TSC's editorial policy, he doesn't own or short individual stocks, although he owns stock in TheStreet.com. He also doesn't invest in hedge funds or other private investment partnerships. Feuerstein appreciates your feedback;
to send him an email.