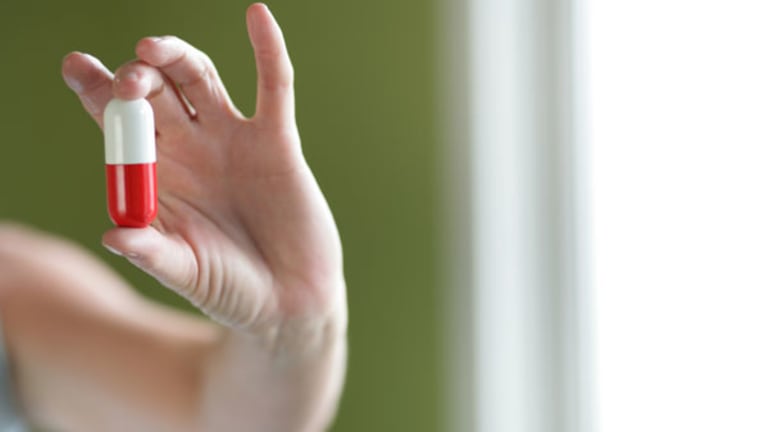 Biotech Stock Mailbag: Vical
Biotech columnist Adam Feuerstein answers readers' questions and concerns about health care and drug-related stocks.
BOSTON (
) -- The Biotech Stock Mailbag is back after a trip to San Francisco,
live-blogging coverage of the J.P. Morgan Healthcare Conference
, and unfortunately, an itchy, red, swollen encounter with poison oak.
The least said about the latter, the better.
Gerald S. emails,
"Adam, I like your research and thoroughness that you present in your articles very much. In your Biotech Calendar: FDA Drug Approvals in 2011 article, I saw a number of companies with resubmissions upcoming in 2011. However, I wondered if you had updated the calendar, especially with any new companies or initial submissions and have you any information on a company named Vical (VICL) . They had a mishap with Sanofi-Aventis (SNY) - Get Sanofi Report not long ago, but their vaccine allovectin-7 to treat metastatic melanoma is in Phase III. I respect your insight and opinion very much, and wonder what your take is on it."
Vical is conducting a phase III study in 390 patients with recurrent melanoma (skin cancer) who have not yet been treated with chemotherapy. The study compares treatment with allovectin to standard chemotherapy (dacarbazine or temozolomide) with a primary efficacy endpoint of durable response rate, defined as the response rate (tumor shrinkage) after 24 weeks of treatment.
Vical expects results from the allovectin study in the second half of the year.
Allovectin is touted as cancer "vaccine" because the drug is designed to stimulate a patients' immune system to identify and kill cancer cells. Yes, this is similar to how
Dendreon's
(DNDN)
Provenge works although allovectin is an off-the-shelf product made up of DNA sequences injected directly into the tumor. Once inside the tumor, Vical says allovectin triggers an immune response that has both local and systemic effects.
Provenge, by comparison, works by mating a patients' own immune cells to a prostate cancer antigen. When the resulting "vaccine" is reinfused, the patient's immune system recognizes and attacks the prostate cancer cells.
A previous single arm, open label phase II study of allovectin in 127 chemotherapy refractory patients yielded an 11.8% response rate, including four complete responses. This is generally equivalent to the melanoma response rate seen with dacarbazine in previous clinical trials.
Vical says the median duration of response to allovectin in the phase II study was almost 14 months and the median overall survival was about 19 months. View these data extra skeptically -- or perhaps disregard entirely -- since the phase II study lacked a comparator treatment, not even a placebo.
Dacarbazine and temozolomide are barely effective treatments for melanoma, so allovectin doesn't have a very high bar to hurdle in the phase III study. With that said, the marginal results from the phase II study don't provide much breathing room for allovectin to beat either of the two comparator drugs. Phase III studies rarely, if ever, produce better data than that seen in phase II studies. Measuring response after 24 weeks of treatment in the phase III study, presumably to allow for any immune response against the cancer to kick in, may help allovectin's chances.
Vical is conducting the allovectin study under a Special Protocol Assessment from the FDA that gave the OK to use durable response as the primary endpoint, but that doesn't necessarily relieve the company of demonstrating that allovectin can prolong the survival of skin cancer patients. Recently, two experimental skin cancer drugs, one from
Bristol-Myers Squibb
(BMY) - Get Bristol-Myers Squibb Company Report
and the other from
Roche
-- have produced positive phase III results that include a survival benefit. If allovectin cannot match the efficacy of these two drugs, results from its phase III study, even if positive, may be clinically irrelevant.
Chris C. asks,
"Do you have any indication of when the FDA is going to meet regarding Mela Sciences' (MELA) MelaFind application? I thought the date was early January but see no indication of such. Any insight or information you have is much appreciated."
The last we heard from Mela was in November when an
FDA advisory panel voted (surprisingly) to endorse the approval of the company's MELAFind skin cancer-detection device
. The positive panel vote came over the strong objections of the FDA, which voiced strong objections to MELAFind's approvability.
Advisory panel votes aren't binding on the FDA, and the agency doesn't have a deadline by which it needs to make an approval decision, so it's impossible to predict when that FDA decision may come.
Mela has not had much to say publicly since November but I do hear CEO Joe Gulfo has been meeting privately with investors, saying he expects FDA approval and talking up MELAFind launch plans. Whether or not Mela has met with the FDA since the November panel isn't clear, although the company hasn't made any announcement about an FDA meeting.
Mela and FDA do not have to meet again before the agency makes a decision.
Whenever FDA does rule, my prediction is that MELAFind will not be approved.
Steve M. asks,
"I was wondering if you could give us an update on Labopharm( DDSS) and their new antidepressant drug Oleptro? I am trying to understand why Labopharm will not update shareholders on Oleptro approval in Canada?"
Oleptro's U.S. commercial launch is not going well. For the week ended Dec. 31, IMS reported 545 total prescriptions for Oleptro, down from 659 and 676 in the previous two weeks of December, according to RBC Dominion analyst Doug Miehm. For the entire fourth quarter, Oleptro generated 6,500 prescriptions, well below the 25,000 expected by Miehm.
Even with a post-holiday bounce expected, Miehm lowered his current and future sales estimates for Oleptro to take into account the weak launch.
"Oleptro has yet to gain traction in the targeted anti-depressant market," Miehm wrote in a Jan. 10 research note. "While we recognize that it can take time for a new drug to make material in-roads, the drug is still lagging the weak Aplenzin launch by a concerning amount. As such, Labopharm has begun to sell assets, Ryzolt, in order to meet near-term obligations. Future deals (Oleptro in Canada) plus milestone payments will certainly help but it is critical that the U.S. Oleptro growth accelerate to ensure that a sustainable stream of cash flow can be generated relative to the company's significant ongoing expenses and net cash balances. Based on our reduced Oleptro outlook, it appears the company will require additional financing this year and could dilute current investors."
I wrote about
Oleptro and its potential marketing woes
last April.
Advanced Cell Technology
undefined
has a devoted investor following, many of whom emailed to express their displeasure with my
critique of the company and its funding sources
in the last Mailbag.
Paul S. emails,
"I don't know how you can consider ACTC expensive when you look objectively at what they offer, the FDA approval and in general all of the news surrounding it. My God, companies with a fraction of the promise held by this company are trading at much higher prices relative to the number of shares outstanding. I am not one of those who is preaching it is going to $5, $10, $50 a share, etc. I do think, however, that if nothing else the stock is at least fairly priced relative to what their technology offers."
Well said, Paul. This email from John N., is interesting to read but far less persuasive:
"I would highly recommend you do your due diligence prior to articulating with such error in judgment which one may inadvertently consider as slanted. Advanced Cell Technology is by far the top stock pick for 2011 by my means of biotech evaluations. My methods take into account destructive technology factors; first-on-market probabilities; market potential; a chief scientific officer, Dr. Robert Lanza, considered the Einstein of regenerative medicine; the only stem-cell company able to extract cells without harming the embryo; NIH changing the definition on behalf of ACT stem lines...ACT shareholders feel your comments were slanted or one could say biased. But why? It is apparent that you carried this same slanted views of Dendreon and we all know how the short players were on the wrong side of the curve when the news hit. Now, it seems that since ACT has an unusually high short interest with another load attempt which failed to hit and break through the 17-cent mark, longs are holding. So, what is one to digest from such an article, or more so, what would those behind your article like for the common folk to digest? There is big money lined up so we will see who has deeper pockets. Is this not how it always plays out?"
In a December Mailbag column about
BioVest
undefined
in which I expressed skepticism about the company's
lymphoma vaccine BioVaxID
, I wrote:
"Investors and potential partners were clearly skeptical about the BiovaxID data, and rightly so because the results likely over-stage the vaccine's efficacy. The study, as designed, uses an unconventional accounting of patient responses, essentially not starting the disease-progression clock until six months after patients are treated initially with a standard regime of drugs used to put the cancer into remission."
This prompted an email response from Biovest spokesperson Doug Calder:
"I'm not quite sure I understand the point you are trying to make as the data reported as the 2009 ASCO Plenary Session measured disease-free survival for vaccinated patients (BiovaxID or control) from the time of randomization. And the patients had to complete chemotherapy and achieve a complete remission in order to be randomized. As the mechanism of action for active immunotherapy is to prime the immune system, it only makes sense to eliminate the immune-compromised state of the patient prior to vaccination, thus the trial design. If you are suggesting that the DFS clock starts six months following randomization, you are entirely incorrect. "Or perhaps you are questioning why patients were not vaccinated when randomized? The reason for this was related to an approximate 6-12 month delay to allow patients to have an immune recovery period (post-chemotherapy), again consistent with a vaccination approach. This delay is immaterial in measuring clinical benefit for the reason I mentioned before being that the results were measured from time of randomization for both cohorts."
I'm sticking with my bearish thesis: The FDA will not approve BiovaxID based because the phase III study was flawed and produced biased results that skewed the true efficacy of the vaccine. I'm not the only person who believes this to be true. So did Dr. Ron Levy, the ASCO 2009 plenary session discussant who reviewed the phase III BiovaxID data. I encourage anyone conducting due diligence on Biovest to
watch the 15-minute video of Levy's presentation that can be found on the ASCO web site
.
The more relevant reason Biovest chose not to randomize patients at the beginning of the study is because manufacturing the BiovaxID vaccine can take as long as six months. That means there wasn't any vaccine for patients to receive when they entered the study.
By requiring patients to complete six months of chemotherapy first, then achieve and maintain a complete remission, Biovest eliminates a wide swath of lymphoma patients who don't respond to initial treatment. In other words, Biovest makes believe that some really sick patients don't exist when it comes to measuring the efficacy of BiovaxID.
Said Levy, in his ASCO presentation: "The patients who made it to this
BiovaxID trial are the best of the best -- the ones who could get a complete response and hold it for as long as a year after being deemed a complete response."
This is why the BiovaxID study was positive (barely so) only using a modified intent-to-treat analysis. The FDA doesn't use modified-ITT to analyze clinical data. Instead, the agency will look at an intent-to-treat population that includes all patients, even those who didn't achieve or maintain a complete response to chemo prior to vaccination with BiovaxID.
The more stringent ITT analysis of the BiovaxID phase III study failed:
Again, Levy:
"The analysis by ITT was negative. Of course, this is the most conservative way to analyze the data. It avoids the biases that can creep in as patients are lost from their respective assigned arms in a long waiting period after the randomization occurred. So that analysis which we would have liked to see positive was negative."
Mike emails,
"Looking at February's calendar I noticed Cell Therapeutics (CTIC) - Get CTI BioPharma Corp. Report is back for another run at the FDA. Just by skimming the headlines it looks like they managed to obtain improved numbers based on their latest study. What are your thoughts? Have you followed this since the rejection at all? Will you somehow be involved to give the play-by-play as you did at the panel meeting? That was great, not for Cell Therapeutics but for investors hanging on to the edge of their seats."
Skimming headlines about Cell Therapeutics' lymphoma drug pixantrone isn't enough because the new data presented in December weren't really any different from data previously seen. Cell Therapeutics obviously disagrees, but I still view pixantrone as a me-too anthracycline which still lacks demonstrable proof of less cardiac toxicity. That's also the basic view of the FDA, which is why the agency rejected the drug last year.
Moving on, Cell Therapeutics is appealing that FDA rejection with a meeting and decision expected in the first quarter, according to Cell Therapeutics spokesman Dan Eramian. If you're looking for a near-term trading catalyst for Cell Therapeutics, this is it, although the odds of FDA doing a 180-degree turn and approving pixantrone on appeal are very, very small.
At the same time, Cell Therapeutics is preparing to conduct a new phase III study of pixantrone (dubbed PIX306) in patients with aggressive non-Hodgkin's lymphoma. Eramian says Cell Therapeutics is still negotiating with the FDA to reach agreement on a Special Protocol Assessment for the PIX306 study, but the company hopes to enroll the first patient in the current quarter.
It's worth noting that Cell Therapeutics is already well past its initial timeline for the follow-on pixantrone study and SPA agreement. Last July, executives told investors to expect an SPA in place and first patient enrolled by November 2010, with the goal of having the study completed by the end of 2011. Well, it's January 2011 and the study hasn't even started, which suggests that the new pixantrone study results won't be ready until well into 2012.
For Cell Therapeutics, time is literally money because the company is cash-strapped and debt-ridden. Stretching out the pixantrone timelines isn't helpful.
Yes, I'm just as bearish on Cell Therapeutics as I've always been.
I write about drugs and drug stocks but rarely do I write about, or hear from, patients. That's why the following email from Steve G. regarding
Vertex Pharmaceuticals
(VRTX) - Get Vertex Pharmaceuticals Incorporated Report
and its hepatitis C drug telaprevir was a welcome change of pace:
"Great coverage on Vertex vs. Merck as it relates to the horse race for Hepatitis C treatment. I personally hope that Vertex comes out the winner in market share. My interest is not from a financial gain perspective, but from that of being a successful clinical trial patient in the PROVE 3 clinical trial. I had previously failed the standard-of-care treatment with interferon and ribavirin back in 2003. I entered the clinical trial in May 2007 and later found out that I was actually viral free after only 2 weeks on triple treatment, which included telaprevir. I continued the full 12 weeks of triple treatment and then was given a placebo for the last 12 weeks with the interferon and ribavirin (total 24 weeks). The treatment was no cakewalk, but the telaprevir did not exacerbate any symptoms that I didn't already experience with the original standard-of-care treatment. I have maintained an SVR for over 3.5 years. I would call that a cure! I am one happy camper and feel quite blessed! Anyway, I thought I would toss in my obviously biased point of view. Keep up the great writing!"
That's great news, Steve. Thanks for sharing.
--Written by Adam Feuerstein in Boston.
>To contact the writer of this article, click here:
Adam Feuerstein
.
>To follow the writer on Twitter, go to
http://twitter.com/adamfeuerstein
.
>To submit a news tip, send an email to:
.
Adam Feuerstein writes regularly for TheStreet.com. In keeping with TSC's editorial policy, he doesn't own or short individual stocks, although he owns stock in TheStreet.com. He also doesn't invest in hedge funds or other private investment partnerships. Feuerstein appreciates your feedback;
to send him an email.