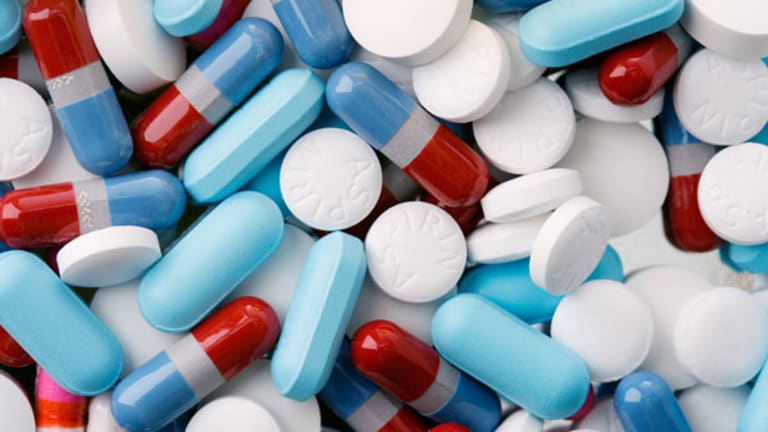 Biotech Stock Mailbag: Vanda, Onconova, Catalyst Pharma, Sarepta
Biotech columnist Adam Feuerstein answers readers' questions about health care companies.
BOSTON (
) -- The Biotech Stock Mailbag is back after a two-week hiatus. I wrote long this week, so grab a cup of Friday coffee and dig in. The prize for making it to the end of the Mailbag is some hellaciously good hate email and tweets.
To select the next test cases for the Feuerstein-Ratain Rule, I ran a screen using
for companies with cancer drugs in phase III studies expected to announce top-line results within the next six months.
Remember, the F-R Rule tries to predict the outcome of phase III studies of cancer drugs based on the market cap of the company conducting the study four months prior to the expected results.
Here's what I came up with:
Oncogenex Pharmaceuticals
(OGXI)
: The "Synergy" study of custirsen in combination with docetaxel in first-line prostate cancer patients should have survival results ready in mid-2014. That timeline makes Oncogenex a bit early for assessment by the F-R Rule but keep it in mind.
Merrimack Pharmaceuticals
(MACK) - Get Merrimack Pharmaceuticals, Inc. Report
: The "Napoli 1" study of MM-398 in pancreatic cancer should have top-line results in the fourth quarter or first quarter next year. I put
MM-398 through the F-R Rule buzzsaw
in a previous Mailbag.
Onconova Therapeutics
(ONTX) - Get Onconova Therapeutics Inc. Report
: The "OnTime" study of Estybon (rigosertib) in high-risk myelodysplastic syndrome will have results ready in the fourth quarter or first quarter 2014.
Cyclacel Pharmaceuticals
(CYCC) - Get Cyclacel Pharmaceuticals, Inc. Report
: An interim analysis of the sapacitabine "Seamless" study in acute myelogenous leukemia may take place in the first quarter 2014.
NewLink Genetics
(NLNK) - Get n.a. Report
: Timing is a bit fuzzy here but we could get data (interim? final?) from the "Impress" study of HyperAcute Pancreas in pancreatic cancer within the first six months of 2014.
A description of the Feuerstein-Ratain Rule can be found
. One note: Given the biotech bull market/bubble, particularly in small-cap stocks, the $300 million "dead zone" threshold -- 0% chance of study success -- probably needs to be expanded. By how much, I'm not sure. $400 million market cap? Does that sound right?
Okay, let's do the math. It's tough to nail down a narrow time frame for the rigosertib results but I'm going to use Jan. 1, 2014 since guidance from Onconova is fourth quarter 2013-first quarter 2014.
Four months back from Jan. 1, 2014 is Sept. 1, 2013, which puts Onconova's market cap at $520 million. That's nicely outside the historic F-R dead zone, which is encouraging for rigosertib's chances in the MDS trial.
A weakness of the F-R Rule is the inverse correlation between its power of predictive capabilities and the size of the data-release timing window. A wide data-release window, like the six months we have with Onconova, weakens the F-R Rule's accuracy.
For example, if we assume rigosertib results are coming at the end of February, the relevant Onconova market cap for the F-R Rule would be $360 million, placing rigosertib in the failure zone (I'm accommodating some market-cap creep due to the biotech bull market.)
The F-R Rule implies that the market is very good arbiter of failed cancer-drug clinical trials. The Rule does an okay job predicting when studies will be positive, but it's not perfect in this regard.
Onconova shares have been on a steady slide for all of October. This is a worry because the sell off suggests the market is starting to pay attention to the rigosertib MDS study and doesn't like the odds. Maybe you don't need the F-R Rule to tell you that, however.
Thank you. I have more confidence in my bearish
Vanda Pharmaceuticals
(VNDA) - Get Vanda Pharmaceuticals Inc. Report
call going into next month's FDA advisory panel than I did with
Amarin
(AMRN) - Get Amarin Corp. Plc Report
.
Vanda's clinical development program for tasimelteon as a treatment for non-24 hour sleep wake cycle disorders in blind patients is riddled with irregularities, missing data, funky endpoints and shoddy analyses. It's hard for me to fathom FDA being copacetic with a substandard package of clinical data like Vanda submitted with tasimelteon.
I wrote two stories digging into the suspect tasimelteon data. You can read them
and
.
The Vanda FDA panel is scheduled for Nov. 14. The FDA's briefing documents, including the agency's review of tasimelteon, will be posted on Nov. 12. I expect the FDA's criticism of the tasimelteon data to be harsh.
Like with Amarin (or any investment thesis), there are risks, so what worries me about the outcome of the Vanda FDA panel?
Tasimelteon is essentially equivalent to ramelteon, sold as the sleeping pill Rozerem by
Takeda
. Well, "sold" is being generous because actual sales are minimal. Rozerem was a commercial flop. Vanda is developing tasimelteon for non-24 only because it knew the commercial opportunity as a sleeping pill was zero.
The big risk to the bear thesis is that experts on the panel conclude that tasimelteon's mechanism of action as a circadian rhythm regulator makes sense despite the shoddy clinical data, so why not let it pass for the tiny number of blind people that can't sleep at night.
I'm also worried about what the
high-priced regulatory consultant
hired by Vanda might be doing behind the scenes.
Let me restate the premise of your question. FDA appears to have changed its mind about allowing Amarin's Vascepa to be approved for mixed dyslipidemia patients without positive cardiovascular outcomes data from the Reduce-It study. The reason for FDA's more conservative stance: A preponderance of data from other, completed studies showing no cardiovascular benefit for drugs added to statin therapy.
Given the failure of the drisapersen phase III study in Duchenne muscular dystrophy, will FDA also take a more conservative stance against
Sarepta Therapeutics
(SRPT) - Get Sarepta Therapeutics, Inc. Report
and require a phase III study of eteplirsen before granting approval?
I'm on record believing Sarepta's
regulatory risk for a speedy eteplirsen approval increased
following the failure of drisapersen. I haven't changed my mind. The mistake I made was not realizing the value investors would place on the elimination of drisapersen as a competitive DMD drug. Not having to worry about drisapersen any longer was more valuable to Sarepta's stock price than any increased risk of FDA requiring a phase III study before approval.
This explains why Sarepta's stock price went from $37 to $54.
I would caution against making a direct connection between what FDA did to Amarin (rightfully so, in my book) and how regulators may rule on Sarepta. DMD is a far more serious and time-critical disease than mixed dyslipidemia. The two aren't close to being in the same league. The risk-benefit for DMD favors aggressive action by the FDA which could easily compel the early approval of eteplirsen. There was no serious unmet medical need for Vascepa.
Sarepta is no longer a $54 stock. Here's the chart:
data by
Notice the last leg down from Oct. 16 to the present. That selling prompted Henry K. to write:
Adam, Can you explain the latest controversy, if there is one, over Sarepta? I listened to the Oct. 17 webcast but didn't hear anything that should have caused investors to sell. At least I don't think so. What are your thoughts?
Indirectly, investors have been deploying the "risk off" trade, selling winners across biotech. Sarepta probably over-reached by zooming to $54 on the drisapersen failure, so a pullback isn't really surprising.
Some of the selling is tied to the Oct. 17 webcast on which Sarepta updated the DMD patient community about future plans for eteplirsen and other exon-skipping drugs. Sarepta's design for a confirmatory, phase III study of eteplirsen probably received the most pushback from investors.
Sarepta proposes a randomized,
open label
study in which approximately 60 exon 51 DMD patients will be treated with eteplirsen. The control arm will consist of the same number of patients with non-exon 51 mutations -- exons 44, 45, 50 and 53 -- who will remain untreated. The primary endpoint will be six-minute walk at 48 weeks. Staggered muscle biopsies to measure dystrophin production will be taken at baseline, 24 and 48 weeks.
The open label design has some investors freaked out because it introduces the potential for biased results, or the necessity of a statistical penalty. There also seems to be some debate over the natural progression of disease in kids with non-exon 51 mutations. Published data shows these kids lose walking ability at the same rate as exon 51 DMD kids, but other data show slower progression. Wall Street hates uncertainty.
Sarepta presented its proposal for the eteplirsen confirmatory study last week to DMD patients and advocates without first getting sign-off from the FDA. Regulators may not like Sarepta's design, especially the use of non-exon 51 kids as the control arm.
Sarepta isn't stupid, however, so the company is unlikely to ignore alternative study design suggestions made by FDA.
I also hear Sarepta bears insisting the company cannot manufacture enough eteplirsen for its clinical trial and potential commercial launch.
Bottom line: Sarepta and volatility go hand in hand. Always. Don't expect the situation to change until FDA weighs in with an approval decision next year.
In a perfect world, biotech CEOs would be held accountable for their mistakes and the resulting loss of shareholder value. I don't need to remind you that the world we live in is far from perfect. Berger's position as CEO of
Ariad Pharmaceuticals
(ARIA)
is safe, even though it shouldn't be.
Speaking of Ariad, I published a
on the stock Thursday from Boston-based money manager Jim Silverman. Check it out.
The reaction to my stories on
Catalyst Pharmaceuticals
(CPRX) - Get Catalyst Pharmaceuticals, Inc. Report
has been incredible. I'm thankful to the readers who have expressed appreciation and support for bringing to light the ways in which
Catalyst is abusing the spirit of orphan drug development
, and in the process, seeking to
profit off the back of patients with LEMS
.
Then there is the smaller, but more vocal group of people -- mainly day traders and retail investors -- who were caught owning Catalyst without knowing much about the company. These people blame the messenger. -- me. Sadly, they've also sunk to cyber-bullying attacks against LEMS patients and the doctors who treat them.
Catalyst is majority owned by retail investors. Institutional ownership is small. Judging by my inbox and Twitter feed, I suspect many of these retail investors bought into Catalyst this summer as shares surged along with dozens of other small-cap biotech stocks. Now the biotech sector is cooling off some and Catalyst's profiteering strategy has been brought to light. The Greater Fool theory only works when there are fools left to buy at a higher price. There are a lot of fools stuck in overpriced Catalyst shares today.
But enough from me, what you really want to read are the Catalyst-generated hate mail and tweets. Here's a sampler:
Brian R.:
You better hope to god your employer, for which you are a stockholder, I may add, does not have a position in CPRX. I will spend a significant amount of my resources to make sure you are all in jail. Why didn't you write this article before, when the stock was really climbing? Answer, you waited for some instability in the stock, and for your firm to take a short position. If you were a responsible journalist, which you are not, you would have mention the 7 year exclusivity that comes with the orphan status, the fact that CPRX in their own admission, would help those that could not afford the co-pay, and most importantly the FDA warning letters that had been sent to Jacobus. Oh, you neglected those small details. I am sending my story to the WSJ so that they may formally recognize what a group of charlatans you are. Should have disclosed your indirect position dude.
Anthony G.:
I am entirely disappointed in your article about CPRX. You have caused my family a lot of heartache and destroyed our weekend. I guess your mother never told you that if you didn't have anything nice to say don't say anything at all. spend your time (and your political science degree?????) promoting good investments and not bashing what you perceive to be bad ones. This is the second time one of your lame brain articles has cost me money. Hope you and your buddies have fun spending all the money you guys made by shorting the stock.
I mentioned above that some of the Catalyst longs have taken to various message boards to cyber-bully and attack the LEMS patient interviewed in one of my stories. Apparently, it's now acceptable to smear a 74-year-old man with a horrible disease because you lost money in the stock market.
Attacking me is fine. I'm used to it. Going after a LEMS patient courageous enough to tell his story -- and to do so using the anonymity of the Internet -- is cowardly and disgusting.
Instead of condemning these attacks, Catalyst longs took to Twitter to make yet more excuses:
-- Reported by Adam Feuerstein in Boston.
Follow Adam Feuerstein on
.
Adam Feuerstein writes regularly for TheStreet. In keeping with company editorial policy, he doesn't own or short individual stocks, although he owns stock in TheStreet. He also doesn't invest in hedge funds or other private investment partnerships. Feuerstein appreciates your feedback;
to send him an email.