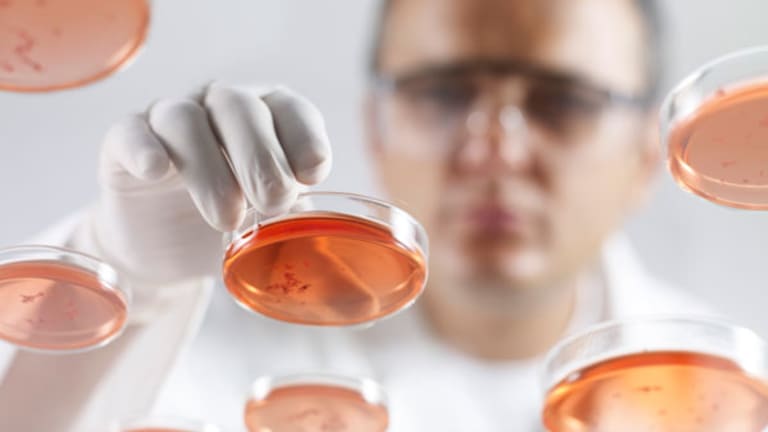 Biotech Stock Mailbag: Vanda, Navidea, Provectus
Biotech columnist Adam Feuerstein answers readers' questions about health care companies.
BOSTON (TheStreet) -- After last week's hate mail meltdown, I return to answering real questions in this edition of the Biotech Stock Mailbag.

In the first quarter, Vanda Pharmaceuticals (VNDA) - Get Vanda Pharmaceuticals Inc. Report spent $15 million on an "awareness campaign" for non-24 sleep disorder and Hetlioz. If you listen to the radio, particularly sports radio, you've no doubt heard the non-24 ads. In the second quarter, Vanda is spending another $15 million on Hetlioz advertising. Total operating expenses in the first quarter totaled $36 million. For the full year, operating expenses will be in the $110-120 million range. 
I'm reminding you of the massive amount of money Vanda is spending to launch and market Hetlioz because it's important perspective when thinking about the revenue being generated in return. Of the 220 Hetlioz scripts written to date, half have been filled. If we assume (generously) that Vanda is getting full price for  these filled scripts, sales total $9 million on an annualized basis. Of course, Vanda won't get full price for Hetlioz because of discounts, rebates and the need to fund patient access programs. 
It's not unusual for upfront costs to swamp revenue generated at the beginning of a new drug launch. (Except if you're Gilead Sciences (GILD) - Get Gilead Sciences, Inc. Report and the drug is Sovaldi.) Still, before you get excited about the 220 Hetlioz scripts written, keep in mind the acquisition cost for those scripts is really high and Vanda has offered no evidence yet to suggest that it can rein in expenses and continue to grow Hetlioz scripts or revenue. Vanda says it will end 2014 with $20-30 million in cash, which doesn't give the company much room to continue funding non-stop non-24 radio and TV ads.
Has my bearish opinion of Vanda changed at all? Nope, not yet.

Let's review the Navidea Biopharmaceuticals (NAVB) - Get Navidea Biopharmaceuticals, Inc. Report bear thesis: The stock is grossly over-valued because lymph node mapping agent Lymphoseek is a commercial flop and the rest of the company's diagnostic pipeline is clinically meaningless. 
Here's a chart of Navidea's stock performance relative to the IBB since Lymphoseek was launched in May 2013:
I'd say the Navidea bears are winning this one. I checked in again with an institutional investor source who was shorting Navidea, to see how he felt about the company today. He's still bearish on the stock. A summary of his latest thoughts:

Navidea's current enterprise value is $290 million. In the first quarter, Navidea recorded $627,000 in Lymphoseek revenue. Lymphoseek has 13% of the breast cancer lymph-node mapping market, compared to 9% market share in the fourth quarter 2013 (which generated $343,000 in revenue for the company.) From these numbers, you can back into a total market opportunity for Navidea of about $20 million. Navidea believes it can reach 50% market share by mid-2015, which equates to a run rate of $9-10 million.

How much should an investor be willing to pay for this revenue? Go nuts and pay 10 times sales, which equals $90-100 million. Where is the rest of the company's $100 million enterprise value coming from? Navidea's effort to expand approval of Lymphoseek into head-and-neck cancer is meaningless because there are no outcomes data to support sentinel node biopsies in this cancer indication. It's not even remotely standard of care. An expanded approval, if it happens, will generate inconsequential additional revenue.

As for Navidea's pipeline, Manocept is a joke. Using a radioisotope to diagnose rheumatoid arthritis is a ridiculous idea. Meantime, Navidea's CEO Mark Pykett resigns, replaced by Mike Goldberg of Emisphere infamy, who is taking charge so he can do "deals." The stock has another 50% downside from here.
Ken is referring to Provectus Pharmaceuticals (PVCT) and its experimental intralesional melanoma therapy PV-10, also known as the dye Rose Bengal used commonly as a stain for eye exams. "Dr. Weber" is Dr. Jeffrey Weber of Moffitt Cancer Center. Weber is an investigator in a small clinical study of PV-10 in melanoma. Provectus and its beaten-down shareholders believe Moffitt's involvement with PV-10 is proof the drug works. That's silly, of course, but Provectus and its supporters tend to have a loose grip on reality.
The Weber quote Ken references in his tweet comes from an ecancernews.com story posted on June 10, referring to PV-10 data presented in a poster at the American Society of Clinical Oncology (ASCO) annual meeting. This is Weber's full quote regarding PV-10:
This [PV-10] data provides more and more evidence that you are altering both local and systemic immunity in a positive way. It also provides a rationale for combination trials of PV-10 with check point protein inhibitors, such as ipilimumab, pembrolizumab and nivolumab. PV-10 might offer the perfect way to prime the immune system.

That's a very nice, generous endorsement of PV-10 from Weber, but it also appeared to me contradictory to a more skeptical comment he made at an April melanoma meeting in New York City. There, Weber said intralesional therapy had "no role."
I was confused about what seems like two divergent opinions on intralesional therapies, including PV-10, so I emailed Weber for a clarification. He was kind enough to respond quickly Wednesday night:
My comment on 'no role' was in a debate from an academic perspective at the Melanoma Meeting in NYC in April, go look at the program; in fact as a stand-alone agent intralesional therapies in general are unlikely to have any more than a niche role in melanoma; their greatest potential is exactly as I said, as a priming maneuver with a checkpoint protein inhibitor.

Here's where the story goes bad for Provectus. At the ASCO meeting, Provectus announced plans for a phase III study in melanoma which will compare PV-10 to standard chemotherapies dacarabazine (DTIC) or temozolomide (TMZ). Provectus is holding a conference call next Thursday to discuss the study, but details were already disclosed on the company's PV-10 poster at ASCO.
Weber, the academic oncologist Provectus supporters point to as a PV-10 booster, believes intralesional therapies should be studied in combination with checkpoint inhibitors, yet Provectus management decides to conduct a study of PV-10 monotherapy against chemotherapy drugs no longer considered standard of care. Hmmm.
At the ASCO meeting, Dr. Axel Hauschild gave an oral presentation and review of intralesional therapies in which he described the response criteria used by Provectus in the PV-10 phase II study as "unusual." The PV-10 study also enrolled "highly selected" melanoma patients, Hauschild said. 
Commenting on the future for intralesional therapies in melanoma, Hauschild, like Weber, recommended combination approaches with immunotherapies like PD-1s. He noted that Amgen (AMGN) - Get Amgen Inc. Report and Bristol-Myers Squibb (BMY) - Get Bristol-Myers Squibb Company Report are conducting a study of T-Vec combined with nivolumab. The challenge for therapies like PV-10, Hauschild added, was demonstrating a benefit for melanoma patients beyond what's been seen recently with PD-1s and combination therapy already. The just-completed ASCO meeting was buzzing with incredible immunotherapy data in melanoma, so finding a role for intralesional therapies will be difficult, Hauschild said.
Provectus completed the PV-10 phase II study in 2010 and has spent the following four years promising the start of a phase III study but never delivering. Instead, the company went on a quixotic quest to land Breakthrough Therapy Designation for PV-10, only to fail miserably. Now, Provectus is once again promising to run a phase III study of PV-10 but with a design that melanoma experts believe is clinically irrelevant. 
Beyond the useless comparator arm, the rest of the PV-10 study design doesn't even make sense. According to Provectus' description of the study displayed at the ASCO meeting, to be eligible for enrollment, patients must have melanoma limited to cutaneous or subcutaneous sites. The patients must also have failed or be ineligible for systemic immunotherapy and have melanoma that is BRAF wild type.
The latter requirement crosses off about half melanoma patients with mutated BRAF who can be treated with BRAF inhibitors like Roche's (RHHBY) Zelboraf. But how many patients with localized melanoma that have already failed systemic immunotherapy exist out there? Even if the eligibility requirements are loosened, it's hard to imagine any competent doctor steering a melanoma patient into a PV-10 monotherapy study instead of the huge number of checkpoint inhibitor studies already underway.
Provectus believes it can enroll 210 patients into the PV-10 phase III study in 18 months, starting in the third quarter. Good luck with that, unless Provectus' plan is to enroll melanoma patients in Turkmenistan. 
The cynic in me believes Provectus executives have chosen to conduct an irrelevant trial of PV-10 on purpose so they can continue to soak shareholders for more paychecks. The painful truth is that PV-10 is a drug melanoma has already passed by. Provectus needs to find a willing partner with a checkpoint inhibitor in order to run a proper combination study. The company is dialing the phone, but no one, so far, is picking up on the other end. 
Adam Feuerstein writes regularly for TheStreet. In keeping with company editorial policy, he doesn't own or short individual stocks, although he owns stock in TheStreet. He also doesn't invest in hedge funds or other private investment partnerships. Feuerstein appreciates your feedback;
to send him an email.