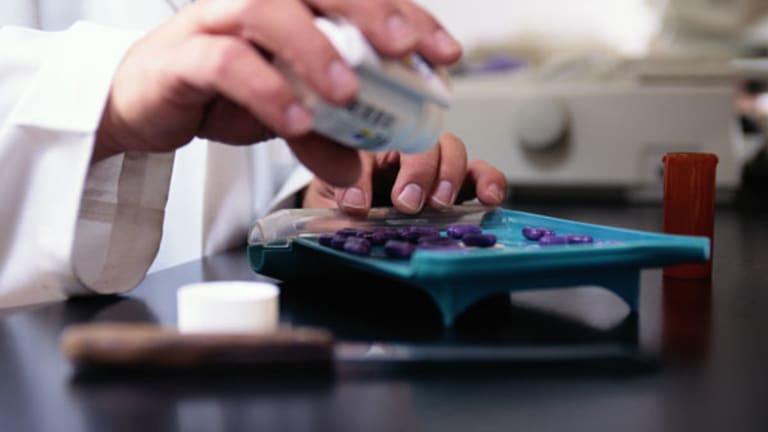 Publish date:
Biotech Stock Mailbag - Titan Pharma
Biotech columnist Adam Feuerstein answers readers' questions about drug and health care-related firms.
Biotech columnist Adam Feuerstein answers readers' questions about drug and health care-related firms.
BOSTON (
) --Welcome back to another installment of the Biotech Stock Mailbag. The first email comes from Tom S., who writes:
"Any updated thoughts on Titan Pharmaceuticals (TTNP.OB) ? I follow your articles so I know where you stand on Fanapt. What are your thoughts on Probuphine and Proneura? Titan just received funding and with whatever Fanapt royalties come its way the company should be solvent for some time. I believe Titan has three full-time employees, any chance it tries to ramp up to be a viable company or is it an inevitable sale?"
For those unfamiliar, Titan, like
Vanda Pharmaceuticals
(VNDA) - Get Report
, receives a royalty payment based on sales of the schizophrenia drug Fanapt. Given my very skeptical outlook on Fanapt (see my negative comments to the next reader below) I don't see those monies amounting to much for Titan, although every little bit does help when you're as small as Titan is.
Probuphine is interesting. It's a small rod containing the opioid addiction drug buprenorphine that doctors implant just under the skin, usually in the arm. The rod slowly releases buprenorphine into a patient's bloodstream, giving a consistent steady dose of the drug for up to six months.
Probuphine works. Results from an older phase III study were published last week in
Journal of the American Medical Association
and Titan is working on a confirmatory, phase III study. I expect this second study to be positive too because buprenorphine is known to be effective in treating opioid addiction and the technology used in the implantable rods has been around for some time.
The issue with Probuphine is more commercial -- I think the market for the drug is very small. Nearly all opioid addicts treated with buprenorphine today take the drug orally on daily basis. Probuphine would likely only be used for those addicts who can't seem to stick with the routine of taking a daily buprenorphine pill or who constantly relapse back into their opioid or heroin addiction.
If a patient suffers side effects from the medication, the implanted rod needs to be removed, which would be a hassle and something most doctors would want to steer away from.
Very few, if any, implantable drugs have ever been commercially successful. Implantable birth control for women, for instance, was tried years ago but never caught on.
As Tom points out, Titan is a tiny, almost virtual company, so Probuphine doesn't need to be a huge success to have a meaningful impact. The ideal outcome would be for Titan to confirm the efficacy of Probuphine in the second phase III study and then sell either the drug or the entire company. Perhaps
Reckitt Benckiser
, which sells buprenorphine tablets under the Suboxone brand name, would want Probuphine as a smallish line extension.
The risk to this buyout thesis: Is there really anything unique about the implantable drug delivery technology that Titan brings to the table? Alternative drug delivery, whether it's implantable rods or buccal films, etc., is a bit of a commodity business these days.
Bob P. responded to a Twitter post of mine from Thursday commenting on what appears to be another poor quarter of sales for Vanda's schizophrenia drug Fanapt.
"Good afternoon. I know you are not a fan of Fanapt. One can never get through to Vanda so I called Novartis (NVS) - Get Report just a few minutes ago. They would not give me any information. Then I saw they gave you no information also. You see it as not a good sign and I agree. Could it possibly mean that with the money Novartis has in Vanda already that Novartis is working to purchase the company?"
Novartis reported third-quarter results Thursday without disclosing Fanapt sales. I emailed Novartis asking for the Fanapt sales but the company wouldn't provide the information.
That means Fanapt sales were meaningless to Novartis' quarter. How small could the Fanapt sales total be? Novartis reported third-quarter sales of two drugs -- Onbrev and Ilaris -- totaling $8 million and $6 million, respectively. That suggests Fanapt sales came in less than $6 million. Fanapt's launch continues to disappoint.
Bob is right about Novartis already sinking $200 million or so into Vanda for the rights to sell Fanapt. Sinking even more money into the drug by acquiring Vanda outright seems like a totally insane thing for Novartis to do. If Fanapt continues to underperform for the next several quarters or so, Novartis is more likely to give up on the drug and its Vanda partnership altogether.
@DLesh tweets, "AVII raised to Buy at Think and a $3.50 target. giddy up."
He's referring to
AVI Biopharma
( AVII). On Thursday, ThinkEquity initiated research coverage with a buy rating and a price target of $3.50 a share.
I've already written favorably about
AVI and its early-stage drug for Duchenne muscular dystrophy
(DMD) after seeing the company present at a September health care investment conference.
The company's DMD drug, AVI-4658, is designed to "skip over" the section of damaged gene in DMD patients and therefore restore the gene's ability to produce partially functioning dystrophin, a protein that plays a key role in muscle function and repair. The genetic inability to make dystrophin is what causes muscular dystrophy.
Last week, researchers presented updated and promising results from a small phase I study of AVI-4658. The study enrolled just 19 boys with DMD and used relatively low doses of the drug. Despite these limitations, three patients had substantial increases in dystrophin-functional muscle fibers after 12 weeks of treatment with AVI-4658 and 14 weeks of follow up. The study also picked up decreases in the level of inflammatory markers in the muscle cells, which suggests the drug is having a positive effect on the underlying muscle-wasting course of DMD. Functional tests like the six-minute walk were inconclusive but that's not surprising given the small doses used and the short duration of the study.
All these data are promising but very early. The next, important step for AVI will be to begin a larger, randomized, controlled phase II study using higher doses of AVI-4658. AVI hopes to get this study started before the end of the year.
Salim J. emails,
"We've heard nothing from Savient Pharmaceuticals (SVNT) about their plans following the gout drug approval. What do you think is going on?"
Savient is trying to make good on its previously announced plan to sell the company following the mid-September approval of the gout drug Krystexxa. The stock sits rangebound in the low $20s because investors anticipate a deal.
The skeptics say a buyer would have swooped in already if Krystexxa was a truly valuable asset. Optimists says prospective buyers, especially if one comes from the ranks of mid- to large-cap pharma/biotech, operate at a slower, less frenetic pace than investors.
The rumor mill shifts on a daily basis. One day you hear Savient is getting taken out for $30, the next day you hear that the obvious buyer suspects --
Abbott Labs
(ABT) - Get Report
,
Amgen
(AMGN) - Get Report
,
Pfizer
(PFE) - Get Report
-- have all kicked the tires and passed.
Savient has said that it is preparing for the commercial launch of Krystexxa in gout concurrent with its efforts to sell the entire company. It's fair to say that if Savient does launch Krystexxa on its own, perhaps by the end of the year, the stock will take a steep dive down as investors lose confidence in a buyout happening in the near term.
Jerry M. asks,
"I wonder if you will comment on MELA Sciences' (MELA) announcement of the online publication of its research findings on MelaFind in the Archives of Dermatology? At first blush, it looks like some new information in response to your past critiques of their device. It seems to be only the publication of data that was done in 2009 and accepted for publication in August 2010 and referencing nowhere the FDA's letter to them of non-approvable status earlier this year. Is this an honest effort by the company to clear up any doubts about their research? I enjoy your reporting."
If you believe the MelaFind device is an important advance in the early detection of melanoma, or skin cancer, then the publication this week of the phase III study supports your view. MELA previously disclosed the results from this study demonstrating MelaFind's 98% sensitivity and 9.5% specificity, which the company claims meets all of the FDA's pre-specified requirements for the device's approval. These results were essentially repeated in the Archives of Dermatology paper.
The paper doesn't shed any new light on why, if the MELAFind results are so robust, the FDA issued a non-approvable letter after completing its device review in March. MELA responded to the FDA's rejection and asked for an advisory panel to be convened, which will take place on Nov. 18.
You know
, so for me, the new paper raises more questions than provides answers to any of my past critiques.
The
raised recently by the analyst at Biologic Equity Research remains unresolved. The new paper confirms that the mid-p exact method was used to analyze the MELAFind data but doesn't say one way or the other if mid-p was the prospectively defined statistical test called for in the study agreement reached between MELA and FDA.
The paper's authors state, "Since the values of sensitivity were very high, the exact mid-p method was used to compute the LCB
lower confidence bound.
"
That statement suggests to me that the researchers chose the mid-p method
after
learning the sensitivity of the MELAFind device. MELA's management could clear up the statistics issue once in for all by simply telling investors which method was prospectively defined in its clinical trial plan, but MELA has chosen not do that.
The paper also discloses (for the first time, I believe) that of the 1,831 lesions registered for the pivotal study, 162 lesions, or 7%, weren't evaluable due to errors in performing scans or malfunctions with the MELAFind device. I have to believe that this error rate is an area of concern for the FDA because it raises questions about MELAFind's "real world" specificity and sensitivity in detecting melanomas.
Bruce W. asks,
"What do you think of Oppenheimer's $12 price target for Somaxon Pharmaceuticals( SOMX)?"
Dumb.
--Written by Adam Feuerstein in Boston.
>To contact the writer of this article, click here:
Adam Feuerstein
.
>To follow the writer on Twitter, go to
http://twitter.com/adamfeuerstein
.
>To submit a news tip, send an email to:
.
Adam Feuerstein writes regularly for TheStreet.com. In keeping with TSC's editorial policy, he doesn't own or short individual stocks, although he owns stock in TheStreet.com. He also doesn't invest in hedge funds or other private investment partnerships. Feuerstein appreciates your feedback;
to send him an email.