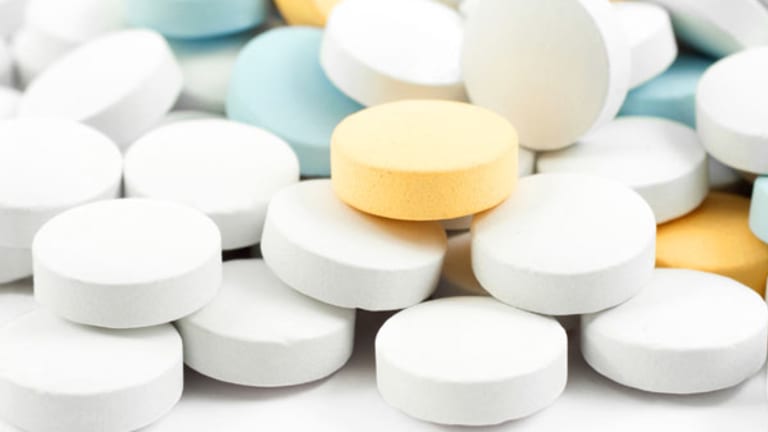 Biotech Stock Mailbag: Theratechnologies
Biotech columnist Adam Feuerstein answers readers' questions about drug and health care-related firms.
BOSTON (
) --
Theratechnologies
undefined
received approval Thursday for a new drug, Egrifta, which reduces abdominal fat in HIV-infected patients. Via Twitter, @cookyourassets opens this week's Biotech Stock Mailbag asking for my thoughts on Theratechnologies now that Egrifta was approved.
Egrifta's U.S. marketing clearance is great news for Theratechnologies, although much of the upside was baked into the stock, illustrated by the positive but relatively muted reaction Thursday.
FDA approved Egrifta for the reduction of abdominal fat in HIV-infected patients, a condition known as lipodystrophy that is a common side effect of antiretroviral drugs used to treat HIV.
Theratechnologies shares on the Toronto Stock Exchange were up about 9% to $5.47 intraday Thursday. You'd expect more from a small stock with a new drug approval but the big, 80%-plus upside move came last May after an FDA advisory panel unanimously backed Egrifta's approval.
Egrifta will be sold in the U.S. by
EMD Serono
, an affiliate of the German drug firm
Merck KGaA
, through a partnership under which Theratechnologies receives royalty payments based on Egrifta sales. A $25 million milestone paid to Theratechnologies upon Egrifta's approval will largely cover the company's 2011 expenses.
Egrifta is the first approved therapy for abdominal lipodystrophy but the drug's label is not without risk and limitations. Whether Egrifta decreases the risk of cardiovascular disease or improves compliance with antitretroviral drugs has not been studied.
On the safety side, Egrifta stimulates certain cellular growth factors and increases blood sugar levels, so FDA warns doctors to be cautious about treating patients with a history of cancer and asks that blood sugar levels be monitored. Egrifta must also be injected once a day, which may be a convenience challenge for HIV patients accustomed to daily pills.
Egrifta has some commercial challenges, which likely also explains Thursday's muted stock reaction. BMO Capital analyst Jason Zhang sees upside in Theratechnologies to $8-9 a share, if U.S. sales of Egrifta can reach $200-$250 million in 2013 (with royalty revenue of around $41 million flowing to Theratechnologies.)
Arena Pharmaceuticals
(ARNA)
shareholders this week called me a thief, an insidious crook, a fool, a hedge fund puppet, an embarrassment, a shill for the shorts, a pathetic pawn of the hedge funds, a liar, a nerd, a basher, a hack, a joke and an idiot.
I was told that I don't understand math or statistics, that I'm a "captured journalist," and that I belong in prison. One Arena fan hatched a plan to invite me to his house for a beer before disposing of my body in a nearby lagoon; another wants me to die of AIDS and wishes my dog would be run over by a car. Yet another "Areniac" expressed hope that I buy
Vivus'
undefined
weight-loss drug Qnexa for my wife so that she will give birth to a son with birth defects and a "statistically insignificant penis."
All in, it's been a fairly typical week for me!
The basis for this extreme ire pointed in my direction is my insistence that
Arena's weight-loss drug lorcaserin is now potentially unsafe
due to a six-fold numerical increase in the reported cases of valvulopathy, or heart valve disease, observed in a study of obese diabetic patients.
Add an increased risk of valvulopathy to a list of lorcaserin problems that already includes troubling rat cancer data and minimal efficacy and you have a drug that is on life support, if not dead altogether. The FDA rejected lorcaserin once already and now regulators have another reason to reject the drug again if and when Arena tries to resubmit it for approval.
Arena boosters disagree, obviously, and from the comments listed above, they're not too happy with me for saying so publicly. The truth hurts. Arena shareholders have lost a lot of money with the stock's plunge. They're angry, frustrated, and incapable of taking responsibility for their own bad decisions. Instead, they concoct lame conspiracy theories to rationalize lorcaserin's troubles and lash out at people like me.
The truth that Arena shareholders can't accept is that the risk of valvulopathy was never ruled out definitively in the previous two, large phase III studies of lorcaserin. In fact, a statistical analysis of the studies conducted by FDA and presented during the September advisory panel meeting suggested that lorcaserin exceeded the acceptable safety margin for valvulopathy by a small amount.
I write for a living but I do know something about math, so I understand that the valvulopathy signal in the diabetes study was not statistically significant and comes from just a handful of patients. And yes, the placebo rate of valvulopathy in these patients might be artificially low.
Arena and its supporters want to dismiss this data and insist there's no new safety signal, but that's not how the FDA works. The FDA doesn't assume a drug is safe; it requires companies provide data to prove that a drug is safe. And when presented with data that clearly shows a potential safety signal, the FDA asks questions. The FDA asks for more data, more proof to rule out any potential safety risk. That's especially true with this latest lorcaserin study because it enrolled obese diabetics -- patients who are at an increased risk for all sorts of things, including cardiovascular disease. Moreover, the weight loss observed in the study -- 3% placebo adjusted -- is clinically meaningless.
For another reasoned and smart take on Arena's woes, read this
blog entry from Forbes' Matt Herper.
The angry response this week from Arena supporters is pathetic, funny and not surprising at all. Unfortunately for them, lashing out at me may feel good, but it won't do anything to help Arena, lorcaserin or their botched investment.
@WorstTraderEver asks,
"Supposing positive phase III results, does the recent management change lead u to believe that Amarin (AMRN) is looking to get bought out?"
Yes, general consensus is that Amarin will seek a buyer if AMR101, the company's prescription-grade omega-3 fatty acid pill, comes out a winner in two phase III studies with reduction in triglyceride levels as the primary endpoint.
The first of these phase III studies, MARINE, enrolls patients with very high (> 500 mg/dl) triglyceride levels. Top-line results will be announced in December.
I wrote a
more in-depth piece on Amarin in May
, so check that out.
The sales comp for Amarin is
GlaxoSmithKline's
(GSK)
purchase of
Reliant Pharmaceuticals
for $1.6 billion in 2007. Reliant (now GSK) markets Lovaza, a competing prescription omega-3 fatty acid pill that brings in more than $1 billion in global sales annually.
On Wednesday Amarin replaced CEO Colin Stewart with current Chairman Jack Zakrzewski. Stewart's short tenure as CEO was not well received by the Street, so his resignation is a net positive for the company. Zakrzewksi, by the way, was chief operating officer of Reliant when the company was developing Lovaza.
@Pelion2001 asks,
"MELA Sciences fell to only low $7s on initial rejection. What do you see as downside this time and why?"
If the FDA advisory panel vote reviewing MELA's MELAFind skin cancer detection device on Nov. 18 goes against MELA, I'd expect to see the stock hit with a roughly 50% haircut, call it $3, mainly because the short interest is so high.
Many shorts will cover, giving the stock some support.
If/when the negative panel vote is followed by an FDA rejection, MELA's stock price will drift down to cash, around $1 a share.
On the other side, a positive panel vote Thursday could easily double MELA's stock price, although an eventual FDA approval isn't guaranteed depending on what regulators say about MELAFind. We'll know that on Tuesday, Nov. 16 when the FDA briefing documents are released publicly.
Daniel F. emails,
"Adam, ole buddy, and I do use that term loosely. Could it be that you are data mining relevant Osiris Therapeutics (OSIR) and FDA news to support your rigid negativity? Next time you write an article and endlessly drone on about the failed Prochymal/GvHD studies, and you are correct in total content, please reveal to your readership Prochymal's success for rescuing and curing of 63% of pediatric/children afflicted with steroid refractory, severe acute GvHD which were facing certain death. And the secondary endpoint success treating steroid refractory, liver and gastrointestinal GvHD. "I'm sure you realize many successful drugs have been discovered and approved with secondary endpoints. Why do you only hold Osiris accountable to their primary endpoints, when in fact you are touting many pharmas being successful with secondary endpoints? You do know why the FDA has an accelerated approval process? Many times the efficacy of secondary endpoints is as meaningful as primary endpoints.I think you get the picture quite well and know you are using your position for a personal agenda unless you are totally ignorant. And indeed society will hold you accountable for the fraud you are. Surely you are not so ignorant to believe you can fool everyone all the time."
Daniel, I'm definitely not your buddy. Your email is riddled with misstatements and falsehoods. Let's set the record straight:
The only two, large, phase III studies of Prochymal in graft versus host disease both failed
. The "successes" you tout were data-mined from failed studies and are therefore worthless from a drug approval standpoint.
Drugs are not "discovered and approved with secondary endpoints" and most definitely not when these secondary endpoints come from studies with failed primary endpoints. The FDA will not approve Prochymal based on the data from these failed studies.
You accuse me of endlessly repeating this point but I do so only because misinformed investors like yourself don't seem to get it. I don't blame you entirely. Osiris CEO Randy Mills is also responsible. He does a disservice to his shareholders and biotech investors in general when he touts Prochymal's supposed efficacy from these failed GVHD studies.
Lastly, accelerated approval has nothing whatsoever to do with Osiris and the current Prochymal data. Zero. You're woefully ignorant if you think otherwise.
--Written by Adam Feuerstein in Boston.
>To contact the writer of this article, click here:
Adam Feuerstein
.
>To follow the writer on Twitter, go to
http://twitter.com/adamfeuerstein
.
>To submit a news tip, send an email to:
.
Adam Feuerstein writes regularly for TheStreet.com. In keeping with TSC's editorial policy, he doesn't own or short individual stocks, although he owns stock in TheStreet.com. He also doesn't invest in hedge funds or other private investment partnerships. Feuerstein appreciates your feedback;
to send him an email.