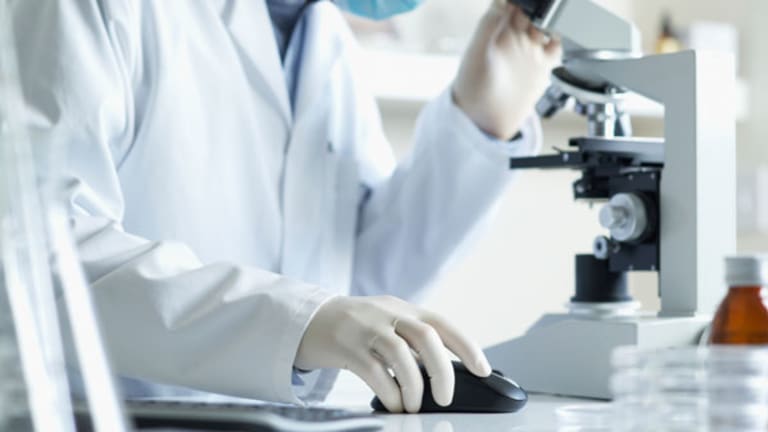 Biotech Stock Mailbag: Synta, Zogenix, Sarepta, Amarin
Biotech columnist Adam Feuerstein answers readers' questions about health-care companies.
BOSTON (
) -- This week's Biotech Stock Mailbag is open for business.
Synta Pharmaceuticals
(SNTA)
had a rough week, starting with the surprise and sudden resignation of R&D chief Sumant Ramachandra for "personal reasons." Ramachandra was hired in February so his exit just three months later is concerning, exacerbated by the presentation of ganetespib lung cancer data coming up next month at the ASCO annual meeting.
Also see:
Biotech's Next Big Thing: ASCO
Is there something wrong with the ganetespib data which prompted Ramachandra to leave Synta? We don't know, of course, but the question itself explains the stock's weakness this week.
Synta had previously told investors the analysis of the ganetespib lung cancer data would be conducted in May. Was it done before or after Ramachandra resigned? Synta IR guy George Farmer wouldn't say.
So, we wait for the presentation of the ganetespib lung cancer data, set for June 3 at the ASCO meeting.
Also see:
Repros Patent Problems Began When Harry Met Joe
The phase II "Galaxy-1" study compares ganetespib plus docetaxel against docetaxel alone in second-line non-small cell lung cancer.
Synta last presented data from Galaxy-1 last fall. Here's what the overall survival curves looked like:
The hazard ratio is 0.688, which translates into a 31% reduction in the risk of death favoring ganetespib. This is only a trend and not statistically significant. At ASCO in June, we'll get an update on overall survival with the full complement of 254 patients enrolled in the study, followed for a median of 9 to 10 months (compared to six months in the chart above.)
Also see:
Amarin Trouble Grows As Does Evidence Against Fish Oil's Benefits
This is a bit weird, but Synta didn't wait for final data from Galaxy-1 before starting to enroll patients in a phase III study of ganetespib in second-line lung cancer. This larger Galaxy-2 study excludes patients who are deemed to be "rapid progressors" -- defined as patients who responded poorly to first-line therapy. In order to qualify for entry into Galaxy-2, patients have to be stable (no tumor growth) following first-line therapy for at least six months. Call these patients "normal progressors" for lack of a better term.
Also at ASCO next month, we'll see updated survival data from the subgroup of "normal progressors" enrolled in Galaxy-1. This is what the data looked like when presented last fall:
Many investors have eyed the previously presented ganetespib data with a good amount of skepticism, in part because claims the drug would work better in certain targeted subsets of lung cancer patients (elevated LDH or KRAS mutants) don't appear to have panned out. Synta is now positioning ganetespib as a more conventional add-on to chemotherapy for a broader swath of patients. Whether Synta is just throwing a Hail Mary or there's legitimate reason for optimism with ganetespib won't be decided for awhile, but the ASCO meeting should give us some additional clues.
I don't know the exact reason behind the FDA's delayed approval decision on
Zogenix's
(ZGNX) - Get Report
painkiller Zohydro (an extended release formulation of hydrocodone that doesn't contain acetaminophen.) I am fairly confident that whenever FDA does get around to deciding Zohydro's fate -- Zogenix said a decision could come this summer -- the news will be bad.
Bottom line: FDA is no longer approving painkillers with abuse potential. Zohydro is abusable, therefore will be rejected.
I agree with the
bearish take on Zogenix and Zohydro
published last week by Jake King at
PropThink
.
Excellent decision. Speaking of
Sarepta Therapeutics
(SRPT) - Get Report
, here are my two, new favorite eteplirsen data slides, unveiled by CEO Chris Garabedian during his presentation last week at a healthcare investor conference. He also spoke about them on Thursday's first-quarter conference call.
The first slide, showing studies in which untreated kids with Duchenne muscular dystrophy decline on the six-minute walk test, supports the decline in walk distance recorded by placebo patients in the phase II study.
The second slide shows, for the first time, the eteplirsen data on a per-patient basis. Look at the remarkable consistency in six-minute walk scores.
Sarepta plans to submit additional information on eteplirsen to FDA before the end of May, with the hope that a follow-up meeting to discuss the accelerated approval filing can be scheduled at the end of the second quarter. I'm still expecting FDA to allow Sarepta to file for accelerated approval, which means eteplirsen will be approved.
No. We had two pieces of expected news from
Arena Pharmaceuticals
(ARNA) - Get Report
in the past week: The rejection of Belviq by European regulators and the completion of the long-delayed DEA scheduling that will finally allow the weight-loss pill to launch next month. The latter did not produce the "mother of all short squeezes" envisioned by the Arena longs because investors shorting (or planning to short) Arena
want
Belviq to launch. Weak efficacy and questionable heart safety plus big out-of-pocket expense for patients will equal poor Belviq sales.
Omthera Pharmaceuticals'
(OMTH)
market value ($166 million) is cheap relative to Amarin ($1 billion market value). That's about the most positive thing I can think to say about Omthera. I struggle to be excited about a third, prescription fish-oil pill for lowering trigylcerides.
Amarin
(AMRN) - Get Report
is having enough troubles selling Vascepa, making it hard to see how Omthera would have any better luck with its Epanova pill.
Omthera seems like the kind of company which goes public because the more favorable option -- being acquired by a large pharmaceutical company -- wasn't happening.
The publication of another study this week showing no cardiovascular benefit for fish oil supplements is equally problematic for Omthera as it is for Amarin, as I pointed out Thursday.
Speaking of, "pschwimm" emails to complain about my
:
Your article stinks as usual Adam. You're the type of person that runs into a movie theatre and yells fire. In the confusion someone gets trampled to death. The police confront you and you say yes, there was a fire in the trash can in the lobby. It's not my fault someone got killed. You need to have a basic understanding of chemistry before engaging your brain and attempting to write any articles of a technical nature. Stay away from writing articles like this. It will, has caused you to lose much credibility in the media. You're essentially a laughing stock. If you get anything at all, get this, here's where your lack of basic chemistry, oh that's right you were a political science major... Vascepa is derived from fish oil, algae, fish eggs, omega 3 comes from various sources. Vascepa is a purified EPA (Eicosapentaenoic acid). Calling Vascepa Fish oil is like calling the gasoline or diesel fuel petrol, which one is it? Vascepa is not a fish oil, it is derived from fish and certain plant. Also the article and the study was flawed, Dr. Topol is an academician, he may have a title of MD but that doesn't make him an expert by no means.
Interesting analogy. Not sure it makes any sense, but thanks for sharing.
Thursday night, Amarin reported first-quarter Vascepa sales of $2.34 million, operating expenses of $62.4 million and a net loss of $62.2 million. That's an expense-to-sales ratio which better improve soon or Amarin won't be around very long.
On my story about the
confronting
Repros Therapeutics
(RPRX)
, Patrick S. comments:
No NCE + crap patents = no partner
Patrick's observation is a good one. The active moiety of Repros' Androxal is the same as clomiphene, approved for decades, so FDA will not be bestowing the testosterone-boosting pill with five years of marketing exclusivity under New Chemical Entity status. Repros, meet Amarin.
The strength of Repros' Androxal patents is still up for debate. Harry Fisch, the New York fertility doctor, believes Repros' main Androxal patent is weak and will be quashed if challenged. Repros, obviously, believes otherwise.
What's interesting (to me, at least) is that Repros has not yet landed a Big Pharma partner for Androxal, despite promises that one would be secured before the start of phase III studies. One of the phase III studies is complete and the other nearly so. My guess is Repros, like Amarin, is having a tough time making the case for Androxal's intellectual property protection. Without, Repros won't nail down a deal.
-- Reported by Adam Feuerstein in Boston.
Adam Feuerstein writes regularly for TheStreet. In keeping with company editorial policy, he doesn't own or short individual stocks, although he owns stock in TheStreet. He also doesn't invest in hedge funds or other private investment partnerships. Feuerstein appreciates your feedback;
to send him an email.