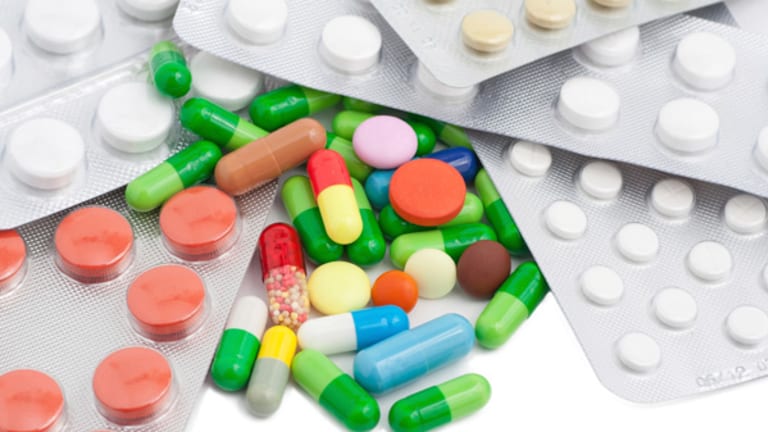 Biotech Stock Mailbag: Somaxon, Transcept
Biotech columnist Adam Feuerstein answers readers' questions and concerns about health care and drug-related stocks.
BOSTON (
) -- Louis N. writes,
"Adam, this was a week for sleeping pill news with Somaxon Pharmaceuticals( SOMX) and Transcept Pharmaceuticals (TSPT) . I follow your tweets and you seem not to like either. Can you explain in more detail and tell me if there's anything positive going on?"
I'll begin with Somaxon because it's the worst of the two sleeping pill stocks. The commercial launch of Somaxon's Silenor is a bust. The company all but gave up on the prescription market this week when it announced the dissolution of the contract sales force agreement with
Procter & Gamble
(PG) - Get Report
and the departure of its top marketing executive.
Somaxon could have pre-announced Silenor revenue for the third quarter if it wanted to send the message that the sleeping pill's performance was turning around for the better. The company chose not to do so, which sends the opposite message: Silenor sales are still in the crapper.
What Somaxon chose to do instead was to divert investor attention by once again raising the possibility of Silenor as an over-the-counter (no prescription required) sleep aid. Keep in mind that Somaxon and partner P&G have no commitment or agreed-upon regulatory plan from FDA that it would allow Silenor to go OTC. Somaxon merely claims that it "believes" there is an OTC path for the drug based on a meeting with FDA.
Be wary when you see a company roll out the word "believes" in press release related to FDA regulatory stuff. "Believes" is one of those lawyer-safe words that give companies an excuse when the promises they make blow up.
Regardless, Somaxon admits that it will take five to seven years (!!) to complete all the studies and paperwork necessary before FDA even makes an OTC decision on Silenor. Good luck and be patient because time is not on your side. In the meantime, an OTC sleep aid already exists -- it's called NyQuil.
I have mixed views on Transcept Pharmaceuticals. For starters, let me say I did not expect this sudden turnaround following the FDA rejection of Intermezzo in July. I was part of the crowd who believed Transcept was basically cooked and wouldn't recover soon, if ever. I was wrong. Transcept not only submitted its response to FDA's concerns with alacrity, but received back from FDA a favorable Class 1 response that sets up the next Intermezzo approval decision date on Nov. 27.
Transcept's stock price, at around $8.60, has almost full recovered to where it was before the FDA rejected Intermezzo in July. Factor in the overall market being down significantly since August and Transcept's stock price performance is even more remarkable.
Odds favor FDA approving Intermezzo in November as the first sleeping pill indicated for patients who wake up in the middle of the night but cannot fall back to sleep -- so-called "middle of the night" dosing.
That's the good. What makes me leery of Transcept story is what happens to Intermezxo if/when FDA approves. Can a new sleeping pill, even one with a unique indication like middle of the night dosing, generate significant revenue against cheap generics? Somaxon failed. Transcept, with partner
Purdue Pharma
doing the actually marketing, has a better chance for success than Somaxon.
If Purdue can turn Intermezzo into a $200 million drug, Transcept is worth $12 or so. I have my doubts if that's possible, but admit I already have one strike against me on this stock.
Another reason to use and appreciate Twitter: Five guys, all with professional experience in healthcare and stock trading, meet on Twitter. They follow each other, tossing tweets back and forth on biotech stock research and trading ideas and become an integral part of Twitter's active biotech trading community.
From this social media friendship emerges
Chimera BioStock Research Group
, a new subscription-based research service aimed at retail and institutional investors interested in fundamental and trading-oriented biotech investment ideas.
Chimera's principals are Jason Chew (@nexparadigm), Patrick Crutcher (@chasingthealpha), Tro Kalayjian (@trokalayjianCRG), Rick Kursman (@RatchimanCRG) and Tony Pelz (@biotechtraderHB).
I have followed all these guys on Twitter for a long time but only this week spoke to Kursman and Chew on the phone for the first time. Twitter is funny like that, the social interaction of tweets and retweets brings people together. You're friends even though you've never actually met or spoken.
Kursman says the idea behind Chimera was to create a research business that harnesses the collective wisdom in biotech research and trading of its founding partners -- all of whom coalesced their friendship and mutual respect for each other on Twitter. Pelz, for instance, is an expert options trader who's long focused on the biotech sector. Kalayjian is a medical doctor. Kursman has investment banking and business experience while Chew and Crutcher have science and biotech backgrounds.
Chimera launched this week with monthly and annual subscriptions. Convincing investors to pay for stock research is tough in any environment, perhaps even more challenging today. But I'm rooting for these guys. Twitter followers need to support each other. Check out Chimera if you get a chance.
Bruce W. emails,
"Ziopharm (ZIOP) - Get Report continues to disappoint. Seven million-plus short in the issue seems to be the reason why. I guess moving from being a small molecule developer into a biologics platform without providing a strong road map as to the 'how' has its costs regarding market valuation. Not sure about next inflection point. Early small-cell lung cancer data is due out in the fourth quarter. Picasso III trial likely reports summer 2012."
Ziopharm hasn't performed all that badly given the topsy-turvy market. At $4 and change, the stock is basically flat for the year with a trip to $7 in May. The Ziopharm chart doesn't look much different from so many other development-stage biotechs this year.
The palifosfamide phase III study in sarcoma -- dubbed Picasso III -- is the next big stock-moving event for Ziopharm. Unfortunately, top-line data aren't expected until the middle of next year, as you point out, which I think keeps Ziopharm off the radar screen of many investors today. The palifosfamide data are just too far away, although I'd expect that to change as we move into the first quarter.
Remember also the controversy over the design of the Picasso III study, notably the uncertainty about whether or not FDA will be copacetic with the
progression-free survival primary endpoint
as the basis for review and approval.
Ziopharm's partnership with Intrexxon for the development of DNA-based cancer therapeutics is interesting but still too early. And this may be inside baseball, but Ziopharm's February financing, in which Barclays underwrote the entire deal owing to the i-bank's cosy relationship with Intrexxon backer R.J. Kirk, angered the other i-banks that had long supported Ziopharm. As a result, Ziopharm has trouble garnering much sell-side support. Barclays isn't much help in that department either because the bank's analyst departed.
For what it's worth, I was impressed with the phase II data of palifosfamide in sarcoma when it was presented at the ASCO meeting in June 2010.
Dendreon
(DNDN)
wasn't included in my article on the
10 Most Shorted Stocks in Biotech
but just an off-hand mention of the stock was enough to tick off Charles H.
"Adam Adam Adam you print lies. The short story is simple? Come on man! That is your story -- you are still downing Provenge. Did you learn anything from your boss and his "BLEEP" friends? Enough games with Dendreon -- have you heard that it is an approved treatment from the FDA? Tell me one short who thinks Provenge does not work -- that is not the angle of the short side and you know that. You are trying to create some lies about Provenge not working and playing it off as the shorts' reason for being short. Why don't you look into a biotech that is working on hair growth so you and your boss don't look like you are from Mars?"
Charles, you're a living, breathing example of how ignoring the other side of an investment thesis is a dangerous and money-losing game. Your ignorance of the short thesis on Dendreon -- and cancer immunotherapy more generally -- is just unacceptable.
Provenge skeptics -- a group that includes oncologists and short sellers -- absolutely question whether the prostate cancer therapy works for one simple reason: Provenge has no measureable anti-tumor effect. Provenge doesn't shrink tumors; Provenge doesn't prolong progression-free survival; Provenge doesn't lower PSA scores.
Yes, Provenge prolongs survival, and on that basis, the therapy was approved, as Charles so obviously points out. But Provenge's launch is a bust. Why? Reimbursement issues are playing a role, as Dendreon points out. So too are the unique financial risks that doctors must take when treating Provenge patients. But just about everyone except Dendreon (and blindered fanboys like Charles) also believes lackluster demand for Provenge plays a part.
Put it another way: If Provenge caused prostate cancer tumors to vanish
and
helped patients live longer, we wouldn't be having this debate because the therapy's sales would be through the roof. In fact, there would probably be an effort made to have Provenge added to the water supply!
One last thing: Insults about baldness? Really? Charles, please try harder next time.
In which I hold my breath and dive once again into the nether world of orally delivered insulin…
"Manfred" writes, "Another biotech stock that has seen a lot of movement is
Oramed Pharmaceuticals
(ORMP.OB)
, which has gained more than 20% over the last week."
Sure, Oramed's stock price has moved from the 30 cents per share to around 40 cents per share, fueled by what appears to be sensational (and not to be trusted) "research" from CorporateProfile -- the web site notorious for videos of Russian spokesmodels reading promotional penny-stock trading tips from cue cards.
An insulin pill is a great idea but technologically/scientifically extremely difficult to develop. Oramed isn't close.
Chris K. writes,
"Hi Adam! With all of the recent volatility in small-cap bios I'm looking for some good long-term buys. I have a few under consideration, but with a few I am nervous about possible reverse splits. What do you think are the odds of Anadys Pharmaceuticals( ANDS), Bionovo (BNVI) , Somaxon Pharmaceuticals, Cyclacel Pharmaceuticals (CYCC) - Get Report or Sunesis Pharmaceuticals (SNSS) - Get Report performing a reverse split? In your opinion, are any in real danger of reverse split and if so, do you think based upon their capital structure they could survive?"
Just looking quickly at balance sheets and the stock charts, the only company on your list that seems close to being at risk for a reverse stock split is Bionovo because it has the least amount of cash and the most difficulty maintaining a $1 stock price. All of the companies on your list face difficult challenges, which is why their market values are depressed. Reverse stock splits, however, don't seem to be a near-term concern.
One housekeeping item: The next Biotech Stock Live Chat is scheduled for Thursday, Oct. 20 at 12 pm ET.
--
Written by Adam Feuerstein in Boston
.
>To contact the writer of this article, click here:
Adam Feuerstein
.
>To follow the writer on Twitter, go to
http://twitter.com/adamfeuerstein
.
>To submit a news tip, send an email to:
.
Adam Feuerstein writes regularly for TheStreet. In keeping with company editorial policy, he doesn't own or short individual stocks, although he owns stock in TheStreet. He also doesn't invest in hedge funds or other private investment partnerships. Feuerstein appreciates your feedback;
to send him an email.