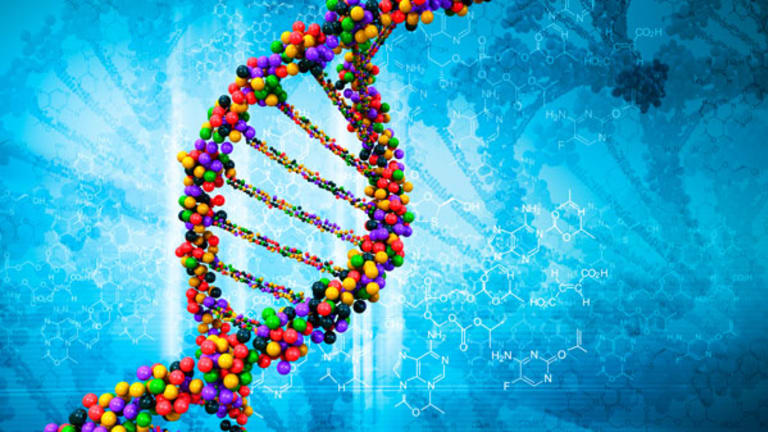 Biotech Stock Mailbag: Soligenix
Our biotech columnist answers readers' burning questions about Soligenix, Cell Therapeutics, and other biotech stocks.
BOSTON (TheStreet) -- Thanks for returning to the Biotech Stock Mailbag.
Let's kick things off with an email from Dennis W., who asks:
"
I would love you to write about Soligenix (SNGX.OB) , as it is in a phase III trial for graft-versus-host disease (GVHD). Since the Osiris Therapeutics (OSIR) - Get Osiris Therapeutics, Inc. Report trial imploded, Soligenix has the only treatment on the horizon for this disease. At 25 cents per share, this stock seems very undervalued. Thanks for all you do to keep small investors like me informed!
"
When I last heard from Soligenix, it was May 2007 and the small drug company was known as
. The vice chairman at the time, Steve Kanzer, was being physically restrained and forcibly removed from an FDA advisory panel meeting that voted against approving Soligenix's GVHD drug OrBec. (Click
here
and scroll to photo No. 4 to see Kanzer's terrible, horrible, no good, very bad day.)
In October 2007, the FDA followed through, as expected, and refused to approve OrBec. Over the next two years, DOR worked with the FDA to agree on the design for a new, confirmatory phase III study of OrBec in GVHD patients, which if successful, could be used to re-file the drug with the FDA.
That study began last October; top-line results are expected in the first half of 2011.
OrBec carries the stigma of a drug scorned once by the FDA, but the previous phase III data weren't terrible. OrBec demonstrated a positive effect on the gastrointestinal (GI) manifestations of GVHD -- and OrBec patients lived longer -- but the study failed to meet its primary endpoint mainly because of a bad study design. For this reason, the FDA wanted the company to conduct a confirmatory study.
The primary endpoint of the new study is treatment failure at study day 80, which was one of the positive, statistically significant secondary endpoints in the old study. The new study is also enrolling more patients and is better powered statistically than the old study.
OrBec isn't a new-fangled drug either, which is a good thing. It's simply an oral (pill) reformulation of a well-known topical steroid that can be delivered directly to the gut, where it's most needed to help patients with GI GVHD.
(In GVHD, immune cells from the donated bone marrow attack the recipient's organs and tissue -- most often in the GI tract. There are no approved drugs to treat GVHD, although steroids and other immunosuppressants are often used.)
Earlier this week, Jason Kolbert, the biotech/drug analyst at National Securities, initiated coverage of Soligenix with a buy rating and a price target of $1.50. He writes:
"We see the company's lead product, orBec, as a low risk, high reward proposition in acute, prophylactic and chronic GI GvHD (graft-versus-host disease), as well as for the prevention of acute radiation enteritis (cancer patients). The localized (oral) administration of this corticosteroid (through a proprietary drug release formulation) has demonstrated efficacy in prior clinical trials. The company is now running a confirmatory Phase 3 trial with data expected in the first half of 2011. We view the outcome of this trial as low risk given its design and the prior clinical history demonstrated with orBec."
Jason is an old, trusted friend and a good analyst, so I second what he says here.
Soligenix is not without risks or potential downside, of course. The OrBec study could fail. The release of data from this study is still far off in the distance. Soligenix is a thinly traded bulletin board stock. The company needs cash. And the size of the commercial market for a drug like OrBec in GVHD might be smaller than the company claims. But as far as penny biotech/drug stocks go, Soligenix at 25 cents a share isn't that bad.
On a related note, Mahmoud H. asks, "
Could you please shed some light and what are your thoughts on Osiris Therapeutics? Much obliged. Thanks and keep the good work going.
"
Osiris is junk. The "stem cell" company has never conducted a legitimate clinical study, let alone one with a successful outcome. Last year's
failure of its lead drug Prochymal
in the phase III GVHD study should have been the final nail in the Osiris coffin, but like other biotech zombie stocks, this one keeps walking the earth.
I can't explain rationally why the stock is up around 16% this year. It makes no fundamental sense; the only explanation I can think of is short covering.
The next shoe to drop with Osiris should be
Genzyme
( GENZ) kicking its Prochymal partner to the curb. Genzyme is trying clean up its own drug manufacturing mistakes and placate a shareholder base unhappy with management's many missteps. Getting rid of Osiris as a partner and reinvesting that money into something more productive would definitely be a smart move on Genzyme's part.
Hopefully, it will send Osiris to its grave, where the stock belongs.
Steven K. writes, "
In the past you've recommended the BioMedTracker service for investors who want to keep track of FDA approval dates and other stuff. I'm looking for a biotech investment newsletter, are there any that you like?
"
I've long been a fan of
, a monthly newsletter with frequent email alerts that focuses mainly on early-stage biotech companies. Full disclosure, BSR's founder David Miller is a friend of mine, but he's a friend in large part because I have total respect (and some amount of awe) for the thoroughness of his research. David is a science geek who loves nothing more than to dig deep into a young company's drug pipeline, and he does a great job explaining complicated bio-medical concepts to a lay retail-investor audience.
Before I get too gushy here and spoil my Darth Vader rep, let me add that I've cringed at some of the stocks in the BSR portfolio. David and I definitely do not agree all the time, but that's just fine. He's picked his share of biotech zeros, as have I, as has anyone who's been in this game long enough. What's important is getting up off the floor when your butt's been kicked by some biotech blow up, learning from your mistake and trying never to make it again.
I think David and his team at BSR know that better than anyone since the subset of early-stage biotech stocks they cover carry extra risk and volatility. If you're an investor who values honest, truly independent research and has the patience to actually invest in biotech for the long term -- and not necessarily obsess about every trade, every tick -- then BSR is a newsletter definitely worth checking out.
It goes without saying, naturally, that you have to keep reading my stuff, too.
Cyndi P. asks, "
Is the outlook for Keryx Pharmaceuticals (KERX) - Get Keryx Biopharmaceuticals, Inc. Report improved by the Special Protocol Assessment (SPA) for perifosine?
"
The SPA is a good thing. Keryx and the FDA reached an agreement on the SPA for the design and conduct of a pivotal phase III study of perifosine in patients with advanced colon cancer, the company announced Wednesday.
The new phase III study mimics the design of the phase II study of perifosine in colon cancer that I discussed at length in
. The only point of concern I see is that the phase III study will enroll patients who failed treatment with either Erbitux or Vectibix, which makes them a bit sicker than half the patients in the phase II study who were never treated with either commonly-used colon cancer drug.
How that affects the results won't be clear until we see the data from study in the second half of 2011.
Moving on.
Samuel Y. writes, "
Hemispherx Biopharma (HEB) seems to be getting its manufacturing problems solved. I know you hate the stock but isn't this good news worth paying attention to?"
No.
Steve I. inquires about another of my less-than-favorite stocks:
"
You said that Cell Therapeutic's (CTIC) - Get CTI BioPharma Corp. Report briefing documents for the ODAC meeting would be available around Feb 8 or 9. Does this mean we will be able to determine their decision from these documents? Just looking to take some gains so I am not so exposed going into the panel.
"
The documents likely to be released on Feb. 8 or 9 will include the review of pixantrone conducted by the FDA. This will tell you what the FDA thinks about the pixantrone data; it will not necessarily tell you if the drug will be approved.
The FDA convenes advisory panels to collect expert advice and recommendations, which can go a long way towards shaping the final approval decision.
You'll be able to find the FDA's briefing documents on pixantrone
here
.
Ken C. asks, "
Your thoughts now on Immunomedics (IMMU) - Get Immunomedics, Inc. Report with its lupus product and detection and treatment of pancreatic cancer?
"
The big stock driver for Immunomedics today is epratuzumab for lupus. The stock spiked to almost $7 last August when partner
UCB Group
announced positive results for epratuzumab in a randomized, controlled phase IIb study of lupus patients. UCB, a Belgian drug maker, says it intends to push epratuzumab into phase III studies in lupus this year, with details possibly coming when the company reports year-end results in early March.
Investors are definitely interested in lupus, especially after
Human Genome Sciences'
( HGSI) big success last year, but the jury is definitely still out on epratuzumab. Immunomedics shares have retreated back to around $3, in part because the only data disclosed has been in UCB press releases. I don't think it's really possible to fully evaluate epratuzumab until the phase IIb data are presented at a medical meeting, which I believe will happen in June at the big European rheumatology conference. That's a date and meeting I'd focus on if I were interested in Immunomedics.
A quick update on the
Biotech Stock Mailbag Readers' Portfolio
:
The BSMRP is down 4% as of Wednesday's close, compared to a 1.4% gain in the benchmark iShares Nasdaq Biotechnology ETF.
The underperformance of the BSMRP appears to reflect a loss of momentum in small-cap biotech stocks overall. Blame that on a dip in markets across the board, or more specifically on dilution fatigue caused by all the money raised by small-caps through secondary offerings in recent weeks and months. Investors are favoring large-cap biotechs right now.
Breaking down the BSMRP components, the only significant gainer to date is
Novelos Therapeutics
(NVLT.OB)
(+12%); biggest losers include
Curis
(CRIS) - Get Curis, Inc. Report
(-29.5%) and
ImmunoGen
(IMGN) - Get ImmunoGen, Inc. Report
(-11%).
Lastly, the funniest, most absurd email I've received in a long time, from Jason B.:
"
There are rumors spreading on the boards that you are a pedafile. Is there truth to this? I was going to contract
TheStreet.com
management on the topic.
"
My reply to Jason: A "pedafile?" What's that? The thing you use to scrape rough skin from your feet?
-- Reported by Adam Feuerstein in Boston
Follow Adam Feuerstein on
.
Adam Feuerstein writes regularly for TheStreet.com. In keeping with TSC's editorial policy, he doesn't own or short individual stocks, although he owns stock in TheStreet.com. He also doesn't invest in hedge funds or other private investment partnerships. Feuerstein appreciates your feedback;
to send him an email.