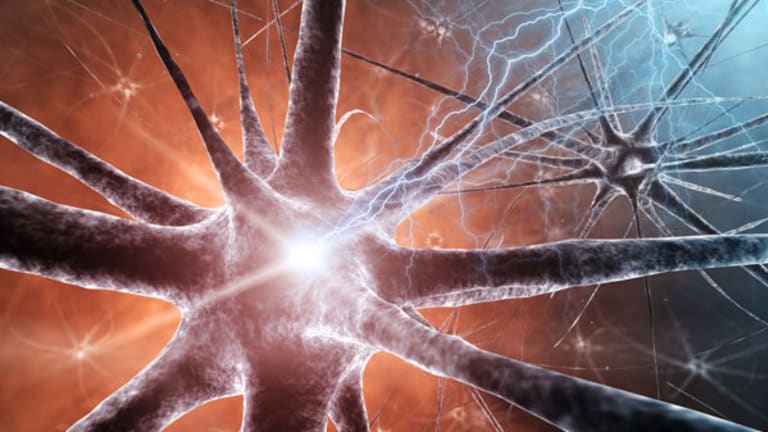 Biotech Stock Mailbag: Sarepta, F-R Rule Stock Predictions, Merrimack
Biotech columnist Adam Feuerstein answers readers' questions about health care companies.
Biotech columnist Adam Feuerstein answers readers' questions about health care companies.
The Biotech Stock Mailbag returns. Let's kick things off with an email from Richard D.
Adam, thanks for providing the update on the Feuerstein-Ratain Rule. I was hoping you could also identify some cancer drug stocks and how they might fare under the rule this year. Please give us some predictions based on your work. Thank you.
It would be so much easier to apply the Feuerstein-Ratain Rule if companies would schedule (and publicize) exact announcement dates for phase III cancer studies. Absent that help, I need to make some guesses based on the general guidance companies typically dish out regarding clinical trial results.
With the help of BioMedTracker, I found three cancer drug stocks for which the Feuerstein-Ratain Rule might come into play later this year. Let's go through each one:
Exelixis (EXEL) - Get Report is being very vague about the timing for top-line results from the COMET-1 phase III study of cabozantinib in prostate cancer. The company will only say data in 2014. My guess (based on a conversations with a few investors following the stock closely) is a September-October announcement. Remember, the F-R Rule uses market cap four months back from the date of trial results, so for Exelixis, it's May-June.
Here we are in the first week of May with Exelixis carrying a $660 million market cap. Per the F-R Rule, cabozantinib has a 59% chance for success. In other words, it's a toss up. Not very helpful, I know, but as I acknowledged this week, the F-R Rule doesn't do a very good job predicting cancer drug trial successes. Its real value is predicting failure in cancer drug trials run by companies with market caps less than $300 million.
I suspect (but cannot say definitively) Exelixis market value today reflects more optimism for the MEK inhibitor cobimetinib than cabozantinib. Roche (RHHBY) licensed cobi from Exelixis and is running a phase III study in melanoma with results also expected this year. Take cobi and the promise of royalty revenue out of the equation and I wonder if Exelixis' market cap today would be a lot closer to the F-R Rules $300 million dead zone. Note Exelixis shares tanked last month when the cabozantinib prostate cancer study was not stopped early based on a pre-specified interim analysis.
I wrote about Cell Therapeutics (CTIC) - Get Report and its myelofibrosis drug pacritinib in a January Mailbag. The company's most recent guidance was for top-line results from the first of two pacritinib phase III studies to be released late this year. In March, it was second half of 2014.
It sounds like the pacritinib phase III study is a fourth-quarter event. Lets call it October-November, which means targeting Cell Therapeutics market value in June-July for the F-R Rule analysis.
Cell Therapeutics market cap today stands at just under $400 million. Baxter (BAX) - Get Report is the Cell Therapeutics pacritnib marketing partner.
Sunesis Pharmaceuticals (SNSS) - Get Report is conducting the phase III VALOR study of vosaroxin in relapsed/refractory acute myeloid leukemia. On Wednesday, Sunesis said the vosaroxin study would be unblinded in the third or fourth quarter 2014.
For F-R Rule purposes, let's assume a September-October trial announcement, which puts the relevant Sunesis market cap calculation in the May-June timeframe. Today, Sunesis market cap stands at $290 million. Uh oh. Dead zone territory. Watch this one closely.
Did I miss a any stocks to run through the Feuerstein-Ratain Rule prediction gauntlet for this year? Let me know in the comments below.
Simon A. emails:
Adam, I know you were on vacation when Sarepta Therapeutics (SRPT) - Get Report announced its eteplirsen filing plans. I assume you still believe in eteplirsen and find the news to be positive?
Yes. I'm still bullish on Sarepta, and of course, the decision by FDA to review an approval filing for eteplirsen based on the phase II study was great news. Do risks remain? Absolutely. Im pretty much in agreement with this column by Forbes' Matt Herper, so no need to repeat here.
On Thursday, Sarepta reiterated its intention to deliver the eteplirsen approval filing to FDA by the end of the year. The company is also making nice progress on its other exon-skipping programs. [I wrote about why Sarepta needs to advance its platform in January.]
Perhaps the next shoe to drop will be an announcement from Prosensa (RNA) that it will also seek FDA approval for its DMD drug drisapersen. The company has been re-analyzing data from the phase II and phase III studies conducted by old partner GlaxoSmithKline (GSK) - Get Report, clearly with the intent to file on its mind.
I see no reason why FDA would agree to review Sarepta's application but say no to Prosensa. Prosensa shares are up more than 50% this year, so clearly, investors are anticipating a drisapersen FDA filing as well.
To answer the next, logical question: No, I don't view a drisapersen FDA filing as negative for Sarepta or eteplirsen. The prospect of a two-day, all DMD FDA advisory panel sometime next year is incredibly exciting. I believe eteplirsen is the superior drug, so a drisapersen FDA review, even a dual approval, isn't a problem in my mind.
Douglas R. asks:
There has been a lot of debate about Merrimack Pharmaceuticals (MACK) - Get Report and its pancreatic cancer drug. What are your thoughts about the clinical trial results?
Some background will be helpful. MM-398 wraps the "old" chemotherapy drug irinotecan in spheres of liposomes, or fats, which is supposed to increase the absorption of the drug inside tumors where it can be most effective and minimize exposure in surrounding, healthy tissue, therefore reducing potential for side effects.
The study, dubbed NAPOLI-1, enrolled pancreatic cancer patients no longer responding to treatment with gemcitabine. One third of the patients were randomized to receive MM-398 on its own. A second third of patients received MM-398 and two chemotherapy drugs --  5FU and leucovorin. The remaining patients -- the control arm of the study -- received 5FU and leucovorin.
As reported by Merrimack, treatment with MM-398 plus 5FU/leucovorin resulted in a statistically significant, 33% reduction in the risk of death (hazard ratio 0.67) compared to the 5FU/leucovorin patients. The median overall survival in the MM-398 combination arm was 6.1 months vs. 4.2 months for the control arm -- a survival benefit of just under 8 weeks. No difference in survival was reported between the MM-398 monotherapy arm and the control patients.]
Is this study strong enough to get MM-398 approved by FDA? Merrimack bulls say yes, especially if the full data (not yet presented) match what we've seen from the company's press release. An eight-week survival benefit isnt much but would likely be deemed clinically meaningful for advanced pancreatic cancer patients who no longer respond to first-line therapy. MM-398 is the first drug to show a survival benefit in the second-line setting, where no drugs are formally approved.
The bears and skeptics say a significant risk and potential review issue for MM-398 -- maybe an interesting discussion at an advisory panel -- will be whether Merrimack gamed the design of the phase III study to boost the drug's chance for a positive result.  MM-398 is reformulated irinotecan, so why didn't Merrimack compare the efficacy and safety of the two drugs in the phase III study?
I asked Merrimack CEO Bob Mulroy this question. He insists MM-398 is a novel cancer drug. It is not just a reformulation of old irinotecan, so comparing the two drugs in a clinical trial wasn't necessary.
There was no pushback or questions from the FDA or the EMEA about the control arm of the phase III study, said Mulroy. Merrimack didnt pursue a Special Protocol Assessment (SPA) for the MM-398 phase III study because overall survival is the gold standard primary endpoint, he added.
While there are no drugs formally approved for second-line pancreatic cancer, the 5FU/leucovorin combination is listed in treatment guidelines, hence Merrimack's decision to make it the control arm of the phase III study.
Yet a triple-combination therapy of 5FU, leucovorin and irinotecan known as Folfiri has been studied in first and second-line pancreatic cancer with overall survival data comparing favorably to MM-398. You can find examples of Folfiri studies here, here, here and here.
University of Chicago oncology professor Dr. Mark Ratain (Yes, he of the Feuerstein-Ratain Rule) is skeptical. Their drug [MM-398] has different pharmacokinetic properties than irinotecan. However, there is absolutely no evidence that changing the schedule of irinotecan (e.g. to a prolonged infusion) is of any therapeutics value. Thus, I would predict that one could obtain similar results if the study were repeated with Folfiri vs. 5FU/leucovorin.
Cancer consultant Sally Church, widely followed on Twitter @MaverickNY, tweeted similar concerns following the release of the MM-398 data.
If the MM-398 vs. irinotecan issue isn't a significant factor in the FDA approval decision, will it affect how doctors potentially use MM-398 to treat pancreatic cancer patients?
Merrimack enrolled pancreatic cancer patients into the study who no longer responded to treatment with gemcitabine-based regimens in the front line setting. However, the study was started well before the FDA approval of Celgene's (CELG) - Get Report Abraxane plus gemcitabine for newly diagnosed pancreatic cancer. Merrimack concedes few patients in its phase III study were treated with Abraxane, even though the drug is now considered standard of care.
Merrimack's CEO Mulroy said the lack of Abraxane use in the phase III study shouldn't tarnish the clinically meaningful survival benefit derived from MM-398. If doctors choose to treat pancreatic cancer patients with two lines of gemcitabine-based therapy first, then MM-398 would be an appropriate third-line treatment option, he said. Likewise, if patients are treated with Folfirinox (Folfiri plus oxaliplatin) followed by Abraxane/gemcitabine. The company is not seeking approval strictly as a second-line agent, but as a treatment for patients who are refractory to any gemcitabine-based therapy. Whether or not that includes Abraxane or not doesn't matter, he said.
It's a bit early to think about pricing and reimbursement of MM-398 but keep that debate in mind, too. Abraxane is a reformulation of the old chemo drug paclitaxel similar to the way MM-398 reboots irinotecan. Abraxane is priced at a significant premium to paclitaxel without much insurance pushback. This will surely be the model followed by Merrimack if MM-398 is approved.
The difference, however, is the existence of clinical data comparing Abraxane to paclitaxel. Merrimack has no such data comparing MM-398 to irinotecan. The company's position is that MM-398 and irinotecan are different drugs entirely, but the company clearly has some work to do convincing people that this distinction is real.
Another Feuerstein-Ratain Rule related tweet:
Both Peregrine Pharmaceuticals (PPHM) and Galena Biopharma (GALE) are too early. Neither company has completed enrollment in their respective phase III studies. Enrollment in Peregrine's 600-patient bavituximab lung cancer study only began late last year. On a conference call this week, Galena said the NeuVax breast cancer study should complete enrollment this year but data won't be ready until 2016.
Outside the F-Rule, I believe you're bonkers to have any confidence at all in a positive outcome from the bavituximab and NeuVax studies. There's been plenty of clinical data presented on both drugs already to give larger industry players and investors a chance to evaluate their potential. Yet Peregrine and Galena have been forced to move into phase III studies on their own. No deals, despite obvious efforts by both companies to find real partners. (Galena's inconsequential India collaboration with Dr. Reddys doesn't count.)
-- Written by Adam Feuerstein
Adam Feuerstein writes regularly for TheStreet. In keeping with company editorial policy, he doesn't own or short individual stocks, although he owns stock in TheStreet. He also doesn't invest in hedge funds or other private investment partnerships. Feuerstein appreciates your feedback;
to send him an email.