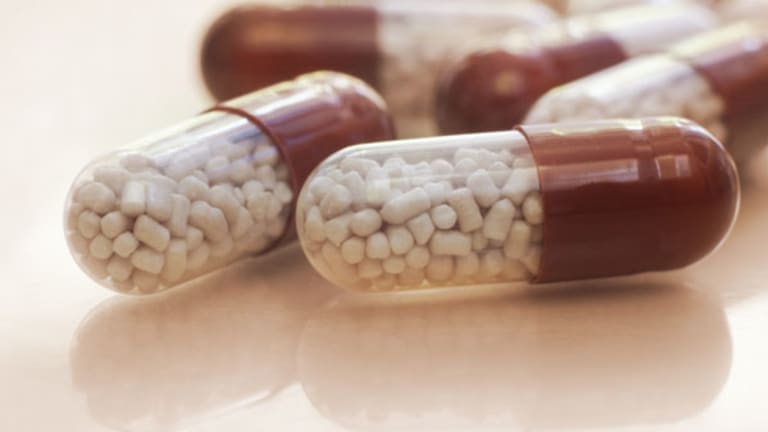 Biotech Stock Mailbag: Rexahn, Vertex, Peregrine, Sarepta
Biotech columnist Adam Feuerstein answers readers' questions about health-care companies.
BOSTON (
) -- Here's the last Biotech Stock Mailbag of the summer.
BuggyFunBunny writes: "A couple for the Mailbag, should you feel like it. 1) It seems that ATM/stealth financing/dilution is more common recently than in the past. What meaning should we assess? 2) Just saw that a past whipping boy has announced 'good' data:
Rexahn Pharmaceuticals
(RNN)
. What meaning should we assess this?"
U.S. companies raised $2.3 billion via 140 At-The-Market (ATM) offerings in the first quarter of the year -- a record amount and a 6% increase over the first quarter 2011, according to statistics gathered by Brinson Patrick, a boutique investment bank that specializes in facilitating ATM transactions.
ATM financing arrangements allow companies, through a broker or investment bank, to sell treasury stock to investors at current market prices. Small companies like ATMs because it's a relatively easy and cheap way to raise cash -- less expensive than a traditional follow-on stock offering managed by a traditional Wall Street investment bank. Companies also have more control over how they sell stock and raise cash through an ATM because the offering can be turned "on" or "off" as market conditions change.
Small-cap and development-stage biotech companies have definitely embraced ATMs as a preferred financing vehicle.
Acadia Pharmaceuticals
(ACAD) - Get ACADIA Pharmaceuticals Inc. Report
,
Aeterna Zentaris
(AEZS) - Get Aeterna Zentaris Inc. Report
,
Peregrine Pharmaceuticals
(PPHM)
,
Somaxon Pharma
( SOMX) and
Biocryst Pharma
(BCRX) - Get BioCryst Pharmaceuticals, Inc. Report
are just a small sampling of recent ATM sellers.
While I generally agree that ATMs are advantageous for smallish biotech firms, the growing popularity of this financing vehicle is not necessarily a welcome trend for investors. Companies are under no obligation to disclose the sale of stock through ATMs except in customary regulatory filings at the end of each quarter or fiscal year. In many cases, this leads to stealth dilution.
The most egregious example I've come across recently was Peregrine, which diluted shareholders by 41% in the most recent fiscal year. A large majority of the 31 million (!!) shares sold by Peregrine were through an opaque ATM facility. Shareholders had no idea Peregrine was selling all this stock unless they read through SEC filings -- something every investor should do but few get around to.
When investing in a biotech company that has an ATM in place, assume constant dilution, even if its dribs and drabs. Whether that bothers you or not is your call. Just make sure you read the company's 10-Q every quarter.
Let's all agree on this: ATMs are better than PIPEs and death-spiral converts.
Rexahn has been in my crosshairs before, mainly for the misleading pronouncements around its
(now blown up and long forgotten.) Let's dissect this week's press release announcing results from a phase II study of the company's experimental drug Archexin in pancreatic cancer.
Rexahn:
"The open label 2-stage study was designed to assess the safety and efficacy of Archexin in combination with gemcitabine. Stage 1 was the dose finding portion and stage 2 was the dose expansion portion using the dose identified in stage 1 to be administered with gemcitabine. The study enrolled 31 subjects aged 18-65 years with metastatic pancreatic cancer at four centers in the United States and five centers in India. The primary endpoint was overall survival following 4 cycles of therapy with a 6-month follow-up."
By open label, Rexahn means all patients in the study were treated with Archexin and gemcitabine. The study has no control arm i.e. patients treated with gemcitabine plus a placebo. Single-arm studies, by definition, cannot be used to determine a survival benefit because there is no comparator treatment by which an experimental drug can be measured against.
A 31-patient phase II study is on the small side, and any study enrolling patients in India raises an immediate red flag about data quality.
Rexahn:
For those evaluable patients according to the protocol, the study demonstrated that treatment with Archexin in combination with gemcitabine provided a median survival of 9.1 months compared to the historical survival data of 5.65 months (Burris et al., 1997, J. Clin Oncol 15:2403) for standard single agent gemcitabine therapy. The most frequently reported adverse events were constipation, nausea, abdominal pain, and pyrexia, regardless of relatedness.
Uh oh. "Evaluable patients?" Right off the bat, Rexahn is telling us they've excluded some pancreatic cancer patients from the efficacy analysis. How many patients were thrown out and why is apparently a closely guarded secret because Rexahn doesn't bother to tell us.
Then we get the inevitable survival "benefit" of Archexin (median 9.1 months) compared to a historical control of single agent gemcitabine (median 5.6 months.) In this case, the historical control is a
. Rexahn couldn't come up with something more recent?
The analysts at BioMedTracker.com raise a very astute red flag: In order to be eligible to enroll in the Archexin study, pancreatic cancer patients had to have a life expectancy of at least six months, assessed by their doctor.
You can read the study's enrollment criteria
. So, even before the Archexin study began, the enrolled patients were going to live longer than the patients in the 15-year-old study of gemcitabine used as a historical control.
This blows Rexahn's claims of positive Archexin results out of the water. The 9.1-month median survival isn't real. Don't believe the data for a second.
@SCarolinaguy asks, "Of all the drugs approved or going through approval this year, which single one do you think will bring the most benefit to a patient?"
That's a really interesting question and one I don't think about often because I'm so focused on the investing, stock price, revenue potential, etc. side of things. It's also a difficult question to answer because benefit can be so subjective. Any drug that helps a patient is the most beneficial to them.
My choice for the most beneficial drug approved this year is Kalydeco, the cystic fibrosis drug developed by
Vertex Pharmaceuticals
(VRTX) - Get Vertex Pharmaceuticals Incorporated Report
. Kalydeco represents groundbreaking science that tackles the root cause of cystic fibrosis for the first time instead of just ameliorating the disease's symptoms. FDA approved Kalydeco in January.
I asked the Twitterverse to weigh in on their selection. Some people voted for eteplirsen, the Duchenne muscular dystrophy drug from
Sarepta Therapeutics
(SRPT) - Get Sarepta Therapeutics, Inc. Report
. A good choice but perhaps a bit premature since eteplirsen isn't approved yet and no one is really sure whether the data will allow Sarepta to file for early approval later this year.
Other nominees included Menhibrix, a meningococcal disease vaccine from
GlaxoSmithKline
(GSK) - Get GlaxoSmithKline Plc Report
; Vascepa, the lipid-lowering prescription fish-oil pill from
Amarin
(AMRN) - Get Amarin Corp. Plc Report
; and naturally (although undeservingly) the obesity pills Belviq and Qsymia from
Arena Pharmaceuticals
(ARNA) - Get Arena Pharmaceuticals, Inc. Report
and
Vivus
(VVUS) - Get VIVUS, Inc. Report
, respectively.
The question does allow for drugs are not yet approved buy may be before year's end. In this category, the blood-thinner Eliquis from
Pfizer
(PFE) - Get Pfizer Inc. Report
and
Bristol-Myers Squibb
(BMY) - Get Bristol-Myers Squibb Company Report
deserves consideration, says one Twitter follower. "Not as dramatic a benefit as Kalydeco but affects many more patients. Warfarin is a b--ch," he says.
Am I missing a truly beneficial new drug approved this year? Let me know.
--Written by Adam Feuerstein in Boston.
>To contact the writer of this article, click here:
Adam Feuerstein
.
>To follow the writer on Twitter, go to
http://twitter.com/adamfeuerstein
.
>To submit a news tip, send an email to:
.
Follow
TheStreet
on
and become a fan on
Adam Feuerstein writes regularly for TheStreet. In keeping with company editorial policy, he doesn't own or short individual stocks, although he owns stock in TheStreet. He also doesn't invest in hedge funds or other private investment partnerships. Feuerstein appreciates your feedback;
to send him an email.