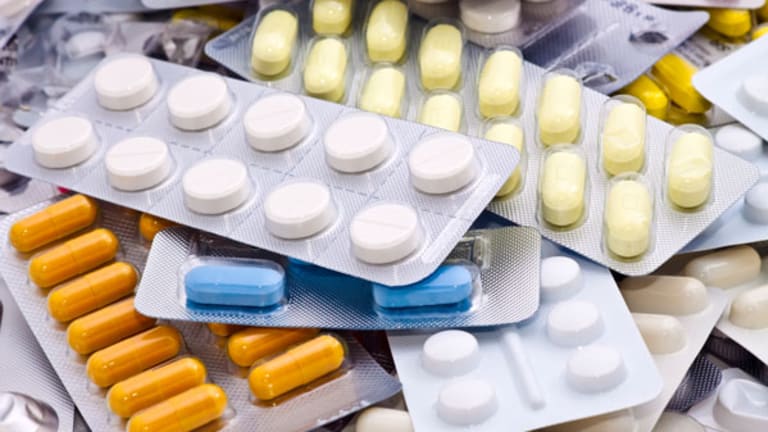 Publish date:
Biotech Stock Mailbag: Rexahn Pharma
In a bonus edition of Mailbag, our biotech columnist answers readers' questions about healthcare stocks and the FDA.
In a bonus edition of Mailbag, our biotech columnist answers readers' questions about healthcare stocks and the FDA.
BOSTON (
) -- The
Biotech Stock Mailbag
is overflowing with so many reader questions that a bonus Thursday edition is necessary. I've also updated the
Biotech Stock Mailbag Readers' Portfolio
(BSMRP) below, so make sure to check that out. (Hint: The BSMRP's performance is illin' a bit.)
The regular installment of the Mailbag will be delivered tomorrow, as always.
Konstradt M. writes, "
I have always valued your insights as you refuse to toe the popular line. Personally, I don't agree with the abuse that you receive simply because you refuse to mince your words. I respect any man that has the courage to call a spade a spade. Please don't change because as a retail investor, I need to hear the unvarnished truth. I feel as an investor it's always important to seek the bull and the bear side for each investment in order to make the very best decision, no matter if the truth hurts."Would you respectfully share your thoughts briefly on Rexahn Pharmaceuticals (RNN) ? It has received a lot of attention lately and has risen fast. Today last Wednesday, the company issued a positive press release, and yet there was a considerable pullback. Of course, profit taking and selling on the news is to be expected after a 100% rise in a week or so. Perhaps, short- sellers saw an opportunity too? Thank you for the opportunity to contact you and look forward to hearing from you at your earliest convenience.
"
I had a lengthy and frustrating conversation with Rexahn CEO Chang Ahn Monday, during which I learned the following:
Rexahn has yet to enroll a single patient in a phase II study of its experimental cancer drug Archexin in advanced kidney cancer. Rexahn announced the start of this Archexin study in May 2007! Since then, the number of patients enrolled equals zero -- as in zilch, nada.Ahn told me the study is "delayed." Really? You think?
Ahn wanted to put me under a non-disclosure agreement before discussing data from the company's phase IIa study of experimental drug Serdaxin in patients with major depressive disorder. Rexahn issued a press release last October announcing positive results from this Serdaxin study, but the company has not yet provided any detailed data. For starters, I'm a journalist, which means my job is to disclose news, not hide it from my readers, so non-disclosure agreements don't work for me. I couldn't convince Ahn to discuss the Serdaxin depression data in full detail -- I'm still not sure why -- but he did tell me that the drug's efficacy was only demonstrated in a subset of the study's patients diagnosed with severe depression. (By how much exactly, he wouldn't say because the data are still under wraps for reasons he couldn't articulate.)Mild and moderately depressed patients enrolled in the study didn't benefit from Serdaxin, Ahn said. He also couldn't tell me how many patients were enrolled in the study, although he said the company's analysis was based on a "per protocol" pool of 80 patients. This means that some patients were excluded from the final analysis.
Does Serdaxin have side effects? Heck if I know. When I asked Ahn to discuss the adverse events recorded in the phase II study, he insisted there was little or nothing to disclose. "Sometimes Serdaxin patients complain about a headache or something else but it's no different from the placebo group," he said.
I'm going to stop here because I don't want to imply that Rexahn is a total mess. At $1.22 a share and an $80 million-plus enterprise value, Rexahn isn't particularly overpriced; some might consider it a cheap stock. I don't know what the company has going for it -- and neither does anyone else -- because Ahn and his team haven't been nearly as transparent about the pipeline as they need to be.
Rexahn is a tiny company with limited financial resources and no partner to help shoulder the burden of developing its main drugs. (Yes, I know about
Teva Pharma
(TEVA) - Get Teva Pharmaceutical Industries Limited Sponsored ADR Report
, but that partnership involves a preclinical drug candidate.) Ahn tells me that Rexahn is going to develop Archexin for a variety of cancer types; advance Serdaxin further in depression, Parkinson's and other neuro-degenerative diseases; and study a third drug Zoraxel in sexual dysfunction.
Ahn is spreading Rexahn way too thin. Diversification is not a bad idea, but this company is a mile wide and a few millimeters deep. If Rexahn is going to be taken seriously by investors, Ahn needs to be more transparent -- let's see some actual clinical data instead of reading about wild and overly optimistic claims -- and he needs to focus research efforts into smaller, more manageable chunks.
Keith writes, "
Thanks for the mention and for being more positive on Delcath Systems (DCTH) than you've been in the past, but I feel you really missed on your stock price projections. You missed the fact that Delcath already has purchased a facility in New York to manufacture the devices and just recently signed a contract with a company in Taiwan to pay for clinical studies and to distribute their product there. With many more deals to come most who know this company have their revenue projections much higher than you state in your article and I feel we're looking for Delcath to be at least $20 within a year.
"
A $20 price target for Delcath within a year is very aggressive. Crazier things have happened and perhaps the stock will take off on a momentum-fueled rocket ride, but I'd say a
is much more reasonable, fundamentally speaking, than $20.
I'd be interested in hearing how you derive a one-year $20 price target, but by my simple calculations, Delcath would have to generate about $200 million in first-year revenue from the PHP system in order to garner such a lofty valuation. Do you really think that's possible?
Keith emailed a second time to ask if I was "in contact with shorts" -- meaning short sellers -- because I listed a quick summary of the bear thesis on Delcath in my column.
I'm absolutely in contact with contact with shorts. You can't call your investment research complete unless you understand the long and short thesis for any stock. And yes, there is always a short story out there. Some might be more ridiculous or harder to find than others, but you need to know what it is.
Don't forget, the short story in biotech is very often the right story. Biotech is no stranger to blowups and failures.
Via Twitter, @rabmanduky sends a mini-rant:
"
Hey Adam, sometimes I don't understand the FDA. The agency calls panels but sometimes it doesn't listen to them. Why bother calling them? The FDA allows Tysabri to be still on the market when it could kill, but disallows Xenoport's (XNPT) drug because it could cause cancer. It approves a device like Cyberonics' (CYBX) that has questionable efficacy, but disallows Dendreon's (DNDN) Provenge. Sorry for the long tweet, but why is the FDA so inconsistent and crazy? Is it all political and little with science?
"
Trying to predict the FDA's actions is one of the most difficult and frustrating challenges that every biotech investor faces, because as Rabman so aptly points out, the agency's decisions can seem so random at times.
The FDA is imperfect. The work environment there, I'm sure, is like any other large organization. Some of the FDA's staff are stars, others are slackers. Politics and science play a role in drug approval and policy decisions. The FDA gets a lot of things right, but sometimes it screws up.
I've been following the FDA as part of my job for close to 10 years and I have yet to figure the agency out fully. I know professional biotech investors who have been watching the FDA for longer than that who are also similarly flummoxed. The opaqueness of the drug approval process -- in which the FDA says nothing, forcing investors to rely on the often questionable integrity and biased statements issued by biotech executives -- adds to the uncertainty.
I wish I had a good answer for Rabman's rant, but I don't. All I can say is that investors should follow the science as close as possible, find precedents if possible, question and challenge everything you hear from your favorite biotech executive, and then risk adjust the heck out of whatever conclusion you reach.
And pray. That sometimes helps, too.
On a related note, James W. asks, "
We much appreciate your excellent biotech analysis. Not an investor in Xenoport, but curious about a recent FDA ruling. It had been extensively documented that gabapentin causes pancreatic tumors in lab animals, yet the FDA allowed extensive clinical exposure of restless leg syndrome patients to potential hazards of pancreatic cancer caused by the gabapentin pro-drug Horizant; then the FDA denied restless leg syndrome approval due to what had to have been an entirely predictable finding of pancreatic tumors in lab animals caused by the pro-drug Horizant. What am I missing here?
"
The FDA's decision to reject Horizant is a head scratcher. If the agency was so concerned about Horizant's cancer signal in rats, then why did it allow Xenoport and
GlaxoSmithKline
(GSK) - Get GlaxoSmithKline plc Sponsored ADR Report
to test the drug so extensively in humans? Why didn't FDA simply shut down Horizant much earlier in the development process if safety was such a concern?
No one knows the definitive answer, but Wedbush analyst Greg Wade postulates that Horizant is hung up in a intra-FDA tug of war between the Office of New Drugs (in charge of overseeing the review all new drugs for approval) and the Office of Drug Safety, which is in charge of drug safety (obviously), but may have weighed in with concerns about Horizant much later in the review process.
Wade thinks that Xenoport and Glaxo will appeal FDA's decision and ask the agency to convene an advisory panel to consider Horizant's safety record. If the FDA grants that request, the chances are much higher that Horizant is approved without the companies having to conduct larger and more expensive safety studies. Xenoport's stock price will get an immediate bump if a Horizant panel is announced, said Wade.
This is the same game plan that
Gilead Sciences
(GILD) - Get Gilead Sciences, Inc. (GILD) Report
used successfully to get its cystic fibrosis drug approved this week after an initial FDA rejection last year.
An update on the Biotech Stock Mailbag Readers' Portfolio:
Six weeks after launch, the BSMRP is down 8.6% compared to an essentially flat performance in the benchmark iShares Nasdaq Biotechnology ETF.
Novelos Therapeutics
(NVLT.OB)
, down 82%, put the big hurt on the overall portfolio due to the
failed phase III lung cancer study
announced Wednesday. The other significant laggard is BSMRP component
Cell Therapeutics
(CTIC) - Get CTI BioPharma Corp. Report
, down 40% since the FDA released its very critical review of the
.
The BSMRP's other double-digit losers to date are
Curis
(CRIS) - Get Curis, Inc. Report
(-21%),
ImmunoGen
(IMGN) - Get ImmunoGen, Inc. Report
(-17%),
Keryx Pharmaceuticals
(KERX) - Get Keryx Biopharmaceuticals, Inc. Report
(-15%) and
StemCells
(STEM)
(-13%).
On the brighter side,
GenVec
(GNVC)
tops the list of strong performers with a 37% return since the BSMRP was launched on Jan. 15. Investors are anxiously anticipating results from the second-interim analysis of the
phase III study of TNFerade in pancreatic cancer
, which should be released before the end of March. This is the likely to be next big catalyst that, if positive, could help swing the BSMRP's performance back into the green, or at least closer to it.
Allos Therapeutics
( ALTH) is up just under 1% in the BSMRP to date, so results from the phase II study of Folotyn in lung cancer, if positive, could also provide the portfolio some spark. The same goes for
Mannkind
(MNKD) - Get MannKind Corporation Report
(down 1% currently) if FDA finally approves its inhaled diabetes device Afrezza.
Looking further ahead, BSMRP component Dendreon (up 7%) has a May 1 approval decision date for Provenge; while
Vertex Pharmaceuticals
(VRTX) - Get Vertex Pharmaceuticals Incorporated Report
(flat) will be announcing top-line results from phase III studies of its hepatitis C drug telaprevir in the second quarter.
Check back tomorrow for the regular Mailbag.
-- Reported by Adam Feuerstein in Boston.
Follow Adam Feuerstein on
.
Adam Feuerstein writes regularly for TheStreet.com. In keeping with TSC's editorial policy, he doesn't own or short individual stocks, although he owns stock in TheStreet.com. He also doesn't invest in hedge funds or other private investment partnerships. Feuerstein appreciates your feedback;
to send him an email.