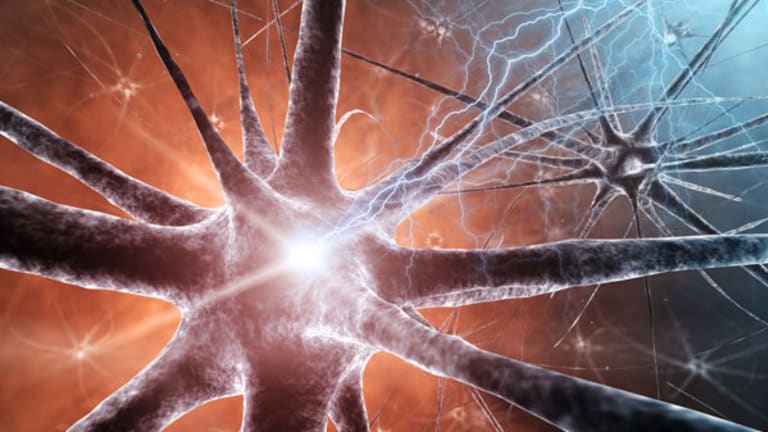 Biotech Stock Mailbag: Research Backs Shorting Micro-Cap Cancer Drug Stocks
Biotech columnist Adam Feuerstein answers readers' questions and concerns about health care and drug-related stocks.
BOSTON (TheStreet) --Before I get to your emails and tweets, I'd like to open this week's Biotech Stock Mailbag with a story of how rebutting a suggestion that cancer drug trial investigators are engaging in illegal insider trading led me to conclude that shorting micro-cap cancer drug stocks is a potentially profitable investment strategy.
A group of researchers led by health economist Allan Detsky of Toronto's Mount Sinai Hospital
published an academic paper this week
suggesting that doctors entrusted with conducting late-stage cancer drug clinical trials are using advanced knowledge of the results of these pivotal studies to engage in illegal insider trading.
That's an explosive charge. Unfortunately, the evidence Detsky and his collaborators gathered to back the insider-trading allegation is weak and can't be taken seriously.
Have some isolated cases of illegal insider trading ever taken place among clinical trial investigators? Sure, no one is naive enough to believe otherwise. But are cancer-drug researchers everywhere picking up the phone and whispering to hedge fund managers on Wall Street, "Blue Horseshoe likes Cancer Drug Stock XYZ"?
Absolutely not. Moreover, the data contained in Detsky's paper not only disprove his allegation but suggest more strongly that investors can make money by shorting micro-cap cancer drug stocks.
Detsky and his colleagues, publishing in this week's
Journal of the National Cancer Institute
(JNCI), identified 59 phase III clinical trials of cancer drugs conducted over the past 10 years. They then analyzed the stock prices of the companies developing these cancer drugs, honing in specifically on the trading activity of the stocks 120 days before and after the public announcement of study results.
"The mean stock price for the 120 trading days before a phase III clinical trial announcement increased by 13.7% for companies that reported positive trials and decreased by 0.7% for companies that reported negative trials," Detsky and his group found. They conclude:
"One explanation for the trends we observed in this study is insider trading, in whichindividuals make stock trades based on information before results are public or by providing nonpublic information to others who act on it in a similar fashion… Over the past 40 years, there has been increased participation by physicians and scientists in all aspects of the pharmaceutical industry. It has been estimated that up to one in 10 American physicians has a consulting relationship with entities that provide investment advice. These relationships may result in the disclosure of nonpublic confidential information regarding ongoing clinical trials."
University of Chicago oncologist Dr. Mark Ratain was asked by the JNCI editors to comment on the Destky paper. Ratain disagreed strongly with the authors' main interpretation of the stock-trading data, and he asked me to co-author a rebuttal. Our
commentary was also published in this week's JNCI
alongside the Detsky paper.
Using the same list of 59 phase III cancer drug clinical trials identified by Detsky and colleagues, Ratain and I chose to analyze the companies developing these cancer drugs based on market capitalization instead of stock-price trading activity. Like Detsky, we used as our key time point 120 days prior to the announcement of trial results. What we found was
:
"This analysis demonstrated a remarkable difference between companies that had positive and negative announcements. Specifically, the median market capitalization was approximately 80-fold greater for the companies with positive trials vs companies with negative trials… Furthermore, there were no positive trials among the 21 micro-cap companies (ie, companies with less than $300 million market capitalization) whereas 21 of 27 studies reported by the larger companies analyzed (greater than $1 billion capitalization) were positive."
Our analysis should strike savvy health care investors as common sense. Sophisticated investors anticipate the outcome of future events like phase III clinical trial results using data from phase I and phase II studies (all publicly available information) as well as other factors like competition and management.
What we found is that cancer drugs which succeed in phase III clinical trials tend to be owned by larger companies with strong records of accomplishment in drug development.
Roche
(RHHBY)
and its
Genentech
subsidiary,
Novartis
(NVS) - Get Free Report
,
Sanofi
(SNY) - Get Free Report
and
Celgene
(CELG) - Get Free Report
were among the large market-cap companies with positive clinical trials identified by Detsky and his co-authors. Investors have greater confidence in these companies and therefore reward them with larger market valuations and increasing stock prices ahead of the public announcement of trial results.
The opposite is true for drugs that fail phase III trials. These drugs have often demonstrated poor efficacy in earlier stage studies and are owned by smaller companies with less drug development experience. Investors lack confidence in these companies resulting in low market valuations and falling stock prices before announcements of phase III trial results.
The list of companies with negative phase III trial results -- and falling stock prices prior to announcement of those results -- included
Cell Genesys
,
Novacea
,
Aeterna Zentaris
(AEZS) - Get Free Report
,
Vion Pharmaceuticals
,
Vical
(VICL)
and more.
No surprise: Many of the these companies are no longer in business.
Detsky and his co-authors deserve credit for raising the issue of insider trading as it relates to the conduct of clinical trials, but trying to prove that point by looking only at stock trading demonstrates a real lack of understanding about how Wall Street operates.
Instead, what Ratain and I demonstrate with our analysis is that the markets do a pretty decent job of using publicly available information to separate out the winners from the losers well before phase III clinical trial results are announced.
For investors looking ahead at ongoing cancer drug studies, our conclusion offers some potentially valuable advice:
"The phase III success rate for the studies conducted by larger companies was excellent (78%) and is consistent with success rates outside of oncology. Thus, the perceived high risk of failure of phase III oncology trials is primarily limited to smaller oncology companies. Furthermore, when considering very small oncology companies (ie, those with a market capitalization under $300 million) with a drug in phase III trials, the best investment strategy appears to be to short the stock (ie, borrow shares and sell them) before the announcement of the pending negative results."
I plan to test this hypothesis prospectively soon, so stay tuned.
Regarding my
for
Targacept
(TRGT)
and its "add-on" anti-depressant drug TC-5214, @lomu_j tweets,
"@adamfeuerstein MDD market is being flooded with generics. Does '5214 have a chance?"
MDD is the acronym for major depressive disorder and yes, the market is filled with cheap generics, but that hasn't crimped growth for branded antidepressants. Sales of branded antidepression drugs in the U.S. grew 18% to $12.5 billion last year, according to
Bloomberg
. The overall depression-drug market in the U.S. was estimated at around $16 billion, according to several analyst reports.
Certainly as more generic drugs enter, the market size will decrease, but '5214 is intended initially as an add-on therapy, which means doctors will prescribe '5214 in combination with currently approved antidepressants. It's estimated that approximately 60% of patients treated for depression do not respond to first-line therapy, making them ideal candidates for add-on (or augmentation) treatment with '5214.
Doctors currently use antipsychotics like Abilify or Seroquel for depression augmentation therapy, but these drugs carry relatively high side effects. If all goes well in the phase III clinical trials, '5214 will be approved with a label that demonstrates equal or better efficacy and a more tolerable side effect profile than the antipsychotics.
It's interesting to note that
AstraZeneca
(AZN) - Get Free Report
, the marketer of Seroquel, chose to license '5214 from Targacept.
Bristol-Myers Squibb's
(BMY) - Get Free Report
Abilify is used more often than Seroquel for depression augmentation therapy today, so AstraZeneca clearly sees '5214 as a big opportunity to switch out Seroquel for '5214 and go after Abilify market share.
With relatively modest assumptions, '5214 could be a $1.5 billion to more than $2 billion drug five to six years after launch. At a 25% royalty, that's worth $400 million to $500 million to Targacept, expense-free.
Sticking with Targacept, Pelion2001 writes,
"Hey Adam, I think you're overstating the make-or-break nature of the first Targacept phase III read out. What are required for registration are 2 of 4 positive trial results, so it does not all hinge on the first phase III study. This was emphasized at a recent Morgan Stanley presentation."
Understood, and point well made. I didn't mean to imply that the first phase III study of '5214 -- with results due in the fourth quarter -- is the penultimate clinical catalyst for the drug. AstraZeneca is running three other studies with results expected next year, all are important.
I do think it's fair to say that the first study will have a significant impact on Targacept's stock price because 1) It's the first phase III clinical trial, so it will receive a lot of attention; and 2) The design of the first phase III study mirrors the phase II study, which was so positive.
I remain a
.
Let's talk about two biotech stocks causing frayed investor nerves and many anguished emails and Tweets:
Amarin
(AMRN) - Get Free Report
and
Cyclacel Pharmaceuticals
(CYCC) - Get Free Report
.
Crappy Septembers aren't just for the Boston Red Sox. Amarin shares are slumping too, down 17% compared with a 1% decline in the biotech sector overall during the same time period. Amarin is down 50% from the high reached in late May.
On Monday, as expected, Amarin filed the AMR101 drug application with the FDA, seeking approval for treatment of patients with very high triglycerides. On Wednesday, Amarin shares fell 8% to $9.56 on no apparent news. The stock hasn't been this low since April before the company announced positive results from the AMR101 phase III "Anchor" study.
Investors and traders took to Twitter Wednesday -- @DrEdGD, @pennystockUSA, @WilliamPShelley, @TCMoore02 -- seeking answers to Amarin's slumping stock. What I found was a
Reuters
story published Tuesday night rehashing
concerns that Amarin will have a hard time finding a buyer
for the company due to patent problems.
It's unrealistic to believe Amarin can land a buyer or partner for AMR101 so soon, but those expectations are out there in the market, and every day that a deal isn't announced causes more agitation. Anguished, impatient, shortsighted traders sell Amarin stock. Patient Amarin investors hold on and aren't worried -- yet.
Amarin bears are feasting on the fear, but I do I respect the concerns raised about the AMR101 patents and the drug's New Chemical Entity (NCE) status, both of which ultimately have an impact on the drug's market exclusivity and peak sales potential.
These are unsettled issues, no denying that. Even if you believe the patents will be granted and FDA will give NCE status to AMR101 (as I do), it's entirely possible that potential Amarin suitors are nervous and therefore waiting for more clarity before making offers.
AMR101 is now in the hands of FDA reviewers. Expect a standard, 10-month review, so a late July 2012 approval decision.
One more thing to say on Amarin: Management does a very poor job communicating with investors. Instead of countering its critics and discussing the issues openly, Amarin's management says nothing, does nothing, or at a minimum, communicates through private meetings with analysts and large shareholders. Amarin could erase a lot of the uncertainty -- and help its stock price recover -- if it would just start communicating with
all
investors more fairly and openly.
Quick update on Cyclacel because there really isn't much new to add since I last
wrote about the slumping stock in August
.
Yes, Cyclacel CEO Spiro Rombotis bought some stock this week -- nice but the insider buy is pittance next to the much larger block of stock sold by the company's largest shareholder, Special Situations Fund, likely for tax-loss reasons.
Cyclacel is down this year, so hard to blame these guys.
Cyclacel was cheap in August and it's cheaper today, but as I said back then, cheap doesn't mean buyers step in when everyone knows the company needs to raise more cash, the capital and governance structure is still a mess, longtime shareholder support is ebbing, and meaningful clinical catalysts are long ways off.
Cyclacel is a mess and I'm still waiting to hear from someone with a plan to fix it.
--Written by Adam Feuerstein in Boston
>To contact the writer of this article, click here:
Adam Feuerstein
.
>To follow the writer on Twitter, go to
http://twitter.com/adamfeuerstein
.
>To submit a news tip, send an email to:
.
Adam Feuerstein writes regularly for TheStreet. In keeping with company editorial policy, he doesn't own or short individual stocks, although he owns stock in TheStreet. He also doesn't invest in hedge funds or other private investment partnerships. Feuerstein appreciates your feedback;
to send him an email.