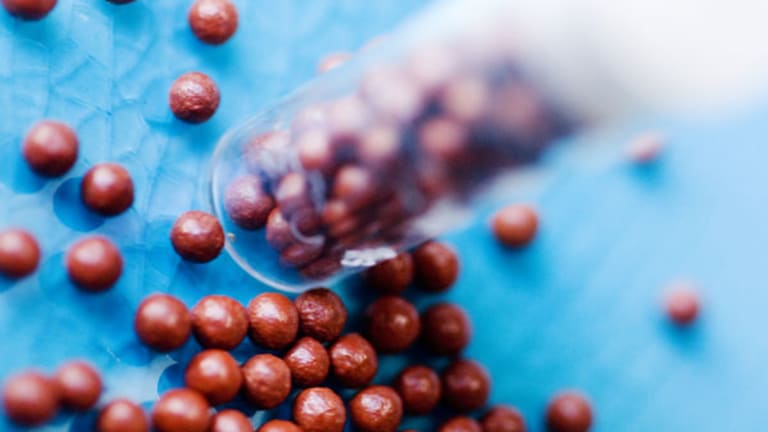 Biotech Stock Mailbag Readers' Portfolio: Update
The BSMRP, a portfolio of biotech and drug stocks chosen by readers of my weekly Mailbag, is down 23% this year.
BOSTON (TheStreet) --Midway through August, the Biotech Stock Mailbag Readers' Portfolio (BSMRP) has sunk into an even deeper abyss, hurt by yet two more stock blowups.
Help, however, is on the way. Five stocks anchoring the portfolio's performance to the seabed are being jettisoned, replaced with a new crop of stocks that will hopefully provide some buoyancy.
First, the numbers: The BSMRP, a portfolio of 20 biotech and drug stocks chosen by readers of my weekly Biotech Stock Mailbag, is down 23% this year compared to an almost 3% loss in the benchmark iShares Nasdaq Biotechnology ETF. (Performance is tracked through the close of trading on Aug. 13.)
That's ugly, folks. The BSMRP was 11% in the red after the last update in June. The benchmark's performance remained about the same.
Vivus
(VVUS) - Get VIVUS, Inc. Report
and the setback with its obesity drug Qnexa at the FDA's advisory panel in July was a killer blow. As a result, Vivus went from up 30% in the BSMRP to down 43%.
Negative clinical trial data also hurt
Curis'
(CRIS) - Get Curis Inc. Report
performance, with the stock going from essentially flat in June to down 56% in August. Throw in a down market overall that has exacerbated the losses in the BSMRP's underperformers while also pinching returns of those few stocks actually doing well and it's easy to see why the portfolio is in serious need of a makeover.
With the update, I am throwing five losing stocks overboard:
GenVec
(GNVC)
,
Novelos Therapeutics
(NVLT.OB)
,
Cell Therapeutics
(CTIC) - Get CTI BioPharma Corp. Report
, Curis and
Titan Pharmaceuticals
(TTNP.OB)
.
The replacement stocks are:
Micromet
(MITI)
,
Chelsea Therapeutics
(CHTP)
,
Biodel
(BIOD)
,
Raptor Pharmaceuticals
(RPTP)
and
Arena Pharmaceuticals
(ARNA) - Get Arena Pharmaceuticals Inc. Report
. As with the other BSMRP stocks, these five were the most popular of 28 stock recommendations sent to me by Mailbag readers in June after I solicited for new picks.
The five stocks were added to the BSMRP at their closing prices on Aug. 13.
Here's more on the five new BSMRP selections:
Micromet is being added to the portfolio because of its unique (yet still unproven) cancer-fighting antibody technology platform. The company has two wholly-owned drugs in the pipeline -- blinatumomab, which is just starting a phase III study in acute lymphoblastic leukemia (for potential European approval) and MT110, which is in a phase I study of solid tumors. A third drug, MT20, is partnered with
Merck Serono
and is in mid-stage studies of colon and breast cancer.
All of Micromet's drugs are built off the company's proprietary BiTE (Bispecific T-cell engager) antibodies technology platform. BiTE antibodies are "better" antibodies (or so the company hopes) because they are designed to spur patients' T cells to identify and attack tumors.
Conventional cancer-fighting antibodies typically have a single binding site that attaches to the cancer cell and recruits other forms of immune cells to help attack the tumor. BiTE antibodies, on the other hand, have two binding sites -- one that attaches to the cancer cells and one that attaches to and activates T cells.
T cells are the immune system's most potent disease killers, but they're generally not useful against cancer because cancer cells closely resemble healthy cells and have developed various ways of eluding detection by T cells. In simple terms, the BiTE antibodies latch on to cancer cells and draw the attention of the T cells, which then do what they're designed to do -- kill foreign agents that are harmful to the body.
The risk to this approach is that too much T cell activation could lead to potentially severe side effects caused by a patient's over-activated immune system attacking healthy tissue.
From a stock perspective, Micromet falls short on near-term clinical and regulatory catalysts, but the BiTE antibody platform is intriguing enough to warrant inclusion in the portfolio. Micromet is definitely more of a long-term pick, although the company is frequently mentioned as a buyout/partnering target.
Chelsea Therapeutics nabs a spot in the portfolio because the company is nearing the release of results from a phase III study of its drug droxidopa in patients with the neurological low-blood-pressure disorder known as neurogenic orthostatic hypotension (NOH).
Last September, Chelsea reported disappointing results from the first phase III study of droxidopa. The company met with FDA, which agreed to changes in the second phase III study to increase the odds of success. Results from this rejiggered study are now expected in mid- to late-September, according to Chelsea.
A third, confirmatory, droxidopa study in NOH is also underway, with patient enrollment expected to close by year's end.
Biodel's insulin injection, VIAject, is currently under review by the FDA with an approval decision date of Oct. 30.
VIAject is a fast-acting insulin analogue designed for absorption into the bloodstream faster than currently marketed rapid-acting insulins. The approval application is a bit controversial because the phase III studies ran into some trouble due to inconsistencies in data collected in India compared to the U.S. and Europe.
Raptor Pharmaceuticals also has a near-term stock moving catalyst (sensing a trend with these portfolio additions, I hope): Results from a phase III study of DR Cysteamine for cystinosis due in the fourth quarter.
DR Cysteamine is a proprietary formulation designed to require less frequent dosing (every 12 hours versus every six hours) and cause fewer gastrointestinal side effects than immediate-release cysteamine for patients with cystinosis. Cystinosis is a rare genetic disease caused by the buildup of the amino acid cystine within cells. Patients with cystinosis develop severe kidney problems and suffer from impaired growth. Raptor's phase III study compares DR Cysteamine to immediate release cysteamine.
Last but not least, Arena Pharmaceuticals snags a slot in the portfolio on the cusp of an FDA advisory panel meeting for the company's weight-loss drug lorcaserin on Sept. 16. Arena shares have been red hot since Vivus' setback last month.
-- Reported by Adam Feuerstein in Boston.
Follow Adam Feuerstein on
.
Adam Feuerstein writes regularly for TheStreet.com. In keeping with TSC's editorial policy, he doesn't own or short individual stocks, although he owns stock in TheStreet.com. He also doesn't invest in hedge funds or other private investment partnerships. Feuerstein appreciates your feedback;
to send him an email.