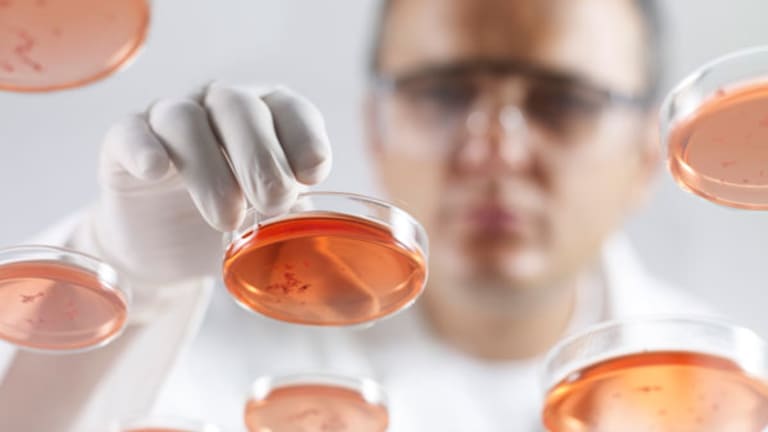 Biotech Stock Mailbag Readers' Portfolio
Introducing the Biotech Stock Mailbag Readers' Portfolio, which highlights stocks picked by readers and regularly-updated analysis from columnist Adam Feuerstein.
BOSTON (TheStreet) -- It's time to introduce the Biotech Stock Mailbag Readers' Portfolio.
My request for your favorite 2010 biotech stock picks brought in nominations for 93 different stocks. I'm really pleased with the response, so thanks to everyone who participated.
I decided to narrow down the list of nominees to a manageable portfolio of 20 stocks. These reader-suggested stocks will form the basis of the Biotech Stock Mailbag Readers' Portfolio (BSMRP), which I'll update and write about regularly throughout the year.
Let's take a closer look at the stocks that make up the BSMRP.
Of the 93 stocks submitted, ten received three or more votes, so they were immediately seated into the portfolio.
ImmunoGen
(IMGN) - Get Report
received the most recommendations, with seven votes total.
Curis
(CRIS) - Get Report
,
Allos Therapeutics
( ALTH) and
Ariad Pharmaceuticals
(ARIA)
each received four votes.
Six stocks received three votes each:
GenVec
(GNVC)
,
Vertex Pharmaceuticals
(VRTX) - Get Report
,
Vivus
(VVUS) - Get Report
,
StemCells
(STEM)
,
Spectrum Pharmaceuticals
(SPPI) - Get Report
and
Mannkind
(MNKD) - Get Report
.
My job became a bit trickier when deciding how to fill the remaining ten portfolio slots, which needed to come from the 20 stocks that received two votes apiece from readers.
I selected
Dendreon
(DNDN)
and
Human Genome Sciences
( HGSI) because both had breakout years in 2009 with the promise of more news and upside in 2010. Also, I didn't want the BSMRP to skew completely towards small-cap stocks, so both Dendreon and Human Genome provide broader, mid- to large-cap exposure (Vertex helps in this regard, too).
Readers seem to love bulletin board stocks, so
Titan Pharmaceuticals
(TTNP.PK)
and
Novelos Therapeutics
(NVLT.OB)
made the cut. Both stocks should be fairly volatile this year as well, with Titan rising or falling on the launch prospects for the schizophrenia drug Fanapt and Novelos soon releasing results from a phase III study of its lung cancer drug NOV-002.
Keryx Pharmaceuticals
(KERX) - Get Report
was one of the best-performing biotech stocks in 2009, so it makes the BSMRP to test whether that momentum can sustain itself for two consecutive years.
I picked
China Medical Technologies
( CMED) because the BSMRP should have some international flavor.
Cell Therapeutics
(CTIC) - Get Report
and
Geron
(GERN) - Get Report
both make it simply because they seem to be lightning rods for controversy, which will make the portfolio that much more interesting to follow. Watching another stem-cell stock -- in the form of Geron -- also seemed like a good idea.
With two portfolio slots remaining and 12 stocks available, I wrote each down on a slip of paper and threw them into my winter hat. The luck of the draw resulted in the addition of
Seattle Genetics
(SGEN) - Get Report
and
Celldex Therapeutics
(CLDX) - Get Report
.
Because I made the stock selections over the weekend, I decided to use the closing stock prices on Friday, Jan. 15 as the cost basis for the BSMRP components. I don't want to get too complicated here, so each stock will be equally weighted in the portfolio.The performance of the BSMRP will be benchmarked against the iShares Nasdaq Biotechnology Holdrs (IBB), which tracks the broad Nasdaq Biotechnology Index.
Here's a chart of the 20 stocks in the BSMRP and their starting prices. I'll be updating the performance of the portfolio in future editions of the Biotech Stock Mailbag, so stay tuned.
A few more thoughts about the BSMRP:
Just over half the stocks in the portfolio have a cancer focus. That's probably a bit overweight but not a surprise given investors' love affair with cancer drug stocks.
Despite the heavy cancer tilt, the BSMRP is reasonably diversified across different disease categories, with hepatitis C (Vertex), stem cells (Geron, StemCells) diabetes (Mannkind), obesity (Vivus) and lupus (Human Genome) all represented.
All the stock selections are long picks. I only received two short recommendations -- Cell Therapeutics and Vertex.
Readers don't seem to be very much interested in the large-cap biotech class. Gilead Sciences (GILD) - Get Report, Amgen (AMGN) - Get Report and Celgene (CELG) - Get Report received a single nomination apiece.
-- Reported by Adam Feuerstein in Boston
Follow Adam Feuerstein on
.
Adam Feuerstein writes regularly for TheStreet.com. In keeping with TSC's editorial policy, he doesn't own or short individual stocks, although he owns stock in TheStreet.com. He also doesn't invest in hedge funds or other private investment partnerships. Feuerstein appreciates your feedback;
to send him an email.