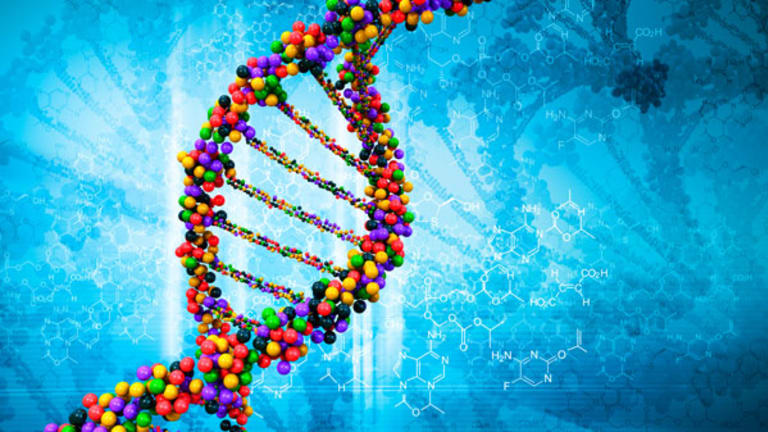 Biotech Stock Mailbag: Raptor, Chelsea, Oncogenex, More Hate Mail!
Biotech columnist Adam Feuerstein answers readers' questions about health care companies.
Biotech columnist Adam Feuerstein answers readers' questions about health care companies.
NEW YORK (TheStreet) -- This week's Biotech Stock Mailbag opens with an email from Charlie R.:
I read your tweets so I saw your skepticism on Raptor Pharmaceuticals (RPTP) and its Huntington's study. Sounds like you don't believe this any more than Prana Biotech's (PRAN) results from earlier in the week, but is there a way to say if one is better than the other?
With Prana Tuesday and now Raptor Thursday, you're seeing companies seeking to salvage something positive from failed studies in Huntington's disease. From a stock perspective, the strategy has been somewhat successful -- both Prana and Raptor are higher after their respective announcements and conference calls. It's still going to take a lot more to prove either of these drugs work in Huntington's. The data promoted this week were weak.
Analysts on Raptor's call Thursday didn't ask the obvious question: How did RP103 perform in the subset of Huntington's patients who were taking concurrent tetrabenazine?
The answer is RP103 seemingly harmed these patients. Funny, but you didn't hear Raptor mention this in its press release or discuss on the conference call. I wonder why? Probably for the same reason analysts didn't bother to ask the only question which matters.
Total Motor Score (TMS) progression for Huntington's patients treated with RP103 plus tetrabenazine was 7.7 points compared to 6.4 points for patients treated with placebo plus tetrabenazine. Higher numbers indicates faster progression, so the RP103 patients performed worse.
Raptor didn't disclose these negative data but they can be calculated using the TMS progression scores for all patients and the subgroup of patients who weren't treated with concurrent tetrabenazine, which the company did disclose.
The company's executives are disingenuous for hyping the "good" data-mined results while ignoring the "bad" data-mined results, which they clearly have on hand but want to hide.
Tetrabenazine is the only drug currently approved to treat the deterioration of motor function in Huntington's patients. Why would RP103 be effective in patients not treated with concurrent tetrabenazine but harm patients who do take the drug?
Raptor executives didn't have a very good response on the conference call, other than to say tetrabenazine might be "masking" the effect of RP103.
Okay. Possible. But here's another equally plausible explanation: The study was not controlled for tetrabenazine use, meaning patients were free to start the study on the drug, or not, or even begin taking tetrabenazine during the study.
Why is this significant? Because patients are prescribed tetrabenazine when their motor function starts deteriorating. Therefore, the patients not on tetrabenazine are self-selected for slower Huntington's progression. These patients should already have lower TMS progression scores, so Raptor's data-mined results are not surprising nor likely attributable to RP103. [It really makes no sense for RP103 to work better without tetrazenabine than in combination.]
Furthermore, RP103 causes diarrhea and bad breath, meaning Raptor's study could not be blinded. Patients knew if they were being treated with RP103 or a placebo, which likely skewed results in RP103's favor.
It's very difficult to believe any follow-on study of RP103 would confirm the benefit observed in Raptor's post-hoc analysis of the failed phase II study.
Pole567 asks:
Thanks for the great call on Chelsea Therapeutics' (CHTP) FDA approval but what is happening with the stock now?
The Chelsea approval trade is over? That's as good of an explanation as any for the stock trading down following FDA's approval of Northera on Tuesday. "Trading down" is relative, of course. As I write this column, Chelsea shares can be bought for $5.93, so still higher than pre-approval prices. The stock is up 34% for the year.
With the immediate post-approval euphoria subsiding, investors are also probably thinking about Chelsea's next financing. Even if the company does partner or sell itself to someone, raising money first won't surprise anyone.
The ongoing confirmatory, post-approval studies of midodrine in orthosatic hypotension being conducted by Shire (SHPGY) (under threat from FDA) might also be weighing a bit on Chelsea's stock price.
This is a strange situation. FDA approved Shire's midodrine under an accelerated approval review in 1996, which required the company to conduct a post-approval study to confirm the drug's benefit in orthostatic hypotension patients.
Shire never performed the confirmatory studies and then stopped marketing midodrine in 2010 when generic copies entered the market. But FDA still insisted that a confirmatory study be done and threatened to pull the drug off the market if Shire -- midodrine's NDA holder -- didn't comply.
Shire has no economic interest at all in midodrine any longer, but the company finally relented to FDA's demands last March. Had Shire refused, the company risked facing the wrath of patients for causing midodrine to be pulled off the market. A public relations disaster.
Why does this matter to Chelsea and Northera? The midodrine studies might show a greater symptomatic benefit than seen by Northera in its own study. Then again, midodrine might end up looking worse than Northera, which would be great for Chelsea.
One more twist: Given Shire's lack of financial interest in midodrine, the company may not disclose results from the two confirmatory studies when they finish up later this year. It's conceivable Shire just sends the data to FDA, as requested, without ever telling anyone about the results.
I'd focus more on Chelsea and the progress it makes toward the commercial launch of Northera later this year, rather than fixate on the Shire midodrine studies. 
Shane S. asks:
Can you please stop wasting time writing an article responding to "hate mail" and actually answer a question that I've sent in 4 times now.  Does the Feuerstein-Ratain rule apply to the upcoming phase 3 results for Oncogenex Pharmaceuticals' (OGXI) custirsen in prostate cancer since they are partnered with Teva (TEVA) - Get Report? Oncogenex has a market cap of only $170 million but Teva is a partner with a market cap of billions.
Let's apply the Feuerstein-Ratain rule to Oncogenex and its prostate cancer drug custirsen. [An explanation of the F-R Rule can be read here.]
Oncogenex announced on Feb. 11 the target number of deaths had been reached to analyze the phase III "Synergy" study. Oncogenex did not provide a timeline for when top-line results would be announced but I'm going to allow them 8 weeks to clean up the database and run the statistics. That puts the estimated date for Synergy study results on April 8.
Four months back from April 8 is December 8, which puts Oncogenex's market cap at approximately $123 million.
The custirsen phase III "Synergy" study will fail, according to the Feuerstein-Ratain Rule.
The F-R Rule applies to the original holder of the drug and not the partner, if one exists. So, in this case, we look at Oncogenex's market cap, not Teva's. With that said, having a partner is a potentially positive mitigating factor because it implies someone conducted due diligence on the drug and liked what they saw enough to shell out money for a license.
You'd think Oncogenex landing Teva as a partner for custirsen would have given the company some additional credibility with investors. Obviously, that hasn't happened, which may be an indictment of Teva's current difficulties. The company is not known for cancer drug development prowess.
I'm still waiting for a drug to prove the fallibility of The Feuerstein-Ratain Rule. It hasn't happened yet. Most recently, Onconova Therapeutics (ONTX) - Get Report fell victim.
Last but not least, some leftover hate mail not included in yesterday's special Mailbag. Bryna W. sent me the following email, which appears to be cut and paste from an orthographically challenged message board post:
I am furious and I am consulting an attorney to see about suing Adam Feurstein. His definative and scathing pronouncement that Oramed Pharma's (ORMP) - Get Report study data is "completely worthless" started a run to get rid of the stock, enticed two law firms to grab onto that info as the basis of law suits against Oramed and frightened hunreds of people like myself, small investors to dump their shares. I had just bought $50,000 in ORMP shares at $27.99 per and couldn't take a chance, based on his dire accusation, that the whole thing would collapse and I would lose it all. As soon as I heard this info and spoke to the law firm, I sold my shares at $16.50, a loss of almost $50,000! This at a time I was watching my account very carefully and not being careless as it was to be shortly used for purchase of a home.

I have read other responses to AF's irresponsible accusations and they are from people who profess that he doesn't know what he's talking about when it comes to diabetes medications and trials. How can he be allowed to use his public pulpit to make such delarations without much more considered and careful research with those who know a hell of a lot more than a reporter on the stock market. Who wants to join me in considering a suit against Adam Feurstein?
She was watching her account carefully because she needed the money to buy a home, yet she invested in an bulletin board stock pitching a dubious diabetes pill. You can't make this stuff up.
-- Reported by Adam Feuerstein.
Follow Adam Feuerstein on Twitter.
Adam Feuerstein writes regularly for TheStreet. In keeping with company editorial policy, he doesn't own or short individual stocks, although he owns stock in TheStreet. He also doesn't invest in hedge funds or other private investment partnerships. Feuerstein appreciates your feedback;
to send him an email.