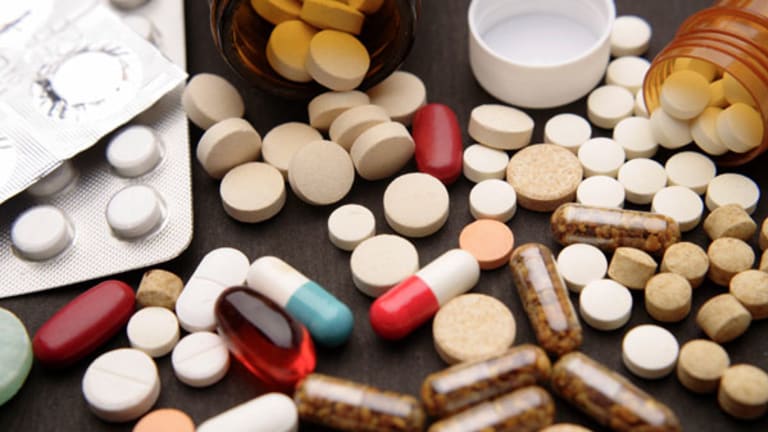 Biotech Stock Mailbag: Ranking Cheap Biotechs
Biotech columnist Adam Feuerstein answers readers' questions and concerns about health care and drug-related stocks.
BOSTON (
) --A large share of the email for this week's Biotech Stock Mailbag focused on my list of
10 Cheap Biotech Stocks That Could Soar
.
Steve L. writes,
"Thanks for the article Adam! I'm always fascinated with biotech and I tried to read and understand your articles as much as I can. I was wondering if you would offer one more advice on this article. Can you rank them in terms of their potential to succeed?"
I struggle with ranking these 10 stocks in any meaningful way because they're all so different. I chose to highlight these stocks, however, because I felt that their respective drug development programs had a viable chance for success, while fully recognizing the substantial hurdles that lay ahead. Realistically, we know that a good number of these drugs will blow up -- that's the harsh nature of the sector -- but I believe there are winners amongst these 10 stocks.
Now, which of the 10 stocks is more likely to succeed than the others? The following ranking is totally subjective and certainly subject to debate and revision.
The bottom five i.e. the highest risk, in order from most to least:
10.
Athersys
(ATHX) - Get Athersys, Inc. Report
9.
Neptune Technologies
(NEPT) - Get Neptune Wellness Solutions, Inc. Report
8.
Repros Therapeutics
(RPRX)
7.
GTx
(GTXI)
6.
Celldex Therapeutics
(CLDX) - Get Celldex Therapeutics, Inc. Report
The top five, again ranked most to least risky:
5.
Aastrom Biosciences
(ASTM)
4.
Celsion
(CLSN) - Get Celsion Corporation Report
3.
Cyclacel Pharmaceuticals
(CYCC) - Get Cyclacel Pharmaceuticals, Inc. Report
2.
Derma Sciences
(DSCI)
1.
YM Biosciences
( YMI)
As I re-read this ranking to myself, I can already see where some juggling of places would be justified. This is hard to do. I decided to place YM Biosciences at the top because CYT387's mechanism of action is well understood and the drug could be a viable treatment for myelofibrosis even if the controversial anemia benefit turns out to be a zero. (Just not as commercially successfully.)
Derma Sciences grabbed the No. 2 spot because it's hard to find fault with the wound-healing data from a randomized, controlled phase II study. Derma's ranking may be too high because a phase III study hasn't started yet.
Athersys and Neptune are on the bottom only both have a lot to prove and a long way to go.
If you a thoughts on how these stocks could be better ranked by risk, send me your list and I'll publish in a future Mailbag.
Chris L. asks,
"Very interesting commentary on Cyclacel. When does the trial conclude?"
Cyclacel is enrolling patients in the phase III study of sapacitabine in elderly patients with acute myeloid leukemia but the company has not provided specific guidance on when it expects data to be announced. This is a study with an overall survival primary endpoint. What Cyclacel has said about timing is that an interim analysis would be conducted when 50% of the enrolled patients die.
According to ClinicalTrials.gov, the study is expected to have overall survival data available in September 2013.
@LTbioinvestor tweets,
"How about $PTN? Can it get a place in your high-risk high return biotechs?"
No.
Palatin Technologies
(PTN) - Get Palatin Technologies, Inc. Report
is cheap but too risky. Intranasal bremelanotide for erectile dysfunction blew up because the drug caused high blood pressure. Now, Palatin is testing an injectable version of bremelanotide for men with ED and women with female sexual dysfunction. The company says the new version of the drug is safer, but an injectable ED drug? That seems like a commercial flop in the making.
Traders and technicians may see something promising in the Palatin chart, but I see a company that was forced into a 1-for-10 reverse stock split in September 2010. The stock is down another 21% since the reverse split. That's not a comforting sign.
Richard H. emails,
"Why didn't you include Sangamo Biosciences (SGMO) - Get Sangamo Therapeutics, Inc. Report in your list? To me their pipeline is farther advanced then those listed and it is also already seeing some revenue from Dow and Sigma-Aldrich."
Sangamo was considered but didn't make the "cheap" cut owing to a market value north of $300 million.
Why $300 million? I had to draw a line somewhere and it seemed reasonable.
While not on my list, Sangamo is definitely a biotech stock to follow in the second half of this year as the company readies release of data from a very important phase IIb study of its drug SB-509 in diabetic neuropathy. SB-509 is an engineered protein, or "zinc finger" designed to turn genes on or off. In this case, SB-509 is supposed to switch on a gene to regenerate nerve growth.
Sangamo's zinc-finger drug technology is unproven in humans and previously reported data from earlier studies of SB-509 in diabetic neuropathy have produced mixed results. The stock may not be cheap (by my subjective definition) but it is risky and does have the potential to soar if the phase IIb results are positive.
Don G. writes,
"Every article you write involving Apricus Biosciences (APRI) gives off the impression that you think Apricus is destined for failure. With that said, there is a well-respected analyst at Dawson James who has a price target at $8.25 for Apricus. You two seem to be on opposite sides of the spectrum when it comes to analyzing Apricus. Do you think Vitaros will be as big of a hit in Europe as Apricus is making it out to be, and do you see Apricus ever being able to reach the $8.25 price target that Wasserman at Dawson James put on it?"
You're right, I believe Apricus is destined for failure. Vitaros, a rub-on cream, has little chance in an erectile dysfunction market that will soon be dominated by generic versions of
Pfizer's
(PFE) - Get Pfizer Inc. Report
Viagra. Apricus' management team has a bad habit of making promises and exaggerated claims that don't come true.
Scott S. asks,
"Thanks for your coverage of Vertex Pharmaceuticals (VRTX) - Get Vertex Pharmaceuticals Incorporated Report. What is the status with European approval of Incivek?"
Officially,
Johnson & Johnson
(JNJ) - Get Johnson & Johnson (JNJ) Report
(Vertex's European marketing partner and in charge of Incivek's approval there) has guided investors to an approval in the second half of the year. Unofficially, European approval (or an approval recommendation) is expected in July or August.
Have a happy Fourth of July.
--Written by Adam Feuerstein in Boston.
>To contact the writer of this article, click here:
Adam Feuerstein
.
>To follow the writer on Twitter, go to
http://twitter.com/adamfeuerstein
.
>To submit a news tip, send an email to:
.
Adam Feuerstein writes regularly for TheStreet. In keeping with company editorial policy, he doesn't own or short individual stocks, although he owns stock in TheStreet. He also doesn't invest in hedge funds or other private investment partnerships. Feuerstein appreciates your feedback;
to send him an email.