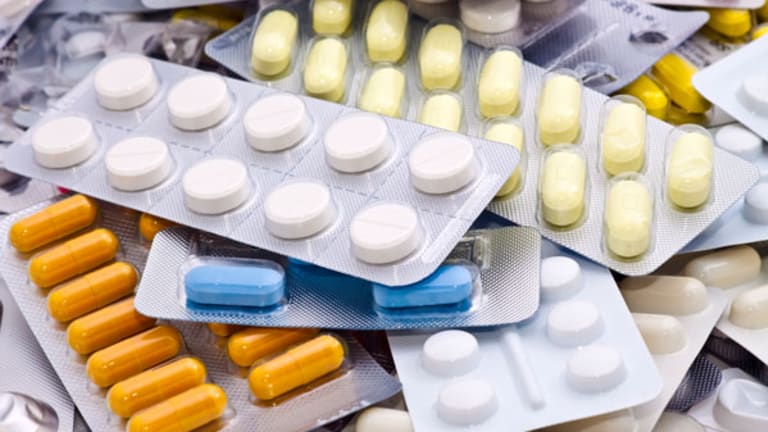 Biotech Stock Mailbag: Protalix BioTherapeutics
Biotech columnist Adam Feuerstein answers readers' questions and concerns about health care and drug-related stocks.
Biotech columnist Adam Feuerstein answers readers' questions and concerns about health care and drug-related stocks.
BOSTON (
) -- This week's Biotech Stock Mailbag opens with an email from Chaim G. regarding
Protalix BioTherapeutics
(PLX) - Get Report
:
"Hi Adam, I have followed your research and commentary for some time now, and you do a terrific job covering the sector. You particularly differentiate yourself with your balance and thoroughness. I was wondering if you could give some color regarding Protalix Therapeutics and their upcoming PDUFA date."
Protalix and partner
Pfizer
(PFE) - Get Report
are waiting for Feb. 25 when the companies expect to receive an FDA approval decision on Uplyso, a new treatment for the rare genetic disorder Gaucher's disease. I don't know Protalix well enough to offer a prediction on the FDA decision but here are the issues as I see them:
Manufacturing: Protalix's technology is novel and potentially groundbreaking. The company manufactures therapeutic proteins (Uplyso is an enzyme that is missing in Gaucher's patients) in plastic bags using genetically altered carrot cells. This process is more scalable and less expensive than the "traditional" method used by Genzyme and others to manufacture biotech drugs.
Large metallic vats akin to what you'd see in a brewery filled with genetically altered animal cells.
Uplyso, if approved, would be the first biotech drug manufactured using plant cells, which could give the FDA some pause. In fact, Uplyso's approval was delayed last year because FDA wanted more information from Protalix about manufacturing.
The FDA is already allowing Protalix and Pfizer to treat Gaucher's patients under a compassionate use program so the drug's efficacy and safety are probably not an issue. If a complete response, i.e., rejection letter is issued on Feb. 25, manufacturing will be the cause. At this point, however, I believe Wall Street's general sentiment leans more toward full approval of Uplyso on Feb. 25, with the thinking that manufacturing concerns have been addressed to the agency's satisfaction.
Uplyso commercialization: This is the real challenge.
Genzyme
( GENZ) and its Gaucher's drug Cerezyme is the entrenched market leader, even with all the manufacturing snafus that caused shortages and rationing. Cerezyme sales totaled $722 million in 2010, down 9% year over year. If Uplyso is approved, can Pfizer and Protalix convert existing compassionate use patients to full commercial product? More importantly, can they find new Gaucher's patients and/or convince doctors to switch patients from Cerezyme?
For all intents and purposes, the efficacy of Uplyso, Cerezyme and
Shire's
Gaucher drug are roughly similar. Investors will be reading the Uplyso label carefully to make sure it doesn't contain a serious (black box) warning about severe allergic reactions. The rate of severe allergic reactions in Uplyso clinical trials was low, but it's important the drug's label read similar to the Cerezyme label, with no new significant warnings or safety risks.
Pfizer is likely to price Uplyso at a discount to Cerezyme, helped by the lower cost of manufacturing. Whether that helps gain market share for Uplyso in the U.S. is not clear, but it could certainly play well in Europe and the rest of the world where drug pricing matters more.
If Uplyso is approved, don't be surprised if the stock spikes initially but then sells off as investors wait for confirmation that Pfizer and Protalix are making meaningful commercial progress. This has been an all-too familiar trading pattern for biotechs with approved drugs in the past year or more.
Longer term, Protalix is an exciting stock because the low-cost plant cell-based protein manufacturing process could be applied to make a host of new biotech drugs. It's a bit of a cliche, but Protalix is sitting on a new and potentially valuable biotech-drug manufacturing platform -- a technology that might see heavy demand and interest from large drug companies seeking an new entry into biotech.
Last week's
Mailbag discussion
of
Radient Pharmaceuticals
( RPC) and this week's
behind
Rexahn Pharmaceuticals
(RNN)
brought out a large contingent of angry birds and unhinged conspiracy theorists. Scott F. doesn't belong in either group, thankfully:
"Adam, I was not aware of the heavy promo by
BioMedReports
. I thought it was mostly some small firm called Goldman, and not Goldman Sachs. I spoke with
BioMedReports
before your comments were published on another small biotech firm called Radient Pharmaceuticals.
BioMedReports
told me that you were being paid by the shorts and Tim Sykes to bash them for financial gain. I was told that it's a well-known fact that you are paid to write bearish articles. Many longs say your track record is not very good. As you must be aware they bring up Dendreon and Human Genome Sciences. There is a war of words flying back and forth, with
BioMedReports
calling your work tabloid junk. So, are you being paid by any funds? Anyone? Regards."
To be entirely accurate,
BioMedReports
accuses me of orchestrating "tabloid bear raids" on biotech stocks. What that means exactly isn't clear. Someone else can Google it and let me know.
Seriously, the charges and accusations thrown at me are completely false but persistent. I hear stuff like this all the time, and I'm sure anyone who spends even a few moments on biotech stock message boards has seen people post ridiculous rants accusing me of being a "basher" or a "paid hedge fund shill."
BioMedReports'
charge that I'm paid by Tim Sykes, the most famous and successful penny stock trader in the world (according to him), is a new falsehood and rather hilarious since Tim and I aren't exactly on speaking terms.
For the record, Tim tweeted that he's so cheap, he doesn't even pay interns. I guess I shouldn't hold my breath waiting for his check to arrive in the mail.
I've addressed these smears before but I'll do it again. I'm an editorial employee of
TheStreet
and as such, I'm bound by the company's
, reposted below verbatim for all to read:
To avoid any appearance that our reporting is driven by personal interest, TheStreet.com, Inc. does not permit any employees on its editorial staff to individually hold positions in individual stocks, though they are permitted to own stock in TheStreet.com, Inc. The restriction is, to our knowledge, among the most stringent in financial journalism. Editorial staffers are permitted to own mutual funds. However, if a staffer writes about a mutual fund in which he or she holds shares, appropriate disclosure is made. Furthermore, editorial staff reporters whose beat covers a particular industry are not permitted to hold shares in closed-end or exchange-traded mutual funds that are primarily focused on that industry
.
To be crystal clear: The only payment I receive is a twice-monthly paycheck from
TheStreet
(TST) - Get Report
. Those paychecks are the only compensation for my writing that I have received since I started working for
TheStreet
10 years ago. I don't own any individual equities except stock options in
TheStreet
(and those are not worth much at the moment.) I also participate in a 401(k) plan through my employer. I don't short stocks. I don't have a financial interest in any outside investment vehicle and I don't get paid by hedge funds, mutual funds, outside consultants -- no one -- to influence or shape my writing in any way, shape or form.
I'm often asked why I write with such skeptical fervor about biotech stocks. Why am I so negative? The answer is simple: Biotech stocks are risky, and most drugs fail. My job as a biotech stock columnist is to analyze clinical data and all other relevant information to make sure readers know and fully understand the risks. I'm not a cheerleader. You can't invest in biotech without understanding what can go wrong. The management teams at biotech firms are not going to explain why their clinical data are bad or why their drugs might blow up. Biotech CEOs are in the business of selling their stock, so they're not going to tell you to run away. That's the job of an independent press and unfortunately in biotech, there isn't enough truth telling. That's what I do, and I take the responsibility very seriously.
I'm imperfect at my job -- I get things wrong all the time -- but my goal with every article is to provide the information that readers/investors need to make informed decisions on their own. I'm proud of my track record over 10 years. I've been right way more than wrong -- and that includes biotech stocks that I like!
Truth-telling in biotech is a lot easier and more credible if the writer is free of financial conflicts. Many of my critics, including
BioMedReports
, cannot make that claim.
Contrast the conflict of interest policy printed above under which I operate to the following disclaimer posted on
BioMedReports'
Web site:
"Please note that our writers, analysts and site administrators all reserve the right, without prior notice, to sell, buy, cover, liquidate, increase or decrease any positions disclosed in any of the securities covered or written about on this news portal at any time, for any reason. BioMedReport.com's directors, officers and employees may anticipate purchasing shares mentioned in this report or may already have purchased shares and may profit in the event those shares rise in value. We reserve the right to buy or sell the shares of any companies mentioned in any reports or materials published on this portal at any time."
Enough said.
My column from a couple of weeks ago arguing that
obesity drug development is dead in the water
following the rejection of
Orexigen Therapeutics'
(OREX)
drug Contrave ruffled some feathers of
Vivus
(VVUS) - Get Report
supporters. These folks, including Jay G. who writes below, believe Vivus still has a strong shot at winning FDA approval for its weight-loss drug Qnexa.
"Hi Adam, I've been following your work for some time and appreciate your thoughts. In reading your most recent article, I can't help but take issue with some of your conclusions/thoughts. The idea that because the FDA killed Orexigen means all three obesity drugs are dead, I think, is incorrect. I agree that Contrave is dead and that lorcaserin
Arena Pharmaceuticals'
(ARNA) - Get Report
drug is probably dead given its marginal efficacy and tumor issues. I don't agree however that Qnexa is dead.
"To the contrary, in the worst-case scenario the
birth defects question can be resolved by limiting Qnexa usage to men and post-menopausal women. Qnexa has a lower heart-safety risk than did Contrave and Vivus has two years of data where Contrave only had one… The two-year Qnexa safety data was clean, evidenced by the fact the FDA did not bring it up during the Vivus meetings. Why do you assume FDA will have problems with Qnexa's heart safety just because they had them with Contrave? These are different drugs with different studies. Moreover, if the FDA had a problem with Qnexa such that they wanted a new heart study conducted, they would have indicated this to Vivus already. I respectfully believe your analysis to be incorrect and submit the ordering of new studies needed by Orexigen and not for Qnexa as proof of FDA's method/approach when they want to kill a drug in obesity."
Alex C. emails, "Hey Adam, if you had the chance to listen, what did you think of
Seattle Genetics'
(SGEN) - Get Report
conference call?"
If you follow me on Twitter, you know I posed a question this week asking whether investors were underappreciating the risk that the FDA and/or an advisory panel could reject Seattle Genetics' lymphoma drug brentuximab vedotin when it comes up for review later this year. The same question applies to
Onyx Pharmaceuticals
(ONXX)
as the company seeks approval for its multiple myeloma drug carfilzomib.
I honestly don't know the answer, but I raised the issue because of the outcome of an FDA cancer drug advisory panel meeting this week in which many of the experts castigated FDA for approving cancer drugs based on single arm (non randomized) clinical trials. While the panel didn't take a formal vote on the subject, the consensus opinion was that the FDA shouldn't approve cancer drugs unless drug makers submit data from at least one randomized clinical trial.
Seattle Genetics is seeking approval for brentuximab as a treatment for two forms of lymphoma based on the data from two single-arm phase III studies. The data from these studies were very strong and appear to demonstrate overwhelming benefit with few if any safety concerns. FDA approval should be a layup, and I think that's still the general consensus -- except if the FDA changes the rules and requires data from randomized and controlled studies.
Is that likely? Probably not, but the risk isn't zero. We might be witnessing a situation in which FDA's outside cancer advisers are willing to be more conservative and hard-nosed than even the FDA. FDA policy expert Ramsey Baghdadi of Prevision Policy says the FDA isn't considering a sea change in policy by which cancer drugs will no longer be approved based on single arm studies. Instead, he says, the FDA is more likely sending a warning shot across the bow of companies that come to the agency with shoddy single-arm clinical trials that don't really suss out a drug's true efficacy and safety, even in desperately ill cancer patients.
"I think FDA laid out two scenarios that are best suited for accepting a single-arm study: 1) If the disease area is unique or rare; and 2) If the drug demonstrates a 'very, very high' response rate," said Baghdadi.
The response rate to brentuxuimab was 75% and 86% in the phase III lymphoma studies, respectively. Those are stellar response rates, perhaps unheard of, especially in studies that enrolled patients whose cancer had progressed after multiple prior treatments.
The risk, if any remains, is that the FDA decides that the patients in Seattle Genetics' studies had other treatment options remaining before they were treated with brentuximab. The same hypothetical risk applies to Onyx and carfilzomib.
We've seen this bad outcome play out for real: Last year, FDA turned away
Roche's
approval application for a breast cancer drug for just this reason.
Another hypothetical risk, given the tenor of this week's cancer drug advisory panel, is that the same panel reviews brentuximab and/or carfilzomib and decides to punish companies that come before it with single-arm studies, regardless of what the FDA views appropriate.
An uprising like that would be eye-opening and a rare display of independence on the part of the FDA's outside cancer experts because they overwhelmingly vote in agreement with the agency's internal drug reviews.
For now, this debate is interesting cocktail-party chatter, but it may take on more relevance as brentuximab and/or carfilzomib are scheduled for FDA advisory panels later this year.
It's been a while since I published examples of my hate mail. Here are a few of the better examples that have hit my inbox recently:
"ARA" writes, "What the hell is your problem ... go and buy hairs before to post anything. You have no idea what you are talking about ... as usual. I don't send you my regards."
"Me" retorts, "I would just like to tell you to eat chit and die you maggot… I'm your new worst nightmare you freak!"
Robert R. exclaims, "
Bleeping MONEY LENDING PIECE OF
BLEEP."
Ken L. screams, "I think we will crank the vice a little tighter on your short friends. how does that feel? The only idiotic one is the little
BLEEP who takes pleasure by
BLEEPING on people."
--Written by Adam Feuerstein in Boston.
>To contact the writer of this article, click here:
Adam Feuerstein
.
>To follow the writer on Twitter, go to
http://twitter.com/adamfeuerstein
.
>To submit a news tip, send an email to:
.
Adam Feuerstein writes regularly for TheStreet.com. In keeping with TSC's editorial policy, he doesn't own or short individual stocks, although he owns stock in TheStreet.com. He also doesn't invest in hedge funds or other private investment partnerships. Feuerstein appreciates your feedback;
to send him an email.