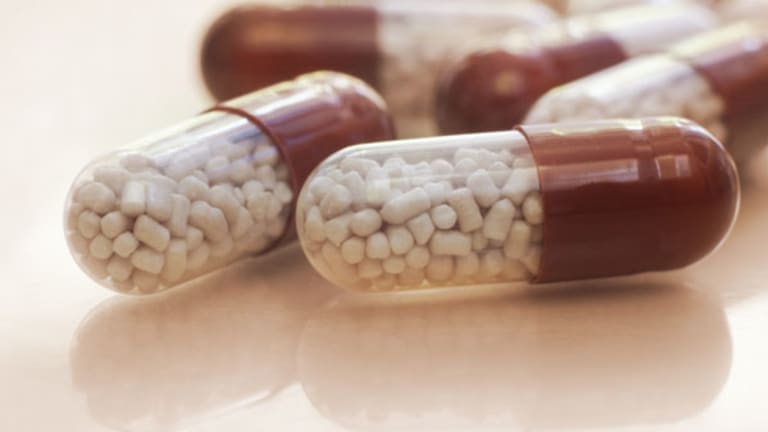 BOSTON (TheStreet) -- Welcome back to this week's Biotech Stock Mailbag.
I'm assuming Prosensa (RNA) completes the submission of the drisapersen data package to the FDA by the end of the year. That's been Prosensa's guidance for some time, so barring a Sarepta-esque (SRPT) - Get Sarepta Therapeutics, Inc. Report setback, the FDA is likely to schedule an advisory committee meeting early next year. Timing: February, March or April. (I'm guessing on the timing but makes sense.) Sarepta isn't filing eteplirsen until the middle of next year, so it won't be a participant at this advisory panel. Sarepta is on the sideline, a non-factor. The FDA-appointed experts will pore over the drisapersen data and vote on whether or not to recommend the drug's approval as a treatment for Duchenne muscular dystrophy (DMD.) 
Before this week, we all thought the expected FDA advisory panel would be reviewing the competing drugs from Prosensa and Sarepta. Now, it's just Prosensa, which is a big advantage.
Close your eyes and imagine the scene at this FDA advisory panel meeting. Prosensa will be there, of course, making the case drisapersen benefits DMD patients enough to justify a conditional or accelerated approval. The phase III study failed but Prosensa will place the blame on its old partner GlaxoSmithKline (GSK) - Get GlaxoSmithKline plc Sponsored ADR Report , arguing a bad trial design failed the drug and patients. Prosensa will slice and dice the drisapersen data to carve out a rosier picture of the drug's activity. The company will also point to the smaller and shorter phase II studies in which drisapersen performed much better. Prosensa will acknowledge drisapersen's side effects but point out how manageable they are. The company may also have new, interim drisapersen data from the ongoing confirmatory studies to share with the panel's experts. 
The FDA staff overseeing the drisapersen review will also be at the advisory panel meeting. I suspect their objective analysis of the drisapersen data will be less sanguine. FDA reviewers tends to take a dim view of failed phase III studies and look askance at post-hoc attempts to pretty up a drug's efficacy. But the FDA already anointed drisapersen with Breakthrough Therapy Designation.
DMD is a fatal disease affecting kids. There is no effective treatment right now. Top FDA officials have spoken publicly about regulatory flexibility and the need to accelerate approval of life-saving drugs for patients with rare, fatal diseases. Political pressure has been applied. Results are needed. The drisapersen data collected to date are weak but maybe they're just good enough?
Your eyes are still closed, right? Does this scenario sound plausible? The FDA review of drisapersen presented at the advisory panel is soft pedaled. Criticism will be muted. You'll hear discussion like, "What's the harm of granting contingent approval to an imperfect drug today if side effects are manageable?" Someone will point out FDA can always pull drisapersen from the market if confirmatory studies turn up negative. 
The counterweight to these arguments -- a more effective or safer drug (maybe like Sarepta's eteplirsen?) -- will be MIA.
Lastly, there will be parents of children with DMD at the advisory panel meeting. The kids will probably be there, too. Some will walk with difficulty, others will be in wheelchairs. They will use their allotted time during the meeting to argue strenuously and emotionally for a drug to be approved. The DMD community does not speak with one voice. Some parents are in Prosensa's camp, but others are distrustful of drisapersen and believe Sarepta's eteplirsen is their best hope for an effective treatment. Still, any drug is better than no drug, so maybe the "Sarepta parents" support drisapersen's approval as a stopgap.
Then the vote comes. Put yourself in the shoes of one of the invited experts. Would you vote no? Tough thing to do.
The enterprise values are almost equivalent. Is the market signaling both companies have an equal shot at approval? Or, should we look at the trend lines -- Sarepta down, Prosensa up -- which suggests growing confidence in Prosensa? Keep an eye on these enterprise values as we get closer to the end of the year, especially after Prosensa announces the the completion of the drisapersen FDA approval filing. 
JDwag writes, "Your hit pieces on Arena Pharmaceuticals (ARNA) - Get Arena Pharmaceuticals, Inc. Report and Rockwell Medical (RMTI) - Get Rockwell Medical, Inc. Report again shows what a total POS you are. The information isn't out there for 15 minutes and you're already slamming the data for your short friends. One day, you will get what's coming to you."
On Thursday, Arena disclosed updated results from the Belviq-phentermine weight-loss combination study. After 12 weeks of treatment, patients in the Belviq-only arm lost 3.8% of their body weight compared to baseline. Patients taking Belviq-phentermine once daily lost 7% of their baseline body weight, while the Belviq-phentermine twice daily dose reported 8.7% weight loss from baseline. Noted: These results are derived from patients who completed all 12 weeks of treatment. We still don't know how many patients discontinued before 12 weeks.
Quality troll tweet. Congrats.
No, Ebola is just the last global health crisis used by Hemispherx Biopharma (HEB) CEO Bill Carter to pad his pockets with shareholder cash. Every few years, a nasty virus grabs headlines, and like clockwork, Hemispherx issues a flurry of hyper-promotional press releases claiming that one or both of its never-done-anything drugs is a potential cure. The press releases are designed to pump Hemispherx's stock price higher so the company can raise money. That money is used to pay Carter's outrageously high salary and bonuses. Very little, if any, of the money is funneled into real clinical trials. 
Here's the most recent example: On Thursday, Hemispherx issued a press release claiming the publication of a "peer-reviewed" study in a medical journal describing how the chemical structure of the Ebola virus is well suited for treatment with the company's experimental drug Ampligen. "Peer reviewed" implies an objective review and endorsement of the study.
Turns out the publication was not a study, only a letter co-written by Carter and Dr. William Mitchell, a Hemispherx director and the company's scientific bag man. Carter and Mitchell submitted their letter to the medical journal on Sept. 18 and it was accepted for publication on Sept. 22. Not much time for "peer review."
Adam Feuerstein writes regularly for TheStreet. In keeping with company editorial policy, he doesn't own or short individual stocks, although he owns stock in TheStreet. He also doesn't invest in hedge funds or other private investment partnerships. Feuerstein appreciates your feedback;
to send him an email.