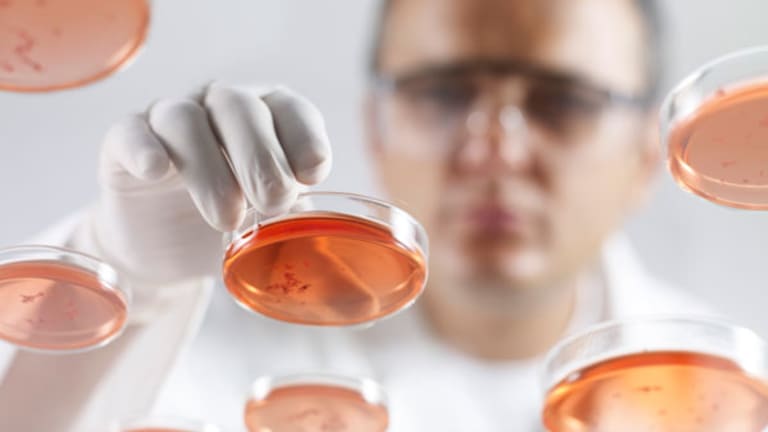 Biotech Stock Mailbag: Previewing InterMune's Big Week Ahead
Biotech columnist Adam Feuerstein answers readers' questions about health care companies.
NEW YORK (TheStreet) -- Welcome back to the Biotech Stock Mailbag.
Next week is big for InterMune (ITMN) and Boehringer Ingelheim. Both companies will be presenting phase III results from their respective (and competing) idiopathic pulmonary fibrosis drugs (IPF) at the American Thoracic Society annual meeting. Only InterMune is publicly traded, but the Boehringer Ingelheim results will still have an impact on the former's stock price, obviously.
The InterMune and Boehringer study results will be made public on Sunday afternoon, May 18 at a press conference sponsored by the American Thoracic Society (ATS.)
Let's review the IPF data we know about already, and discuss what to expect at next week's presentation, with an eye towards what's most interesting to investors. For help, I tuned to Baird analyst Brian Skorney. He covers InterMune and believes the stock has upside going into next week's ATS meeting and beyond.
InterMune announced top-line results from the phase III "ASCEND" study of pirfenidone in February. The study's primary endpoint measured the proportion of patients in the pirfenidone and placebo arms experiencing a clinically meaningful change (10% or greater) in forced vital capacity -- a measure of lung function.
The study enrolled 555 IPF patients and achieved its primary endpoint with a high level of statistical significance. At 52 weeks, 16.5% of the IPF patients treated with pirfenidone experienced an FVC decline of 10% or more or death compared to 31.8% in the placebo group.
Additionally, at week 52, 22.7% of pirfenidone-treated patients experienced no decline in FVC compared to 9.7% in the placebo group.
Boehringer Ingelheim conducted two Phase III studies of nintedanib dubbed "INPULSIS-1" and "INPULSIS-2." The studies enrolled 513 and 548 IPF patients, respectively. The studies' primary endpoint measured the annual rate of decline in forced vital capacity over 52 weeks for patients treated with netedanib and placebo.
We know both nintedanib studies achieved their primary endpoint, but details have been withheld until next week at the ATS meeting.
The first thing investors will look for are the actual numbers from the nintedanib studies. What was the median, annual rate of FVC decline for nintedanib-treated patients compared to placebo?
These primary endpoint data from the nintedanib studies won't be directly comparable to the pirfenidone results mentioned above because they measure clinical benefit differently. To make an efficacy comparison easier to interpret, Baird's Skorney believes Intermune will analyze and present the pirfenidone data to also show median annual FVC decline.
In February, InterMune also announced pirfenidone demonstrated statistically significant benefits on six-minute walk test distance and progression-free survival (PFS) -- two key, secondary endpoints of the ASCEND study.
In the pirfenidone study, a PFS event was triggered when one of three things happened: 1) death 2) a reduction in percent predicted FVC of 10% or more; or 3) a loss of 50 meters or more in the six-minute walk test.
As announced last February, pirfenidone reduced the risk of PFS by 43% compared to placebo. [Hazard ratio of 0.57]
Boehringer did not use PFS as a secondary endpoint in the nintedaninb studies. Instead, time to first acute exacerbation over 52 weeks was used.
How this endpoint is defined, exactly, hasn't been disclosed, nor have the actual results. What we do know already is that the acute exacerbation secondary endpoint was not met in the INPULSIS-1 study but was achieved in INPULSIS-2.
Reconciling the differences between these two different but similar secondary endpoints will be one of the challenges next week when investors are comparing pirfenidone with nintedanib, says Baird's Skorney.
The most important benefit to be derived from any IPF therapy would be helping patients live longer. What we know about survival data:
In InterMune's ASCEND study, there was a 45% reduction in the risk of all-cause mortality trending in pirfenidone's favor but not statistically significant. Likewise, IPF-related mortality also trended lower in pirfenidone-treated patients compared to placebo, again not statistically significant. InterMune has noted that the ASCEND study was not powered to show a statistically significant survival benefit.
When ASCEND results are combined with the two, previous phase III studies, there was a statistically significant survival benefit favoring pirfenidone.
So far, we know nothing about survival data in Boehringer's nintedanib studies.
After efficacy, the two IPF drugs will be sized up for safety and tolerability.
For InterMune's pirfenidone, investors will likely focus on liver safety due to the previously reported, single case of Hy's Law in the ASCEND study. [It should be noted that pirfenidone is already approved in Europe, where the drug has been used in thousands of IPF patients with no significant liver-safety problems reported.]
For Boehringer's nintedanib, diarrhea -- reported in 61.5% and 63.2% of patients across the two studies -- will be the key safety issue. Nintedanib is a VEGFR inhibitor, like Roche's Avastin, so another topic of discussion next week will be how pulmonologists -- the doctors who treat IPF patients -- will deal with side effects more commonly associated with cancer drugs, says Skorney.
I'll follow up next week with a comparison of the two IPF drugs, based on the new data we get at the ATS meeting. 
>>Also See: Northwest Bio Exploits Cancer Patient To Promote Stock Ahead of ASCO '14
>>Also See:AstraZeneca Drug Shrinks Lung Cancers Typically Hardened by Genetic Mutation
>>Also See:The First Look At Incyte's ASCO '14 Study Results
Adam Feuerstein writes regularly for TheStreet. In keeping with company editorial policy, he doesn't own or short individual stocks, although he owns stock in TheStreet. He also doesn't invest in hedge funds or other private investment partnerships. Feuerstein appreciates your feedback;
to send him an email.