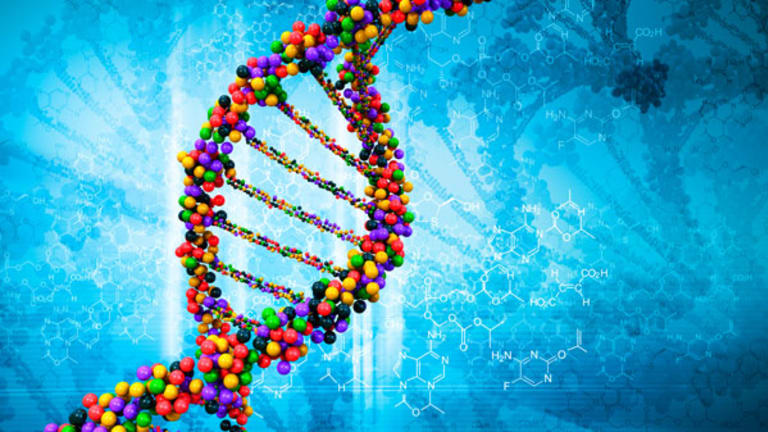 Publish date:
Biotech Stock Mailbag: Peregrine Pharma
Biotech columnist Adam Feuerstein answers readers' questions about health-care companies.
Biotech columnist Adam Feuerstein answers readers' questions about health-care companies.
BOSTON (
) -- Michael A. opens this week's Biotech Stock Mailbag with a question about
Peregine Pharmaceuticals
(PPHM)
:
"Peregrine has come a long way from the 1990s when they were doing just mice along and today they are doing trials on people. They will be going to phase III trials within a few more months. Did you listen to the conference call on July 16? Your thoughts now? I see big things coming from Peregrine."
Peregrine executives are sneaky and two faced. In public, Peregrine CEO Steven King talks enthusiastically about the "exceptional" data from a phase II study of bavituximab in non-small cell lung cancer that has resulted in a "surge" in interest from potential partners.
Privately, however, King has directed the company to sell massive amounts of stock in opaque, back-door financing deals that have diluted shareholders by an astounding 45% in the most recently completed fiscal year, regulatory records show.
Investors should pay more attention to what company executives do, rather than listen to what they say. In Peregrine's case, the company is selling tons of cheap stock on the sly, mostly to uninformed retail investors who are buying it on the belief that company executives are sincere about their stated excitement for bavituximab. Well, if the bavituximab data were so great -- and by inference Peregrine was significantly undervalued -- the company wouldn't stoop to raise money at such low levels.
But yet that's exactly what Peregrine has been doing. In the fiscal year that ended on April 30, Peregrine sold 31.1 million shares of stock. Peregrine's share count as of April 30 was 101.4 million, which means the company diluted shareholders by 45% in the 2012 fiscal year over fiscal 2011, according to regulatory records.
Almost 80% of Peregrine's fiscal 2012 stock sales came through At The Market (ATM) stock offerings. These ATM financing arrangements allow companies, through a broker or investment bank, to sell treasury stock to investors at current market prices. Small companies like ATMs because it's a relatively easy and cheap way to raise cash. But these financing vehicles aren't so great for current shareholders because companies do not have to disclose the sale of stock through ATMs except in customary regulatory filings at the end of each quarter or fiscal year.
Peregrine executives don't talk publicly about the company's ATM sales. In fact, Peregrine does a pretty good job of keeping these stock sales as opaque as possible, burying details in the footnotes of its most recent 10-K filed with the Securities and Exchange Commission.
Of the 31.1 million shares of stock sold in the 2012 fiscal year ended on April 30, Peregrine only publicly announced the sale of 6.2 million shares in a registered direct offering on Sept. 2. The remaining 24.8 million shares -- 80% of all shares sold by the company in fiscal 2012 -- were sold through back-door ATM offerings
And Peregrine continues to sell stocks via ATM transactions in the new fiscal year -- $1.5 million between April 30 and June 30, according to its 10-K. During this period, Peregrine's average stock price was 49 cents, which means the company sold more than 3 million shares.
Note that these most recent ATM stock sales run concurrent with the release of the bavituximab phase II lung cancer data on May 21. If these bavituximab data are so great and generating so much partner interest, as Peregrine executives claim, why sell stock so cheaply?
Until Peregrine answers that question, I'd be highly skeptical of the claims its executives are making about anything. Their actions reveal a whole different and far more troubling truth.
Readers had many thoughtful comments responding to the Wall Street short seller about his column
and striking back against long-only investors who have taken to attacking shorts personally instead of rebutting their bear arguments.
Kevin K. emails,
"I'm short both Arena Pharmaceuticals (ARNA) - Get Report and Vivus (VVUS) - Get Report but what I find hilarious is the lengths to which the longs of each camp go toward trashing the other. Apparently what to their brittle minds constitutes 'horrible, illegal, unethical, manipulative, and corrupt' for shorts to say (or an honest reporter like Adam Feuerstein) is perfectly fine as long as you're long and attacking the bona fides of another company. They can have it both ways but the hypocrisy is layered so thick I don't know how you manage to stay calm, Adam."
Kevin continues:
"Regarding shorting I often remind longs that shorts create liquidity and thus better prices for all involved. When the longs are buying, shorters increase the shares for sale so the longs get better prices. Good for them if they're right. If they're wrong at least they have the comfort that when they go to sell, there are more buyers -- the shorts -- than there otherwise would have been to get them better prices when they sell."
Mike V writes,
"I generally agree with the short sellers' view expressed in your article this morning. There certainly is a role for short sellers in making financial markets more efficient. However, I would make a clear distinction between expressing a well-reasoned bear case for being short and the actions of the short sellers recently in Questcor Pharmaceuticals (QCOR) . "In Questcor's case, I believe we are witnessing a coordinated attack on the company's share price. The Citron report was timed specifically for release right after Questcor disclosed its June monthly prescription data, but while the company is in a quiet period prior to releasing earnings. Thus, management cannot buy back its shares and is limited in what it can say to defend itself... Right before the company was scheduled to make a presentation at an investor conference to respond to Citron's arguments, a web site appeared from a company called Biosim Pharmaceuticals claiming to be working on a generic version of Questcor product. This, not surprisingly, was the main bear argument in Citron's report. I believe this company to be totally fictitious, although I don't have the time or resources to conduct an investigation."My point in all this is to draw a distinction between legitimate short sellers making a bear argument versus web sites like StreetSweeper and Citron which I believe are conducting coordinated attacks on companies to drive down near-term stock prices and make a quick buck. For those that have a sufficient time horizon to take advantage of this, one can argue that it is fine or even advantageous. But for those of us that are measured on relative performance every quarter, month or even week, this seems patently unfair. How is that different than the proverbial 'pump and dump' boiler room on the long side?"
What happened to attacking the message, not the messenger? Stock manipulation is a sad but real occurrence -- everyone realizes this -- but the manipulation occurs just as much on the long side, if not more, than it does on the short side. Yet I never hear anyone complain when longs manipulate stocks. Citron may be 100% wrong about Questcor, but he has as much right to publicize a bear thesis as a long investor has to go on
CNBC
to talk about why Questcor should be bought.
Chrisis writes,
"No problem with shorts (I am currently short Vivus.) The problem is when shorts foment outright lies about a stock. For example, Jim Cramer on Mad Money last week said Arena's drug causes hallucinations. That is wrong, unethical and illegal."
I reached out again to the short seller quoted in the column. His reply: "It is a problem when anyone lies about a stock but to claim that short sellers are disproportionate in this regard is absurd. There is an M&A rumor every day. Should longs be allowed to lie? Also, Arena's drug does cause hallucinations -- read the FDA documents."
Joe Friedberg comments,
"It would appear to me that the best verification of the bona fides of a person are the vehemence of those who attack him or her. I use short type comments to go back and rethink my long opinions and either modify or enforce my beliefs. I am a criminal defense lawyer and always judge the justice of my cause by the acrimony in the public's view of what I am doing. The more they hate me the more I love it."
EPBoston says,
"The problem with short selling is not the fact that they think the stock will go down. It is the tactics used to create the fear that makes it a self-fulfilling prophecy. If you are looking to scare the individual investor out of the market then let the bear raids and lies continue without retribution. That is not how a market is supposed to work. The fear of losing is a more powerful emotion than the joy of winning, that makes it easier to deflate a stock price based on deceptive claims. The market sells first then asks questions. Short sellers in general are not investors, they are buy and manipulate as opposed to buy and hold. No one likes a cheat and the short sellers get the reputation they deserve while trying to kill good companies doing good things. Dendreon (DNDN) back in 2004 - 2007, for example."
Tim Trice rebuts EPBoston:
"The problem is most the people who are complaining about it short selling are the ones who have an emotional attachment instead of treating it like a business. If you run a restaurant, you can't file a lawsuit against a newspaper editor that doesn't give you five stars. You get what you get. And when you make a purchase into a stock, you should have done your due diligence in discovering if there was significant short interest in the stock and what the overall perception of the company is. Many here act as if they have no idea their stocks are being shorted and get blindsided. Try Yahoo! or NASDAQ's website, for starters. Because, bottom line people: the entire market is psychology."
SPPI comments,
"You fail to mention that if someone owns more than 5% of a company they have to disclose it. Why isn't that the same for short sellers? If a short seller has a good reputation of being right like the Baker Bros. on the long side people could base their investments on that knowledge. Today it is a big mystery who is in fact short. Why does it need to be a mystery? Is full disclosure and transparency good for the markets? The Answer is yes unless you thrive in rumor/bear raids to make a living."
The my short-selling guest columnist replies, "I do not support longs or shorts having to disclose their positions unless they are planning to become activist. Why? Because I don't care who owns stock in the company -- I care about the company. You should too. Message not messenger."
Jack writes,
"Reinstituting the up-tick rule removed by Cox during the Bush administration, will help level the playing field. The rule worked for many decades, was not broken, and did not require fixing."
Again, the short seller responds: "Several academic studies have shown that the uptick rule does not stop stocks from finding fair value. Did the institution of an uptick rule and short selling ban stop the financials from collapsing in 2008? So even if you ignore this evidence, consider the following three issues with the uptick rule. 1) It is an attempt to pick winners and losers in the market by allowing longs to sell ahead of shorts -- in effect the authors of this rule are saying 'We know better than the market participants' -- astonishing hubris but not an unexpected response from our government. 2) Would you support a symmetric downtick rule instituted when shares increase in price above 10%? 3) As long as market makers are exempted from the uptick rule, it will be a contrivance at best."
No doubt, the debate over shorts and short selling will rage on.
Joe M. writes,
"Hello, Adam. I used to absolutely loathe you. Being a new investor and knee deep in Arena Pharmaceuticals around $2 a share, even the thought of you would make me mad. However, during the Arena advisory committee meeting, your articles and tweets after that and especially this new embargo article I have quickly turned around in my view about you. Keep up the great work. I will be a long time reader from here on out."
Thank you, Joe. Proof that I do receive nice email, too, not just the nasty stuff. Speaking of...
John C. writes,
"I could care less about your thoughts regarding Amarin or any other stock for that matter. I do however question your motives. You and your ilk epitomize all that is wrong with Wall Street. You stink the place up."
Thanks for sharing, John.
Finally, Issam M. asks,
"What do you think about the news of Hemispherx Biopharma (HEB) and the price trend of the stock?"
If you wait long enough, even the most wretched and uninvestable biotech stocks recycle back onto the playing field. Last we heard from Hemispherx was in late 2009 when
as a treatment for chronic fatigue syndrome for a host of reasons, none more important than Ampligen has been proven to be no better than a placebo in each of 564 diseases it's been tested against.
Alright, I exaggerate about Ampligen's futility, the "drug" has only failed 200 or so clinical trials, but who's counting.
Hemispherx CEO Bill Carter apparently feels like three years is enough time passed to find a new bunch of retail investor suckers who haven't been previously burned by his shenanigans. Hemispherx plans to re-file Ampligen with the FDA using data from the same laughingstock of a phase III trial in chronic fatigue syndrome.
Good luck with that. If you weren't one of Hemispherx's investor victims back in 2009, count yourself lucky and steer clear in 2012.
--
Written by Adam Feuerstein in Boston.
>To contact the writer of this article, click here:
Adam Feuerstein
.
>To follow the writer on Twitter, go to
http://twitter.com/adamfeuerstein
.
>To submit a news tip, send an email to:
.
Follow
TheStreet
on
and become a fan on
Adam Feuerstein writes regularly for TheStreet. In keeping with company editorial policy, he doesn't own or short individual stocks, although he owns stock in TheStreet. He also doesn't invest in hedge funds or other private investment partnerships. Feuerstein appreciates your feedback;
to send him an email.