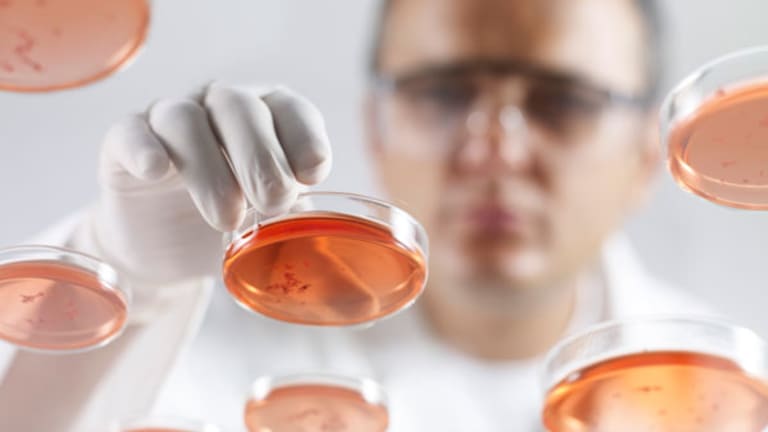 Biotech Stock Mailbag: Pending Sarepta Results, Cyclacel
Biotech columnist Adam Feuerstein answers readers' questions about health-care companies
BOSTON (
) -- I want to use this week's Biotech Stock Mailbag to reiterate and expand upon some of the discussions during Wednesday's
.
Sarepta Therapeutics
(SRPT) - Get Sarepta Therapeutics, Inc. Report
could release the 48-week data from the phase II study of eteplirsen in Duchenne muscular dystrophy any day. These data are scheduled for presentation at the World Muscle Society meeting on Oct. 13, but Sarepta will probably issue a press release announcing the eteplirsen results in advance.
To prepare for this important catalyst, let's first review the previous eteplirsen data released last April and then more recently on July 24.
Twelve DMD patients were enrolled in total, four each randomized to a placebo, 30 mg eteplirsen or 50 mg eteplirsen and treated for 24 weeks.
In April, the study was unblinded at 24 weeks, at which point the 30 mg eteplirsen dose significantly increased dystrophin levels (mean + 23%) compared to placebo (mean -4%). Patients treated with the 50 mg eteplirsen dose were biopsied at 12 weeks (not 24 weeks) and showed a mean increase of dystrophin of .8% -- trending higher than placebo but not statistically significant.
Muscle function (clinical benefit) was also measured at 24 weeks versus baseline using the 6-minute walk test (6MWT). The mean change in 6MWT performance at 24 weeks was -21 meters for placebo patients versus -3.2 meters for six eteplirsen-treated patients -- a difference of 17.8 meters that was not statistically significant. In other words, the muscle function of eteplirsen patients declined less than placebo. Note that two eteplirsen patients were removed from the 6MWT analysis because they exhibited rapid decline in walking ability by week 12.
At 24 weeks, patients in the placebo arm began treatment with eteplirsen and the extension phase of the study began.
Moving ahead to July and the 36-week update, which really lit a fire under Sarepta shares: The four patients in the original 50 mg eteplirsen arm saw a 9-meter decline in 6MWT performance compared to a 78-meter decline in the placebo/delayed treatment group -- a statistically significant "improvement" of 69 meters at 36 weeks.
When all six eteplirsen patients were analyzed together (excluding the two rapid progressors on the 30 mg dose), decline in 6MWT was 14.6 meters -- still significantly better than the placebo/delayed treatment patients.
Dystrophin production was not measured at 36 weeks.
With that review, here's what to look for when the 48-week data are announced:
Positive results will show a continuation of the slower decline (stabilization) in 6MWT performance for the patients in the original 50 mg eteplirsen group. If these patients actually improve on the 6MWT at 48 weeks compared to 36 weeks, it's a home run.
Likewise, stabilization or slowing declines in 6MWT performance for the placebo/delayed treatment group would also be positive. Remember, these patients were on placebo for 24 weeks before switching to eteplirsen. It would be great to see improvements in walking ability coming after 24 weeks of eteplirsen therapy.
Bad data will look like steeper declines in 6MWT performance for the 50 mg eteplirsen patients and no improvement or even more worsening in the placebo/delayed treatment group.
One concern about this study is that patients were unblinded to treatment at 24 weeks, meaning all the patients knew at that time if they were on eteplirsen or a placebo. The big improvement in walking ability favoring eteplirsen came at 36 weeks
after
the study was unblinded. If there was a placebo effect during the study, it may not have dissipated at 36 weeks, but it could be gone by 48 weeks.
Sarepta also conducted new muscle biopsies at 48 weeks so it will be positive if dystrophin production increases in the 50 mg eteplirsen patients beyond the small 0.8% increase measured at 12 weeks. Of course, it's a problem if dystrophin production in these patients doesn't increase at all.
I hope this helps set the table for the upcoming Sarepta data release. Should be exciting.
TheStreet
contributor Tony Pelz recommended an
options trading strategy for Sarepta
and the coming eteplirsen data. Definitely give it a read.
Two reasons institutional investors shy away from
Cyclacel Pharmaceuticals
(CYCC) - Get Cyclacel Pharmaceuticals, Inc. Report
, which sports a puny enterprise value despite a cancer drug, sapacitabine, in a phase III trial for acute myeloid leukemia.
1. Poor leadership: Cyclacel CEO Spiro Rombotis has a reputation for being stubborn, combative and dismissive -- personality traits that don't exactly endear him to investors. Warm and cuddly are not prerequisites for attracting the Wall Street crowd -- see Harvey Berger at Ariad Pharmaceuticals -- but Cyclacel doesn't have drugs nearly as compelling and valuable as Ariad does, so it's harder to overlook Rombotis as a risk.
Lest I be criticized for focusing too much on Rombotis' personality, I'll also note that his CEO tenure has also been marked by drug development delays, poorly executed financings, a reverse stock split and a messy capital/governance structure.
2. Sapacitabine stands a good chance of failing in the phase III study: Cyclacel's SEAMLESS study enrolls elderly patients with newly diagnosed AML who are not candidates for intensive chemotherapy. The patients are randomized to one of two treatments: Sapacitabine plus Dacogen or Dacogen alone. The primary endpoint of the study is overall survival.
Dacogen is not approved in the U.S. for the treatment of AML. Dacogen is approved for myelodysplastic syndrome but an FDA panel rejected the drug for AML earlier this year. In the clinical trial that failed to impress FDA or its outside experts, elderly AML patients treated with Dacogen reported a median overall survival of 7.7 months compared to 5 months for patients treated with best supportive care, including cytarabine.
After starting the SEAMLESS phase III study, Cyclacel reported results from a single-arm phase I/II study of sapacitabine plus Dacogen in elderly AML patients. The median overall survival reported for the sapacitabine/Dacogen combination was 7.7 months.
Small differences in the two separate studies aside, equivalent survival of 7.7 months for Dacogen alone and the sapacitabine/Dacogen combination doesn't inspire confidence in the outcome of the ongoing SEAMLESS study.
The rosiest thing I can say about Cyclacel now is that the stock's current market value prices in sapacitabine's failure. That leaves way more upside in the stock if the phase III study does come out positive relative to the downside risk if the study fails.
The
in
Acadia Pharmaceuticals
(ACAD) - Get ACADIA Pharmaceuticals Inc. Report
appears to be in full swing and working well as we get closer to the announcement at the end of November of top-line results from the phase III study of pimavanserin in Parkinson's Disease psychosis.
BioRunUp maven and
TheStreet
contributor Mark Messier reminds swing traders constantly that when stocks like Acadia trade up into important catalysts like clinical trial results, profits can be booked without needing to take on the added risk of holding through the event.
That's good advice because predicting the outcome of Acadia's pimavanserin study is challenging. Success hinges on whether or not you believe a higher dose of pimavanserin can be effective where lower doses have failed.
In September 2009, a phase III study testing two doses of pimavanserin (10 mg and 40 mg) in patients with Parkinson's psychosis failed to demonstrate a statistically significant reduction in antipsychotic behavior compared to a placebo. Mean reductions in the Scale for the Assessment of Positive Symptoms (SAPS) endpoint was 5.9 points for placebo, 5.8 points for the 10 mg dose of pimavanserin and 6.7 points in the 40 mg pimavanserin dose.
At the time, Acadia blamed the study's failure on a better-than-expected placebo response. The company also noted that the 40 mg dose of pimavanserin showed promising signs of efficacy, particularly in patients enrolled from North American trial sites.
Which brings us to attempt No. 2. This time around, Acadia designed a phase III study in Parkinson's psychosis that only tests the 40 mg pimavanserin dose against placebo in patients recruited from North America. The primary endpoint is the same, a reduction in psychotic symptoms as measured by the SAPS score. The current phase III study just completed enrollment of 200 patients -- results to be announced at the end of November. The previously failed study enrolled 240 patients across three drug arms. This should mean the current study has stronger statistical power to detect a meaningful difference between pimavanserin and placebo.
Do you believe in Acadia's post-hoc finding from the failed phase III study suggesting that the higher pimavanserin dose is potent enough to succeed? Or, was this a false signal that will end in another phase III failure?
Regarding
Vivus
(VVUS) - Get VIVUS, Inc. Report
and its newly launched obesity pill, Robert S. writes, "Thanks for the news on the Qysmia launch date. Will you be tracking the sales/prescriptions and share with your readers?"
I'll do my best. Tracking the Qsymia launch through third-party data services like IMS Health and Wolters Kluwer is made more difficult because Vivus is only selling the obesity pill through mail order pharmacies. Investors will be watching the Qsymia launch very closely -- as they will Arena Pharma's Belviq launch as soon as it takes place. I'll definitely pass along any information I can get my hands on.
Mick Waters asks a follow-up question to my discussion of
Celsion
(CLSN) - Get Celsion Corporation Report
in
: "Regarding the Feuerstein-Ratain rule, is the $300 million market cap measured the day prior to the phase III results being announced? Based on your rule, you would call the Celsion HEAT study to fail with the market cap under $200 million right now?"
We used four months prior to data announcement as the time point for the Feuerstein-Ratain rule. If you assume (guess) HEAT study results are coming in November or December, we'd look at Celsion's sub-$300 million market cap in July-August and predict Thermodox failure.
The rest of the Feuerstein-Ratain goes like this: Companies with market caps of $1 billion or more was the best predictor of phase III cancer drug success -- 78% of studies analyzed positive. The results for companies with markets caps greater than $300 million but less than $1 billion was mixed -- 18% success rate.
"Bear at Night" responded to the same Celsion discussion, questioning whether the Feuerstein-Ratain rule should apply to Thermodox. "Not sure the Feuerstein-Ratain rule should apply, since you studied companies with new drugs rather than drug delivery systems. Thermodox is just a way of releasing in high concentrations a drug
doxorubicin that has been proven to work in primary hepatocellular carcinoma
liver cancer. Compare Delcath Systems-- would their success count against the rule?"
It's a fair point. Thermodox is more a hybrid drug reformulation/delivery system than an entirely new drug like we addressed in the analysis of the Feuerstein-Ratain rule. That may make Celsion an exception to the rule, agreed.
Also in last week's Mailbag, I mentioned
Clovis Oncology
(CLVS) - Get Clovis Oncology, Inc. Report
as a company I liked after seeing the company present at a recent investor conference. This prompted an email from a buyside investor who's not a fan of Clovis' pancreatic cancer drug CO-101. I'm not allowed to use his name but his comments accurately describe the Clovis bear thesis:
"If you read the published papers, particularly the in vitro and animal data, you can see that this is a sure failure. The Clovis drug
CO-101 becomes free gemcitabine about 15 minutes after it enters the body. They also left off that under normal circumstances it takes 10 times the dose and 2 times the time for the Clovis drug to produce the same active form of gemcitabine inside the cell as it does with normal gemcitabine. Finally, the Clovis drug did slightly worse than gemcitabine in animals with tumors that have the blocked channel Clovis supposedly overcomes," this Clovis bear writes.
Clovis is expected to announce top-line results from a phase III study of CO-101 in pancreatic cancer before the end of the year.
--Written by Adam Feuerstein in Boston.
>To contact the writer of this article, click here:
Adam Feuerstein
.
>To follow the writer on Twitter, go to
http://twitter.com/adamfeuerstein
.
>To submit a news tip, send an email to:
.
Follow
TheStreet
on
and become a fan on
Adam Feuerstein writes regularly for TheStreet. In keeping with company editorial policy, he doesn't own or short individual stocks, although he owns stock in TheStreet. He also doesn't invest in hedge funds or other private investment partnerships. Feuerstein appreciates your feedback;
to send him an email.