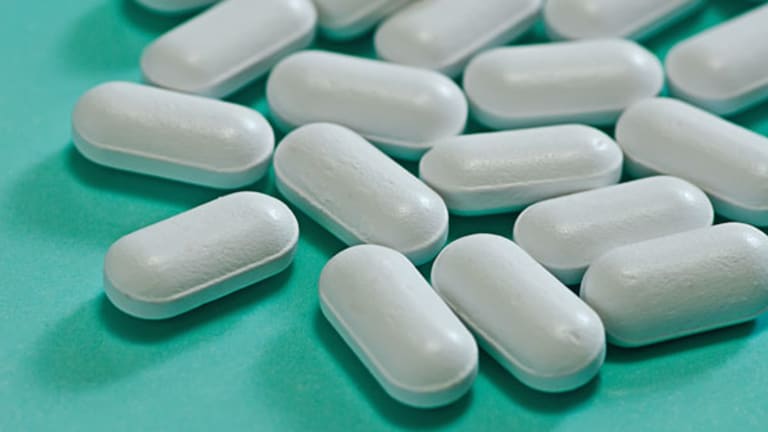 Biotech Stock Mailbag: Oncothyreon
Readers write in about Oncothyreon, Progenics, Chelsea Therapeutics and more.
BOSTON (
) -- If it's Friday, it's time to open the Biotech Stock Mailbag. The first email comes from John B., who asks:
"Adam, what are your thoughts on
Oncothyreon
undefined
here? (Timing, studies, et al) I've talked to a couple of pulmonologists about the data. One said the patient sub-population was way too small to draw any conclusions at all, the other said, wow, if those effects are real, Stimuvax will become incorporated into standard of care quickly."
Stimuvax is a cancer immunotherapy, or "vaccine," that Oncothyreon licensed to
Merck KGaA
. The German drugmaker is running a large phase III study of Stimuvax in non-small cell lung cancer patients. Enrollment is still under way so I don't believe Merck's provided guidance on when this Stimuvax lung cancer study, with overall survival as the primary endpoint, will be completed.
John's chat with the pulmonologists was about results from a Stimuvax phase II study published in September 2005 in the
Journal of Clinical Oncology
. Data from this study were mixed -- as John's doctor comments illustrate -- which makes it hard to handicap the success of the phase III studies.
I get a lot of email about Oncothyreon but didn't realize until this week that this is the company formerly known as
Biomira
. The corporate makeover came about in December 2007 after a relocation from Canada to the U.S.
I wrote about Biomira and Stimuvax in a
Mailbag
published on Aug. 6, 2007. Here's what I had to say back then. Not much has changed:
The good: A survival benefit
from the phase II study was seen in Stage IIIB non-small cell lung cancer patients given Stimuvax. At subsequent analysis reported a median survival of 30.6 months for patients on the vaccine compared to a median survival of 13.3 months for patients in the control arm.
The bad: This survival benefit was not statistically significant and the Stage IIIB non-small cell lung cancer patients were only a small subset of a larger pool of patients enrolled in the trial. When all lung cancer patients encompassing Stage III and IV disease were analyzed, Stimuvax had little effect, with a median survival of 17.4 months for the vaccine compared to a median survival of 13 months for the control arm.
A phase III trial of Stimuvax recently started enrolling largely the same Stage IIIB lung cancer patients who benefited the most from the phase II study. Biomira CEO Robert Kirkman told me this was done to maximize the odds of success, even though Stage IIIB lung cancer patients make up a relatively small slice of the overall non-small cell lung cancer patient population.
The trial is large, with a planned enrollment of 1,300 patients worldwide, and is designed to detect a four month difference in survival between Stimuvax and control, says Kirkman. Neither Biomira or its development partner Merck KGaA is discussing timelines, but results aren't likely for a couple of years.
So, will Stimuvax work? I have no idea, depends on how much weight you want to place on the phase II data. Looks like a crapshoot to me. This subgroup of Stage IIIB lung cancer patients seem to do well, but is that due to Stimuvax or some other factor? And don't forget, survival benefits in large studies of non-small cell lung cancer patients aren't very easy to come by.
Now, since that write-up, Biomira has become Oncothyreon and Merck presented last June long-term follow up data from the phase II study demonstrating prolonged survival for a smallish subset of Stimuvax-treated patients. These Stimuvax patients seem to be living longer than what you'd expect from typically treated lung cancer patients, although the Merck analysis couldn't prove that conclusion definitively.
The rest of Oncothyreon's cancer pipeline is still early stage. Two drugs are in phase I trials while a third drug, in phase II, was put on the back burner and is being shopped around to partners.
Biomira (now Oncothyreon) was a $6 stock (reverse split adjusted) when I wrote about it in Aug. 2007. Today, the stock trades for $4.82.
Ramesh K. writes, "Adam, you used to write very highly of
Progenics
(PGNX) - Get Free Report
when it was launching Relistor. What are your thoughts of the company today, now that Progenics has taken back rights to Relistor from
Wyeth
( WYE)?"
Sometimes you really nail a stock call cold. But then, the warm, confident feeling turns into over-confidence, so instead of taking the victory lap and moving on, you stick around the stock too long and all those gains disappear.
That's the story of Progenics and me. I made a great
on this stock in March 2008 with the stock at $6 right before a crucial FDA approval decision for Relistor, the company's injectable constipation drug. When Relistor was
to treat end-of-life hospice patients in April 2008, Progenics went to $12.
But then I got cocky and started believing that Relistor could be a
$300 million drug
and that Progenics deserved to trade into the mid-$20s. In June 2008, I was convinced that Wyeth, Progenics' marketing partner, was going to turn Relistor into a
.
Oh, how wrong I was. The much-heralded (by me) launch of Relistior flopped big time. In the first six months of this year, Wyeth reported worldwide Relistor sales of less than $6 million.
That means the royalties flowing back to Progenix have been embarrassingly small, which is how you could also describe the company's sub-$5 stock price.
No surprise that Wyeth is giving up on Relistor. The drug isn't even a rounding error on its income statement, and it'll only become less significant once the Wyeth-
Pfizer
(PFE) - Get Free Report
merger is completed.
The return of full commercial rights to Relistor is a blessing, claims Progenics. The company's message is that a new marketing partner will be found to replace Wyeth and that Relistor's real commercial potential lies in the next anticipated approval in chronic pain patients.
About 12 million chronic patients in the U.S. are treated with opioids, and for these people, constipation is a big problem. Progenics believes Relistor makes significant commercial inroads here. By comparison, there are only about 1 million hospice patients in the U.S.
Progenics has positive data from a phase III study of Relistor in chronic pain and is waiting for more data from an ongoing safety study before it can seek expanded FDA approval in late 2010, early 2011.
Will chronic pain patients warm to a constipation drug that requires regular injections?
Progenic says yes, but this is new ground so who really knows.
The company is also developing an oral formulation of Relistor, but that work has been delayed and is still early.
With a $43 million enterprise value, Progenics isn't getting much credit for anything from the market, so that's a plus and a possible reason to own the stock now. But then, the Progenics turnaround is a long-term project. Wyeth is ditching Relistor, but the separation process is going to take a year. Progenics is still months away from even filing Relistor for chronic pain, so an approval isn't in the cards until late next year.
Craig S. writes, "What do you make of all the insider buying by Josiah T. Austin for
Chelsea Therapeutics
(CHTP)
. This guy is buying up shares on a daily basis. Do you have any idea why?"
I don't but he was, and continues to be, a large shareholder in the company. Perhaps he's doubling down on the stock after the disappointing results from the first phase III study of droxidopa, announced earlier late last month.
I wrote about the long trade idea for Chelsea going into the second phase III study results
.
Bruce C. clearly needed to get something off his chest after reading my
BioBuzz item
on
Geron
(GERN) - Get Free Report
.
"You wrote that Geron's proposed spinal drug "has safety problems" as if it was a certainty. What a mis-statement and mis-representation that is. The safety issue is NOT a certainty as you write that it is. If you were a journalist, you would have written that it MAY have a safety issue, but to say that it DOES HAVE a safety issue is simply not truthful and it shows your bias and lack of professionalism. You are NOT a journalist! In fact, I have seen enough of your articles over the years to be fully qualified to say that you are nothing but a full-fledged LIAR and you that have some sort of hidden agenda is perfectly clear. You are doing your best to spin or outright lie this company as far away from the truth as you can. You are a dope. What a jerk!"
I'm sure Bruce felt better after writing this email, and maybe he'll reach another level of satisfaction after seeing it published.
I'll stand by my characterization of Geron's stem-cell drug for spinal cord inury. The FACT that the LONG-DELAYED study is currently ON HOLD by the FDA because of the discovery of CYSTS in animals treated with the drug most definitely means the drug has SAFETY PROBLEMS.
Whether or not these SAFETY PROBLEMS can be resolved is still not known.
The last (long) email comes from Scott B. and its about our old friends at
Hemispherx Biopharma
(HEB)
:
"Let me preface this by saying I do not buy and sell stocks on the advice of journalists, analysts, etc. However, you do raise an interesting point when you state 'the agency must convene an advisory committee meeting to review new classes of drugs. So, if FDA is close to approving Ampligen, why hasn't the agency scheduled an advisory committee meeting?'
"Well, I have continually questioned this even before you wrote about it. I even contacted
FDA twice, and they did say that all new molecular entities (NMEs) must go before an advisory committee to discuss safety and effectiveness and give their recommendation to the FDA before there can be an approval...
"I know there is a chronic fatigue syndrome advisory committee meeting at Health and Human Services on Oct. 29th-30th and they will be discussing proposed treatments which could bring up Ampligen. However, this meeting is public and I sincerely doubt they will be discussing safety and effectiveness and giving their recommendations to the FDA for approval or not.
"So, how in the world can an FDA decision on Ampligen be imminent, as Dr. Carter acts, if there hasn't even been a meeting to discuss the drug's safety and effectiveness? Also, how can they discuss safety when the toxicology studies report hasn't even been completed? Please, instead of bashing Hemispherx and and Carter insensitively, can you clear some of this up for me and other investors. If the truth hurts, so be it, but be gentle, please."
Scott, you've answered your own question about Ampligen. The FDA cannot be close to approving Ampligen since the agency has not scheduled an advisory committee meeting.
The HHS meeting on chronic fatigue syndrome you refer to does not count. This is not an FDA meeting. You're correct about that.
If and when the FDA ever gets around to holding an advisory panel meeting will not matter, except to seal Ampligen's fate. The drug is not going to be approved based on the data submitted by Hemispherx.
-- Reported by Adam Feuerstein in Boston
Adam Feuerstein writes regularly for TheStreet.com. In keeping with TSC's editorial policy, he doesn't own or short individual stocks, although he owns stock in TheStreet.com. He also doesn't invest in hedge funds or other private investment partnerships. Feuerstein appreciates your feedback;
to send him an email.