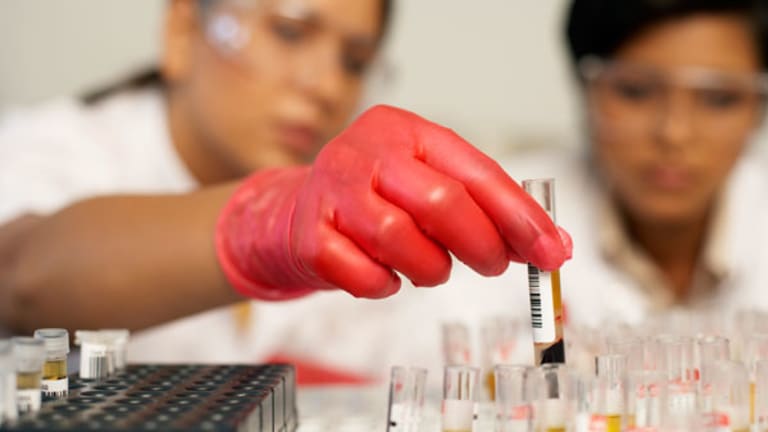 Biotech Stock Mailbag: Oncolytics, Sarepta, Delcath, Peregrine
Biotech columnist Adam Feuerstein answers readers' questions about health-care companies.
BOSTON (
) --Forgive me, for I have sinned. It's been three weeks since my last Biotech Stock Mailbag. Vacation is over, so let's get back to your questions.
Richard G. asks, "Your take on biotech
Oncolytics Biotech
(ONCY)
?"
Oncolytics is conducting a two-stage, randomized phase III study of a cancer-killing virus, Reolysin, in combination with the chemotherapy backbone paclitaxel and carboplatin (versus the chemo backbone alone) in patients with platinum-refractory head-and-neck cancer.
Results from stage one of the Reolysin study are expected any day, if they aren't overdue already. Enrollment of the first 80 patients in stage one was concluded in early April, with all patients on the drug and evaluable for 12-week scans by the middle to end of June. It's reasonable, therefore, for Oncolytics to have progression-free survival (PFS) data available for release in August. With the end of the month almost upon us, the clock is ticking.
Predicting the outcome of the Reolysin phase III study is exceedingly difficult because there just isn't much prior data on the drug to look at. Oncolytics conducted a couple of small single-arm (uncontrolled) studies of Reolysin plus paclitaxel-carboplatin in head-and-neck cancer patients previously with reported response rates in the 31% to 33% range. The mean overall survival from one of the phase II studies (24 patients) was eight months; survival in the other study (14 patients) was never reported. Again, without a control arm for comparison, the survival data from these earlier Reolysin studies is impossible to interpret.
While it's hard to be optimistic about Reolysin, there are ample reasons to be cautious. Oncolytics took more than a year longer than expected to enroll 80 head-and-neck cancer patients into stage one of the phase III study. The company blamed strict enrollment criteria for the delay but a lack of interest or confidence in Reolysin among doctors and enrolling centers could also have played a factor.
The idea of using viruses -- either modified or unmodified -- to infect and kill cancer has been around for a long time but has never succeeded in late-stage clinical trials. Reolysin is an unmodified, naturally occurring virus believed to have a preference for replicating inside of -- and killing -- cancer cells.
Amgen
(AMGN)
has a cancer-killing virus in clinical development, known as Onco-Vex, which is modified to also stimulate a patient's immune system against the tumor. Last year, Amgen terminated a phase III study of Onco-Vex in head-and-neck cancer although a separate phase III study in melanoma continues.
Lastly, the Reolysin data do seem overdue based on comments and promises made by CEO Brad Thompson to Wall Street investors during various investor meetings. This raises worries that the company is sitting on results or trying to "massage" the data in order to find something positive to report.
If the first stage of the Reolysin phase III study is successful -- meaning Reolysin plus chemo demonstrates a "meaningful benefit" in PFS over chemo alone -- Oncolytics says it will advance to stage two and enroll another 100 to 400 additional head-and-neck cancer patients. Stage two of the study will determine if Reolysin plus chemo can demonstrate a survival benefit over chemo alone.
How is "meaningful benefit" defined in stage one of the Reolysin phase III study? Oncolytics hasn't disclosed that except to say that it's looking for a PFS benefit that "predicts probability of success" in stage two of the study. That sounds like a rather fungible efficacy threshold so be careful when evaluating the stage one data upon its release. Oncolytics may decide to move ahead into stage two of the phase III study even if the stage-one benefit is equivocal. The company wouldn't be the first to do so and won't be the last.
I laid out a strong bull case for
Sarepta Therapeutics
(SRPT)
and its Duchenne muscular dystrophy (DMD) drug eteplirsen in this July 24 article describing the
positive results from the small phase II study
as well as in this
follow-up Mailbag column
on July 27. My colleague Nate Sadeghi, however, thinks
I'm overlooking some important risks to the Sarepta story
. He likes the stock but advises more caution.
Sadeghi raises valid concerns and you should definitely
, if you haven't already. One point where I continue to disagree with him is over the scenario by which FDA would grant accelerated approval to eteplirsen based on positive results from the phase II study, even if it comes from just a handful of patients. Sadeghi insists the phase II study is too small; no way FDA will be comfortable enough with the eteplirsen data to approve Sarepta without running a larger phase III trial.
I believe the opposite. Newly enacted federal legislation encourages and empowers FDA to accelerate the approval of new, innovative drugs for rare and life-threatening diseases. If the 48-week eteplirsen data confirm the positive benefit for Duchenne muscular dystrophy patients observed already, FDA would be well within its regulatory purview to grant accelerated approval.
FDA is constantly under political attack for slowing the development of life-saving drugs. With eteplirsen, the agency has an opportunity to show that it is responsive to Congress and the needs of kids with a debilitating and deadly disease.
Also, don't underestimate the influence that families affected by DMD will have on FDA's decision to approve eteplirsen early. Already, one Vermont mother, Jenn Mcnary, is receiving a lot of media attention for her efforts to obtain
eteplirsen on a compassionate-use basis for her son Austin
, 13, who suffers from DMD. Another of Mcnary's sons, Max, 10, also suffers from DMD but he's literally running around the house after
being treated with eteplirsen in Sarepta's phase II trial
.
Max is one of the four patients in the trial treated with the 50-mg dose of eteplirsen. Mcnary doesn't know Max's actual results from the trial because the data remain blinded but the change in his health is unmistakable, she says.
"Max today is more like Tigger than Eeyore," says Mcnary. "My husband and I have to tell him to stop running in the house. We never had to do that before."
Some of the recent press accounts of Mcnary's efforts to obtain eteplirsen for Austin have painted Sarepta as the bad guy -- a drug company refusing to help a child patient in need. But Mcnary says she has no animosity towards Sarepta, which doesn't have the financial resources today to ramp up manufacturing enough to provide eteplirsen via a compassionate-use program.
"What everyone wants is for FDA to grant early approval of eteplirsen," she says. Towards that end, Mcnary plans to meet with FDA in October, around the same time that Sarepta will be meeting with FDA to discuss accelerated approval. She hopes to have other DMD patient advocates with her.
The next big catalyst for Sarepta will be the release of the 48-week eteplirsen data in mid-October at the World Muscle Society conference.
D. Jones asks, "Do you have an opinion on
Delcath Systems
(DCTH)
? They are submitting their NDA
New Drug Application later this year and I was wondering if it's time to buy before a potential run-up."
I'm not a Delcath fan, never been one, mainly because of the small commercial market for the company's Chemosaturation (ChemoSat) liver-tumor treatment system. I haven't had big concerns about the FDA approvability of ChemoSat, more that Delcath could never deliver sufficient revenue to generate a meaningful profit.
Sales to date in Europe, where ChemoSat is approved, have been minimal.
This was all before FDA, in February 2011, issued a refuse-to-file letter citing unanswered questions about ChemoSat's safety.
ChemoSat is already approved in Europe but only as a medical device; FDA considers it a drug and therefore holds approval to a stricter regulatory standard.
Delcath finally resubmitted ChemoSat to FDA on Aug. 15. It took 18 months to refile -- a really long time. Delcath says all the patient records have been updated with the safety data that FDA requested but the company has not told us any details about these data or whether the data will be sufficient to assuage FDA's concerns. This is a risk.
The ChemoSat resubmission also seeks approval of the device replacing the old Generation 1 filter with a new Generation 2 filter. These filters remove melphalan from a patient's blood as the toxic chemotherapy exits the liver before it can enter the bloodstream and cause harm.
These filters play a very important safety function so it's concerning that Delcath is seeking ChemoSat's approval without any Gen 2 filter efficacy or safety data from clinical trials. All of the ChemoSat studies to date have used the Gen 1 filter. That's potentially a big risk.
Delcath CEO Eamonn Hobbs claims FDA deemed it "acceptable" to re-file ChemoSat with the untested Gen 2 filter. The hairs on the back of my neck stand straight up whenever I hear a bio-pharma CEO speak for FDA. Place full trust in Hobbs' assurance about the Gen 2 filter at your peril.
If you're a trader interested in Delcath and any possible stock run-up, watch for FDA's acceptance of the ChemoSat resubmission, which should be announced at the end of September or mid-October at the latest. If FDA decides to review ChemoSat and grants priority review, the approval decision date will be mid-February 2013. A standard review will extend the approval decision date to June 2013.
Alfred Y. asks, "Since your last article on
Peregrine Pharmaceuticals
undefined
, it has been on fire. What is behind the shoot up in the price?"
Stock promotion. Speculation. Momentum trading. Hype. Short-covering. Low-volume summer trading. Take your pick. What hasn't changed about Peregrine since my
is the company's fundamental outlook. It's still poor. That's what I focus on, not short-term movements in the stock price in either direction.
Peregrine is presenting updated overall survival data from bavituxmab's phase II study in second-line non-small cell lung cancer on Sept. 7. At best, we'll likely see a non-statistically significant trend in survival favoring bavituximab. I won't be surprised or impressed considering the mediocre data released from this study already, combined with the outright failure of bavituximab in the first-line lung cancer trial.
Remember what I've said about paying more attention to what biotech executives do rather than what they say. Peregrine sold 3 million shares of stock through its At-The-Market (ATM) financing vehicle between April and June at an average price of 49 cents per share. Peregrine sold this stock in the dark while telling investors publicly how excited it was about the bavituximab lung cancer data and boasting about all the interest the company was receiving from potential partners.
--Written by Adam Feuerstein in Boston.
>To contact the writer of this article, click here:
Adam Feuerstein
.
>To follow the writer on Twitter, go to
http://twitter.com/adamfeuerstein
.
>To submit a news tip, send an email to:
.
Follow
TheStreet
on
and become a fan on
Adam Feuerstein writes regularly for TheStreet. In keeping with company editorial policy, he doesn't own or short individual stocks, although he owns stock in TheStreet. He also doesn't invest in hedge funds or other private investment partnerships. Feuerstein appreciates your feedback;
to send him an email.