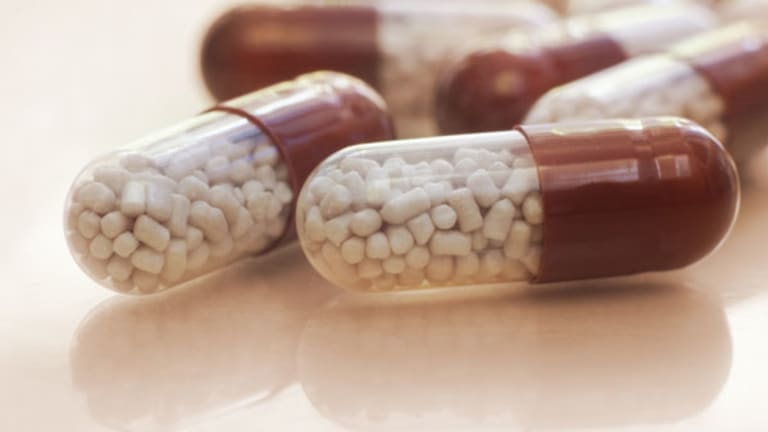 It's Friday, which means the Biotech Stock Mailbag is once again open for business.
Let's get this week's edition started with an email from Chris T.
"I have been reading your columns for years now, and totally respect your views. Great work, keep it up. My wife and I have been long
Oculus Innovative Sciences
(OCLS)
for a few years and are finally breaking even. Do you think this run is sustainable, or should we be happy with breakeven here and not get greedy?"
Thanks for the kind words. I'm no fan of Oculus because there's little "biopharmaceutical" about the company, despite management's claims to the contrary.
What Oculus does is sell a disinfectant used to clean wounds that is essentially made from bleach and saline and is marketed as a simple medical device.
That's pretty much it.
Oculus' Microcyn Wound Care can be purchased over the Internet for $20 for an 8 oz. bottle. The product is sold in various countries, including the U.S. Sales over the last nine months totaled $3.2 million. Another company,
Puricore
, sells a similar, competing wound disinfectant.
This week, Oculus announced that the FDA granted the company permission to sell a gel-based version of Microcyn. For some reason, this lit a fire under the company's stock price. Don't ask me why. I have no idea. Perhaps it's because some investors saw "FDA clearance" in the headlines under the Oculus ticker and thought this was another
Vanda Pharmaceuticals
(VNDA) - Get Vanda Pharmaceuticals Inc. Report
.
I don't think it is.
Oculus is trying to develop Microcyn as a drug to treat diabetic foot ulcers. The company completed a phase II study in early 2008 (the results weren't remarkable) and since then, the company's been talking about a phase III study but can't seem to get out of the planning stages.
I've never understood why Oculus believed that a product that is essentially a medical version of Clorox Anywhere would have any luck becoming an FDA-approved drug.
But if that chance exists, someone should tell Clorox so it can start advertising as a biopharmaceutical company.
My story on
MAP Pharmaceuticals
( MAPP) and its inhaled migraine drug
prompted Daryl S. to offer a skeptical take on the drug's commercial prospects.
"I am a private practice neurologist and see migraine patients pretty much daily. I am not all that enthusiastic about the prospects for MAP's Levadex for migraine for a couple of reasons.
1. DHE has been around forever, and the newer triptans are really considered the best and safest drugs for migraine.
2. There is already an intranasal DHE (Migranal), which we may use rarely if a patient fails most of the available triptans (8 tablets, 2 orally disintegrating tablets, 2 nasal sprays, and one injectable.)
3. Primary care physicians who see the vast majority of migraine patients will not embrace DHE because they aren't comfortable with potential serious side effects, so prescribers of Levadex would probably only be neurologists who see referral cases.
4. The efficacy data so far doesn't look any better than the original triptan, Imitrex, which is now a cheap generic sumatriptan.
I can see the short-term excitement of an inhaled drug which is fairly novel, but I just can't get enthused about DHE in any form given the triptan arsenal. My partners felt the same way. I'll be curious to see if a Big Pharma latches onto this one."
I don't know enough about the migraine market to opine on the commercial potential of Levadex. Daryl raises some interesting points that are worth considering.
On the other side, the analysts who recently shunned MAP are back on the company's side wearing party hats, which helps to explain why the stock continues to act so strongly.
Morgan Stanley's Steve Harr covers MAP but doesn't have a rating. Yet, in his most recent note, he said, "Given the scarcity value of Phase III neurology/primary care assets, we expect the drug and company to find significant interest from large pharma, which is likely to drive upside for the stock over the near-to-medium term."
Next, an email from Jonah:
"I've been a long time reader of your posts. I was wondering what you thought of
Human Genome Sciences
( HGSI) as an investment opportunity? The market cap is only about $250 million despite the fact that the company has income flowing in from Abthrax and potential income coming in next year from Albuferon. Also the Lupus trial results are due in a little more than a month."
Two main points to make on Human Genome Sciences: First, thank goodness for Abthrax; and second, this is a company that needs a big R&D win in the worst way.
Last quarter's better-than-expected profit came thanks to the government's desire to add more Abthrax, the company's anthrax vaccine, to the U.S. bioterrorism stockpile. While not recurring revenue, the Abthrax contract did allow Human Genome to improve its cash position and reduce its debt load somewhat -- both clear positives for the company.
There is some talk about the government buying even more Abthrax, which of course, would be continued good news for the company.
But Human Genome cannot prosper on Abthrax alone. It needs to develop a successful drug. Unfortunately, I don't think the hepatitis C drug Albuferon will be that drug, and neither does the market, which is why the stock got
hammered in March
when the latest data on Albuferon was presented.
In the near term, this leaves Lymphostat-B, the company's drug for lupus. Two phase III studies are under way, with data expected later this year. Lupus is an extremely tough disease, and the
phase II data
on Lymphostat-B produced mixed results. It's hard to call this anything more than a toss up.
I'm not surprised to see Human Genome's stock price rebound from the nadir of March. I said as much in my
March 27 mailbag
. Since then, the stock has moved even higher, mainly on the positive first quarter earnings.
But a wide swath of investors will continue to steer clear of Human Genome until it can prove capable of developing a successful drug.
The Hostile React-o-Meter blew up Thursday after the posting of my bearish column on
Hemispherx
(HEB)
and its chronic fatigue drug
.
Dozens and dozens of emails poured in, but not a single one contained an intelligent response or answers to the facts, questions and concerns posed.
Paul C. (he's a multi-millionaire, he tells me) wrote to threaten me with a lawsuit because I wrote a column that moved the stock. "You should not be writing articles that after they are published makes the stock move in one way or another, this is stock manipulation."
Funny, I thought it was journalism.
And then, of course, there was the cursing and the name-calling. Lots of cursing. Lots of name-calling. According to my email friends, I'm bald, stupid, evil, ugly, a psycho, a "looser" (people have trouble with this one. It's "loser" not "looser") and a moron.
I'm manipulating the stock lower so I can buy more, but I'm also helping my short-selling buddies. I have a personal vendetta against the company. I'm being reported to the SEC, the FTC and various other three-lettered agencies of the federal government. Jim Cramer is my puppet master and he's bald, too. Lastly, I'm Jewish (I love when that one gets tossed onto the pile.)
Can't anyone out there come up with an original putdown?
I did receive a handful of thoughtful emails, so all is not lost.
Michael R. writes, "Thank you for the write up about Hemispherx. I'm disabled with CFS (and a RealMoney subscriber) and I've followed the Ampligen story with interest for about 15 years. You did an admirable job of writing the history of this drug, and of Hemispherx. It's a complicated story. The drug company has done a terrible job of getting this drug to market, as you detail.
"You are probably correct that it will not be approved. This will be a shame. I personally know people with CFS whose lives have been saved by Ampligen. CFS is a crippling illness, and just because you don't die, it wrecks lives. There is no known treatment. Ampligen's approval would be a huge benefit, giving hope to hundreds of thousands of people. Thanks for listening to one voice in the wilderness."
My intent was not to delegitimize CFS, which I'm sure is a terrible burden for people, as Michael expresses. But he also seems to understand that I write about biotech stocks and investing, which means taking emotions off the table to examine the facts as presented and make a call, good or bad.
I could write all day long that I hope every drug works and that they cure disease and end suffering. But if I did that, I wouldn't be honest, nor would I be doing my job.
Adam Feuerstein writes regularly for TheStreet.com. In keeping with TSC's editorial policy, he doesn't own or short individual stocks, although he owns stock in TheStreet.com. He also doesn't invest in hedge funds or other private investment partnerships. Feuerstein appreciates your feedback;
to send him an email.