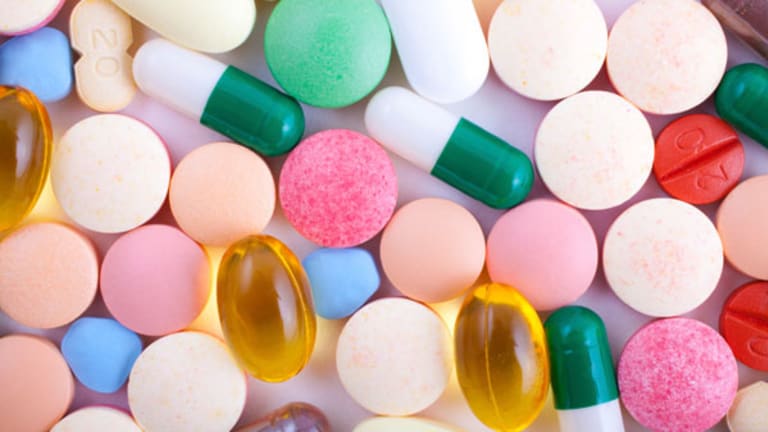 Biotech Stock Mailbag: NuPathe
Biotech columnist Adam Feuerstein answers readers' questions and concerns about health care and drug-related stocks.
BOSTON (
) -- Please join me today at 12 p.m. ET for another Biotech Stock Mailbag Live Chat. Bring your biotech stock questions, comments and observations for 90 minutes of lively, interactive chatter.
SBH14 emails to ask,
"Adam, do you predict Nupathe's (PATH) - Get UiPath Inc Class A Report migraine patch will receive FDA approval?"
Nupathe's Zelrix is a patch that uses electric current (via a small battery and chip) to actively push the commonly used migraine medicine sumatriptan through the skin and into the patient's bloodstream.
Migraines are an acute, episodic condition, and patients typically seek pain relief as fast as possible, which is why sumatriptan pills (like
GlaxoSmithKline's
(GSK) - Get GlaxoSmithKline Plc Report
Imitrex, now generic) dominate the migraine treatment market. Injectable sumatriptan is also used for even faster pain relief.
A drug patch, even one that actively delivers sumatriptan through the skin like Nupathe's Zelrix, is not going to be quickest or most effective pain reliever. The data from Nupathe's registration studies bear this out. Zelrix's efficacy -- measured by migraines patients reporting either no pain after two hours or reduced pain after two hours -- definitely lags out-of-study comparisons to injectable and oral sumatriptans.
Fortunately for Nupathe, its registration studies compared Zelrix to a placebo, the results of which strongly favored Zelrix. Nupathe Chief Financial Officer Keith Goldan says the FDA asked the company specifically to conduct placebo-controlled studies and did not ask for or require studies against an active comparator for approval purposes.
From a pure efficacy standpoint, Zelrix shouldn't have trouble getting approved. (That's as long as the FDA remains copacetic with placebo-controlled studies.) The approval risk that remains is on the device and safety side. Will the Zelrix patch, with its computer chip and battery, raise enough manufacturing or quality assurance concerns with FDA reviewers to delay approval? It's possible.
The safety data on Zelrix from the clinical studies seem relatively benign, with the exception of an increase in pain and skin irritation where the patch is applied, but again, it's hard to say where FDA balances the risk and benefit here since delaying approval of Zelrix won't necessarily harm migraine sufferers who already have a plethora of treatment options.
The more relevant question to ask about Zelrix is who's going to use it, if approved? Nupathe acknowledges that Zelrix is niche product aimed at migraine sufferers who also suffer from debilitating nausea and vomiting. Nupathe estimates this segment of the migraine market at 8 million patients.
An addressable commercial opportunity of 8 million patients seems large, but for perspective, these are the same patients targeted by nasal and injectable formulations of sumatriptan, yet they only achieve about 4%-5% market share.
In terms of Zelrix peak sales estimates, I've seen analysts forecast $100 million to $200 million, but I've also spoken with more skeptical investors who believe Nupathe will struggle to achieve $15 million in sales and because of that will never achieve profitability.
By this point, we should all be aware of how warily investors view new drug launches, particularly launches where the new drug must compete with generics. I don't want to saddle Nupathe with the
Somaxon Pharmaceuticals
(SOMX)
albatross but you get my drift. Working in Nupathe's favor is the company's $70 million enterprise value. This isn't an expensive stock and Nupathe management is doing the right thing by keeping Zelrix launch expectations low.
A.P. Smyth asks,
"What's your take on Talon Therapeutics (TLON) ? It's about to file their New Drug Application for Marqibo and carries a $22 million market cap despite what some call a blockbuster opportunity for the drug in acute lymphoblastic leukemia (ALL). Shouldn't it be trading a lot higher?"
Marqibo is a reformulation of the generic chemotherapy drug vincristine, with a history of regulatory failure.
Enzon Pharmaceuticals
(ENZN)
and partner
Inex Pharmaceuticals
were the first companies to develop Marqibo in the mid-2000s for non-Hodgkin's lymphoma. FDA rejected the drug in January 2005, prompting Enzon to return Marqibo's development rights to Inex (now known as
Tekmira
(TKMR)
).
In March 2006,
Hana BioSciences
licensed rights to Marqibo from Inex, choosing to focus development on acute lymphoblastic leukemia (ALL). Underwhelming data from what was reportedly a pivotal study were released in 2009, sinking Hana shares. In late 2010, Hana changed its name to Talon Therapeutics.
Name changes are never a good sign. At one time, Hana/Talon said it was going to file Marqibo for approval in 2010. Now, the company says to expect an FDA filing by the end of June.
I find it hard to envision any scenario by which Marqibo becomes a blockbuster ALL drug.
Jeff S. emails,
"Northwest Biotherapeutics (NWBO.OB) looks to be lifting their profile following survival mode through the recession. All the chips seem to be on the table, banking on DCVax-Brain achieving FDA clearance following reconfigured phase II for gliobastoma multiforme. Other news seems superficial to me, with only this fact mattering. But certain metrics show the trial is enrolling well. Is this a realistic jump (over phase III)? And if so, could a long-term investor see tempered returns in the next 24 months?"
Let me start on Northwest Biotherapeutics by quoting myself from a Feb. 18 Mailbag, which I wrote after I saw the
company present at the BIO CEO Conference in New York
.
"I saw some bad stuff Monday and Tuesday. Topping the garbage list was Northwest Biotherapeutics -- easily the worst and most laughable presentation I saw at the conference. I almost fell off my chair when Northwest chief Linda Powers showed slides with Kaplan-Meyer survival curves demonstrating a "survival benefit" for the company's DCVax cancer immunotherapy over historical data culled from previously published clinical studies. Heck, Powers even attached a statistically significant p value to this pseudo-scientific nonsense. The entire Northwest presentation was appalling."
I hope my contempt for Northwest Biotherapeutics is clear. Just like you wouldn't invest in a company that manipulates accounting rules to make its financial results look better than they really are, you also shouldn't invest in a drug company that abuses biostatistics to make its cancer immunotherapy (or any drug) appear more effective than it is. The latter is what Northwest Biotherapeutics is doing with data from two phase I studies of DCVax-Brain which enrolled 29 patients from the same hospital.
You cannot make a survival benefit claim from a single-arm study, i.e., a study without a comparator arm! This is an iron-clad rule. No exceptions.
Be very skeptical of any company trying to convince you that its experimental drug is helping patient live longer based on a single-arm study. Be skeptical, insulted and angry when a company serves up this B.S. claim with a statistically significant p value.
Via Twitter, @ssekhar asks,
"Hey Adam, any thoughts on potential for a YM BioSciences (YMI) partnership with Big Pharma? Too risky until their phase II reads out?"
Agreed. I'll be shocked if YM lands a development/marketing partner for its myelofibrosis drug CYT387 until after data from the ongoing phase II study is presented at the American Society of Hematology annual meeting in December. These data should help clarify the controversy over
'387's ability to correct anemia in myelofibrosis patients
, as well as provide more color on the drug's biggest side effect risk, peripheral neuropathy.
Given the big run-up in YM's stock price leading into the ASCO annual meeting earlier this month, I was expecting the stock to sell off some after the meeting ended. I wasn't expecting YM shares to lose nearly all the gains made in the pre-ASCO run, however, which is what's happened.
A lousy market overall hasn't helped.
The '387 data I saw at ASCO looked compelling, even with the acknowledgement that crucial questions about the drug's efficacy and safety remain unanswered. And YM's valuation is definitely more attractive than what investors are paying to own
Incyte
(INCY) - Get Incyte Corporation Report
today, even if the latter's competing myelofibrosis drug is a few years ahead.
@trevor_McMullan tweets,
"Can you look into the deaths for the Exelixis (EXEL) - Get Exelixis, Inc. Report drug? Even cancer patients don't want a drug that could kill them."
That's true, but remember, the biggest worry that these patients carry with them is that their cancer is going to kill them. When thinking about the risk-benefit of cancer drugs, don't forget that a higher level of safety risk is tolerated because cancer is a killer.
Exelixis enrolled 490 patients in the phase II study of cabozantinib. Six patients, or 1%, died for reasons that investigators said were related to the drug and not their underlying cancer. Three of the six patients died due to perforations or bleeding in their gastrointestinal tract. This is a well-understood side effect for drugs like cabozantinib that work (in part) by blocking a protein known as VEGFR2.
Roche's
blockbuster cancer drug Avastin works similarly and patient deaths due to gastrointestinal perforations, while sad and unfortunate, are an accepted safety risk.
The positive buzz over cabozantinib's ability to clear bone lesions in cancer patients is tempered by the drug's relatively high side-effect profile, which forces a majority of patients into dose reductions. With that said, the
doctors presenting the cabozantinib data at this year's ASCO meeting
said the drug's toxicities were manageable, and no worse than what's seen in other targeted cancer drugs.
While I do think the concern over the patient deaths in the phase II cabozantinib study is overblown, I'm not naive enough to believe that this issue is going away any time soon. The next significant clinical update on cabozantinib will come next quarter when Exelixis announces top-line results from the phase III study in medullary thyroid cancer. Keep in mind, however, that patients in this thyroid cancer study were dosed with 175 mg of cabozantinib, which is higher than the 100 mg dose used in the phase II study presented at ASCO.
Don't forget: The Biotech Stock Mailbag Live Chat, today at 12 p.m. ET.
--Written by Adam Feuerstein in Boston.
>To contact the writer of this article, click here:
Adam Feuerstein
.
>To follow the writer on Twitter, go to
http://twitter.com/adamfeuerstein
.
>To submit a news tip, send an email to:
.
Adam Feuerstein writes regularly for TheStreet. In keeping with company editorial policy, he doesn't own or short individual stocks, although he owns stock in TheStreet. He also doesn't invest in hedge funds or other private investment partnerships. Feuerstein appreciates your feedback;
to send him an email.