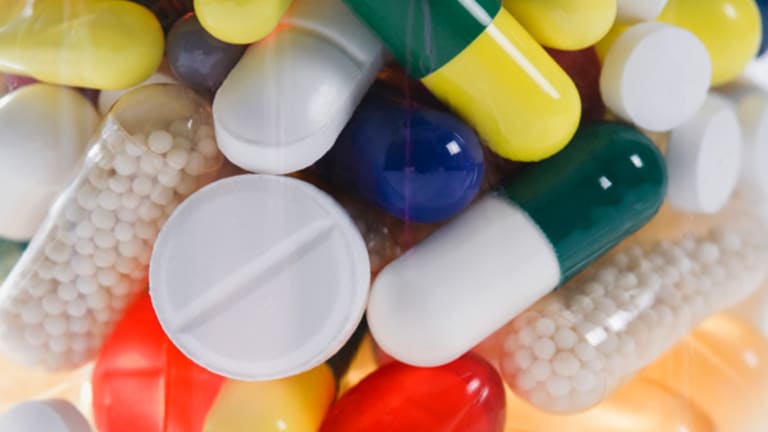 Biotech Stock Mailbag: Northwest Bio, Intrexon, Ziopharm
Biotech columnist Adam Feuerstein answers readers' questions about health care.
BOSTON (TheStreet) -- Welcome to the pre-Passover/Easter Biotech Stock Mailbag. May you get your fill of matzoh and Peeps this weekend. 
Sure, if you take at face value the updated DCVax-L survival data presented by Northwest Biotherapeutics (NWBO) last Friday.
The problem is the data were compiled and analyzed outside of a clinical trial, which leaves conclusions susceptible to biases, intentional or not. Northwest Bio asserts the new data show DCVax-treated patients, all with glioblastoma multiforme (a form of brain cancer) are living longer than expected compared to historical controls. But I can easily take the same data presented Friday and demonstrate DCVax patients are living no longer than you'd expect to see from published studies.
Last Friday's presentation encompasses 51 newly diagnosed GBM patients who sought entry into Northwest Bio's ongoing phase III study but were deemed ineligible because of evidence their brain tumors were re-appearing despite six weeks of radiation and chemotherapy. In order to participate in Northwest Bio's phase III study, GBM patients were required to have stable disease before randomization to DCVax or a placebo. These 51 GBM patients didn't meet that criteria and were therefore ineligible, but Northwest Bio treated them all with DCVax anyway and tracked their performance outside of the phase III trial.
Northwest Bio used brain imaging scans taken two months apart to further characterize these 51 patients into two common GBM classifications: 1) rapid, or early progressors (defined exactly as it sounds) or 2) pseudo-progressors, defined as patients with imaging evidence of brain tumor regrowth at baseline but which disappears at the second scan.
This is where the company ran into problems. Of the 51 patients, 20 were classified as rapid progressors. A single patient was identified as a pseudo-progressor. The remaining 30 patients could not be classified so they designated as "indeterminate" (25 patients) or "unclassified" (five patients.)
Search the medical literature and you'll find survival studies of GBM patients broken down by rapid and pseudo-progressors. Unfortunately for Northwest Bio, 59% of its patients couldn't be classified, which makes survival comparisons difficult to interpret, at best.
Northwest Bio gave it a try, anyway. From Friday's Northwest Bio presentation, here are the charts detailing median overall survival for the four GBM patient buckets.
Northwest Bio was most effusive about the data reported on the 20 rapid progressors, so let's focus there. These patients, all treated with DCVax, reported a median overall survival of 15.3 months. Northwest Bio then found six published studies of GBM rapid progressors, which reported median overall survival ranging from 8.3 months to 10.8 months.
The comparison implies DCVax can prolong survival of GBM patients compared to historical controls, which bodes well for the ongoing phase III study, Northwest Bio says.
Or not. Take a look at the top two GBM patients in the "indeterminate" chart represented by the blue lines. Both patients died in 10 months or less. Based on the six published studies found by Northwest Bio, it's certainly logical to consider these patients rapid progressors.
Likewise, look at the chart of "unclassified" GBM patients where the top three of the five patients also died in less than 10 months. Again, these patients were likely rapid progressors.
If you add the two "indeterminate" patients and three "unclassified" patients -- all dead within 10 months -- to the 20 GBM rapid progressors, the median overall survival for rapid progressors falls to approximately nine to 10 months, not the 15.3 months claimed by Northwest Bio in Friday's presentation, according to my calculations. (Do the median calculation yourself, you'll arrive at the same answer.)
A more realistic median overall survival of nine to 10 months for GBM rapid progressing patients treated with DCVax means there is no benefit over existing therapy. Northwest Bio could not claim DCVax is benefiting these patients at all.
To be clear, I'm not accusing Northwest Bio of intentionally excluding rapid progressors to improperly boost the reported median overall survival. But when more than half of patients cannot be classified properly, the quality and trustworthiness of the analysis is going to suffer. The 15.3-month median overall survival in GBM rapid progressors presented by Northwest Bio last Friday might be accurate, but it's just as likely to be inflated.
There is little clinical value in the DCVax presentation last Friday because the patient survival data come from outside of a clinical trial. As mentioned, Northwest Bio is conducting a randomized, placebo-controlled study of DCVax in newly diagnosed GBM patients. I've had a lot to say in the past about this study, very little positive or encouraging.
Northwest Bio announced an interim efficacy analysis of the study in late 2013 but then never disclosed the results. More recently, the company said the interim analysis will be disclosed later this year. The need to enroll additional patients and changes made to the number of progression events required to trigger a final analysis, disclosed by the company last August, was an ominous sign that DCVax was headed for failure. Despite never providing investors with a clear update on patient enrollment status for the DCVax GBM study, Northwest Bio says final results will be announced in 2016.
KSkind45 writes, "Please keep bashing Intrexon (XON) - Get Intrexon Corporation Report and Ziopharm (ZIOP) - Get ZIOPHARM Oncology, Inc. Report so I can continue to make money. You've been wrong about this one forever and I'm happy to do the exact opposite of what you say. You really should find another line of work like cleaning toilets."
For me, the fundamentals don't support the valuations currently ascribed to Intrexon and Ziopharm. Intrexon's synthetic biology technology platform is more wishful thinking than validated science today, at least when it comes to applications in biotech/drug development. Ziopharm is essentially a tracking stock for Intrexon's technology applied to oncology.
KSkind has every reason to pump out his chest because Intrexon and Ziopharm have both performed quite well, but that's not surprising given the investor mania for cancer immunotherapy stocks. Intrexon founder/CEO R.J. Kirk is a billionaire because he convinces other companies to buy what he's selling, quality or not. Right now, Kirk is selling his own flavor of genetically modified T cells to kill cancer -- CAR-T technology. Intrexon's CAR-T is late to the game and looks inferior to competitors like Juno (JUNO) and Novartis (NVS) - Get Novartis AG Sponsored ADR Report, but investors obsessed with cancer immunotherapy are hardly in the mood to be discriminating buyers these days.
Earlier this week, Merck Serono, the biotech arm of German pharma company Merck KGaA, licensed two undisclosed CAR-T targets from Intrexon/Ziopharm. Merck KGaA hasn't made a significant impact in oncology since the days it was co-developing Erbitux with ImClone Systems 15 years ago. A decision by Merck KGaA to license a lung cancer immunotherapy from Oncothyreon (ONTY) blew up. There's also been more recent speculation that the checkpoint inhibitor Merck KGaA licensed to Pfizer (PFE) - Get Pfizer Inc. Report hasn't lived up to expectations.
Intrexon landing Merck KGaA as a partner is less a validation of the former's CAR-T technology and more an indication that the latter is desperate to play catch-up in cancer.
Intrexon bulls say more CART-T deals are in the works, with Celgene (CELG) - Get Celgene Corporation Report, Juno, Roche (RHHBY) and Novartis all considering signing on, allegedly.
I get that Kirk is a great salesman, so anything is possible. But why would these established CAR-T players consider deals with Intrexon/Ziopharm and its inferior, lagging technology? Makes little sense to me. As recently as December, at the American Society of Hematology annual meeting, Intrexon's CAR-T therapy reported underwhelming complete remission rates, described well by EP Vantage's Jacob Plieth.
But then, as KSkind says, I should probably be cleaning toilets instead of writing about biotech.
Adam Feuerstein writes regularly for TheStreet. In keeping with company editorial policy, he doesn't own or short individual stocks, although he owns stock in TheStreet. He also doesn't invest in hedge funds or other private investment partnerships. Feuerstein appreciates your feedback; click here to send him an email.