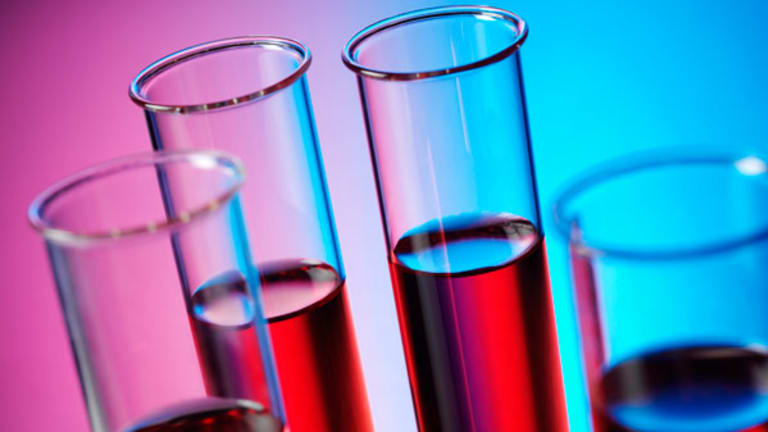 Biotech Stock Mailbag: Northwest Bio, Amarin, Titan Pharma
Biotech columnist Adam Feuerstein answers readers' questions about health-care companies.
Biotech columnist Adam Feuerstein answers readers' questions about health-care companies.
BOSTON (
) -- Natalia opens this week's Biotech Stock Mailbag with a question about
Northwest Biotherapeutics
(NWBO)
:
"I took extra-special interest in your comments in response to a reader's question regarding
ImmunoCellular Therapeutics
(IMUC)
in your
, and was wondering if you had a similar view on Northwest Biotheraputics given its similar product offering. This is a stock I have been following for the past two years, and would love to hear your thoughts if you have looked into it."
I'm skeptical about ImmunoCellular but with an open mind waiting for data at year's end from the first adequately designed study of ICT-107. Northwest Biotherapeutics is much more difficult to take seriously given the company's checkered past and present.
Northwest Bio operates today with a veneer of respectability. The company's balance sheet is healthier (but far from robust) and the stock now lists on the Nasdaq. Scratch the surface, however, and Northwest Bio still carries the heavy baggage that's made it a pariah for so many years.
Linda Powers remains CEO and dominant shareholder through two intertwined entities she controls -- Toucan Capital and Cognate Bioservices. (The latter is Northwest Bio's manufacturing partner, which puts more money in her pocket.) Institutional investor ownership is essentially non-existent at 6%. Even the current stock price of $3.36 is an illusion. Adjust for the recent 1-for-16 reverse stock split and Northwest Bio is a penny stock.
Smart investors shun Northwest Bio because Powers spends a majority of her time promoting the stock instead of directing credible drug development. Case in point: Powers claims the company's cancer immunotherapy DCVax demonstrated a large and statistically significant survival benefit in a couplet of phase I brain tumor (glioblastoma mulitforme, or GBM) studies.
The DCVax GBM survival chart Powers shows to investors and includes in the company's SEC filings looks impressive:
The blue line represents survival of the 20 GBM patients treated with DCVax; median overall survival is 36.4 months. These data were collected from
single-arm
studies, meaning all the patients received DCVax. There was no placebo or other control treatments to compare against the DCVax survival results.
The red dotted line in the chart above represents overall survival data from 119 "matched patients." Northwest Bio claims these "matched patients" had a median overall survival of 17 months, implying a 19.4-month survival benefit favoring DCVax. Moreover, Northwest Bio actually runs a statistical analysis and finds the DCVax survival benefit is highly statistically significant with a p value of 0.0003.
This DCVax overall survival analysis is sloppy, wrong and wildly misleading.
The 119 "matched patients" were not enrolled in the DCVax studies. Northwest Bio doesn't tell us how they were chosen for this faux control group. What was the baseline health of these patients? We don't know. How was their GBM treated? We don't know. When were they treated? We don't know. Were other GBM patients excluded from inclusion in this faux control group? If so, why? We don't know.
Northwest Bio simply wants you to suspend critical thinking and believe the 20 handpicked GBM patients selected for treatment with DCVax by an investigator at a single hospital lived more than twice as long as 119 other hand-selected patients who weren't enrolled in the same study. On top of that, Northwest Bio has the chutzpah to claim the benefit conjured up in this ginned-up survival analysis is statistically significant.
Don't fall for the trick.
Northwest Bio has even shape-shifted the
ongoing phase III study of DCVax in GBM patients
to make it look more robust than reality. The study is designed to enroll 300 GBM patients who have already undergone surgery, radiation and Temodar therapy. They're then randomized to receive DCVax or a placebo, with progression-free survival as the primary endpoint.
What the company wishes investors would forget is that this DCVax GBM study
began life as a smaller phase II study
in 2006-2007, which was never conducted or completed. Instead, the study underwent numerous changes and was stopped and re-started. Last May, Northwest Bio decided to upgrade the study and call it a phase III clinical trial.
The company can call the study whatever it wants, but the fact remains the only prior data on DCVax in GBM comes from 20 patients, all enrolled at a single center. There is no survival benefit, no credible data to believe DCVax is having any benefit for patients. The last cancer-focused company to jump from a tiny phase I study right into a large phase III was
Celsion
(CLSN) - Get Report
and that didn't turn out well.
Wall Street largely shunned Celsion until the very end because no one believed its data, which sounds a lot like Northwest Bio.
@big_abad asks, "I take it you fully agree with Alex Heisenberg's article last night on AMRN?"
No. I found Heisenberg's takedown of
Amarin
(AMRN) - Get Report
posted to Seeking Alpha on Wednesday night
to be riddled with errors and faulty logic. I've done my share of stating the bear case on Amarin but Heisenberg gets a lot of stuff wrong.
Heisenberg's base assumption is that Amarin's prescription-grade fish-oil pill Vascepa is no different from the fish-oil supplements available in grocery stores. That's not true. Vascepa contains ultra-purified ethyl-EPA, an omega-3 fatty acid. The FDA reviewed and approved Vascepa as a pharmaceutical product, available by prescription only. Vascepa is a drug, just like
GlaxoSmithKline's
(GSK) - Get Report
Lovaza is a drug.
The fish-oil supplements available over the counter contain lesser amounts of EPA and at a degraded purity. These supplements have not been reviewed by FDA and are not drugs.
Heisenberg writes:
While it's true that the FDA did approve Vascepa, the approval was based on the phase III trial called the MARINE trial. In the trial, Vascepa (referred to as AMR101 in the trial) was compared to a placebo rather than other fish oil products available over the counter. There is no concrete clinical evidence that proves it's any better than other OTC fish oil supplements at achieving its primary endpoint in the trial which was merely to measure if after 12 weeks AMR101 lowered triglyceride levels versus placebo.
If FDA questioned whether Vascepa and OTC fish oil were the same, the agency could have demanded OTC fish oil be used as the comparator against Vascepa in the MARINE trial. The FDA didn't do that and approved Vascepa based on the positive results of the MARINE trial.
In MARINE, Vascepa significantly lowered triglyceride levels in patients with extremely high baseline levels. Heisenberg claims OTC fish oil can also lower triglycerides by an equal amount in these patients. I'm not aware of any such data and Heisenberg doesn't cite any studies.
Heisenberg:
With the same active ingredient as other cheap fish oil pills, there's no evidence nor reason to believe that Vascepa helps "lower risk of all-cause mortality, cardiac death, sudden death, myocardial infarction, or stroke" just as regular fish oil pills do.
Wrong. Published studies have not found regular fish-oil pills lower death rates or reduce heart-related disease. Vascepa might be different but we won't know until Amarin completes a large cardiovascular-outcomes study. Absent conclusive proof that Vascepa does lower the risk of heart-related illness or deaths, Amarin may have trouble turning the drug into a blockbuster. On this point, I agree with Heisenberg.
Heisenberg believes Amarin is a strong sell today. Meh, the stock is already well off the highs seen when Vascepa was approved last summer. A lot of the bad news and worries about the Vascepa launch are baked into the stock at this valuation. Heisenberg's bear call reminds me of an analyst who downgrades a stock after it's dropped 60%.
Looking ahead, there's more upside in Amarin if (and only if) the Vascepa launch goes well. That verdict is far from settled and my sense is investors are in "show me" mode. Amarin shares have traded in the narrow $8-$9 range since the beginning of the year.
Jason M. writes, "Hey Adam I want to know if you would have the time or maybe shoot me a short email about the company
Titan Pharmaceuticals
(TTNP) - Get Report
. I have been holding since the 3 cents per share and have been buying up and down ever since. I have a cost average of 40 cents per share now and I am still up pretty big. I want to know if you think the FDA will approve or reject this drug. ... I am thinking about getting out of Titan if we hit the $3 mark."
The doubling of Titan's stock price since December seems mostly attributable to the run-up trade into the FDA approval decision for Probuphine on April 30. Titan has said it expects FDA to convene an advisory panel in March to review Probuphine but no definitive word yet, which has me wondering if FDA decided a panel wasn't necessary.
My prediction: FDA approves Probuphine. I don't see any glaring problems with the results from the two phase III studies in opioid addiction. Probuphine is an implantable, long-acting form of buprenorphine, which in oral forms is already approved and widely used to treat opioid addiction.
I'm less confident about the commercial potential for Probuphine. Depending on how much Titan shares run into the April 30 FDA decision, you could easily see the stock sell off post-approval. Drug reformulations have a tough time garnering sales, particularly in markets where they compete against cheaper generics.
-- Reported by Adam Feuerstein in Boston
Adam Feuerstein writes regularly for TheStreet. In keeping with company editorial policy, he doesn't own or short individual stocks, although he owns stock in TheStreet. He also doesn't invest in hedge funds or other private investment partnerships. Feuerstein appreciates your feedback;
to send him an email.